The Supreme Court on Friday allowed the entry of women of all ages in Kerala's Sabarimala temple and said the subversion of women under biological factors cannot be given legitimacy.
The top court, while pronouncing the judgement, said the discrimination of women based on biological factors cannot be constitutionally sustainable.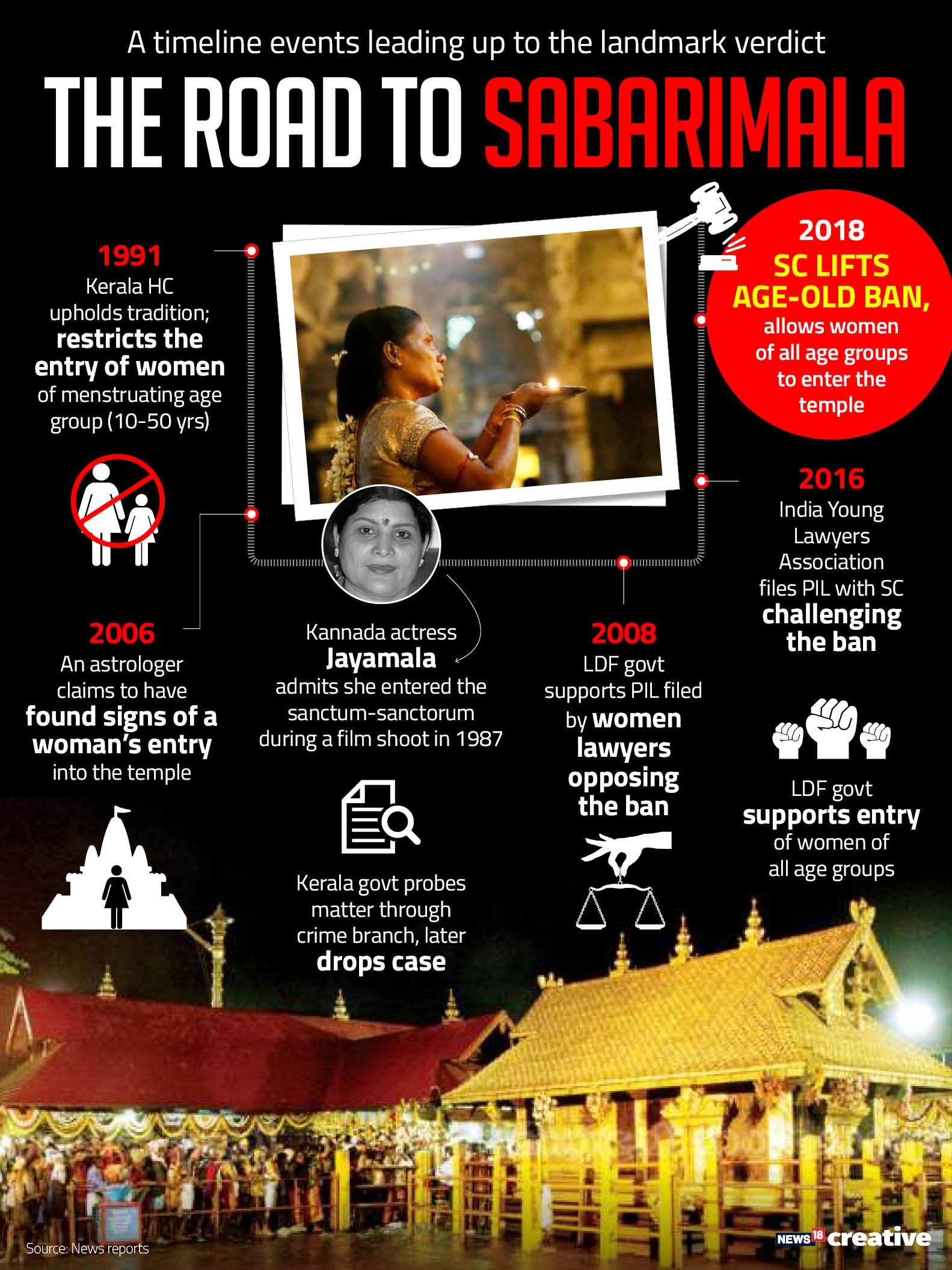 Until the verdict by a five-judge bench, which gave a 4:1 ruling, women between the ages of 10 and 50 were not permitted in the temple dedicated to Lord Ayyappa owing to 'impurities' of a menstrual cycle.
The five-judge bench consisted of CJI Dipak Misra, Justice DY Chandrachud, Justice Rohinton Nariman, Justice Indu Malhotra and Justice AM Khanwilkar. Malhotra was the only dissenting judge.
During the arguments on Friday, the apex court observed that menstruation is not impure and that a woman's right to pray was equal to that of a man.
The top court heard the PIL filed by the non-profit body Indian Lawyers Association which sought the entry of all women and girls to the temple dedicated to Lord Ayyappan and challenged Rule 3(b) of the Kerala Hindu Places of Public Worship Rules 1965.
The Kerala High Court had earlier upheld Rule 3(b). The norm allowed restrictions on women of menstruating age from entering temples.
The top court said, "Rule 3(b) violates fundamental rights of women and denudes women of their right to practice religion."
Dissenting judge Malhotra said the notions of rationality and logic cannot be imported for religious practices and with regards to the concept of discrimination, equality cannot be viewed in isolation as it needs to be balanced with the freedom to practice religion.
While Justice Chandrachund said the religion cannot become a cover to deny women the right to seek fulfillment through faith and physiological features are irrelevant for the right to equality.