Ever since the Adani Electricity Mumbai Ltd (AEML) took over Mumbai's power circle in August from the Anil Ambani-led Reliance Infrastructure (RInfra), consumers have taken to social media on the unduly excessive electricity bills received by them.
So are you trying tk.loot the people further... October heat causing extra consumption of electricity was given as a reason for big bill, however the Nov bill us even higher. So ia there November Heat a new phenomenon by Adani? @Adani_Elec_Mum pic.twitter.com/Lp2mCCRZyr

— Samrat Govekar (@SamratGovekar) December 5, 2018
Over the last couple of months, power consumers in Mumbai suburbs have received bills higher by 25-50 percent and in some cases even double of the usual average. Several complaints have been filed by consumers about issuance of electricity bills based on average energy consumption instead of actual metering.
My electrical consumption is the same but my bill has shot up from 2750 to 4500. Definitely something wrong with your billing. Don't blame it on MERC. The bill has shot up from the first month of transfer from Reliance that too without actual meter reading. I never got d refund

— Mandy (@mandyvin) November 28, 2018
The spike in bills coincides with the transfer of ownership of Mumbai distribution business from RInfra to Gautama Adani's Adani Electricity. The company started consumer billing from September after it completed the acquisition of RInfra's Mumbai transmission business in a deal valued at Rs 18,800 crore.
While, Adani Electricity attributed its inability to read meters in some areas due to "internal agitation on certain past issues" as the reason for spike in September billing.
The company had assured consumers to pass on the credit after meter reading is done.
Adani Electricity also pointed out that Maharashtra Electricity Regulatory Commission (MERC) has set a higher tariff slab for consumers of all the distribution companies of Maharashtra.
As per the revised plan, which is applicable from September, the tariffs have been increased to Rs 4.78 a unit from Rs 4.42 a unit for the first 0-100 units consumed, and to Rs 8.58/ unit from Rs 8.04/unit for the next 101-300 units. The rates for the slabs 301-500 units were increased by 30 paise, while that for over 500 units were increased only marginally.
However, the matter persisted beyond September and now MERC had taken cognizance of the media reports and consumer complaints and had issued a notice to Adani Electricity on December 4 to explain within 24 hours the facts of the situation.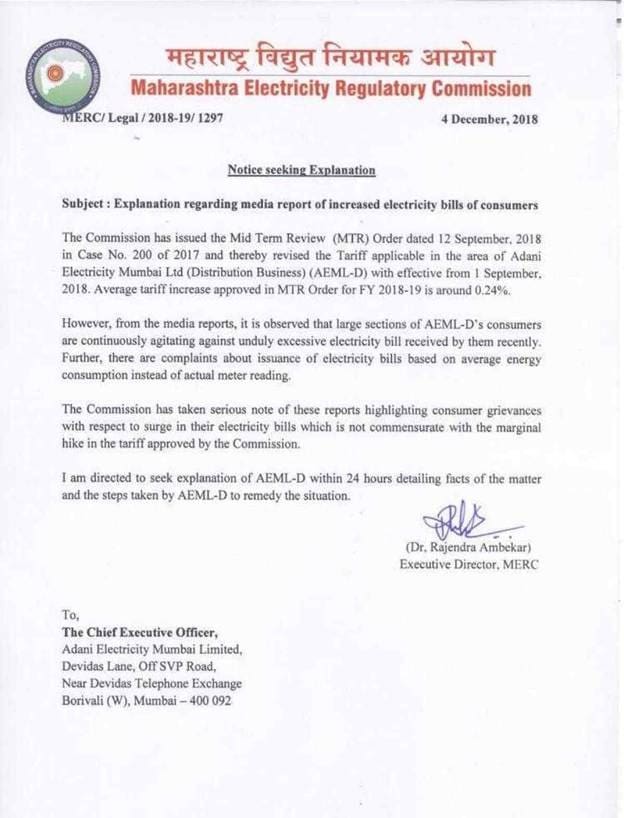 According to MERC, surge in electricity bills is not commensurate with the marginal increase in the tariff hike of 0.24 percent effective September 1, 2018 approved by the commission.
Earlier in the month, Maharashtra chief minister Devendra Fadnavis had asked authorities to look into the matter and conduct an audit of past three months' billing process at Adani Electricity.
Adani Electricity has now replied to MERC's notice on December 5 and clarified that a change in climatic conditions perhaps resulted in a subsequent change in patterns of electricity consumption. As per the information provided, MERC is conducting a press conference at 4:00 PM on December 7 to detail the reply and future actions if any.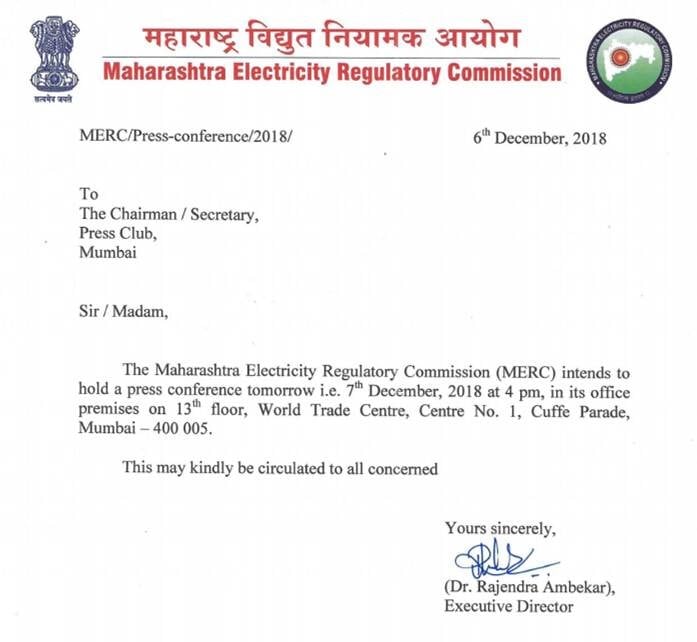 Meanwhile in a statement issued by Adani Electricity, its spokesperson said, "We are concerned with the rising perception of our customers around electricity bills. Through these initiatives, we are aiming to provide multiple options to our consumers and address their concerns expeditiously."
"With our continuous customer engagement, we aim to address and resolve all issues at the earliest. We urge our customers to reach out to us by calling our dedicated customer service team on 19122 or email us at billsupport.aeml@adani.com or at dedicated camps or direct message on our social media handle for any issues and we will revert back within 24 hours," the spokesperson added.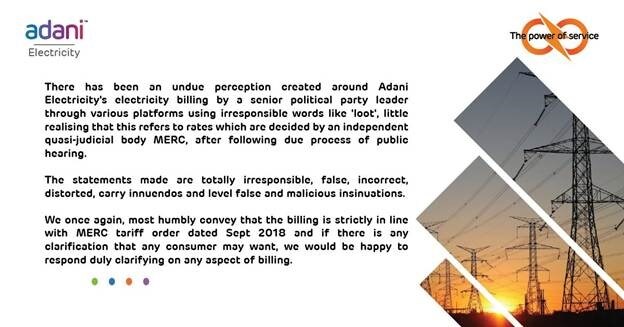 The month of October and November in the city of Mumbai usually witness a change in climatic conditions, which results in a subsequent change in patterns of electricity consumption. October 7, 2018 was touted to be the second hottest day in October in a decade as the maximum temperatures touched 37.8° celsius.
Average temperature of October has increased from 27.7° Celsius in 2016 to 31° Celsius in 2018. MERC has determined higher slab tariff for higher consumption by the consumers of all the distribution companies of Maharashtra.
While consumers distress continued, sector expert like former
Central Electricity Regulatory Commission (CERC) chairman Promod Deo said the uptick in bill could be because of a few aspects like increased consumption, shift into higher slab and the calculation on average vs actual basis.
Deo believes the calculation on average basis is a temporary phenomenon and the trend should reverse in coming months. He is hopeful that consumers facing issue of overcharges might see some credit going forward.