Where do we start with VG Siddhartha, founder of Coffee Day, which owns and runs a retail network of 2,700 cafes? The tenth-floor office of Coffee Day Square that oversees Cubbon Park in Bengaluru might be the right place. That's where Siddhartha works. I have never met the man, but people who know him say two things.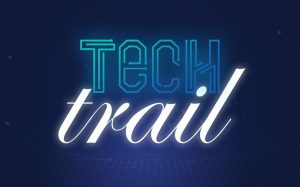 One, the cliche to describe the rich and famous, particularly in India: he is humble. Even by that stereotypical measure, they say Siddhartha is extremely soft-spoken and is known to personally see off visitors who come to meet him. That means many an elevator-ride from the 10th floor down to the Coffee Day Square lobby. An elevator is an apt metaphor for his investing experience in the technology industry. We'll come to that in a bit.
The second thing his friends and associates say is Siddhartha is patient, which is why he has been in the news. The coffee baron wants to sell his (and related) stakes in mid-sized digital and IT services firm Mindtree. There are two bidders, namely private equity firm KKR and another IT services company L&T Infotech. Mindtree is on track to touch $1 billion annual revenue in the current fiscal year. Siddhartha had invested in it 19 years ago!
Mindtree has a market cap of Rs 14,746 crore. At that valuation, Siddhartha's exit sets him up to make a whopping Rs 3,000 crore, fetching an estimated 50x return on his investment made in Y2K.
It's hard to miss that he has a battle against Starbucks on his hands, and on his turf. Coffee Day Enterprises needs a war chest of capital.
Siddhartha could have chosen to simply sell coffee and capitalise on the consumption side of the IT boom, as disposable incomes rose from 2003 onward. But he went beyond that. He has a decent track record on the investing side of IT too with the erstwhile Global Technology Ventures. And Mindtree is turning out to be the blockbuster from that fund.
Elevator Pitch
Mindtree was incubated in August 1999 when there were few technology entrepreneurs in India, and fewer venture capital (VC) investors on Indian shores. VC funds like ICICI Ventures, eVentures and Walden took root in Mumbai. In that backdrop, Siddhartha made his Mindtree bet in January 2000 under two entities in Bengaluru: Amalgamated Holdings and Vaitarna Holdings. By April of that year, both those entities were transferred to Global Technology Ventures (GTV).
Bangalore had the talent to become India's technology capital. But GTV was one of its kind as a funding arm in the city. It became Siddhartha's elevator to invest in technology companies. He remembered his scars—Siddhartha had exited Infosys too early, something he rues. He had exited the elevator with 6x returns after six months, and long before Infosys hit peak return for its early backers.
With GTV, Siddhartha had a hands-off approach. His focus was always on building Coffee Day as a brand, to its IPO, and with Starbucks partnering Tata Global Beverages in India. In the early days, GTV was run by Poornima Jairaj and a lean team. Ms Jairaj served as board observer in its investee companies.
By 2001, GTV funded ventures like cloud services provider Netmagic, product engineering company Global Edge Software, and Kshema Technologies. Common friend BV Jagadeesh, who had co-founded Exodus Communications in the US, connected Siddhartha with Netmagic co-founder Sharad Sanghi.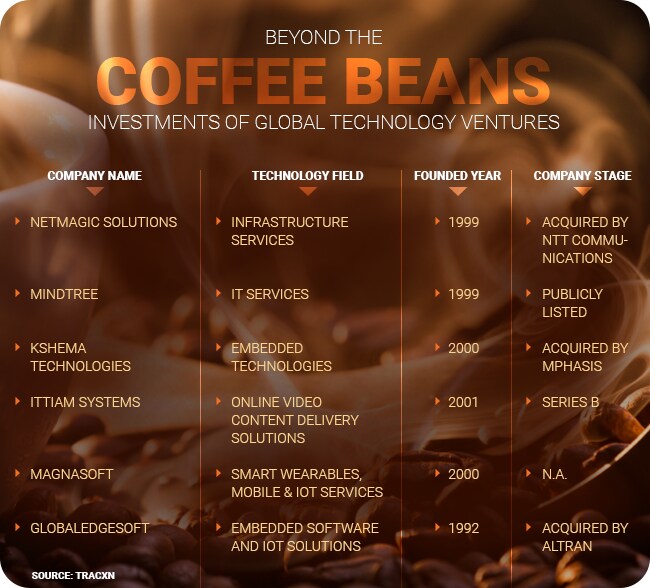 In almost all cases, as with Mindtree and Netmagic, Siddhartha had an eye for founders with rich professional experience in a technology field, from a pedigreed global company. For example, Kshema founder Anant R Koppar had extensive experience in Wipro and Tata Elxsi. Global Edge Software founder Srinivasan Rajam was managing director of Texas Instruments' Indian subsidiary.
In early 2004, Mphasis—then a business processing outsourcing company—acquired Kshema. This was GTV's first notable exit. Eight years later, when Japanese company NTT Communications acquired Netmagic, GTV exited the Mumbai-headquartered cloud infrastructure and services company. At a valuation of more than Rs 800 crore, it was a profitable exit though GTV's stake was minuscule.
In September 2017, French company Altran bought out GlobalEdge Software. Last year, news daily The Times of India reported another GTV portfolio company Magnasoft hiring former CSS Corp CEO Tiger Ramesh as CEO, and the induction of former iGate CEO Phaneesh Murthy to Magnasoft's board. Analysts say the Magnasoft moves are to flip and sell it.
The Mindtree Wager
In that sense, there are no surprises as Siddhartha looks to exit Mindtree. The growth and boom years of technology outfits getting built from India allowed him to have skin in the game. Rupee costs led to dollar revenue, as opposed to his domestic coffee retail business. But in the past three years, he has renewed his focus on the coffee brand he began to build in the '90s.
In 2005, GTV had an 10.82% stake in Mindtree. Ten years later, GTV got merged into Coffee Day Trading when it was getting publicly listed. Now, between Siddhartha and related funding entities—Coffee Day Enterprises and Coffee Day Trading—that stake is up to 20.38%. The surge has to do with a series of extraordinary events, especially the 2011 exit of Ashok Soota, Mindtree's first CEO.
The birth of Mindtree itself was an event in itself. Turn-of-the-century stuff! With seven founders, it evoked the image of Infosys, built from the early 80s by professional managers who left Patni Computer Systems. (The Mindtree founders were technology professionals from Wipro.) But apart from the seven founders, three more came under an entity called LSO Investment.
In a very nascent investing ecosystem in 1999, Mindtree was seen as a team of 10 maharathis with complementary skills that could deliver profitable growth without compromising on corporate governance and culture. It was a blend of young and experienced leaders. Soota had been the star salesman at Wipro Infotech between 1984 and 1999. He was 57 when he was co-founding Mindtree, and there was a 15-year gap between him and the next-eldest co-founder Subroto Bagchi. That's why its Series A round of $9 million, unheard of in 2000, felt justified.
But there was some drama there too. In January 2000, Walden International was due to close the Series A as a $5 million round, when Siddhartha stepped in to make the chest larger. (Imagine, he wasn't originally part of the math!) Then, the dotcom bubble burst. Mindtree did Rs 65.6 crore revenue in its first full fiscal year (2000-01).
In August 2001, Mindtree closed its second fund-raise with Capital International Global Emerging Markets Equity Fund before 9/11 happened. Many enterprises (customers of IT companies) were stiffening their technology spends. It was an economic downturn.
Even as Mindtree with its larger Indian IT peers navigated through that phase, by 2005 its investors had nearly 44% stake in the company. But remember, this was a time when there were few startups and fewer investors.
At the pre-issue stage (of the public listing), GTV had 8.36% of the company. Mindtree got listed in 2007 before the financial downturn hit Indian IT in the following year. While Mindtree had touched $100 million in annual revenue quickly, investors worried that Mindtree's revenue in a year was what its larger peers made in a quarter. But, it was widely seen as a company with a strong foundation.
In January 2011, Soota—with a 11.1% stake in Mindtree—quit in dramatic circumstances. Many technology reporters like me heard it from Soota himself, by email on the evening of 28th January 2011. "This is to advise that I have today submitted my resignation to the Board of Directors of MindTree and have requested for my release by 31st March 2011 as an employee and also as Executive Chairman / Member of the Board," Soota wrote.
From thereon, Siddhartha's entity Coffee Day Resorts bought out Soota's stake over the next few quarters. By the end of FY2012, Siddhartha's entities—GTV and Coffee Day Resorts—had 17.79% of Mindtree. He only kept the elevator moving up.
As Mindtree's management steered a solid company to a digital services strategy, the Coffee Day founder grew his exposure to the company, which is now set up for a delicious bid between KKR and L&T Infotech.
It is about control, not just Mindtree's performance which has been exemplary and largely organic. Any party with—or which can influence—26% control of Mindtree will have control of the company. Whoever wins, Siddhartha cannot lose in that valuation game. And a lot of it happened because of Global Technology Ventures—and lots of coffee!
Tech Trail is a column that delves on technology in the Indian realm. Kunal Talgeri is a freelance journalist in Bengaluru. The views and biases in this column are those of the author.