Due to the absence of national anti-superstition laws, in cases where self-styled Godmen con people, they are charged under IPC Section 420, while cases of human sacrifice are dealt under IPC section 302, which is for murder.
This week, social media was abuzz with comments and takes on superstitious activities in the country. The discussion was triggered after a self-styled Godman from Bageshwar Dham named Dhirendra Shastri made certain claims about predicting the future. He reportedly stated at an event in Nagpur that whatever he would write on a piece of paper would come true. Even if you keep the claim of the "godman" aside, what comes to mind are the superstitious activities that are prevalent in the country, which usually do not get any attention.
And that's perhaps one reason why the country should get an anti-superstition law. But before we talk about the law, let's focus on how bad the situation is in India, when it comes to superstitious practices. As per NCRB data, in 2021, 06 deaths were connected to
human sacrifice
and witchcraft was the motive for 68 murders. This totals to 74 deaths due to superstitious practices in India in 2021 and these incidents are those that were reported.
Chhattisgarh, Madhya Pradesh and Telangana reported the highest number of witchcraft cases in 2021. In 2020, 11 deaths were connected to human sacrifice and 88 people lost their lives because of witchcraft. From 2012 to 2021, India reported a total of 1,101 deaths due to witchcraft. And from 2014 to 2021, India reported 103 human sacrifice related deaths. Now it's important to note that these superstitious activities exist across religions and there is no trend of any particular religion.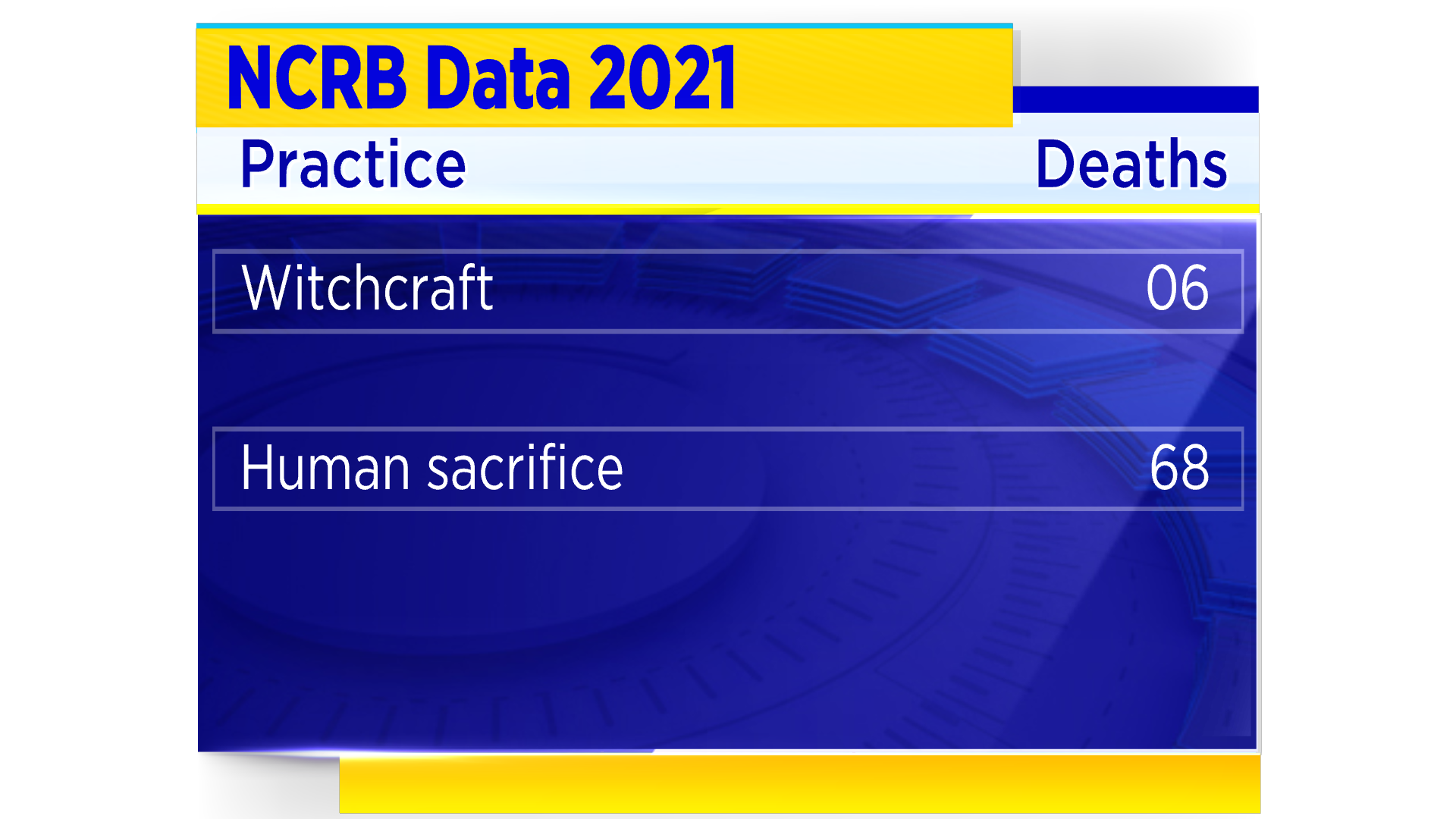 Nonetheless, despite the alarming situation in the country, there are no national anti-superstition laws. Prevention of Witch-hunting bill, which was introduced in Loksabha in 2016, wasn't passed. There are some states that have Anti-Superstition Acts, but nothing that addresses the issue at a national level. Bihar, Maharashtra, Karnataka, Rajasthan, Assam, Odisha, Chhattisgarh, Jharkhand and Assam are these states. Moreover, there could be a major difference between national anti-superstition laws and a state-level Act, which were introduced before and after 2013. In 2013, Maharashtra based anti-superstition activist Narendra Dabholkar was allegedly assassinated for spreading awareness against superstitious activities. Dabholkar's murder forced the then Maharashtra govt to pass the anti-superstition law.
Bihar, which, was the first state to bring a law against witchcraft had a nominal punishment for those found involved in superstitious activities causing harm to safety and dignity of people. But states like Rajasthan and Assam which introduced their anti-superstition laws after Narendra Dabholkar's death in 2013, provided for harsher punishments for those found guilty. But almost all these states don't address the issue of self-styled Godmen. Only, Maharashtra's Prevention and Eradication of Human Sacrifice Act has a clause which deals with the issue of self-styled Godmen. And there's obviously nothing regarding this aspect at the national level. As there's no national-level anti-superstition laws, cases of human sacrifice are dealt under IPC 302, which amounts to murder. In witchcraft-related cases, investigating agencies impose sections of Drug and Magic remedies Act. In cases of self-styled Godmen conning people, IPC 420, cheating is imposed. But none of this is enough to instill fear in the minds of the people and discourage them from engaging in deadly activities.
(Edited by : Jerome Anthony)