Mini
Analysts point out to the company's long plaguing debt issues resulting in tight cash flows.
Five months into financial year 2019 and Glenmark Pharmaceuticals has announced three deals already- two regional focused deals for its molecules under development and one for its India orthopedic and pain management business. And by the looks of it Glenmark might have some more in store for us this year.
Glenmark on July 6th announced an exclusive licensing agreement with Australian company Seqirus for one of its drug under development Ryaltris or GSP 301. Ryaltris is a nasal spray being studied for allergies. Under the agreement, Seqirus will undertake regulatory filings and commercialise Ryaltris while Glenmark will supply the drug. The deal is regional and limited only to the Australian and New Zealand markets. While details of financials are not known, Glenmark will receive upfront payment as well and milestone payments on the drug. The new drug application(NDA) for Ryaltris was submitted by Glenmark to the USFDA in May 2018 and accepted by the US regulators in August 2018. The target action date by when the USFDA will give it's decision on whether Ryaltris is approved or not is March 21st 2019.
A month later after the Ryaltris deal, Glenmark announced an exclusive licensing agreement for its oncology molecule under development- GBR 1302. The deal was signed with Chinese biopharmaceutical firm Harbour Biomed. And like the agreement with Seqirus on Ryaltris, the deal with Harbour Biomed on GBR 1302 too was regional. It entails developing, manufacturing and commercialising molecule GBR 1302 only for the Greater China markets. GBR 1302 is currently under clinical studies in US and Germany and is being studied to treat cancers that test positive for protein HER 2 or human epidermal growth factor receptor 2. Glenmark, as per the deal, will receive an upfront payment and is eligible to receive milestone payments linked to development and royalties based on eventual sales. The deal is worth $120 million or over Rs 800 crore for Glenmark.
The third deal announced by Glenmark was with its Q1FY19 numbers on 10th of August, just a few days after the agreement on Ryaltris. With little on specifics, the company said it has 'collaborated' with Indian private equity firm True North for its orthopedic and pain management business in India and Nepal. The division which generates sales of Rs 156 crore will be transferred to a new company for a valuation of Rs 635 crore. While Glenmark will continue to have stake in the new company, the amount of stake it will retain is not known. Analysts expect it to be a minority holding. Glenmark is expected to continue manufacturing the products and supply it to the new company. The valuations of the deal work out would be four times the sales and around 14 times the EBITDA – a lucrative deal for Glenmark, according to Nomura as the division was stagnating for the past three years.
Even with three deals in its pocket, it seems as though the company is still not satisfied. Since the licensing agreements on Ryaltris and GBR 1302 are limited to specific geographies, Glenmark could look at more tie ups for different regions. These partnerships are expected especially in regions the company has little presence. And besides these two molecules, the street would watch for any outlicensing opportunity on molecules GBR 830 and GBR 310.
Molecule GBR 830 entered Phase 2 B trials in April 2018 and is being studied for atopic dermatitis, a skin condition that causes red and itchy skin. Molecule GBR 310, a biosimilar version of drug Xolair which is being studied for allergic asthma and commin skin disease urticaria, it finished Phase 1 Studies in July 2018.
Also, Glenmark along with its board meet on Q1FY19 numbers announced hiving off its active pharmaceutical ingredients(API) business into a subsidiary. The API business as of FY18 was close to 14 percent of the business with sales of Rs 878 crore. This hiving off of the API business is considered to be a precursor to the company selling partial stake in it. Reports indicate that True North could strike a second deal with Glenmark and buy stake worth Rs 1200-1500 crore. Glenmark in their Q1FY19 conference call however seemed to have not yet firmed up their plans on API business. They said the company is currently determining the next step for the API business but possibility of bringing in a minority investor in the API business is on the cards.
Why so many deals?
While the spate of deals looks like it will continue for Glenmark, one has to ask why they have to do so many in the first place. Analysts point out to the company's long plaguing debt issues resulting in tight cash flows. In fact, a glance at the company's gross debt indicates a consistent rise substantiating this concern.
Glenmark's debt stood at Rs 991 crore in FY08 rising to over Rs 2000 crore in a span of one year by the end of FY09. Since then the debt with some intermittent reductions has been consistently on the rise. From levels of Rs 3275 crore in FY16, gross debt spiked to Rs 4723 crore in FY17. It reduced to Rs 4437 crore by FY18 only to rise again by Q1 FY19. As of Q1FY19, the gross debt of the company stood at Rs 4652 crore with net debt at Rs 3662 crore, both higher on a sequential basis.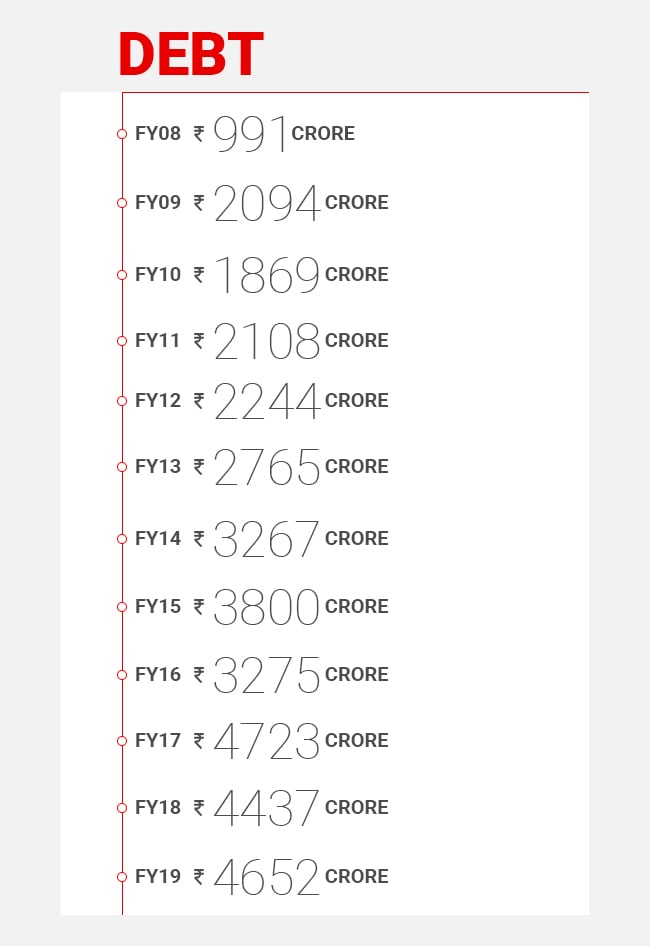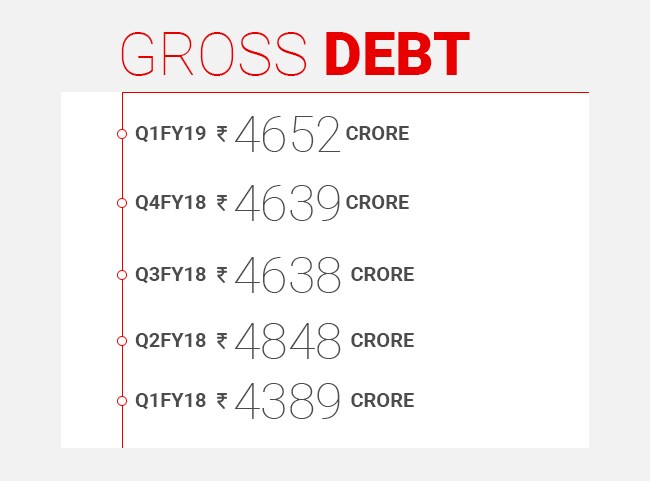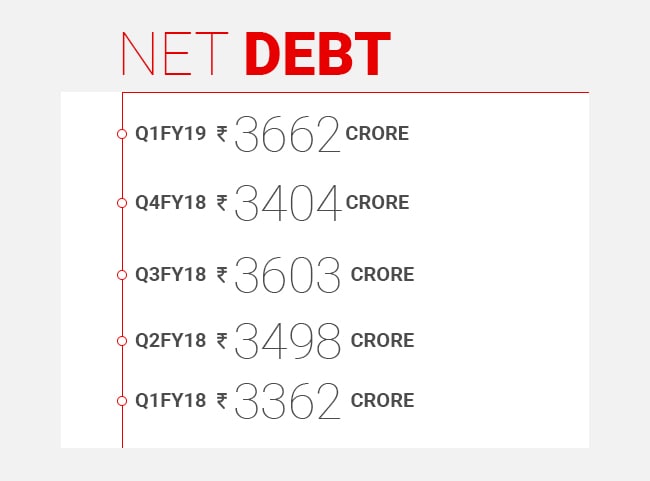 Besides capex, analysts attribute the consistent rise in debt to rising R&D spend, especially on the company's innovative pipeline. It has risen to 10-12 percent of sales from 3-4 percent, with the highest absolute outflow in FY18 at Rs 1122 crore. As of Q1FY19, R&D spend was Rs 245 crore or 11.3 percent of sales.
Around two third of R&D spend is on the company's innovation pipeline and a fruition of this innovative pipeline is one of the key triggers the street is awaiting. A significant earnings contribution from the pipeline of innovative drugs is 3-5 years away but monetising it via outlicensing is a near term trigger. While regional outlicensing deals are positive, analysts are awaiting what is described by some as a 'meaty' outlicensing deal with a global large scale company for a major market such as the US. It wouldn't only ease eventually ease cash flow requirements for the company but would be a testament to their pipeline.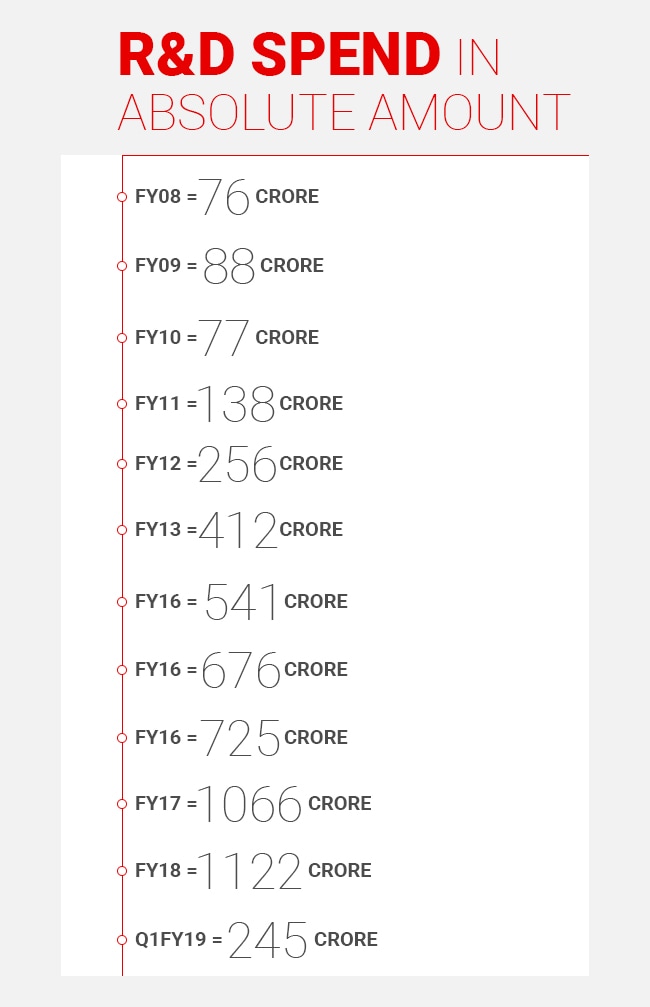 Remember, Glenmark had signed outlicensing deals in the past but none reached the end point or saw a successful outcome. These included Sanofi for molecule GBR 500 being studied for multiple sclerosis, Eli Lilly for pain molecule GRC 6211, Merck for diabetes drug Melogliptin and Forest labs for breathing ailment molecule oglemilast.
Another factor that can ease cash flow constraints is a pick up in the company's US business. Impacted by price pressure and lack of any big bang launches after cholesterol drug Zetia generic, the company's US sales have been sluggish. For example, sales from the US were $105 million in Q1FY19 vs expectations of around $115 million. Analysts would like to see the US sales to eventually pick up to $120-130 million.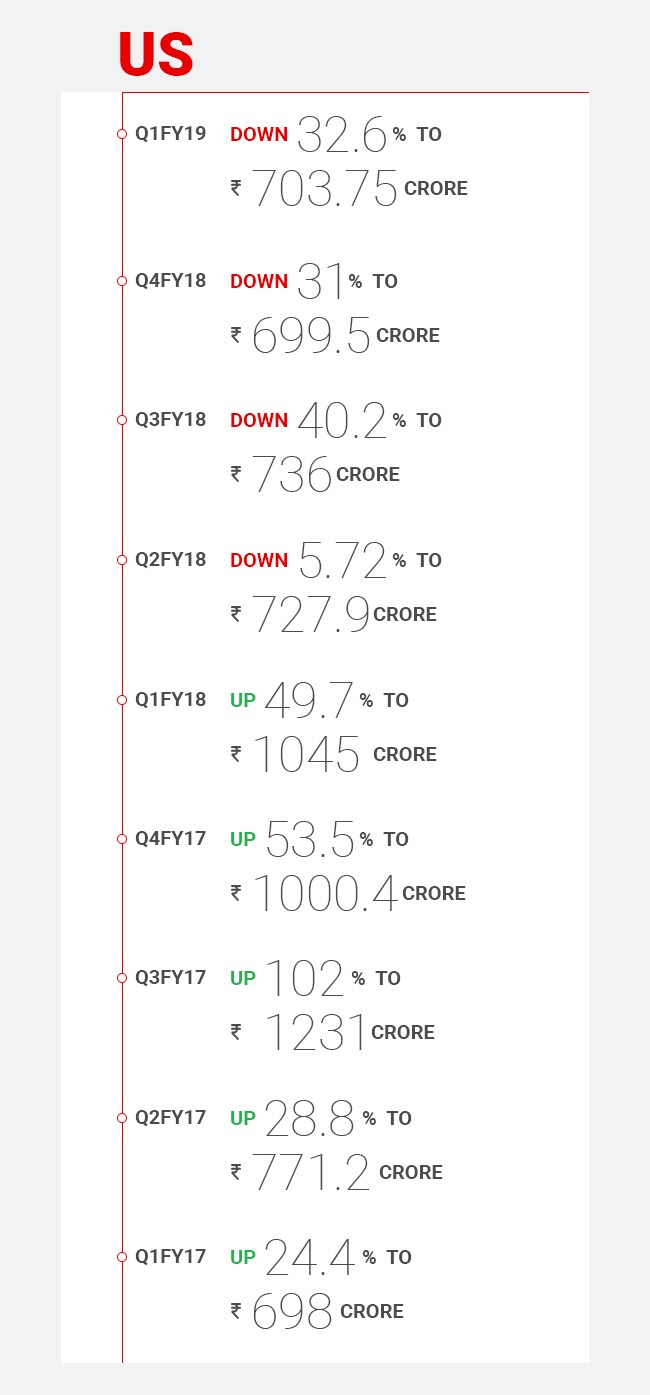 With key launches of generic version of drugs such as pain relief drug Voltaren, skin condition drug Finacea and acne drug Epiduo, the street is hopeful of rise in the sales.