The active cases have increased to 15,50,377, the highest in 225 days, while the death toll has climbed to 4,86,066 with 314 fresh fatalities, the data stated.
India added 2,71,202 new coronavirus infections, taking the total tally of COVID-19 cases to 3,71,22,164, including 7,743 cases of the Omicron variant, according to the Union Health Ministry data updated on Sunday. The country saw 1,702 new cases of Omicron variant, the highest in a single day so far, and an increase of 28.17 percent since Saturday. The active cases have increased to 15,50,377, the highest in 225 days, while the death toll has climbed to 4,86,066 with 314 fresh fatalities, the data updated at 8 am stated. The active cases comprise 4.18 percent of the total infections, while the national COVID-19 recovery rate has decreased to 94.51 percent, the ministry said. An increase of 1,32,557 cases has been recorded in the active COVID-19 caseload in a span of 24 hours.
Here are the latest updates from the pandemic:
COVID19 | 41,327 new cases & 29 deaths reported in Maharashtra today; Active caseload stands at 2,65,346. Eight Omicron infections were reported in the state today, taking the case tally to 1,738.
COVID19 | Delhi reports 18,286 new cases & 28 deaths in last 24 hours; Active cases declines to 89,819. Positivity rate at 27.87%
COVID19 | Mumbai reports 7,895 new cases & 11 deaths today; Active cases 60,371
UP govt extends closure of all schools, colleges till Jan 23 in view of rising COVID-19 cases
Following a rise in COVID-19 cases, the Uttar Pradesh government on Sunday extended the closure of all schools and colleges in the state till January 23. However, online classes will continue, a statement said. In the statement, Chief Minister Yogi Adityanath said that in view of changing circumstances and rising COVID-19 cases, all schools and colleges have been ordered to remain closed till January 23.
UK expands COVID booster vaccine rollout to teenagers
Around 40,000 teenagers in England will be eligible for a topup booster dose to protect against COVID19 as Britain's National Health Service (NHS) expands the booking service to 16 and 17 year olds from Monday. Previously, third doses were only recommended by the UK's Joint Committee on Vaccination and Immunisation (JCVI) to 18 and over and for clinically vulnerable teenagers most at risk from Covid19. This advice was recently expanded to all 16 and 17 years old and the NHS confirmed on Sunday that everyone within that age group can now get boosted in the coming weeks as they reach three months since their second jab.
Seventy per cent of India's adults have been fully vaccinated against COVID-19 while 93 per cent received the first jab, said Union Health Minister Mansukh Mandaviya while launching a postage stamp on indigenously developed vaccine Covaxin to mark one year of the inoculation drive. This is a proud moment for Indians and the entire world is amazed by the country's Covid inoculation drive, he said at the commemorative postage stamp release event.
Govt will consider demand for reopening of schools in next 15 days: Maharashtra health minister
The demand for reopening of schools in Maharashtra will be considered after the next 10-15 days as there is a low incidence of coronavirus infection in children and students are suffering education loss, state Health Minister Rajesh Tope said here on Sunday. He said the final decision will be taken by Maharashtra Chief Minister Uddhav Thackeray. Schools have been shut in Maharashtra till February 15 due to the rise in COVID-19 cases across the state. "Demands are rising from certain quarters for reopening of schools as children are suffering the education loss. We will consider it after 10-15 days as there is a low (rate of) infection among children. The chief minister will take the final call in this regard," Tope told reporters. Expressing concern over the rise in infections, Tope said that the people seem to be not afraid of the coronavirus. "The COVID protocols must be followed strictly. Common people, as well as politicians, should avoid crowding, he added.
# As a result of the country's solidarity & PM Modi's commitment during COVID-19, India not only manufactured vaccines but also vaccinated a large part of the population in a short time, tweets Union Health Minister Dr Mansukh Madaviya.
# Tamil Nadu: Schools have been declared shut for all classes, due to an increase in the number of COVID-19 cases in the state. The exams which were supposed to be held on January 19 are now postponed, says the state government.
# Beijing Omicron case prompts temple closures, queues for COVID-19 tests
China on Sunday reported 65 locally transmitted COVID-19 cases for Jan. 15, including the first Omicron case in Beijing, just weeks from the Feb. 4 start of the city's Winter Olympic Games and the country's Lunar New Year holiday. That was down from 104 comparable cases a day earlier, as the outbreak in the northwestern city of Xian winds down after strict lockdowns. But the highly transmissible Omicron variant has been detected in at least five provinces and municipalities, prompting cities to impose curbs to stop its spread and threatening to further undercut slowing economic growth.
# Vaccination added great strength to fight against Covid: PM Modi
Lauding India's COVID-19 vaccination drive as it completes a year, Prime Minister Narendra Modi on Sunday said it has added great strength to the fight against the pandemic and has resulted in saving lives and protecting livelihoods. When the pandemic first struck, not much was known about the virus. However, our scientists and innovators immersed themselves in developing vaccines, he noted. "India feels proud that our nation has been able to contribute to fighting the pandemic through vaccines," Modi tweeted.
# Arunachal reports 266 new COVID-19 cases, positivity rate 23%
Arunachal Pradesh reported 266 new COVID-19 cases, up from 89 it reported on the previous day, a senior health official said. Among the new patients are two Army personnel, a CRPF jawan and an official of the Border Roads Organisation (BRO), he said. The state has so far reported 56,493 cases of COVID-19 and 282 deaths with no fatality reported in the last 24 hours, he added. Of the new cases, 101 were detected in the Capital Complex Region, 44 in West Kameng and 27 in Lower Dibang Valley. Changlang reported 24 new cases, followed by Lower Subansiri (15), Lohit (14), Namsai (11) and East Siang (7). The Northeastern state has been witnessing a spurt in coronavirus cases since January 4 with 1,141 new cases reported since then.
# About 17,000 COVID cases are expected today with case positivity also expected to decline; cases declining for the third consecutive day if we see yesterday's numbers. About 67,000 tests were done yesterday, says Delhi Health Minister Satyendra Jain.
# The vaccination drive has been so well that the third wave hasn't impacted Uttar Pradesh as much. The state has vaccinated around over 22.87 crore people, of which 21.37 lakh are children aged between 15 and 18 years and 3.87 lakh are people above 60 years of age or those with comorbidities with booster doses: CM Yogi Adityanath
# Union Health Minister Mansukh Mandaviya calls India's vaccination drive "the most successful in the world," on one year of vaccination. India's cumulative COVID-19 vaccination coverage has exceeded 156.76 crore. More than 66 lakh vaccine doses have been administered in the last 24 hours.
# Singer Lata Mangeshkar needs care, which is why she'll remain under doctors' supervision in ICU for a few more days. Her condition is the same as before; no one's allowed to meet her yet: Dr Pratit Samdani, who's treating her at Mumbai's Breach Candy Hospital
# The Telangana government has been decided to extend the vacation of all educational institutions in the state till January 30.
# Single day rise of 2,71,202 new COVID-19 infections, 314 fatalities push India's tally of cases to 3,71,22,164, death toll to 4,86,066: Govt
Active COVID-19 cases in country rise to 15,50,377:Union Health Ministry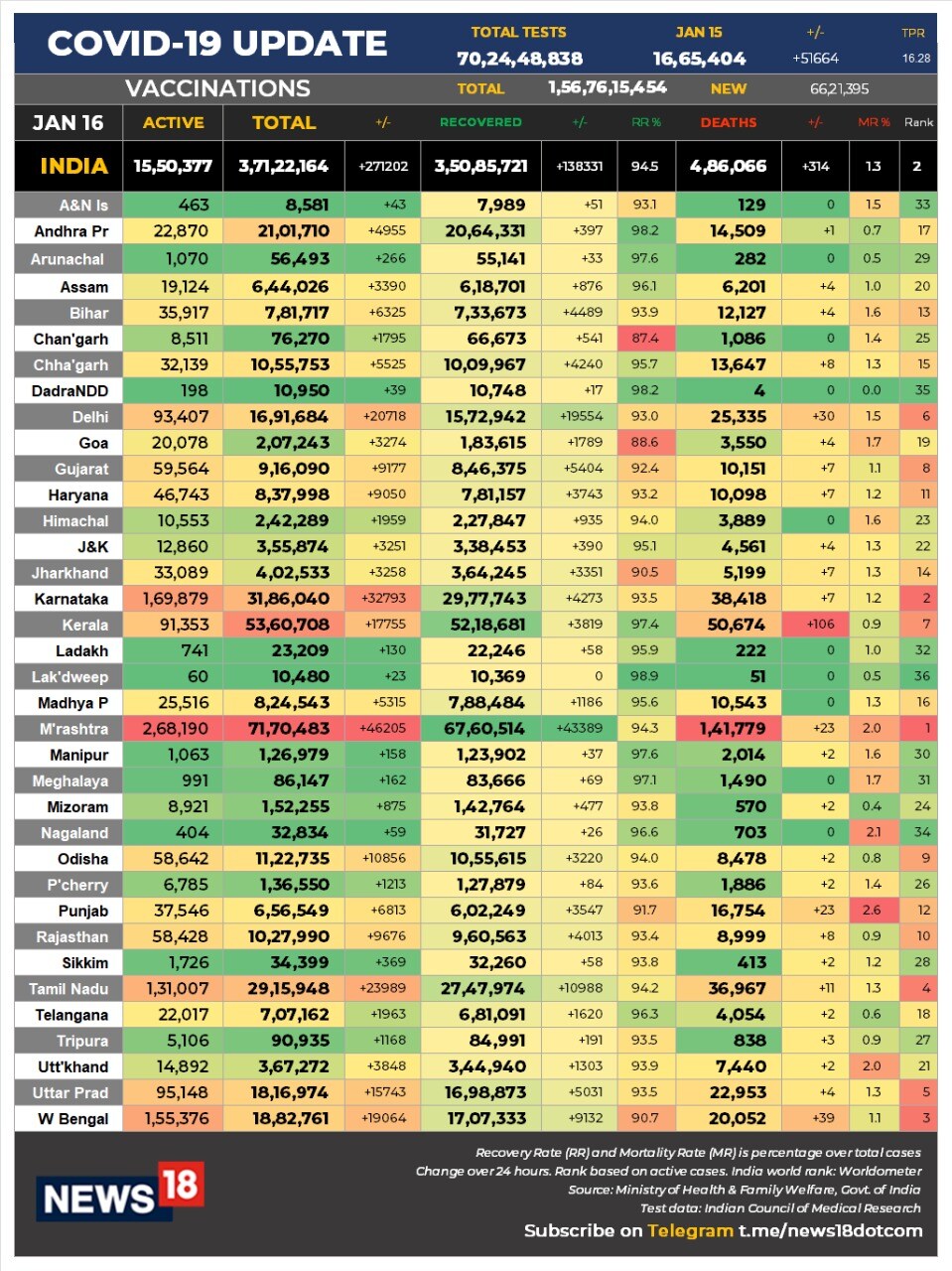 # Jammu & Kashmir: Weekend lockdown being observed in Doda amid rising cases. "We were already suffering because of the previous lockdowns and now this. Doda administration's decision to allow only essential services doesn't help us either," says a grocer.
# Chennai observes lockdown as part of complete lockdown on all Sundays in Tamil Nadu, amid rising COVID-19 cases.
First Published: Jan 16, 2022 9:24 AM IST