Attention parents: If you thought diabetes is a disease that afflicts only the grown-ups, get ready for a rude shock.
Kids as young as 18 months are under the gripe of type-1 diabetes as most families are unaware of diabetes symptoms.
A new research by the International Diabetes Federation (IDF) revealed that Indian parents would struggle to spot this serious life-long disease in their own children.
An alarming four-in-five parents (78 percent) would have trouble recognising the warning signs, said the report released on World Diabetes Day on November 14.
Julieta Laudani, a mother from Argentina, agreed that diabetes is hard to spot.
"She only discovered her daughter Fran had type 1 diabetes when, at 18 months old, Fran went through eight diapers in quick succession," an IDF report said.
Julieta, like many parents, did not think babies could have the disease and even medical staff first thought Fran had a urinary infection.
New Delhi-based Apoorva Gomber was diagnosed with type 1 diabetes in 2009 at the age of 16 and initially went through phases of denial and hiding the disease from those around her.
According to IDF, a lack of knowledge about diabetes means that spotting the warning signs is not just a problem for parents, but is an issue impacting a cross-section of society.
The Federation highlighted warning signs such as excessive thirst, frequent urination, a lack of energy, blurred vision, slow healing wounds, and numbness in the feet and/or hands.
India was ranked third among a list of seven countries with poorest knowledge of all the true warning signs of diabetes but scored the top spot with most number of respondents claiming to be 'knowledgeable' about diabetes, according to the IDF report.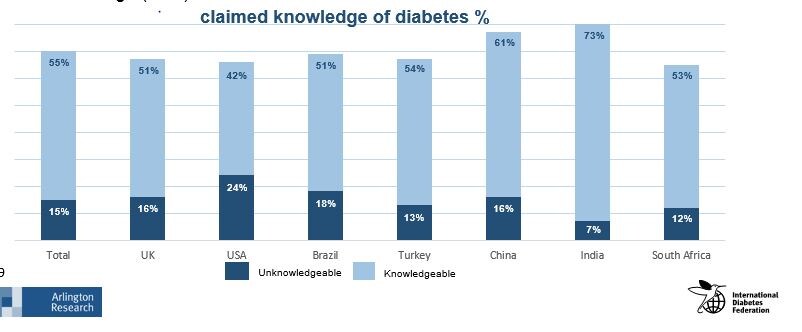 "It is vital everyone learns to identify the warning signs of diabetes. Sadly, diabetes can be easily missed or mistaken for a different condition and this leaves people – whether children or adults – vulnerable to serious consequences," Professor Nam H. Cho, IDF President, said in the report.
According to the Institute of Health Metrics & Evaluation, diabetes emerged as India's seventh biggest cause of early death in 2016, up from 11th in 2005.
IDF survey findings underlined the need for education and awareness to help people spot the diabetes warning signs early.
The research was based on an online survey of 7,000 people from the United Kingdom, Brazil, China, India, South Africa, Turkey and the United States of America. 46 percent of those surveyed were parents and had at least one child aged under 18 years old.