After a lot of uncertainty and speculations, the board of cash-strapped Fortis Healthcare on Thursday accepted Rs 4,000 crore bid from Malaysia-based IHH Healthcare Berhad (IHH).
IHH Healthcare has outbid rival bidder TPG-Manipal in the race to buy stake in Fortis.
The world's second largest healthcare group by market capitalisation will acquire a stake of between 31.1% to 57.1% of Fortis, through a preferential allotment of shares (31.1% stake), and a mandatory open offer (up to another 26% stake), it said in a statement on Friday morning.
Fortis Healthcare, which has extended the deal deadlines three times, had shortlisted two entities to bid for the sale of its business.
As per the criteria set by the Fortis board, the buyers have to make a minimum investment of Rs 1,500 crore into Fortis Healthcare by way of preferential allotment apart from having a plan for funding the acquisition of RHT and a plan for providing an exit to private equity investors of diagnostic arm SRL.
According to the offer, the fund infused by IHH will be used towards completion of the acquisition of assets of RHT Health Trust (RHT), SRL Diagnostics private equity minority shareholders and short-term liquidity needs.
The proposal also provides for refinancing of debt to the extent of Rs Rs 2,500 crore.
Citi and HSBC are working with the Malaysian firm as financial advisors and for the open offer process, respectively.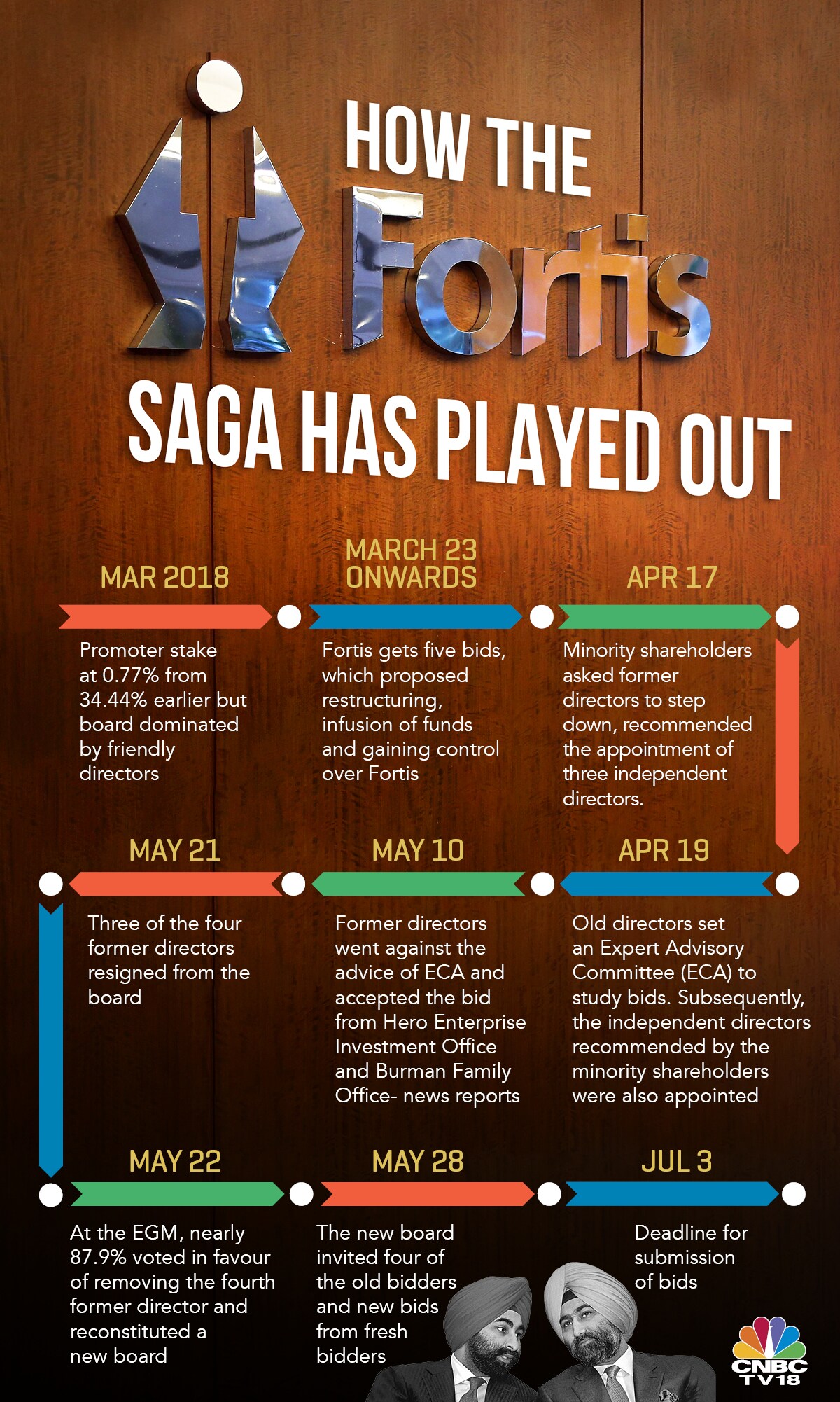 "The IHH proposal offers a more strategically and financially compelling proposition along with simplicity and certainty, said Ravi Rajagopal, chairman, Fortis. "The process was relaunched on May 29, 2018, and has been conducted in a fair, time-bound and transparent manner."
IHH initial bid submission date was set for June 14, 2018, which was subsequently revised and communicated to all bidders for July 3, 2018. This was subsequent to the delay in announcement of Audited accounts for the financial year ending March 31, 2018.
IHH also proposed an open offer for public shareholders of Fortis Malar Hospital at a price as determined under the Substantial Acquisition of Shares and Takeovers (SAST) Regulations.
It is a welcome move because it puts an end to a long period of uncertainty which is certainly affecting operational issues and morale of all the staff of Fortis Healthcare and especially the doctors, said Ashok Seth chairman of Fortis Heart Institute.
For the past two weeks, the Fortis board was working with its financial advisors, Standard Chartered Bank and Arpwood Capital, and legal advisors, Luthra & Luthra Law Offices and Cyril Amarchand Mangaldas, for finalising the bid, the statement said.
The transaction is expected to be completed within seven business days of receipt of shareholder's and Competition Commission of India's (CCI) approval which will be obtained concurrently with shareholder's approval and can take approximately 60-75 days.
Fortis needs a home quickly because they have run out of funds and there needs to be a credible promoter, said Shriram Subramanian, MD of InGovern.
"It is some distance away but the quicker the transaction is done, the better for the company and its shareholders," he said.