Mini
Here are the highlights from the novel coronavirus outbreak in India from September 6.
India's COVID-19 tally on Sunday saw another record surge of 90,632 cases in the past 24 hours, as infections spread to smaller cities and parts of rural India. According to the Union health ministry, the country's caseload reached 4,113,811, slightly short of Brazils confirmed 4,123,000 infections. Brazil is the second worst-hit country after the United States with 6,245,112 cases. The ministry on Sunday also reported 1,065 deaths for a total of 70,626. More than 1 million cases have been detected in India in less than two weeks. Health officials say the country's daily testing exceeds 1 million now.
Here are highlights from the coronavirus outbreak in India from September 6:
Delhi Metro set to resume services from September 7 after 169-day hiatus
After being closed for over five months due to the COVID-19 pandemic, the Delhi Metro is all set to resume services in three stages from Monday, even as it appealed to people to use the rapid transport only if urgently needed.
The Delhi Metro Rail Corporation (DMRC) authorities on Sunday reiterated that stations located in containment zones, as per the status on the day of the journey, will remain closed.
Over 65% jump in containment zones count in Delhi
There has been a rise of 80 per cent in the number of home isolation cases of COVID-19 in the national capital in the last 16 days, and parallely the containment zones count too has spiralled up to 976 over the same period, according to official data. Amid steady rise in fresh and active coronavirus cases in the last several days, the number of people in home isolation here on Saturday reached the five-figure mark again after over a month's time.
AP records 10,794 fresh COVID-19 cases
The coronavirus positives increased by the new normal 10,000-plus but the number of active cases dropped below the one-lakh mark in Andhra Pradesh
on Sunday.
Immense self-discipline, caution exercised at places of worship: Naqvi
Immense self-discipline and caution were exercised at places of worship in India during the coronavirus pandemic, setting an example for the entire world, Minority Affairs Minister Mukhtar Abbas Naqvi said on Sunday.
He said followers of almost all religions of the world reside in India and various festivals and other auspicious occasions were observed during the coronavirus crisis.
Arjun Kapoor tests positive for COVID-19
Actor Arjun Kapoor on Sunday said he has tested positive for COVID-19 and is asymptomatic. The 35-year-old actor said he is "feeling ok" and will be under home quarantine. "It is my duty to inform all of you that I have tested positive for coronavirus. I'm feeling ok and I'm asymptomatic.
Congress' Rajya Sabha MP Deepender Hooda tests COVID-19 positive
Congress' Rajya Sabha MP from Haryana Deepender Singh Hooda tested positive for COVID-19 on Sunday. The 42-year-old, who is the lone opposition MP from Haryana, is currently in Delhi. He asked people who may have come in his contact during the past few days to isolate themselves and get tested.
Recovery rate rises to 77.32%; fatality rate drops to 1.72%
With a record 73,642patients having recuperated in a day, India's COVID-19 recoveries have surged to nearly 32 lakh, pushing the recovery rate to 77.32 per cent while the case fatality rate, one of the lowest globally, has further dropped to1.72 per cent as on date, the Union Health Ministry said on Sunday. There are 8,62,320 active cases of coronavirus infection in the country accounting for only 20.96 per cent of the total caseload, it highlighted.
Pak registers 484 new COVID-19 cases
Pakistan's COVID-19 tally reached 298,509 on Sunday after 484 coronavirus cases were recorded across the country, according to the official data. Another two patients died in the last 24 hours, taking the COVID-19 death toll to 6,382, the Ministry of National Health Services said.
Woman COVID patient sexually abused by ambulance driver in Kerala
A 19-year old woman COVID-19 patient was allegedly sexually abused by an ambulance driver while shifting her to first line treatment centre near here, police said on Sunday. The ambulance driver Noufal (29) was taken into custody on Sunday based on a complaint by the victim's mother to the hospital authorities and the police.
8 more people die in Rajasthan
Rajasthan recorded eight fresh fatalities due to COVID-19 and 726 new cases of the virus on Sunday, according to an official report here. With this, the cumulative number of COVID-19 deaths and cases in the state has climbed to 1,130 and 90,089 respectively. Of the eight deaths, one was reported in Ajmer, one in Alwar, three in Bikaner, one in Dausa and two in Jaipur.
Telangana's COVID tally crosses 1.4 lakh
With 2,574 new Covid-19 cases registered during the last 24 hours, Telangana's tally crossed 1.4 lakh on Sunday. The new infections pushed the cumulative numbers to 1,40,969. Nine more people died during the period taking the toll to 886. According to a media release from the office of the Director of Public Health and Family Welfare, the fatality rate in the state was at 0.62 per cent against the national average of 1.7 per cent. Of the fatalities, 53.87 per cent had co-morbidities.
With 478 fresh cases, overall tally rises to 17,032 in Puducherry
A total of 478 fresh COVID-19 cases and 16 deaths took the infection count to 17,032 and the toll to 314 in the union territory on Sunday, the government
said. The 16 people who succumbed included five women and were in the age group ranging from 54 to 85. Most of the deceased had comorbidities, a release from the Health department said.
139 new cases push Arunachal's COVID-19 tally to 4,914
Arunachal Pradesh's COVID-19 tally inched closer to the 5,000-mark on Sunday as 139 more people, including 20 security personnel, tested positive for the infection, a senior health official said. The fresh infections have taken the northeastern state's caseload to 4,914, he said.
Health Ministry rushes Central teams to Punjab and Chandigarh: Central teams to assist States/UT in a review of public health measures for Containment, Surveillance, Testing and efficient Clinical Management of COVID-19. The teams will be stationed for 10 days.
Dr. Randeep Guleria, a government health official, said India is seeing a resurgence with over 70 percent of its nearly 1.4 billion people still susceptible to infections. "We could say that we are seeing some sort of a second wave in certain parts of the country.

Guleria also noted the country is experiencing a COVID behavior fatigue with many people crowding public places without masks and the streets back to traffic jams

.
India's caseload reached 4,113,811,

slightly short of Brazils confirmed 4,123,000 infections

. Brazil is the second worst-hit country after the United States with 6,245,112 cases.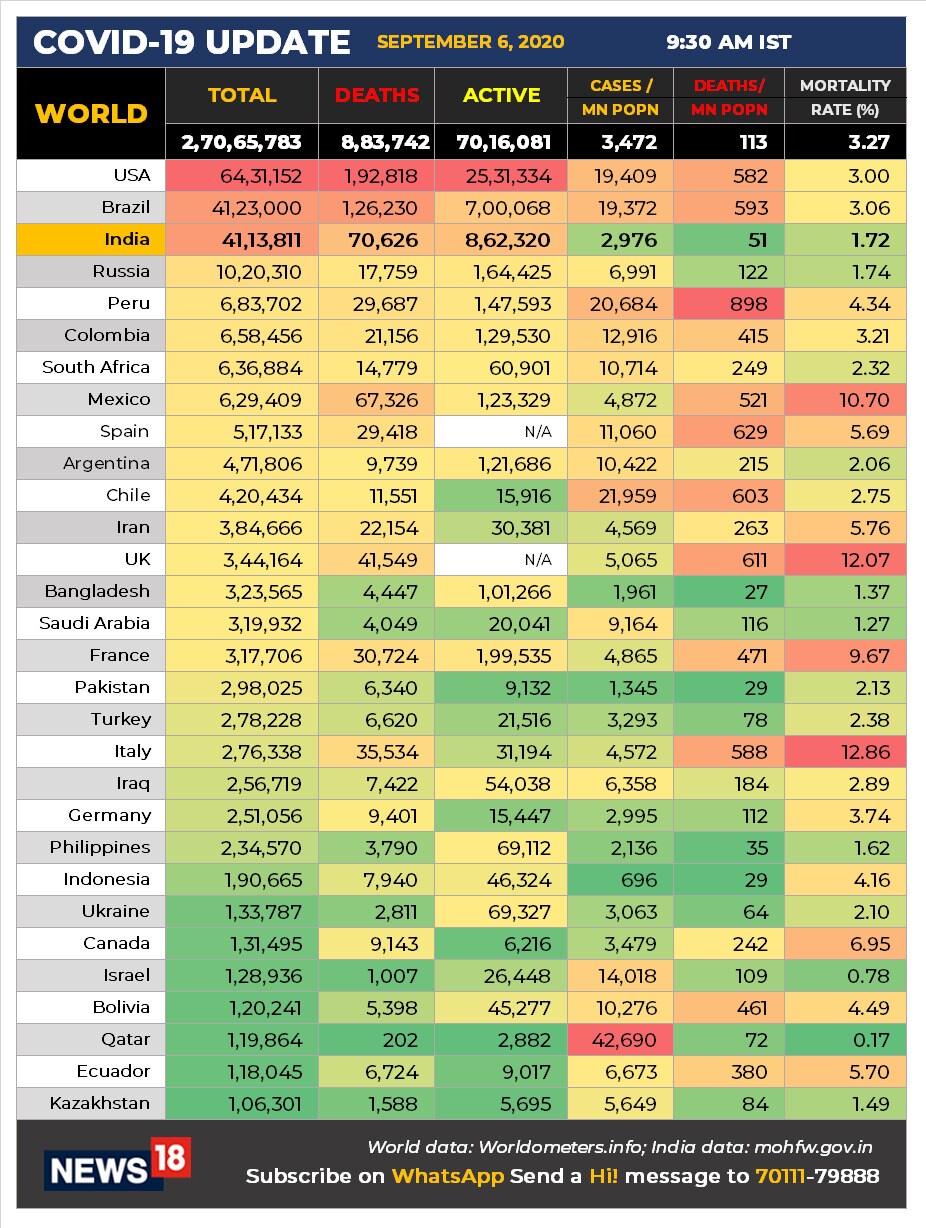 India's COVID-19 tally on Sunday crossed the 41 lakh mark, with a record over 90,000 cases in a single day. The COVID-19 tally stood at 41,13,811 with a surge of 90,632 cases in the last 24 hours. The total recoveries stand at 31,80, 865 with 73,642 people discharged in the past 24 hours. The total number of active cases stands at 8,62,320, while the overall death toll has been recorded at 70,626 with 1,065 fatalities in the last 24 hours. Six of India's 28 states, Maharashtra, Andhra Pradesh, Tamil Nadu, Karnataka, Uttar Pradesh and Delhi remain the worst-hit, accounting for 75 percent of fatalities and nearly 65 percent of total cases.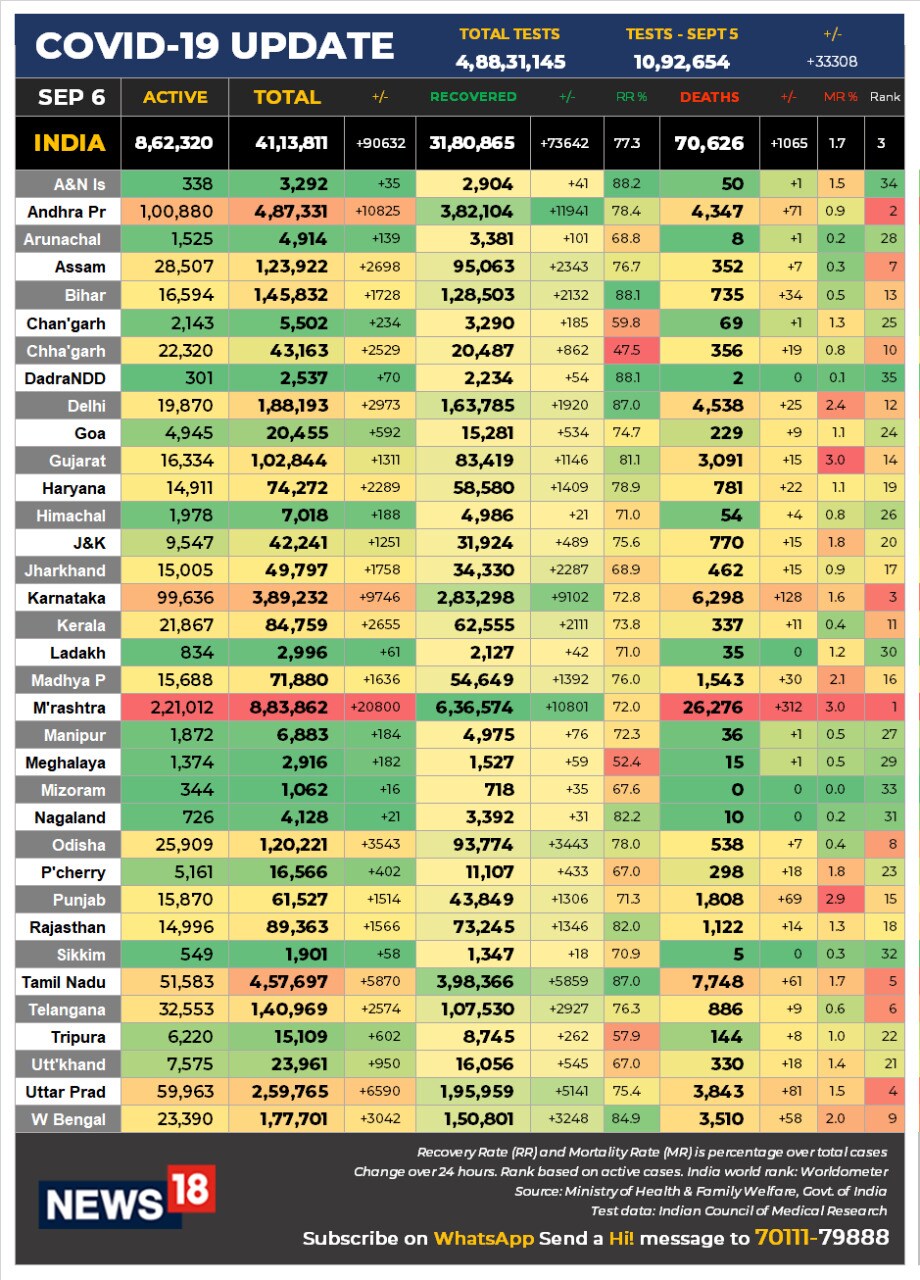 Maharashtra adds record 20,801 COVID-19 cases in a day; 312 dead: Maharashtra on Saturday reported its highest-ever single-day spike in COVID-19 cases at 20,801, taking the total count of infections to 8,83,862, the state health department said. With 312 fatalities, the cumulative toll went up to 26,276 in the state, it said. This is the fourth consecutive day that Maharashtra has reported a record number of cases in a single day. Earlier, the state had reported the highest single-day spike of 19,218 cases on Friday.
Mumbai city reported 1,737 new cases and 33 deaths, taking its tally to 1,53,712 and the toll to 7,832, the official said.
—With inputs from agencies