Here are the top developments from the coronavirus pandemic for today. For more news, views and updates stay logged on to CNBCTV18.com
India's COVID-19 caseload crossed the 88 lakh mark on Sunday, while the total active cases stood well below the 5-lakh mark at 4.79 lakh. The total number of recoveries stood above the 82 lakh mark.
Here are the top developments from the coronavirus pandemic for today.
Siddhivinayak temple to allow 1,000 devotees beginning Nov 16
Only 1,000 devotees will be allowed inside famous Siddhivinayak temple in Mumbai every day beginning Monday in staggered time slots to be booked through a mobile phone application, its chairman Aadesh Bandekar said on Sunday. Religious places in Maharashtra, which have been shut since a COVID-19 lockdown was imposed in March, are set to reopen from Monday during ongoing Diwali festival. The Siddhivinayak Temple Trust has prepared a mobile application through which devotees can book their appointments for darshan beginning Monday, Bandekar told reporters. "Devotees will have to download 'Shri Siddhivinayak temple' application on their mobile phones to book slot for darshan. They will need to fill in their details and book an appointment, following which a QR code will be generated with a time slot. QR codes for 1,000 people will be generated during the day," he said Bandekar said devotees will have to put the QR code into the scanner at the temple. "They will be allowed inside after undergoing mandatory checks," he added.
Spike in COVID cases: More ICU beds, testing in Delhi, says HM Amit Shah
To deal with the recent spike in coronavirus cases in Delhi,the Centre on Sunday said it will soon make available 300 additional ICU beds and double the number of daily RTPCR tests in the national capital. Union Home Minister Amit Shah also said some of the hospitals under the municipal corporations of Delhi will be converted into dedicated COVID hospitals and doctors and paramedics of paramilitary forces will be deployed in the national capital to deal with the shortage of manpower. Shah said to save more lives, the Centre will also provide oxygen, high flow nasal cannula and other health equipments to Delhi. The decisions were taken at a high level meeting chaired by Shah and attended byDelhi Lieutenant Governor Anil Baijal, Chief Minister Arvind Kejriwal, Union Health Minister Harsh Vardhan among others.
Home Ministry issues 12-point action plan to fight COVID-19 in Delhi
Union Home Minister Amit Shah took stock of Delhi's COVID-19 situation in the wake of recent spike in cases in the national capital, officials said. Following the meeting, where Chief Minister Arvind Kejriwal was present including LG Anil Baijal, Health Minister Harsh Vardhan and Delhi Health Minister Satyendar Jain, the Home Ministry issued a 12-point action plan to fight COVID-19 in the national capital. The ministry said that the RTPCR testing should be doubled in Delhi and testing laboratories should be used to the maximum and mobile diagnostic vans should be deployed in those areas where there is a high incidence of COVID-19. The ministry said that more MCD hospitals should be designated as dedicated COVID hospitals and capacity of the 10,000 oxygen bed hospital in Chattarpur should be augmented. Doctors and para medics from paramilitary forces to be called in to assist the health infra in Delhi. Dr VK Paul to prepare a protocol for plasma donation and plasma therapy for serious COVID patients.
Andhra Pradesh COVID-19 tally touches 8.54 lakh with 1,056 new cases
Andhra Pradesh added 1,056 fresh cases of coronavirus, taking the cumulative to 8.54 lakh on Sunday. In 24 hours ending 9 am on Sunday, 2,140 patients got cured while 14 others succumbed in the state. The latest bulletin said the total recoveries increased to 8.28 lakh and the toll to 6,868, leaving 18,659 active cases.
Manipur CM Biren Singh tests positive
Manipur Chief Minister N. Biren Singh on Sunday said that he has tested positive for Covid-19. "I have tested positive for Covid-19. I request all those who came in close contact with me recently, to self-isolate and get tested," he tweeted. In a Facebook post, Biren Singh said: "Friends, I have tested Covid positive today (Sunday) after having some symptoms. All that have been in close proximity to me in the last few days are requested to get themselves tested. I am fine at the moment."
95 more die of COVID-19 in Delhi; positivity rate over 15%
Delhi recorded 3,235 fresh COVID-19 cases, the lowest since October 26, taking the infection tally in the national capital to over 4.85 lakh on Sunday, while the positivity rate increased to 15.33 per cent. Ninety-five more fatalities pushed the death toll to 7,614, authorities said. The fresh coronavirus cases were detected from 21,098 tests conducted the previous day, the lowest since August 14, when 14,389 tests were done.
26 new cases take Tripura's COVID-19 tally to 31,945
At least 26 more people tested positive for COVID-19 in Tripura on Sunday, pushing the tally in the state to 31,945, a health department official said.
The coronavirus death toll remained at 359 as no patient has succumbed to the infection in the last 24 hours,
he said.
Mizoram reports 25 new COVID-19 cases; tally mounts to 3,393
Mizoram's COVID-19 tally mounted to 3,393 with 25 more people testing positive for the virus, an official said on Sunday. The COVID-19 death toll in the state rose to four with one more person succumbing to the disease, the official said.
Legendary Bengali actor Soumitra Chatterjee no more
The 85-year-old Dadasaheb Phalke awardee had been admitted in the Intensive Care Unit (ICU) of Kolkata's Belle Vue Hospital on October 6 after he tested positive for COVID-19. He recovered from the infection, but his condition did not improve as he suffered from multiple ailments, including neurological complications.
Telangana adds 661 new COVID-19 cases, lowest this month
Fresh COVID-19 cases in Telangana touched its lowest in recent times with 661 infections taking the tally to 2.57 lakh, the state government said on Sunday.
- India is now No.5 in the world in total active cases. Behind the USA, France, Italy and Belgium.
- India's tests per million population is now over 90k
- USA continues to report more than 1.5 lakh new cases (1.57 lakh)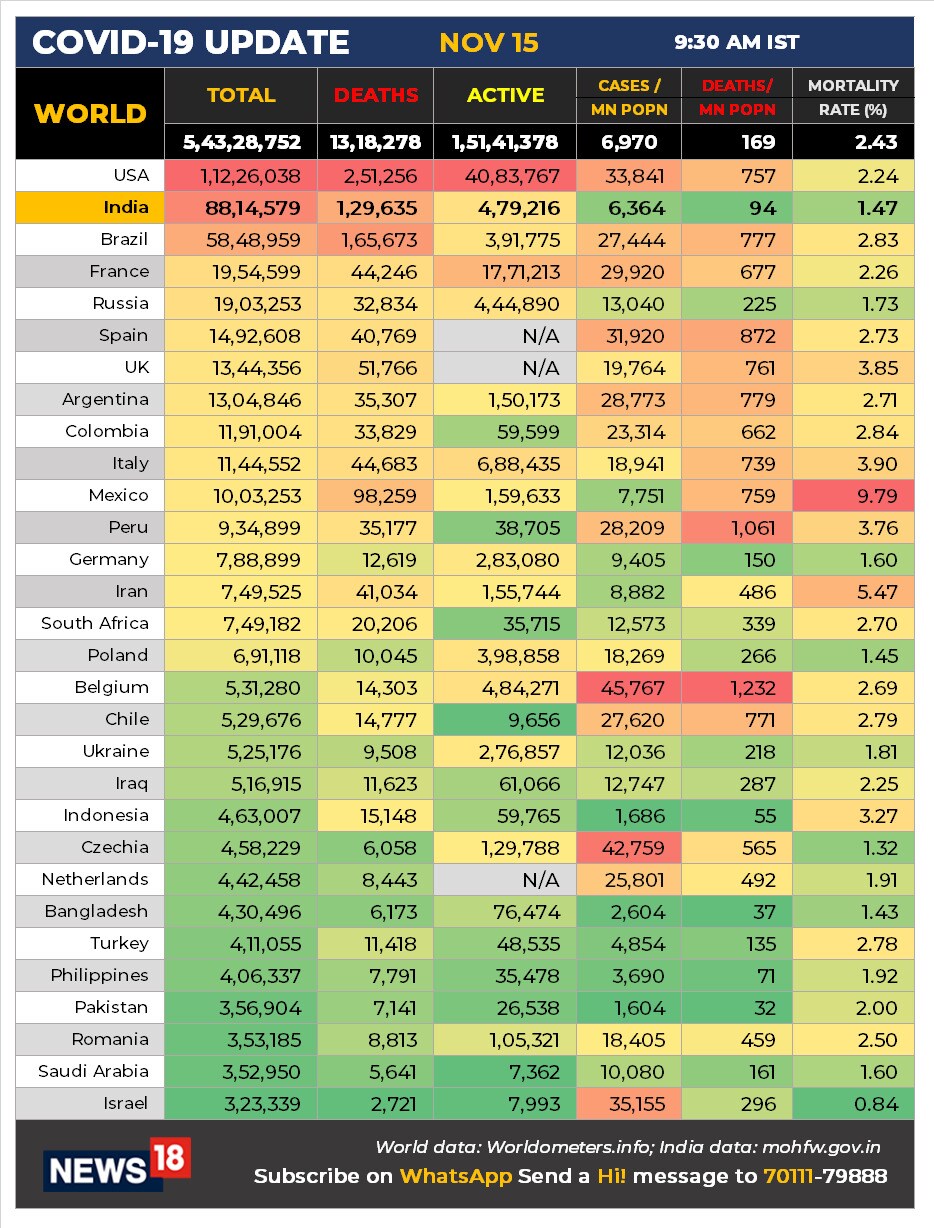 Here are the salient points from the COVID-19 data today
-Single-day testing below 10 lakh for the second straight day
-Total testing in last 24 hours at 8.05 lakh vs previous day's 9.29 lakh
-Active cases fall for 43 days; but today's fall lowest in the last 43 days
-Active cases fall by 1,503 in the last 24 hours to 4.79 lakh
-Additions to total cases less than 50,000 for 8th straight day
-Recovery rate rises to 93.09 percent from yesterday's 93.05 percent
-Positivity rate slips to 5.44 percent from yesterday's 5.48 percent
-Recoveries increase by 42,156; lowest single-day in more than 3 months
-Deaths rise by less than 500 after four days; it's up 447
-Deaths see the lowest single-day rise in more than 4 months
-Total cases at 88.14 lakh, active 4.79 lakh, recoveries 82.06 lakh and deaths 1.29 lakh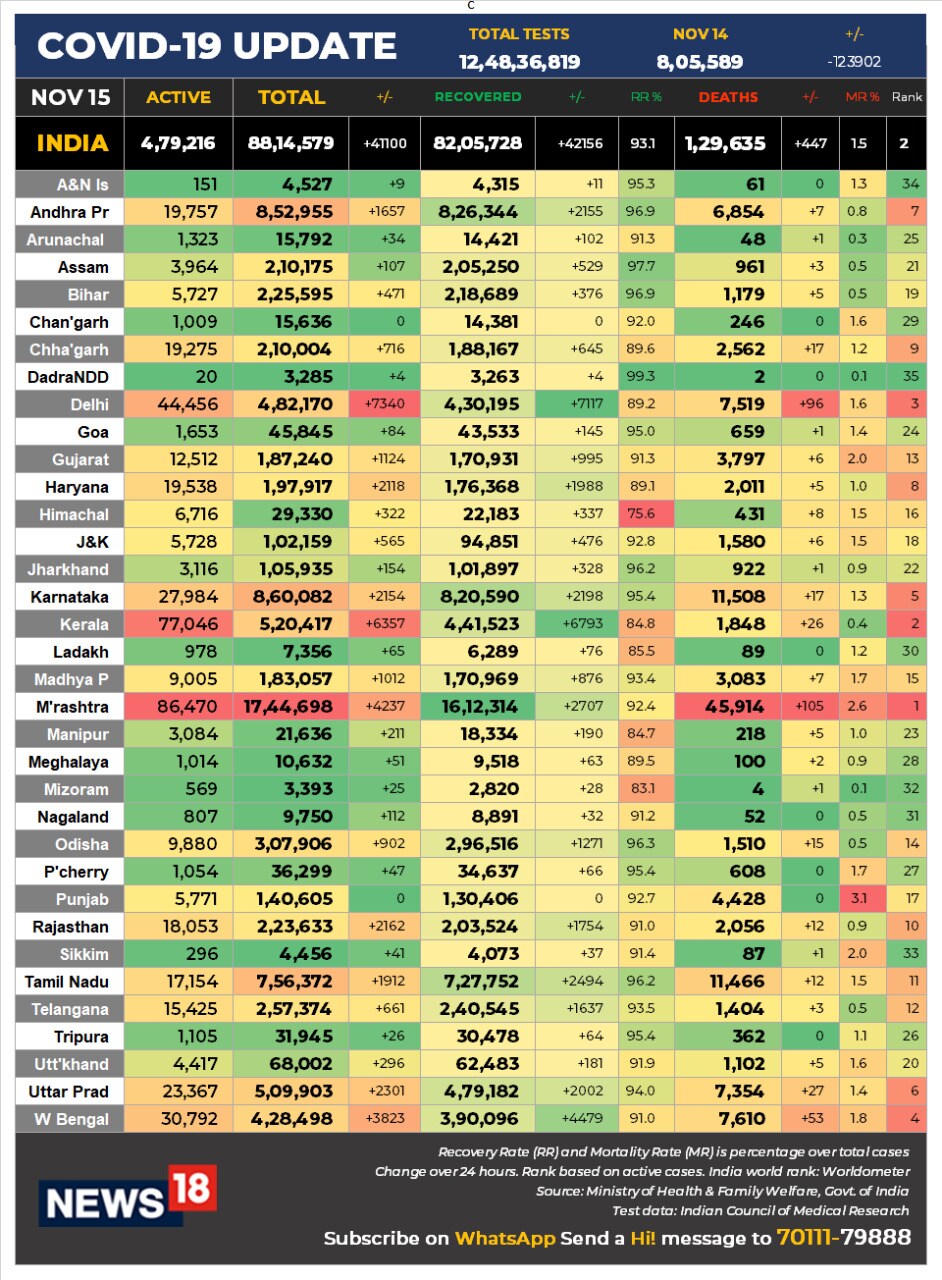 Elon Musk says 'most likely' has a moderate case of COVID-19
Tesla Inc Chief Executive Officer Elon Musk said on Saturday he "most likely" has a moderate case of COVID-19, as he continued to question the accuracy of the tests.
"Am getting wildly different results from different labs, but most likely I have a moderate case of covid. My symptoms are that of a minor cold, which is no surprise, since a coronavirus is a type of cold," Musk wrote in a tweet.
He did not mention whether the results were from polymerase chain reaction tests, which are more accurate than rapid tests.
"A little up & down. Feels just like a regular cold, but more body achy & cloudy head than coughing/sneezing," the Tesla CEO wrote in reply to a user asking about symptoms.
China finds coronavirus on frozen beef, tripe from various countries
The eastern Chinese city of Jinan said it has found the new coronavirus on beef and tripe, and on packaging for these products, from Brazil, New Zealand and Bolivia as China ramps up testing on frozen foods.The importers were a unit of Guotai International Group and Shanghai Zhongli Development Trade, the Jinan Municipal Health Commission said in a statement on its website late on Saturday.
The entry ports were Shanghai's Yangshan port customs and outer port customs, it said. The statement from the city in Shandong province did not name the companies that shipped the products.
South Korea reports 208 new COVID-19 cases, eighth day of triple-digit rises
South Korea reported 208 new coronavirus cases as of Saturday midnight, marking the eight straight day of triple-digit increases, the Korea Disease Control and Prevention Agency (KDCA) said on Sunday. That was slightly higher than the previous day's 205 new infections and the highest since early September. Of the cases, 176 were domestically transmitted and 32 imported. Nearly 70% of the locally transmitted cases were from Seoul and Gyeonggi province, a densely populated area near the capital. On Saturday, President Moon Jae-in urged authorities and local governments to raise their awareness of the spread of the coronavirus, reinforcing thorough supervision of safety guidelines such as mandatory mask wearing.
Maharashtra adds 4,237 new COVID-19 cases, 2,707 recover; 105 die
Maharashtra reported 4,237 fresh COVID-19 cases on Saturday, taking its count of infections to 17,44,698, the state health department said. With 105 more patients succumbing to the infection, the toll mounted to 45,914, it said, adding that the case recovery rate in the state now stands at 92.41 per cent while the case fatality rate is 2.63 percent. A total of 2,707 patients were discharged in the day, taking the tally of recoveries to 16,12,314, the department said in a statement. The state is now left with 85,503 active cases. A total of 1,477 new COVID-19 cases were reported from the Mumbai Metropolitan Region (MMR) including 726 infections in Mumbai city, the department said. With this,the total tally of cases in MMR has mounted to 6,05,232, including 2,69,133, in Mumbai. A total of 36 people died in the MMR in the day, including 16 in Mumbai. The cumulative death toll in MMR rose to 18,304 including 10,558 fatalities in Mumbai, it said.
Delhi's COVID-19 tally reaches 4.82 lakh with 7,340 new cases, death toll rises to 7,519
The national capital recorded 7,340 COVID-19 cases in a day taking the infection tally to over 4.82 lakh on Saturday, while 96 more fatalities during the same period pushed the death toll in the city to 7,519, authorities said.
These fresh cases were detected from 49,645 tests, including 19,635 RT-PCR ones and 30,010 by rapid antigen tests, conducted the previous day. The positivity rate in the city was 14.78 per cent amid festivities and rising pollution, according to a bulletin issued by the Delhi health department.
The highest single-day spike of 8,593 cases was recorded on Wednesday and 85 fatalities were recorded that day. On November 12, the number of fatalities was 104, the highest in over five months. On Saturday, 96 more fatalities were recorded, pushing the death toll in the national capital to 7,519, the bulletin said. The tally of active cases in the national capital on Saturday rose to 44,456 from 44,329 the previous day. According to the bulletin, the total number of cases has reached 4,82,170, while recovery rate stood at over 89 percent. The number of containment zones in Delhi increased to 4,288 on Saturday from 4,184 on Friday.
—With inputs from agencies
(Edited by : Ajay Vaishnav)
First Published:  IST