Mini
Here are the latest updates and trends from the COVID-19 pandemic in India and the ongoing Unlock 4.0 guidelines
Coronavirus News September 2 Highlights:
India's COVID-19 tally crossed well-over the 37.5 lakh mark on Wednesday with a single-day spike of over 78,000 cases in the past 24 hours. The overall recoveries neared the 3 million or 30 lakh mark, while the number of active cases rose above 8 lakh. The number of fatalities stands at 66,333 with 1045 deaths in the last 24 hours.
Here are the latest updates from the COVID-19 pandemic in India and the ongoing Unlock 4.0 guidelines:
IBC cases dropped during lockdown: The number of cases admitted under the Insolvency & Bankruptcy Code (IBC) dropped by almost 75 percent in the June quarter compared to the same period last year. According to the latest data released by the Insolvency & Bankruptcy Board of India (IBBI), only 76 corporate insolvency cases were admitted between April and June.
Delhi metro resumption from September 7: The DMRC (Delhi Metro Rail Corp) chief has said that metro services will resume in the capital from September 7. This will be Phase 1 of the reopening. Delhi Metro will operate from 7 am to 11 am 4 pm to 8 pm until September 10. The next day, Metro will operate from 7 am to 1 pm, 4 pm to 10 pm. From September 12, services will run from 6 am until 11 pm. Only selected gates will be open at metro stations. Additionally, the top-up of smart cards will be cashless only.
UAE reports highest cases since late May: The United Arab Emirates recorded over 700 new coronavirus infections on Wednesday, its highest daily increase in more than three months. There has been a spike in new cases in recent weeks in the Gulf Arab state that had seen a generally falling trend since daily infections peaked in May.
Britain re-imposes COVID restrictions partly: The British government re-imposed local COVID-19 restrictions on parts of the Greater Manchester area in northern England on Wednesday, just as they were being lifted, the latest in a series of abrupt reversals. (Reuters)
2,066 fresh cases push Jharkhand's COVID-19 tally to 43,835; death toll mounts to 428: Jharkhand's COVID-19 caseload rose to 43,835 on Wednesday as 2,066 more people tested positive for the infection, while five fresh fatalities pushed the state's coronavirus death toll to 428, a health bulletin said. Ranchi district reported the highest number of new cases at 951, followed by East Singhbhum (246), Bokaro (203) and Giridih (155), it said.
India has one of the lost fatality rate in the world: India has reported one of the lowest COVID-19 fatality rates in the world with the figure declining to 1.76 percent as of September 2, while the global average is at 3.3 percent, the Union Health Ministry said on Wednesday. It also said that COVID-19 deaths per million population in India is one of the lowest in the world.
Pope interacts with public in first meeting in six weeks: Pope Francis held his first weekly general audience in public for the first time in six months on September 2, smiling and chatting as he re-emerged from the constraints of the coronavius lockdown.
Delhi Ramlila Committees begin preparations, await govt nod for performances amid pandemic: Ramlila committees in the national capital have begun preparations for the 10day celebrations ahead of the Dussehra festival in October, but are unsure whether the government will allow the performances, which draw a large crowd, amid the coronavirus pandemic. Ramlila committees feel that even if at a small scale, they should be allowed to organise the performances this year taking into consideration the beginning of the construction of a Ram temple in Ayodhya, where many believe Lord Ram was born.
Four More MLAs Test Positive in Rajasthan: Four more MLAs have tested positive for COVID19 in Rajasthan which recorded five more fatalities due to the novel coronavirus on Wednesday. A Congress MLA and three BJP legislators had tested positive for the virus last week.
50% rise in active COVID-19 cases in Delhi in a month: The number of active COVID19 cases in Delhi increased by around 50 percent in a month, with the city witnessing a marked uptick in new cases, according to government data. There were 10,596 active COVID19 cases on August 1. The number increased to 15,870 on Tuesday, an analysis of the Delhi government's health bulletins showed.
US Study to Track Impact of COVID-19 Among Pregnant Women in India, 6 Other Countries: A top American scientific body has launched a study to track the prevalence and impact of COVID19 infection among approximately 16,000 pregnant women in seven countries, including India. The study will follow women through pregnancy and 12 months after childbirth to compare maternal, fetal and newborn outcomes of participants who have been infected with the virus to those of pregnant women who have not been infected, the National Institute of Health (NIH) said, announcing the launch of the study on Tuesday.
Vinesh Phogat recovers from COVID-19, tests negative twice: India's top woman wrestler Vinesh Phogat has recovered from coronavirus, returning negative tests twice, but remains in isolation for precautionary purpose. The 24-year-old could not receive her 'Khel Ratna' as she tested positive just ahead of the virtual National Sports Awards ceremony on August 29. "I underwent a second COVID19 test yesterday (Tuesday) and am happy to report that I have received a negative result," Vinesh tweeted.
A look at how COVID-19 has impacted tourism
Odisha reports 3,219 new COVID-19 cases, 11 more deaths:Odisha on Wednesday reported 3,219 new COVID19 cases, taking the states tally to 1,09,780, a Health Department official said. The death toll rose to 514 with 11 fresh fatalities, he said.
A total of 15,591 #COVID19 cases reported so far in Maharashtra Police, including 12,640 recovered and 158 deaths.
Goa Chief Minister Pramod P Sawant tests COVID-19 positive
Commercial vehicle industry at 30 percent sales of pre-COVID levels, says Eicher Motors' Vinod Aggarwal
COVID-19 India data salient points: The total cases see an increase of 78,357, 3rd biggest single-day increase ever, while active cases rise by 15,286, recoveries by 62,026 & deaths by 1,045. Deaths see an increase of more than 1,000 after a gap of 3 days. The total number of tests on a single day at 10.12 lakh vs yesterday's level of 9.48 lakh. The gap between recoveries and active cases rises above 21 lakh. The recovery rate improves to 77 percent (76.98 percent vs yesterday's 76.94 percent). The death rate slips to 1.76 percent from yesterday's level of 1.77 percent.
#COVID_19 India Updates | Total cases rise by 78,357, 3rd biggest 1-day increase. Active rises by 15,286 & recoveries by 62,026. Deaths rise by >1,000 after a gap of 3 days. Recovery rate improves to 77% (76.98% Vs Yesterday's 76.94%). Tests on a daily basis back above 10 lk pic.twitter.com/JX2MYUtDI1

— CNBC-TV18 (@CNBCTV18Live) September 2, 2020
The Global COVID-19 total cases were recorded at 25,904,164 on Wednesday at 8 am with the number of dead at 861,251. The number of cured or discharged stands at 18,196,019.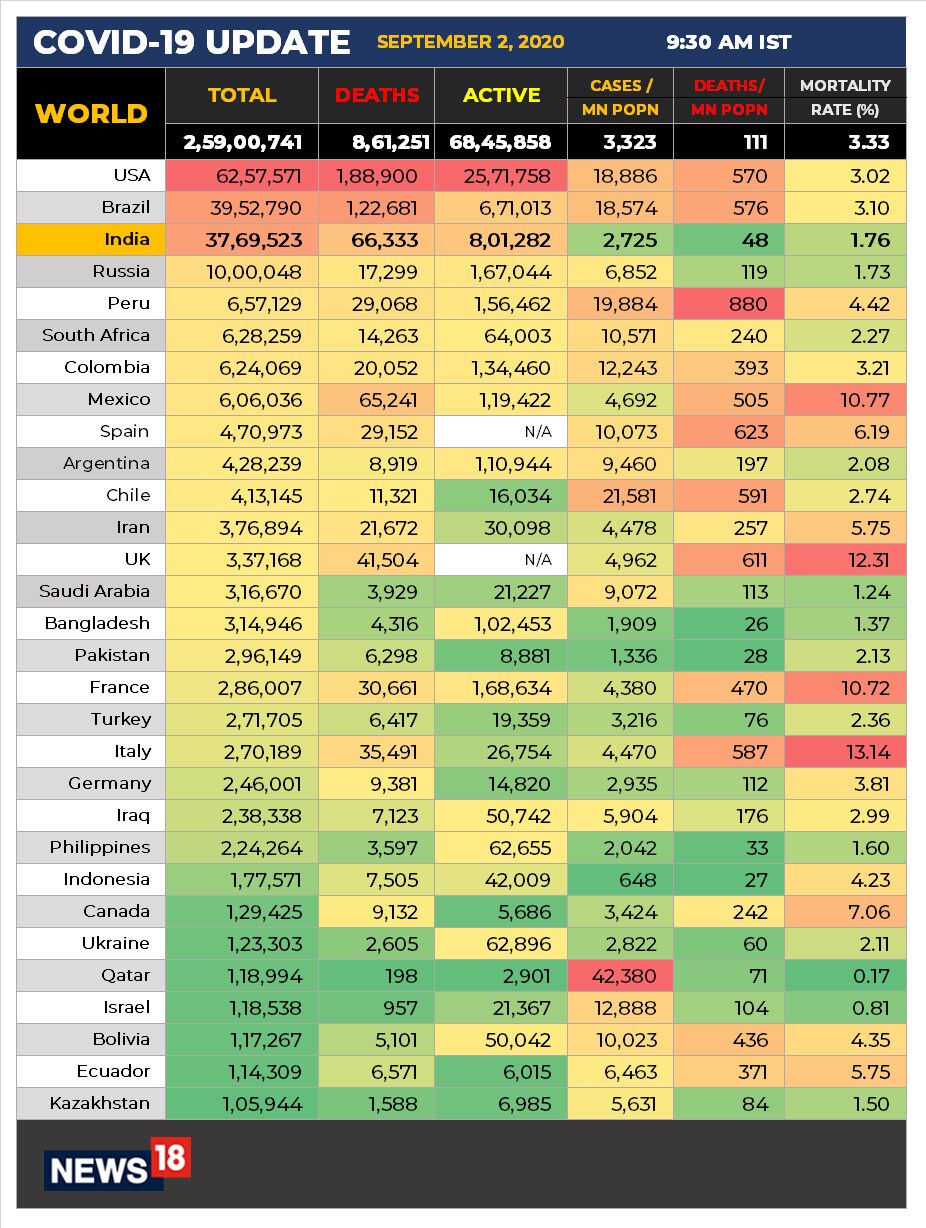 India COVID-19 tally on Wednesday crossed the 37.5 lakh mark with a single-day spike of over 78,000 cases in the past 24 hours. The overall recoveries neared the 3 million or 30 lakh mark, while the number of active cases rose above 8 lakh. The number of fatalities stands at 66,333 with 1045 deaths in the last 24 hours.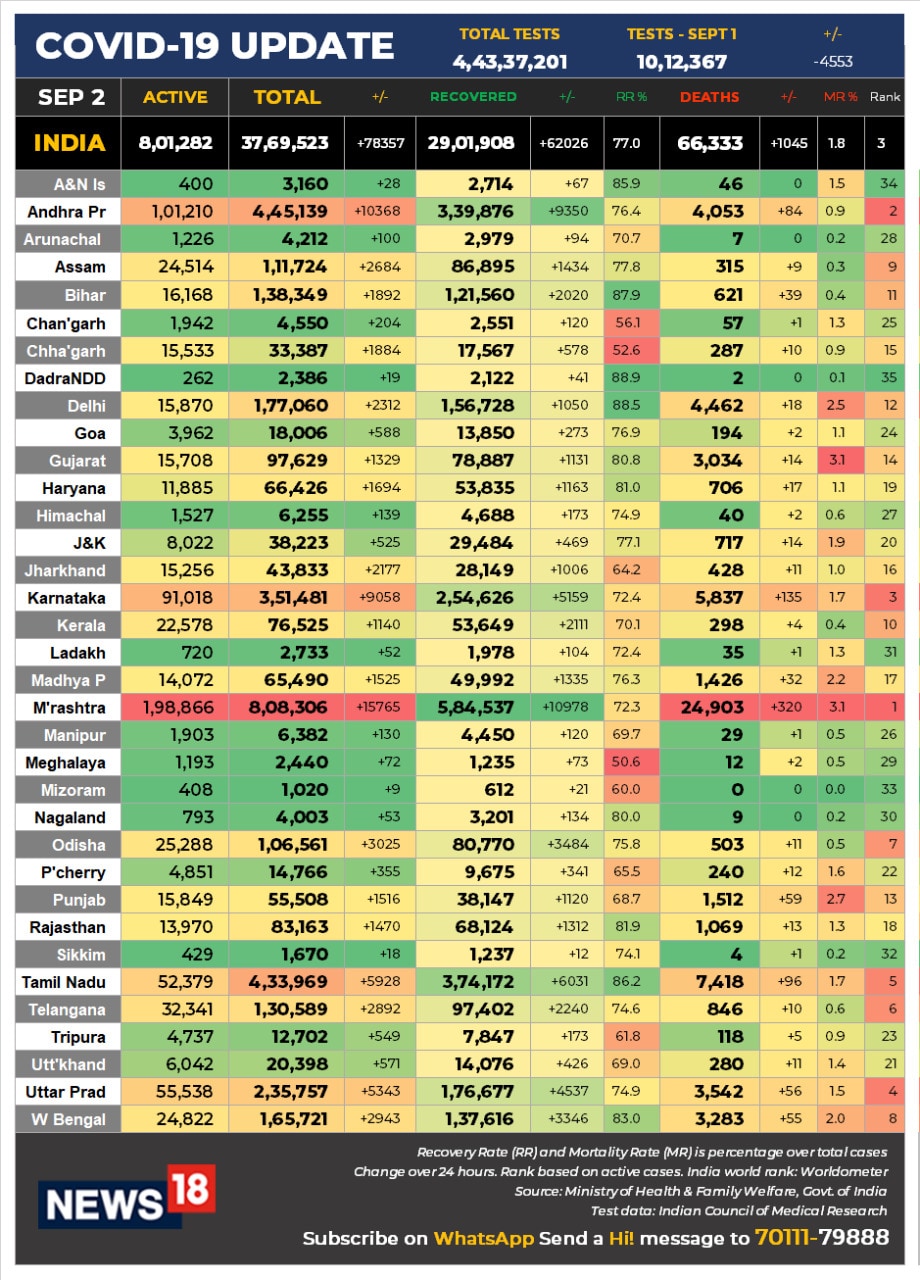 All 13 members of the Chennai Super Kings contingent, who tested positive for COVID-19 early last week, have come out negative in the latest tests

, the IPL team's CEO K S Viswanathan told PTI on Tuesday. India seamer Deepak Chahar and India A batsman Ruturaj Gaikwad were among the 13 who tested positive for COVID-19 and are in a 14-day quarantine. The IPL starts on September 19.
The

COVID-19 pandemic has exacerbated the pre-existing inequities in urban India

and has left the "lockdown generation" with lower employment rates, says a London School of Economics report. According to the report, workers in the bottom half of pre-COVID labour income group suffered bigger income losses than the top half following the coronavirus-induced lockdown. The report titled, 'City of dreams no more: The impact of COVID-19 on urban workers in India', said COVID-19 has decimated livelihoods in urban India and created a new underclass of workers who are being pushed into poverty.
Five states—Maharashtra, Andhra Pradesh, Karnataka, Tamil Nadu and Uttar Pradesh—have accounted for over half of the total COVID-19 cases

and close to 60 percent of the recoveries reported in the last 24 hours, the Union health ministry said on Tuesday. Cumulatively, these five states reported 536 deaths in a day which is over 65 percent of the total fatalities registered in the country during the period.