With 6,563 people testing positive for coronavirus infection in a day, India's total tally of COVID-19 cases rose to 3,47,46,838, while the active cases declined to 82,267, the lowest in 572 days, according to the Union Health Ministry data updated on Monday. The death toll climbed to 4,77,554 with 132 fresh fatalities, according to the data updated at 8 am. The daily rise in new coronavirus infections has been recorded below 15,000 for the last 53 days now. The active cases comprise 0.24 percent of the total infections, the lowest since March 2020, while the national COVID-19 recovery rate was recorded at 98.39 percent, the highest since March 2020, the ministry said. A decline of 1,646 cases has been recorded in the active COVID-19 caseload in a span of 24 hours. The number of people who have recuperated from the disease surged to 3,41,87,017, while the case fatality rate was recorded at 1.37 percent.
Here are the latest updates:
#The Omicron variant of the coronavirus is spreading faster than the Delta variant and is causing infections in people already vaccinated or who have recovered from the COVID-19 disease, the head of the World Health Organization (WHO) said on Monday.
Read more
#Maharashtra on Monday reported four fresh fatalities due to COVID-19, the lowest one-day death count after April 1, 2020, and 544 new cases, pushing the toll to 1,41,353 and the infection tally to 66,50,140, the state health department said. The state has reported the lowest daily deaths after April 1, 2020, when three patients had succumbed to the infection in what was the early phase of the pandemic.
#Britain's cabinet met on Monday as pressure grows to slow the spread of the Omicron coronavirus variant, a day after the Netherlands imposed a fourth lockdown and as other European countries consider putting a squeeze on Christmas.
#More than 58 lakh (58,06,977) vaccine doses have been administered till 7 pm today. India's cumulative vaccination coverage crosses 138 crore landmark: Ministry of Health and Family Welfare
#The Central Drugs Standard Control Organisation (CDSCO) has approved the extension of Bharat Biotech's COVID-19 vaccine Covaxin's shelf life up to 12 months from the date of manufacture, the vaccine-maker said.
#The planned World Economic Forum in the Swiss mountain resort of Davos has been called off due to surging cases of the Omicron variant of COVID19
#Bharat Biotech has submitted phase 3 clinical trial application to DCGI for its booster dose of their intranasal COVID vaccine that can be given to Covaxin and Covishield vaccinated people
# Gujarat Govt extended night curfew (1 am to 5 am) in 8 major cities till December 31
# As of now, India has 161 Omicron cases. "We're monitoring the situation daily with experts. With our experience during the 1st & 2nd waves, to ensure that we don't face problems when variant spreads, we've arranged a buffer stock of important medicines," says Union Health Minister Mansukh Mandaviya in Rajya Sabha.
# Under Prime Minister Narendra Modi's leadership, with the efforts of our healthcare workers, 88 percent of first doses of the COVID vaccine have been administered; 58 percent of second doses administered so far. The majority of the population in India is vaccinated today, says Union Health Minister Mansukh Mandaviya in Rajya Sabha.
# Delhi Lieutenant Governor chaired 28th meeting of DDMA to review COVID situation in Delhi, especially in the light of Omicron. The Chief Minister, Deputy Chief Minister, ministers Satyendar Jain & Kailash Gehlot, Chief Secretary, DG ICMR, Dr Randeep Guleria, Dr SK Singh - NCDC, representatives of NDMA and others were present, says Raj Niwas, Delhi Sources.
# Omicron is a matter of concern. Himachal Pradesh has done good work as far as COVID vaccination is concerned, in a way we can say that it is a fully vaccinated state. I hope that the variant will not have much of an impact on the state, says Himachal Pradesh Chief Minister Jairam Thakur.
# Delhi Chief Minister Arvind Kejriwal urges Centre to allow booster doses. "Given the rise in cases for some days, now all positive cases in Delhi will be sent for genome sequencing for Omicron," the CM says.
Four new Omicron cases reported in Delhi today taking the total number of cases of the variant here to 28. The four people, found to be infected with the variant, are admitted to Max hospital, Saket.
# Four new Omicron cases have been confirmed in Kerala today. The case tally now stands at 15, says Kerala Health Minister's Office.
# Two new Omicron cases reported in Delhi, case tally rises to 24, says Delhi Health Department. Out of these 24 patients, 12 have been discharged and 12 are under treatment, adds the Health department.
# Soumya Swaminathan, Chief Scientist at WHO, says the need is to expand and strengthen vaccination programs around the world, in view of the Omicron variant of COVID19. Hopefully, vaccinations will continue to protect against getting severely ill, she adds.
# Today's Data Highlights
- 6,563 new cases, 132 new deaths, 8,077 new recoveries, 1,646 dip in active cases
- Deaths (including backlog) lowest in 35 days
- New cases below 10k for the 24th day
- Active cases (82,267) lowest in 573 days
- Kerala reports 2,995 new cases, Maharashtra 902, Tamil Nadu 610
- Kerala reports 96 new deaths, Maharashtra 9, West Bengal 9
- 15 states/UTs report a rise in active cases
- Difference between new cases reported in the last 7 days and the preceding 7 days in India is -20% (world average is +1%)
- 15.82 lakh new vaccinations. 137.67 crore total. 4.63 lakh received their first dose yesterday, 11.19 lakh second dose. 54.98 crore fully vaccinated
- 8.77 lakh new tests. Test positivity rate: 0.75% (0.58% the previous day)
- Test positivity rate below 1% for the 21st day
- Test positivity rate (weekly average): Mizoram 6.91%, Kerala 5.80%, Ladakh 2.50%
# India reports 6,563 new cases, 132 deaths, and 8,077 recoveries in the last 24 hours. The active caseload stands at 82,267; the lowest in 572 days, says the Ministry of Health and Family Welfare.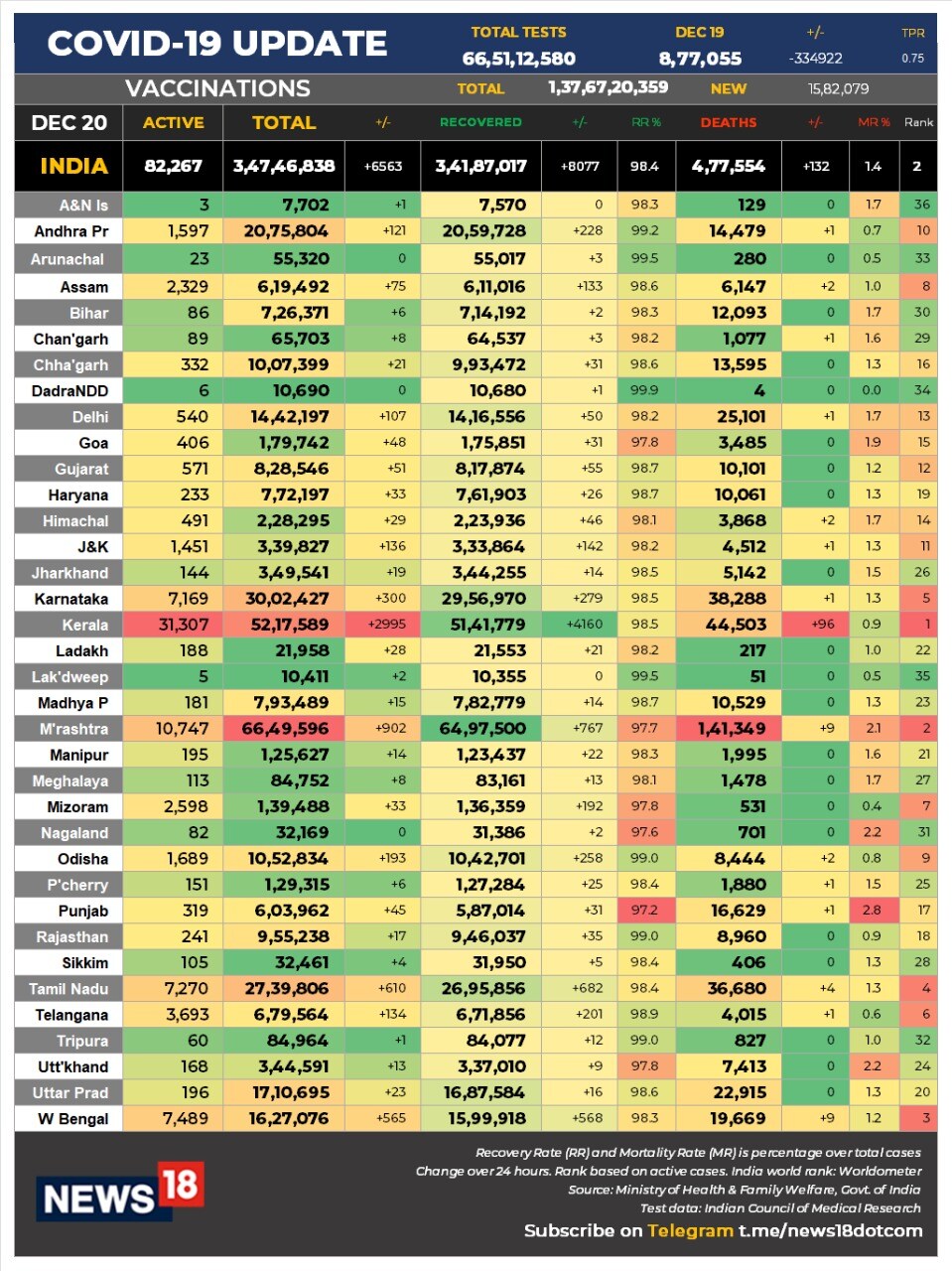 # Five new cases of the Omicron variant of COVID-19 have been confirmed on December 19 in the state. The five patients are from Dharwad, Bhadravathi, Udupi and Mangaluru, says Karnataka Health Minister Dr Sudhakar K.
# Gujarat reports four new Omicron cases; tally rises to 11
Four new cases of the Omicron variant of coronavirus were reported in Gujarat on Sunday, which took the state's count of the persons infected with this strain to eleven, officials said. A 45-year-old NRI and a teenage boy who came from the UK, a Surat-based woman who had recently visited Dubai and a Tanzanian national are the new patients of the Omicron variant found in the state. The NRI (non-resident Indian) had tested positive for the coronavirus infection in the RT-PCR test carried out at the Ahmedabad international airport soon after his arrival from the UK on December 15, a health department official said.
# Dr Anthony Fauci says omicron variant is `just raging around the world'
The COVID-19 omicron variant is just raging around the world, the White House's top medical adviser said on Sunday, and President Joe Biden is planning to give a stark warning of what the winter will look for unvaccinated Americans. Dr. Anthony Fauci, the county's leading infectious disease expert, said that the real problem for the US hospital system is that we have so many people in this country who are eligible to be vaccinated who have not yet been vaccinated.