Nearly 28 percent of the food samples tested for quality were found to be adulterated, according to the 2018-19 annual report of the Food Safety and Standards Authority of India (FSSAI).
The FSSAI data analysed by CNBC-TV18 indicates a consistent rise in instances of food adulteration in the country. Out of the 1,06,459 food samples analysed by the National Accreditation Board for Testing & Calibration Laboratories (NABL) in 2018-19, 28.56 percent were found to be non-conforming.
UP and Jharkhand continue to be among the top five states with the highest adulteration rates in samples tested in the last three years.
The proportion of adulterated or misbranded food sold in India has nearly doubled in the last 8 years. In the year 2012-13, 15 percent of the food samples tested were found to be non-conforming to prescribed standards. Over the years, this has gradually gone up and now stands at 28.56 percent for 2018-19, as per the latest data available.
The FSSAI splits these non-conforming samples into three categories - unsafe, sub-standard and those with labeling defects. A large chunk of the samples analysed by the FSSAI public labs falls under the sub-standard category.
It is imperative, however, to note that this data does not mean that 28 percent of all the food sold in India is adulterated. It indicates that almost one-third of the samples collected pan-India were found to be non-conforming.
The food safety officers in each state regularly collect random samples of milk, water, packaged food among other categories to check for quality. In 2017-18, about 25 percent of the food samples of the total 99,353 were found to be non-conforming.
States like UP and Jharkhand have been reporting high adulteration rates based on samples collected for the last 2-3 years. An analysis of the latest annual report (2018-19) shows that 52.32 percent of the samples sourced in Uttar Pradesh have been found to be non-conforming. This is followed by Tamil Nadu and Jharkhand which have 45.39 percent and 41.68 percent adulteration rates based on samples obtained respectively.
States with the lowest adulteration rates include Arunachal Pradesh, Goa and Uttarakhand.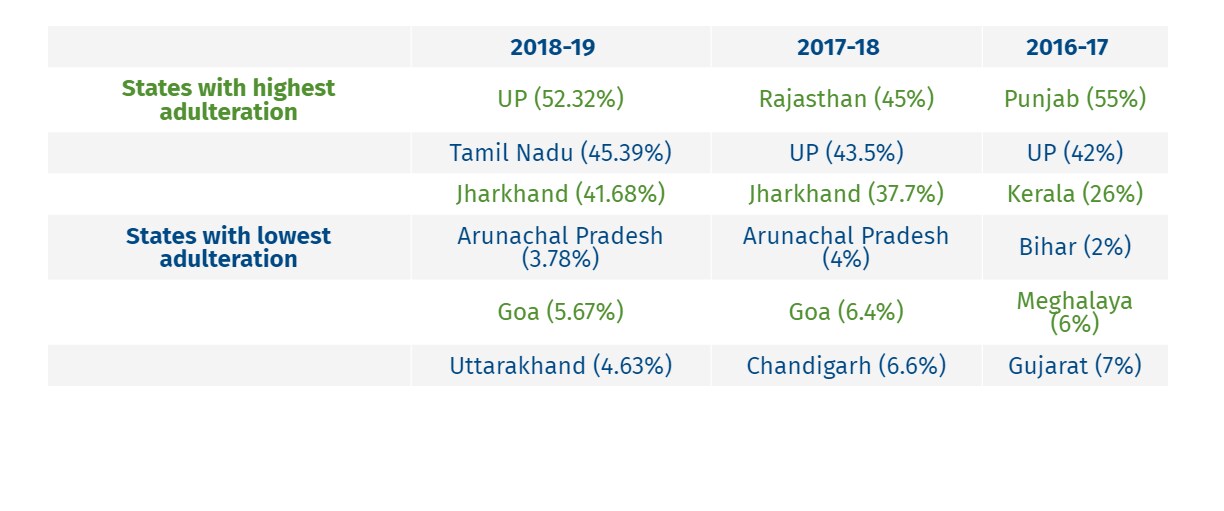 Penalties for violation of food standards have also been increasing year-on-year. For instance, penalties imposed for violations in 2018-19 stood at about Rs 32.57 crore, compared to Rs 26.35 crore in 2017-18. Therefore, even though penalties have risen, there seems to be a need for stricter enforcement at the state level and the regulator agrees.
"The percentage of substandard samples also depends on the food safety compliance levels in a state and indicates the need for even more effective action," FSSAI told CNBC-TV18.
India's food safety regulator says it has been encouraging states to keep a strict tab on the food available. "Surveillance and enforcement activities are carried by states every year. States are encouraged to undertake targeted sampling based on past experience, risk assessment and source information," said FSSAI in a comment to CNBC-TV18.