After a big clean-up of books and necessary recapitalization, PSU banks could see a strong improvement in profitability over the next two-four years, especially on a revival in the capex cycle.
Narendra Modi-led Bharatiya Janata Party (BJP) has won the 2019 Lok Sabha elections comfortably and is now set for another five-year term. The biggest positive factor is continuity of focus with regard to public sector banks. After a big clean-up of books and necessary recapitalization, they could see a strong improvement in profitability over the next two-four years, especially on a revival in the capex cycle.
What has so far been done over the last five years?
Over the past five years, the government has initiated various initiatives aimed at cleaning up PSU banks' balance sheets through the resolution of assets, re-capitalisation and focusing on enhancing the provision coverage ratios. This has led to the creation of a strong foundation for growth, quite in contrast to the low loan growth, a decline in market share and a rise in NPAs seen for state-owned banks over the past few years.
POSITIVE FOUNDATION THAT HAS BEEN LAID
> Bringing the unbanked people to the banks
The Pradhan Mantri Jan Dhan Yojana, which was aimed at bringing the unbanked section of the society into the banking system, was a success with deposit mobilization of Rs 95,382 crore from 35.16 crore people.
> Introduction of Insolvency & Bankruptcy Code
What was, perhaps, the most significant initiative was the introduction of the Insolvency and Bankruptcy Code (IBC) to resolve stressed assets of banks, never mind the recent hiccups on the Feb 12 circular. Over Rs 3.5 lakh crore of assets has been referred by the Reserve Bank of India to the National Company Law Tribunal (NCLT) under this programme.
> Capitalisation and consolidation of PSU Banks
Another measure to nurse PSU banks to health was the government's plan to infuse Rs 2.6 lakh crore into the struggling state-run entities. The government has also pushed consolidation in the banking sector, with Dena Bank and Vijaya Bank being amalgamated with Bank of Baroda, and Life Insurance Corporation bailing out IDBI Bank. Now, there are talks of a further push for consolidation amongst the PSU banks as media reports suggested that the government intends to get the likes of Oriental Bank of Commerce (OBC) and Allahabad Bank merged into Punjab National Bank.
COST PAID BY BANKS FOR THE STRONG FOUNDATION
> Business growth has been on the lower side
Loan growth between the fiscal year 2014-15 and 2018-19 averaged 10.4 percent in the NDA government compared to 17.4 percent in the previous five years of the UPA government.
Deposit growth for banks slowed to 9.5 percent during the BJP-led government, compared to 14.2 percent in the second term of the Congress-led UPA government.
> Rise in NPAs due to clean up act under asset quality review, February 12

,

2018, circular by RBI
The gross NPA ratio rose to 11.8 percent in the FY18 from 4.2 percent in FY14. The IBC helped reduce the gross NPA ratio in the third quarter of FY19 to 10.4 percent.
> Losing market share
While PSU banks were focused on cleaning and strengthening their balance sheet; they paid a heavy price in terms of losing market share. They lost 900bps of market share between Q3FY16 to Q3FY19 i.e. in thirteen quarters. However, they still form a major part of the banking sector.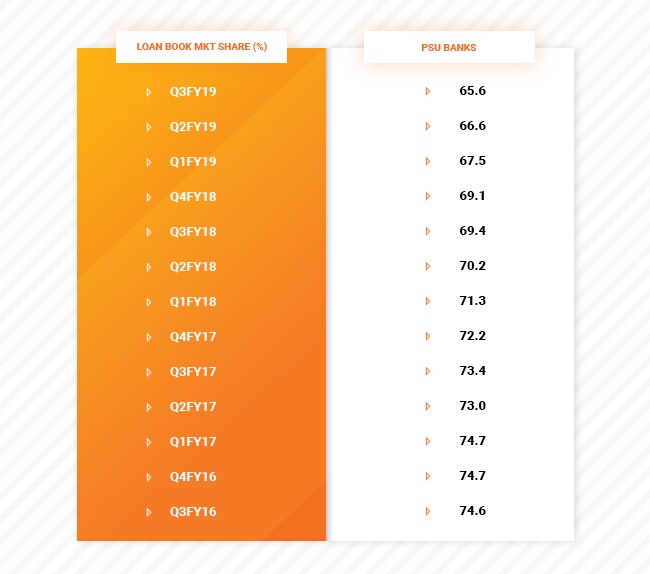 OUTLOOK AHEAD
The PSU banks have strengthened their balance sheet thanks to capitalization from govt. They have also strengthened their balance sheet in terms of provision coverage ratio. Below is the core provision coverage ratio of PSU banks which has improved massively in the last 13-14 quarters. Core provision coverage ratio doesn't include technical provisions, which is at 15-20% for various banks. What we have seen is that further in Q4FY19, PSU banks have strengthened their provision coverage ratio to well above 80-85% amongst the NCLT cases (Few banks have reached PCR as high as 100% in their NCLT cases) filed by them (RBI's List 1 & list 2)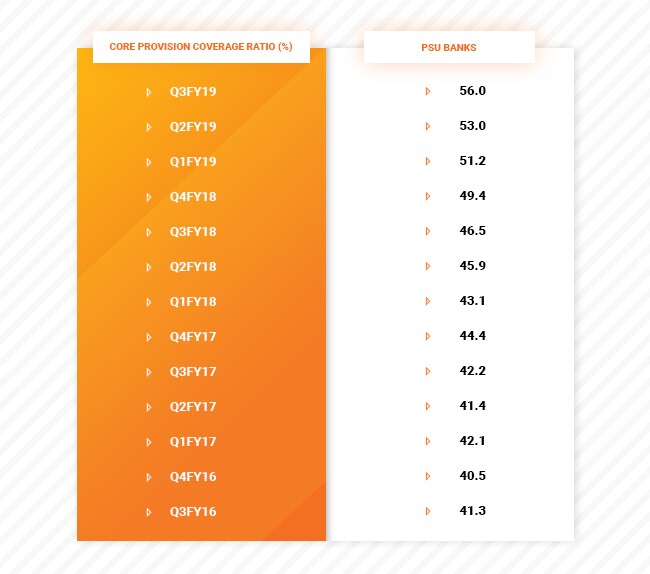 The incremental losses amongst PSU banks have been on a declining trend over the last 3-4 quarters. With most of the pain recognized as NPA and largely the issue of higher credit cost (provisions for NPA by advances ratio) peaking out, we may see a turnaround in the profitability of PSU banks over the next couple of quarters, which can lead to an improvement in their return ratios. A few PSU banks could record ROE in double digits for FY20 itself.

With an anticipated turnaround in the investment cycle over the next few quarters, PSU banks stand to benefit the most given that they still hold a majority of the market share and continue to enjoy a higher share in the consortium lending.
VALUATIONS OF PSU BANKS
Largely, excluding SBI, PSU banks are trading between P/BV of 0.5-0.74x on FY20E. Historically, stronger and larger PSU banks have traded at higher multiples, and with the earnings trajectory likely to trend up over the next few years, there is a strong case for a re-rating going forward.