Two years after the Reserve Bank of India first identified 12 large cases for resolution under the then newly introduced Insolvency and Bankruptcy Code (IBC), as many as seven cases are still pending resolution due to various litigation-related and other delays.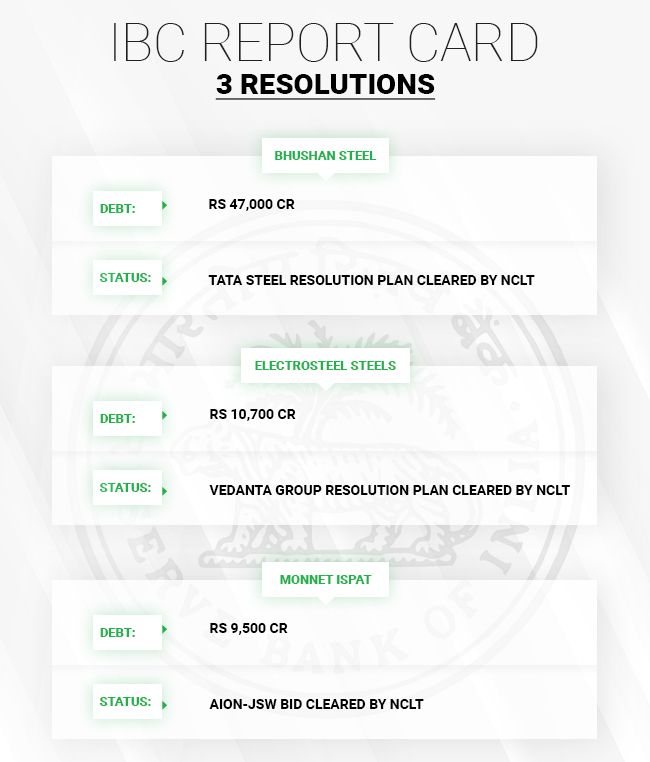 Only three out of those twelve large defaulters found resolution under the National Company Law Tribunal (NCLT)-driven process. Bhushan Steel, with a massive debt of over Rs 47,000 crore, found a buyer in Tata Steel, Electrosteel Steels with Rs 10,700 crore-odd debt has been sold to Vedanata Group and Monnet Ispat with Rs 9,500 crore of debt was bought by a consortium of Aion Capital and JSW Steel.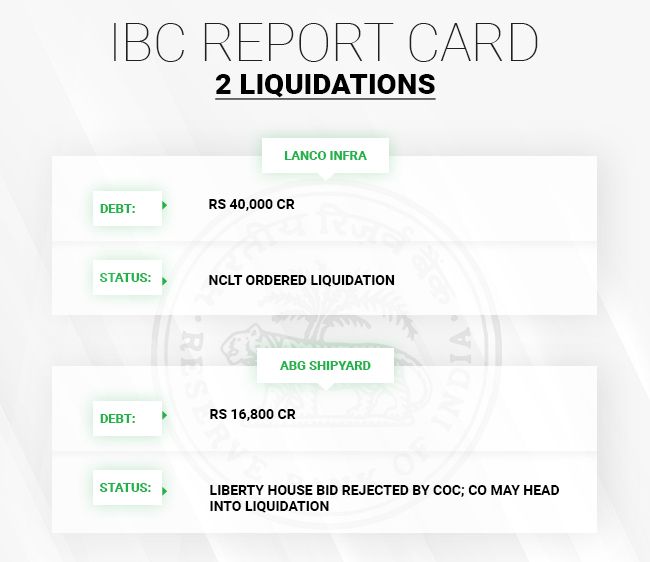 Two cases, after failing to find resolutions under IBC, are now headed into liquidation. Lanco Infrastructure, with Rs 40,000 crore of debt on its books, is headed into liquidation after a poor response from potential bidders did not find favour with its lenders, as is ABG Shipyard, which has a debt of over Rs 16,800 crore.
The remaining seven large cases, including Essar Steel, Bhushan Power and Steel, Alok Industries, Jaypee Infratech, Amtek Auto, Era Infra and Jyoti Structures, are still awaiting resolutions.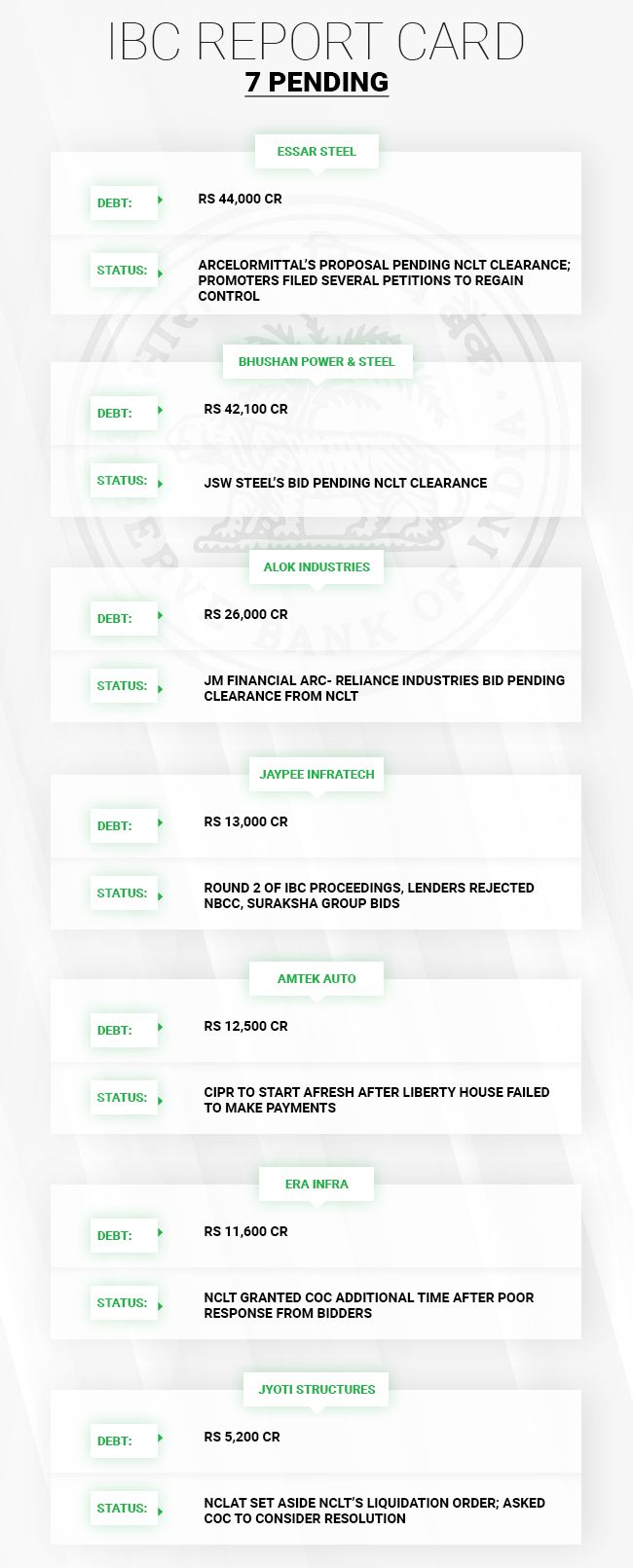 Essar Steel is perhaps the most notable case and has faced multiple delays despite the resolution plan from ArcelorMittal, offering 85 percent recovery for the lenders, being cleared by the creditors committee in October 2018. This is largely because its promoters, the Ruia family, has now filed several petitions against the resolution plan, and even offered to withdraw the company from insolvency, in an attempt to regain control of the steelmaker. Pending clearances from courts, Essar Steel issue remains unresolved, causing its lenders a loss of Rs 17 crore for each day of delay.
JSW Group's bid for Bhushan Power is also pending NCLT clearance after facing challenges from the promoter, and its rival bidder Tata Steel.
JM Financial ARC-Reliance Industries bid for Alok Industries, after being rejected by the committee of creditors, and then again being considered on the court's behest, is also waiting for final approvals.
Jaypee Infratech lenders have already rejected bids from NBCC and Suraksha Group, and are now awaiting court's orders on next steps, in this second round of proceedings.
Amtek Auto's resolution process has to be started afresh after Liberty House failed to make payments to lenders despite being declared H1 and getting NCLT clearance.
The NCLT has now granted Era Infra's Committee of Creditors (CoC) additional time after they received poor response from a lone bidder, and Jyoti Structures was on the brink of liquidation when the court ordered the CoC to reconsider resolution.
The IBC was seen as a 'game-changer' for the creditor-borrower relationship and promised a window of hope for the banking system crippled by mounting bad loans and defaults. But litigation-related delays have caused the bankers to often look outside the IBC route to find resolutions to recover their money, either by selling these accounts to asset reconstruction Ccompanies, or trying to find one-time settlements.