Securities and Exchange Board of India's (Sebi's) Chairperson Madhabi Puri Buch on Tuesday said the capital markets regulator has no business to suggest pricing of the initial share sale of new-age technology companies. She, however, quickly added that there needs to be more disclosures by companies on how valuations have changed between a pre-initial public offering (IPO) placement and the price which is being asked for in the issue.
"A lot has been said about the pricing of IPOs of tech companies at what price you choose to do the IPO is your business, we have no business to suggest otherwise," Buch said addressing the annual Capital Markets summit organised by industry lobby Ficci.
She said a company is free to ask for a higher price, but needs to disclose what happened in the intervening period which justifies the massive change in the valuation. It can be noted that there have been concerns about investors, especially the unsuspecting retail ones, being taken for a ride due to high valuations sought by new-age tech companies. The share price of payment platform Paytm collapsed to a third of the IPO issue price within a few weeks of listing.
When asked about some recent incidents and what can be done to avoid such experiences, Buch parried the question saying investment bankers ought to answer that. Meanwhile, she also said Sebi is analysing data and information on retail participation in the futures and options segment, which may lead to more disclosures to be made available to them.
She added that she is fully appreciative of opportunities before India and the answer to what country can do is in technology.
On capital markets, Buch said that they need to have trust and single important tool for Sebi is transparency.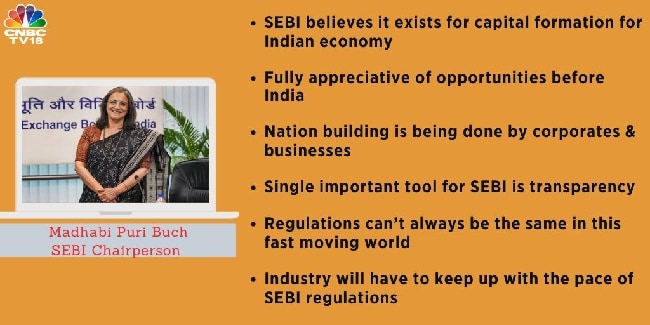 "Regulations cannot always be the same in this fast moving world. Industry will have to keep up with the pace of Sebi regulations,"
Buch
added.
"Need to manifest the spirit of partnership between
Sebi
and corporates. Every action at Sebi is contingent on data and will be taken after recommendations from the advisory committee," the chairperson said.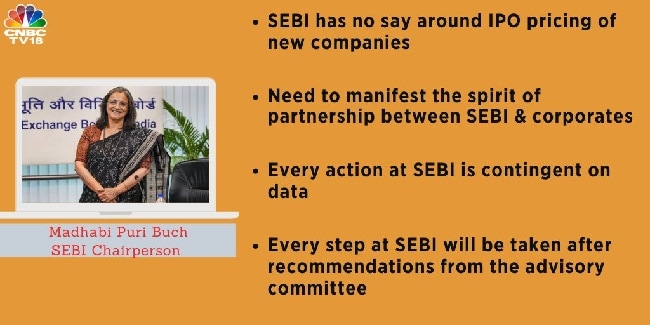 Meanwhile, Ashish Chauhan, MD and CEO at
National Stock Exchange (NSE)
said they will follow, implement Sebi's agenda and work towards creating a vibrant bond market.
Nehal Vora, Central Depository Services (CDSL) said that the total number of demat accounts have reached 10 crore and counting and India has surpassed UK to be the 5th largest economy.
"India is at the cusp of a digital revolution," Vohra said.