The RBI's Monetary Policy Committee (MPC) Tuesday began three-day meet to decide on key rates amid expectations it would change stance to neutral on low inflation but may not cut rates due to fiscal challenges and rising oil prices.
The six-member MPC, headed by RBI Governor Shaktikanta Das, will meet between Tuesday and Thursday for the sixth bi-monthly monetary policy statement for 2018-19.
Deviating from the practice of releasing the resolution of MPC in afternoon, the Reserve Bank of India (RBI) will place it on its website at 11.45 am on February 7.
The RBI maintained status quo on the key lending rate (repo) in its last three bi-monthly policy reviews after raising the rate twice by 25 basis points each in the fiscal.
One basis point is a hundredth of a percentage point.
Currently, the repo rate stands at 6.50 percent.
The CNBC-TV18's Citizens' Monetary Policy Committee of Pronab Sen, former principal adviser, Planning Commission; Samiran Chakraborty, chief economist at Citi Group; Sajjid Chinoy, chief India economist, JPMorgan; Soumyo Kanti Ghosh, group chief economic advisor, SBI and Sonal Varma, managing director and chief India economist, Nomura, discuss the upcoming MPC meeting.
What are the concerns that RBI MPC needs to address? Should they be relaxed about the last inflation reading which was pretty low or should they worry that future inflation could be a little higher?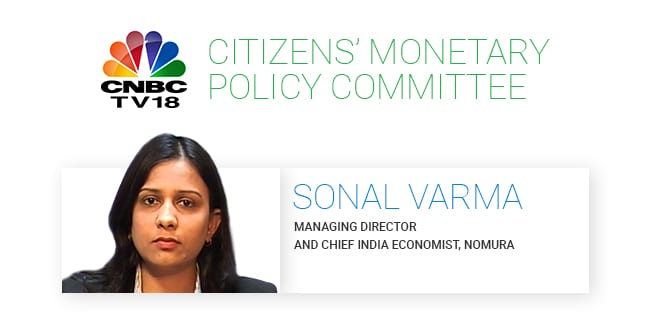 I think the aggregate scenario needs to be considered. So, on the growth front, relative to the projections that the RBI has right now which still sees growth at above 7.2 percent even in FY20, the global outlook itself suggests that risks are to the downside. I do not think the fiscal impulse will be enough to sustain growth above 7 percent.
On inflation, the headline, of course, has undershot because of food. Why the core rural health and education inflation has been very high remains a mystery right now.
At the margin, key uncertainty right now is to what extent the more consumer consumption, the farm-oriented fiscal impulse is going to be and whether it is going to lead to inflation or not.
Our assessment overall is that even if we take the fiscal additional growth impulse into account, average inflation over a 12-month horizon should still be in the 4 percent range on an average over the next 12 months.
Therefore taking a considered view of all factors, the risk to growth forecast are to the downside. The fiscal side is a concern at the margin but on average, inflation should still stay within the 4 percent target. So that sort of is a more considered view that one needs to take on an aggregate fiscal; at the margin, a bit of a negative.
Would you be as relaxed about inflation considering that it is not just the central fiscal stimulus? First of all, how much is the stimulus if you can give us a number and there is also the states loan waivers kind of stimulus; possibly another coalition coming to power. If it does, could also be promising the moon. So would you worry that fiscal stimulus can pull up the inflation number?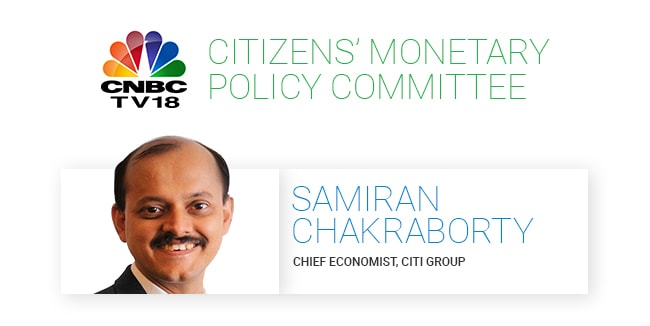 If I look at the overall quantum of the stimulus, 0.3 percent of GDP of the rural package and 0.1 percent from the income tax, that is about 0.4 percent of GDP. In fact, if I look at my pre-Budget estimates, this is at the lowest end of the spectrum of numbers that we were hoping for. So, in that sense, one should not be superbly worried about the 0.4 percent of GDP fiscal stimulus.
We have seen in the past that the revenue expenditure side has relatively lesser multiplier than the capital expenditure on overall growth also. So, at this moment, not so worried about the core inflation impact arising out of it.
However, where I am slightly worried is that even if I take this curious case of health and education inflation out of the core, the core is still 5 percent plus. Yes, I am also quite appalled and we have no explanation of why this is going up in this fashion but because the rest of the core is also high, I would probably be a bit more worried on inflation because in our adaptive expectation way of looking at things, in a sense last three quarters of low food inflation we are projecting it out.
If the final purpose of all the stimulus is to get food from deflation to inflation at some point of time during the course of the year because if that does not happen then the whole package is practically useless.
So, if I try to build that into a framework where core inflation and I am taking off the health, education part, it is still high. Although we have a 4.5 percent December 2019 forecast, there could be upside risk to that forecast particularly if there are any kind of supply-side shocks on food.
How would you react to the same set of factors? Do you worry that core inflation and why should we consider even education and medical one-off?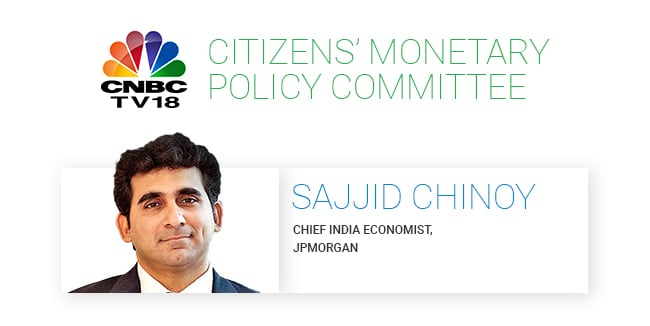 Let me make two observations. One is, it is important that the MPC preserves the sanctity of the framework and they have to go after headline inflation being close to 4 percent. That was the same logic the MPC used in October when people were clamoring for a hike when the rupee was under pressure and they were right to say ultimately everything has to flow through inflation and growth.
By that yardstick, if you look out over the next three quarters, we see inflation meaningfully below 4 percent as far as the eye can see. We can always project inflation four-five quarters down the line and say it is above 4 percent, but frankly the standard error around these forecasts are very high given the quantum of uncertainty one year from now.
Given that in the next 6-9 months inflation is comfortably below 4 percent, and given the fact that the Fed has given central banks in emerging markets a bit of a free pass, I think sticking to the sanctity of the framework is important. Otherwise, we are going to have a lot of unpredictability. If the middle of the game we change the goalpost -- I think some space for modest monetary easing is opened up.
The second point I will make is the one Samiran Chakraborty made. The analytical question for all of us is if you project a year or two out given this wide divergence between food to core, what eventually converges to what. Will food inflation go to core inflation or will core inflation come down to food inflation? Our analysis suggested that things have changed in the last six years. When I was in the Urjit Patel committee report, between 2000 and 2012, we found that actually core would go towards food and therefore headline became the inflation target.
However, the last six years the data is very clear, it is basically headline that eventually goes to the core. So there is reason for all the reason Samiran laid out to be cautious 12-18 months from now because that is how long it takes for these things to converge. However, over the next two-three quarters, I think that the inflation numbers are so compelling that the MPC will have a little space here to breathe.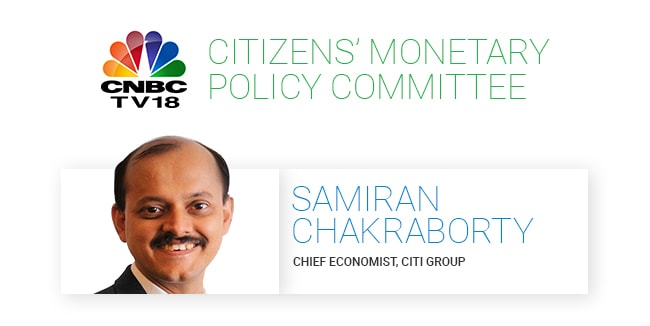 A comment on Sajjid's first point, while I agree that the MPC has well quite written about the headline inflation, the challenge also is that in October they have communicated that the definition of the stance of calibrated tightening is rate cuts are off the table. So if they now do a stance change and a rate cut together then is it sticking to what they had said earlier.
Are there any global factors to consider over here, are they clearly benign and therefore what is your inflation forecast?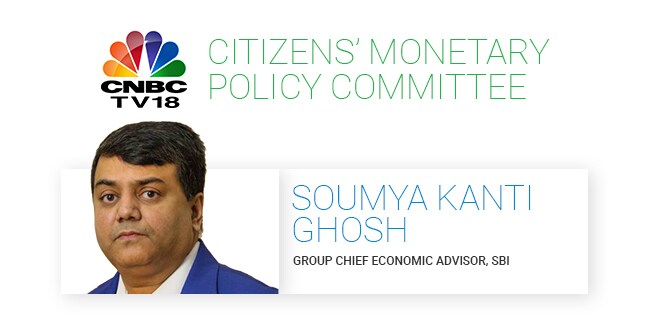 A little point about the global conditions; I think global conditions currently are showing diverging trends and there are 2 contrarian views. One view is that possibly the slowdown is synchronous and it's around the corner.
The other view is that slowdown is possibly a little later. So there is still not consensus whether the global economy is going to slowdown meaningfully in 2019 or maybe later.
Coming to inflation or central fiscal the fiscal numbers, if you looking at totality yes, there is an element of fiscal impulse and the projections which have been made in the budget are a bit ambitious and just to give a sense of the number, the total tax collections for FY20 is made to be around 14 percent or so, but this year's number is close to 20 percent whereas the decadal growth rate is 14 percent.
So in case, there is even a 5-10 percent shortfall in the tax collections. That could meaningfully push up the total revenue numbers for next year which is going to be difficult to achieve and as we know there is Rs 19,000 crore additional borrowing through debt securities, Rs 25,000 crore additional borrowing to small savings so that number 45,000 crore in the next 2 months is not a small number.
So there is an element of fiscal impulse but the question is how quickly it can push up the inflation – that brings me to the last point about the inflation. Yes, there is an element of upward surge in the core inflation but the numbers in the core inflation is still a mystery.
We have been trying to understand what the reasons are. Possibly the prices may not be the reason. One of the reasons which have been given out, we informally talked about is a change in the methodology, how the CSO is collecting that data. If that is the case then that could actually open up Pandora's Box because in that case there is a possibility there could be better price discovery because even if I leave aside health, in education also a lot of this.
So you are saying that this core inflation can persist?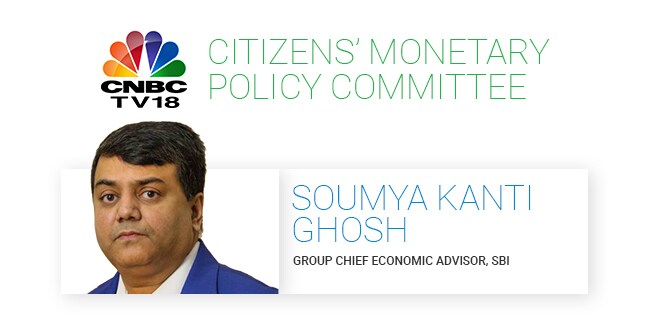 No, what I am trying to say is that as long as there is no clarification from the CSO on how, why exactly the data is changing. I think it is very uncertain to say which way the core could move, but at the end of the day the core is still meaningfully down because if you look into the urban core that is 5.26 percent, the rural core has gone up and if you strip aside, if you just look into the headline inflation number, rural and if I strip aside health and education component, the rural headline inflation today is around 1.2 percent.
So that means that inflation is still not a concern but I am concerned how this core is going to behave because if it's a price discovery then there could be some other way of looking into the data.
Can you put all these into a perspective. There is a rise in core inflation and yet the rural distress indicates that they are not making enough money at all and the persistent question is India's real interest rates are very high, if RBI is at 6.5 and rural inflation is less than 2, overall inflation is close to 2 where is the justification not to cut?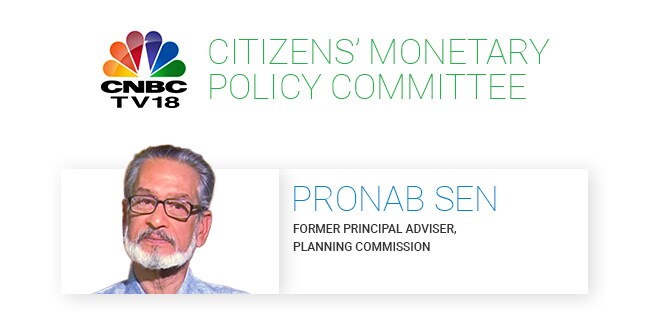 Let's not go into justification for a cut but let's look at what is happening and what it implies. We have talked about fiscal stimulus – that is only one part of the story and as Samiran rightly pointed out, it is not huge, it's nothing that should scare us terribly but the side we are not looking at and that's what I would urge the others to take a quick call on is that this Rs 75,000 crore is projected to grow as rural income support is actually injection of liquidity into the rural cash economy which hasn't happened in a while.
One of the problems we have had is that the cash economy was suffering for liquidity. This is a direct liquidity transfer so the monetary mechanisms in the rural economy hopefully should perk up. Now whether they are going to perk up enough to reverse the trend in falling agricultural prices, I do not know, I do not think the sums are large enough to do it as yet, but at least it is the first reversal of a trend that has been going on for five years and that is important.
So you can see not just agricultural price revival, you may see the MSME sector reviving as well with this kind of liquidity injection. So there is an upside there which we are not taking into account. So on the whole, my take on what is happening is that the fiscal stimulus is there, it's not overly worrying but the more important thing is that rural revival seems to be a possibility now and that is something we need to support rather than get worked up and try and nip it in the bud.
Let me now come to the action that the MPC has to take. Taking into account the global scenario now in terms of crude prices, currency moves especially weakening of the dollar, do you think there is elbow room for a cut from the MPC?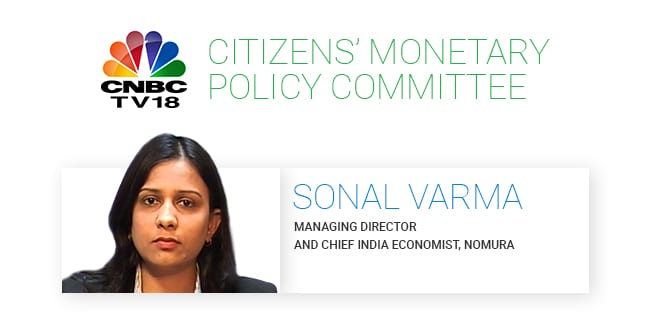 We are still in a wait and watch scenario. What clearly should happen is that this stance needs to be aligned with the changing risks globally and locally and those changing risks to our mind still call for the stands coming to neutral from calibrated tightening because the risks are now more bidirectional rather than unidirectional.
But do we have a case to deliver the cut right now? I think we need to still figure out whether core inflation and why core inflation has been elevated and we need to also sort of figure out the impact that the government's new fiscal stance is going to have on the outlook medium-term on the farm sector and also overall for the economy. So February, in our view, is early for the MPC to be delivering a rate cut. The first step needs to be a change in stance to neutral and then depending on how things pan out a case may/may not be made.
You have had a similar view that already the stance is it calibrated tightening and therefore should both change together. Is that argument enough? Okay, things have changed dramatically, we are changing stance and giving a cut together is that difficult to explain?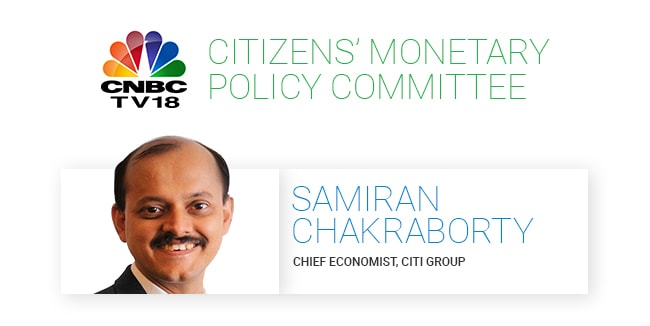 If we wouldn't have got any fiscal stimulus, we wouldn't have got any increase in core inflation then I could have argued for that as well. I still think it is going to be more of a dovish pause. So there will be ample signs in the policy to say that the MPC is now prepared to move on the rate cutting side.
The question actually for the markets is not so much going to be on whether the cut happens in February or in April but would the MPC signal anything above the quantum of rate cuts than what one can expect in this cycle? Because if you just go simply by our inflation projections and where the repo rate is, space appears to be very limited unless the whole construct of the MPC changes in some form or the other.
That is what the market would be very closely watching that it is not just about the stance change versus the rate cut or not, it is beyond that that is the new governor going to bring in some new thought process around real rates or around horizon for which you are looking at inflation as Sajjid was mentioning that our ability to forecast inflation 12 months out is very limited, so should we be focusing little less? These are things which I think is why the February policy is going to be very interesting to watch.
This credibility issue will come that as the new governor and he is ready to do the government's bidding and just in the Vibrant Gujarat speech, the governor also pointed out to the core inflation. Do you think it is so difficult to overlook this calibrated stance, just change stance and give the cut together?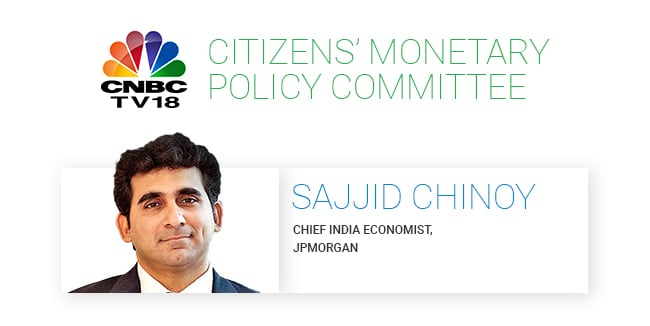 Remember what happened back in June that without the stance being changed from neutral to tightening, we had a hike because the MPC was reacting to the current macroeconomic environment, you cannot be caught in semantic issues, the fact is that the macroeconomic environment has changed and inflation is meaningfully below what all of us thought as recently as October and November. So I think we certainly expect them to change the stance. We think there is space for shallow easing, very modest easing.
Just once?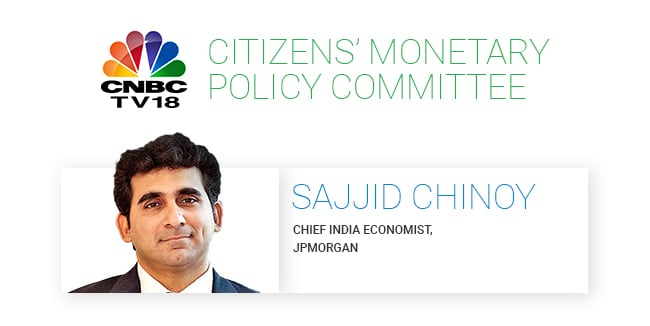 In our forecast just once because growth is holding better than we think it is. There are fiscal risks on both sides that if you look at the public sector borrowing requirement, it is above 8.5 percent and that is a very large number.
On the other hand, we still have to see operationally whether this stimulus is even deliverable and therefore whether we do get some kind of rural consumption spending later in the year. Third is core inflation is elevated. We need to figure out is headline going to core or core going to headline. So there is enough risk down the line but you have to react to what you see today and the fact is over the next six-nine months, inflation is meaningfully below 4 percent and that is the horizon at which we can forecast.
The last thing I will say is, the whole idea of having a committee is to have institutional continuity so that one person comes or goes, it doesn't change the underlying mandate.
So credibility will not be the issue.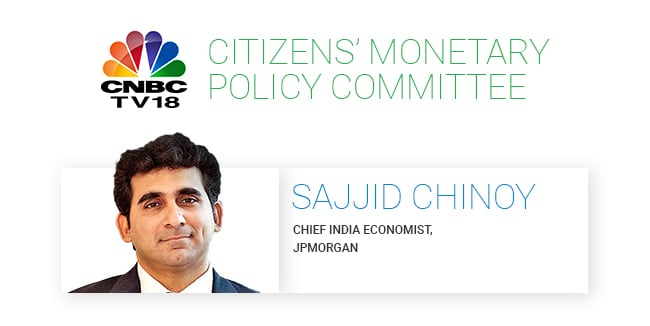 Well because the data is compelling enough for the MPC to act given the macro-environment.
How useful will be a cut in the first place because if there is Rs 7 trillion borrowing from the central government next year and Rs 5.5 trillion borrowing from the state governments, it is like a 12 trillion borrowing anyway coming. Even if they give a cut, will it really help anyone? It is only overnight rate looks like will go down and will you expect the long end to meaningfully get cheaper?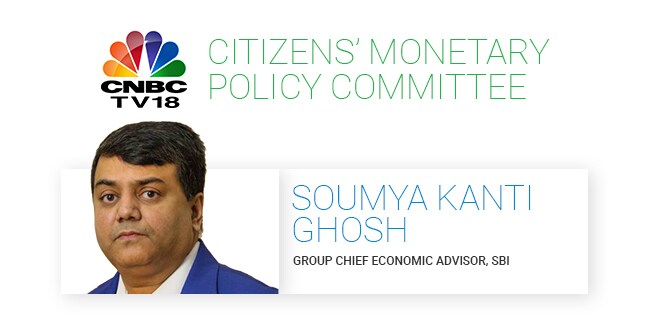 I think you have made a valid point but let me add one more data to it, Rs 7 trillion by the centre and Rs 5.5 trillion by states are possible and another Rs 4 lakh crore which has been given in the budget as extra budgetary resources. So that makes the number around Rs 16 lakh crore, but having said that growth is meaningfully weak.
If you look into the last two fortnightly credit growth numbers, they have been in the negative territory but the only good thing is that the credit to SMEs has gone up after the government launched this programme across 100 districts.
So that's the only silver lining in an otherwise credit growth which declined in the month of December. So to me, growth is a concern and it will continue to remain a concern at least for the next couple of months because the way things have been moving and even though there is a fiscal element of stimulus, I do not think it will be enough to perk up the growth sentiments as of now.
Having said that, there is a space for a rate cut but just to borrow from Sajiid, I think the space is shallow, maybe one rate cut or maximum 2 rate cuts but given the fact that the inflation currently significantly benign and continue to be benign at least till the month of August or even September.
So there is a space for a rate cut whether it comes in February or in April doesn't matter but at the end of the day if it comes that will also give a good signal to the market that the central bank is also meaningfully aware of the deepest demand condition currently in the economy.
You referred in passing to that money going to the rural areas finally and MSMEs also will be able to benefit by it. There is another problem that MSMEs face – the debt market issues are not over, NBFCs are still meaningfully under trouble and there are more and more problems coming out of the woodwork whether it is DHFL or the old IL&FS or Essel Group. I am not very sure the MSMEs are seeing any relief on the horizon even with the SME package.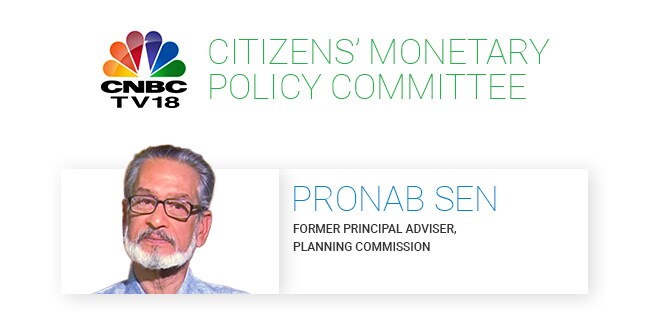 That is correct but as I said this is the beginning of the process rather than the culmination but one thing we need to be very clear about is that if currency is moving into the cash economy what it means is that liquidity in the credit economy is going to come under pressure unless something is done.
So I think there is a fairly compelling case for a rate cut now instead of waiting for it, but having said that the point that was raised earlier which is the extent to which the MPC's eco gets tied up into the stance that they had taken and whether they are willing to say that we made a mistake and we are going to do a rate cut – that's going to be the way, we are all human, but on the whole if you recall, last time we had come together, Sonal and I had said that we should be moving to neutral then, we could pretty much see this coming.
So now if ego doesn't get into the way there is a compelling case for a rate cut and the stance will, of course, have to be changed whether they will change it to neutral or change it to accommodative is a call that they will have to take.
What would you want in terms of a stance from the MPC on February 7?
Varma: We expect the stance to change to neutral.
Chinoy: Neutral.
Chakraborty: Neutral.
Ghosh: Neutral.
Sen: Neutral.
Do you expect a rate cut as well?
Varma: We are expecting a pause.
Ghosh: To us, it doesn't matter whether in February or April but we are expecting a hold now.
Chakraborty: Pause.
Chinoy: Expect 25 bps cut.
Sen: It's a cut.
First Published: Feb 5, 2019 8:38 PM IST