As of now, most of the housing finance companies are well capitalised at 15 percent. Two housing finance companies (HFCs) namely, LIC Housing Finance Ltd (LICHFL) and PNB Housing Finance Ltd (PNBHFL) have CAR less than 15 percent right now. The capitalisation will impact high growth-oriented companies as capital consumption will be higher.
For instance, loan growth in Q3FY19 was at 38 percent plus year-on-year (YoY) and 8.5 percent quarter-on-quarter (QoQ) for PNBHFL and the company saw its capital being consumed by 36 bps in a quarter or an annual consumption of 144 bps of capital.
One basis point is a hundredth of a percentage point.
In Q3FY19, the profit of PNBHFL had declined 3.7 percent QoQ. Therefore going ahead, LICHFL and PNBHFL will need to raise capital, thereby denting their Return on Equity (ROE).
The strongest capitalised HFC is REPCO Home Finance at 24.2 percent with loan growth being at a mere 12.4 percent YoY or 2.7 percent QoQ. Other well capitalised HFCs are Indiabulls Housing and CANFIN Homes.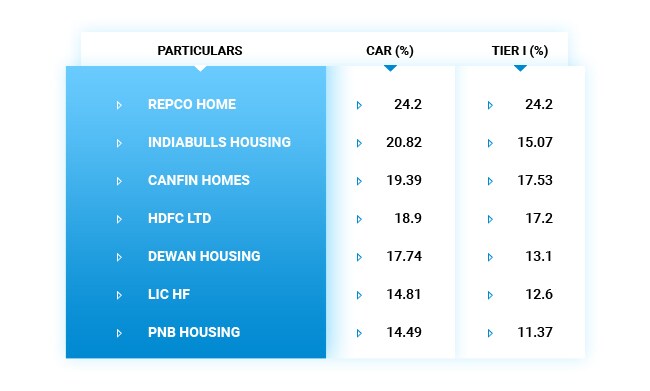 NHB proposes to cap borrowings to the net worth ratio at 12x and ceiling on public deposits at 3x of net owned funds. As on date, all HFCs comply with both the regulations that are intended to be levied. HDFC Ltd and Repco have the lowest leverage (or burden) on their equity.
However, LICHFL and PNBHFL have the highest leverage, which means they need additional capital for growth in the future.
On deposits side, all HFCs, barring HDFC, have deposits at <1x of net owned funds or net worth. Lowest leverage of deposits to equity is of CANFIN, while the highest is of HDFC at 1.4x.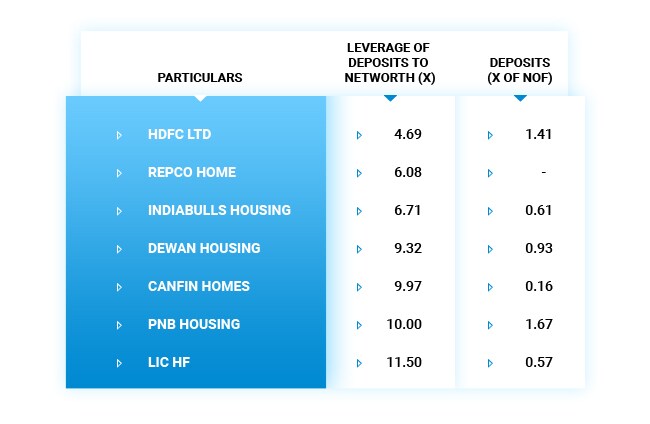 Therefore, the new proposed regulations, if implemented, would be positive for REPCO, while it may be negative for LICHFL and PNBHFL.