Punjab National Bank (PNB) on Tuesday reported an operational loss for the first time in its history, due to greater-than-expected slippages.
While the balance sheet growth has remained muted, risks on future earnings have increased owing to the fact that the bank has to make more than Rs 10,000 crore worth of provisions over the next three to four quarters.
The quarterly slippages -- the accretion of fresh NPAs -- was the highest ever at Rs 30,991 crore, a figure which is higher than the bank's current market cap.
Fraud related slippages at Rs 7579 crore, RBI's scheme related slippages at Rs 10,237 crore and other slippages at Rs 13,175 crore.
PNB's asset quality deteriorated significantly as gross NPA (GNPA) in absolute value increased by 50.6% Q-o-Q to Rs 86,620 crore.
Its GNPA now forms 18.38% of the book, against 12.11% Q-o-Q. There was a sharp decline in capitalisation level of the bank as its Tier I ratio fell to 7.13%, with common equity Tier 1 ratio at 5.96%. It is also the lowest in the bank's history.
The bank reported divergence on its FY17 book of Rs 2,207.1 crore, forming 0.53% of the then loan book.
As per the bank and the RBI, divergence in the GNPA is the difference.
According to the RBI, if the difference in GNPA is more than 15% then it has to be reported as divergence.
The question now is will the RBI put PNB under Prompt Corrective Action (PCA)?
As of now, PNB meets certain criteria, which puts a bank under the PCA framework of the RBI.
If the PNB comes under PCA, the bank cannot expand its branch network and cannot engage in further risky lending.
It will stop the bank from increasing the wages of employees. It will also prompt the bank to bring down its NPA's etc.
The stress for the bank in terms of its profit and loss (P&L) is also not over, as the PNB has to make additional provisions of Rs 10,140.84 crore over the next three to four quarters.
The bank has to make National Company Law Tribunal (NCLT) provisions of Rs 1,684.14 crore. It has also make gratuity provisions of Rs 190 crore and fraud related at Rs 7,178.42 crore. The bank has to mark the market losses of Rs 10,88.28 crore.
Balance Sheet Growth Remained Muted For The Bank
The bank's deposits were at Rs 6.42 lakh crore, up 3.3% Y-o-Y and down 0.89% Q-o-Q.
Its international deposits were at Rs 41,839 crore, down 25.5% Y-o-Y and 30.2% Q-o-Q.
PNB's domestic deposits were at Rs 6 lakh crore, up 6.2% Y-o-Y and 2.1% Q-o-Q.
The bank's low cost deposits were at Rs 2.63 lakh crore, up 1.2% Y-o-Y and down 1.7% Q-o-Q.
The share of low cost deposit were at 43.85% against 46% Y-o-Y and 45.52% Q-o-Q.
Its advances were at Rs 4.34 lakh crore, up 3.4% Y-o-Y and down 4.1% Q-o-Q.
The PNB's international loan book continued to decline. The international advances were at Rs 41,003 crore, down 18% Y-o-Y and 9.3% Q-o-Q.
Domestic loan growth of the bank remain muted. Domestic loan book was at Rs 3.93 lakh crore, up 6.3% Y-o-Y and down 3.5% Q-o-Q.
Worst Earnings Ever
The bank's net interest income was at Rs 3063.4 crore against CNBC-TV18 poll of Rs 3,876.7 crore.
Stress in the balance sheet led to domestic net interest margin being the lowest ever for the bank at 1.9%.
International book continued to decline. The bank reported its first ever quarterly operational loss of Rs 4,47.4 crore due to significant provisions on wages of employees.
Cost to income ratio for the bank was at 109.7% due to employee expenses at Rs 3,900 crore, up 123.9% Q-o-Q.
The bank had a tax write back of Rs 7,383.6 crore in Q4 against Rs 451.6 crore Q-o-Q.
Domestic NIM is the lowest ever for the bank at 1.9% vs 2.59% QOQ
Elevated GNPA has always had its pressure on earnings for the bank due to elevated credit cost.
The GNPA has remained above 12% for PNB in last nine quarters. The GNPA share rose to 18.4% in Q4 FY18 against 12.1% Q-o-Q.
The elevated GNPA has led to annualised credit cost (credit cost is provisions for NPA divided by advances ratio) on an average being elevated at 5.3% in the last 9 quarters.
The banks's credit cost was at 14.9% against 2.7% Q-o-Q.
The higher requirement of provisions has kept the earnings of the bank under pressure and it also resulted for its highest quarterly loss.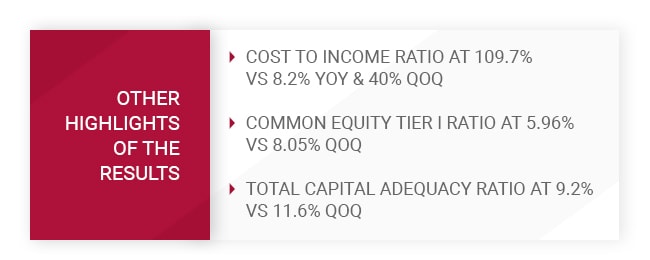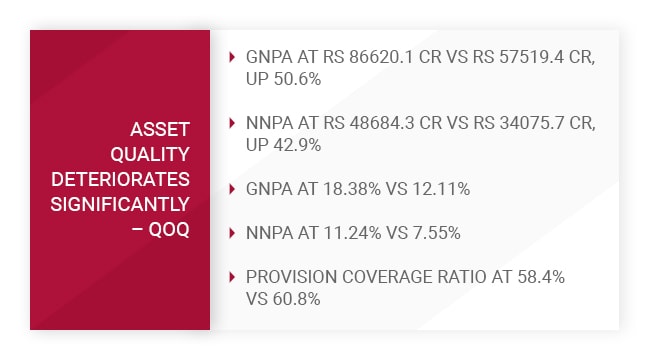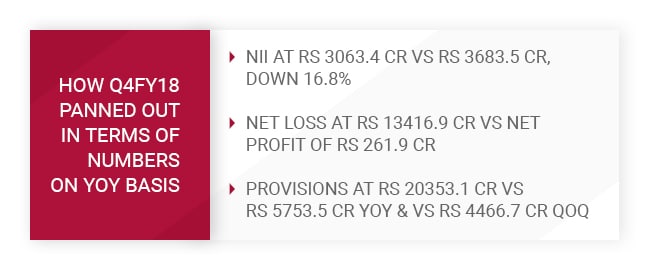 First Published: May 15, 2018 10:23 PM IST