Private sector lender
IndusInd Bank reported
a stellar, highest ever loan growth of nearly 35 percent in the quarter ended December 31.
The Mumbai-based bank has been making progress in gaining market share over the last few years while majority of its peers have been struggling to grow.
For the December quarter, the lender's corporate loan book expanded at 34 percent. The bank has also managed to reduce exposure to troubled sectors such as infrastructure and real estate.
On the flip side, the net interest income (NII) growth has been lagging the loan growth for five straight quarters, suggesting that business growth is coming at a higher cost i.e. cost of funds has been increasing for the bank while the bank has been gaining market share at the cost of lower yields.
NII or the core income a bank earns by giving loans, rose 20.8 percent to Rs 2,288.1 crore in the quarter but missed estimates. A CNBC-TV18 poll expected NII at Rs 2,370.7 crore.
This time, another negative surprise that surfaced was IndusInd Bank's higher slippages, which surged 92 percent sequentially to Rs 806 crore. The bank, however, wrote-off non-performing assets (NPAs), which resulted in gross NPAs rising by a mere 10.5 percent on quarter.
The dreaded IL&FS account was classified as standard, which is an overhang for the bank going into the final quarter of current fiscal ending March 31.
IndusInd's IL&FS total provision was at Rs 600 crore, and the bank has Rs 2,000 crore exposure to IL&FS Holding company.
But despite these negatives, rise in other income coupled with lower provision coverage ratio (PCR) led to profit growth as against street expectations of a decline in profits on both yearly and quarterly basis.
Net profit for the quarter rose 5.2 percent to Rs 985 crore. According to CNBC-TV18 estimates, the lender was expected to post a profit of Rs 811.3 crore.
Bottom line was, in part, aided by lower PCR, which declined sharply to 48 percent in the quarter ended December 2018, against 56 percent in September quarter.
Analysts, however, have cut their profit estimates for both FY19 & FY20 following a sharp reduction in provision coverage ratio and elevated slippages.
The stock has lost 14 percent since mid-August and now trades at a multiple of less than three times its estimated book value for FY20.
Key Highlights Of The Results
Positives:
Loan growth is the best ever for the bank at 34.7% y-o-y
IL&FS account remains standard
NIM is sustained at 3.83% vs 3.84% despite lower NII growth than loan growth
Low cost deposit share at 43.6% vs 42.9% y-o-y
Negatives:
Q-o-q: Yields increased by 8 basis points (bps) but cost increased by 17 bps and still NIM declined by only 1 basis point
In low cost deposit ratio, current account increased by 19.1% q-o-q, technically, a 'zero' cost deposit; despite which cost of deposits went up by 20bps q-o-q. At what cost have they borrowed money in the December quarter?
There was a decline in saving account deposits which isn't encouraging
For five quarters in a row, NII growth has been lagging loan growth indicating decline in NIMs.
Asset Quality Deteriorates Due To Elevated Slippages Q-o-Q
Slippages at Rs 806 cr vs Rs 419 cr, up 92.4%
GNPA at Rs 1968.2 cr vs Rs 1781.4 cr, up 10.5%
NNPA at Rs 1029.3 cr vs Rs 787.6 cr, up 30.7%
GNPA at 1.13% vs 1.09%
NNPA at 0.59% vs 0.48%
Provision Coverage Ratio at 48% vs 56%
Balance Sheet Highlights
Deposit growth remained healthy for the bank aided largely by strong growth in low cost deposits
a. Total deposits at Rs 1,75,701 crore vs Rs 1,46,086 crore, up 20.3% Y-o-Y (up 4.5% Q-o-Q)
b. Low cost deposits grew by 22.3% Y-o-Y to Rs 76,549 crore
c. Low cost deposits share increased to 43.6% vs 42.9% Y-o-Y & vs 43.6% Q-o-Q
Loan growth momentum has picked up & was best ever at 34.7% to Rs 173,169 crore
a. Corporate book was driven by large, mid & small corporate book which grew by 38.9%, 34.3% & 49.1% Y-o-Y respectively
b. Retail book was driven by high yielding credit card & commercial vehicle book; while growth picked up tractor & equipment financing book
e. CV portfolio formed 17.16% of the book vs 17.21% Q-o-Q
f. Loan mix increased towards retail at 39.3% vs 39% Q-o-Q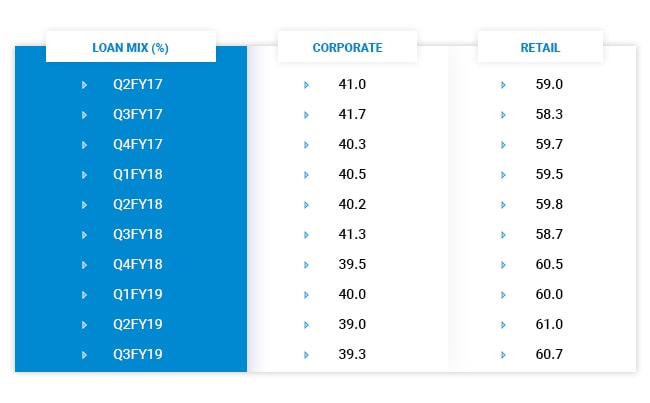 Key ratios (Q3FY19 vs Y-o-Y vs Q-o-Q):
Net interest margin declined to 3.83% vs 3.99% vs 3.84%
Cost to income ratio at 43.7% vs 46% vs 43.4%
Return on assets at 1.62% vs 1.96% vs 1.59%
Return on equity at 18.04% vs 17% vs 14.9%
Capital adequacy ratio at 14.2% vs 15.8% cs 14.3%
Tier I ratio at 13.8% vs 15.3% vs 13.9%