The street was concerned that BoB taking on two smaller banks could strain the large lender. Also, Dena Bank's book is clearly not of the quality of BoB's or even Vijaya's. The right thing, therefore, would have been to value the stock of the bank at a discount to BoB. But, in such arrangements guided by the government, there can always be other considerations that skew the swap ratio.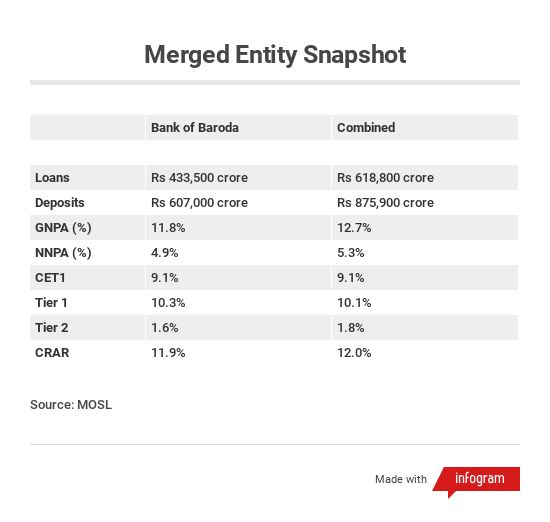 Thankfully, that has not happened. The ratio clearly favors BoB and that comes as a relief to shareholders of the bank. However, this puts pressure on investors of those holding the
shares of the other two banks,
because these were clearly trading at a premium.
To give you a clear indication, based on Wednesday's closing price, a shareholder of Dena Bank should have got 150 shares of BoB for every 1,000 shares held, but will now only get 110. Similarly, a Vijaya Bank shareholder who would have expected 430 shares of BOB for every 1,000 shares held will now only get 402 shares.
The stock prices are today realigning to this new reality.
At 10.28 am, Dena Bank shares were down by 18.16 percent, Vijaya Bank by 6.37 percent, while Bank of Baroda shares gained 1.34 percent.