The Reserve Bank of India (RBI) monetary policy committee (MPC) is set to meet on February 7, the first meeting after the interim budget.
The last inflation reading was a benign 2.19 percent. But the budget has fiscal stimulus written all over it. So what should RBI MPC do? Does it have space for a cut?
The CNBC-TV18's Citizens' Monetary Policy Committee of Pronab Sen, former principal adviser, Planning Commission; Samiran Chakraborty, chief economist at Citi Group; Sajjid Chinoy, chief India economist, JPMorgan; Soumya Kanti Ghosh, group chief economic advisor, SBI and Sonal Varma, managing director and chief India economist, Nomura, discuss the upcoming MPC meeting.
Here are the minutes of the CNBC-TV18 monetary policy committee meeting ahead of the February 7 policy.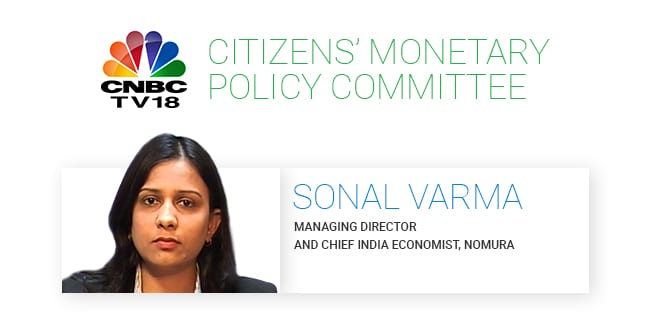 There are downside risks to RBI's growth forecast of 7.4 percent. Big risk is global slowdown and fiscal stimulus is not big enough to counter this slowdown.
Jump in rural core inflation especially the unusual jump in rural medical and educational services remains a mystery.
Not sure farm stimulus is enough to push up rural inflation.
Average inflation will remain around four percent in the next one year and fiscal is a bit of a risk.
ACTION RECOMMENDED
MPC must wait and watch.
Stance needs to be aligned with changing risks globally and locally. Must change from calibrated tightening to neutral, because risks are bi-directional.
See course of core inflation for a few more months. Also impact of fiscal stimulus on farm sector and economy.
February would be too early to cut.
* NEUTRAL STANCE. NO CUT
---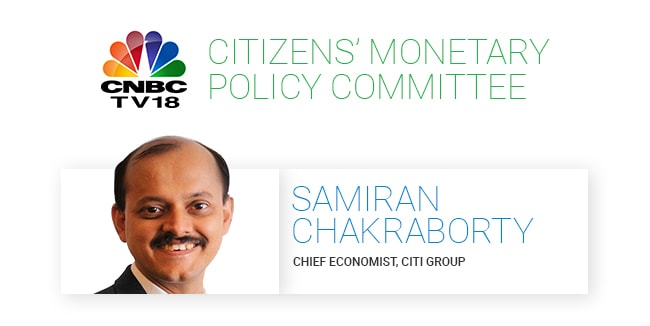 Farm stimulus works to 0.3 percent of GDP; income tax stimulus is 0.1 percent of GDP and total stimulus is 0.4 percent of GDP at lower end of our expectation.
Revenue expenditure multiplier is lower than capex multiplier. So not too worried about fiscal stimulus and its impact on inflation
Core inflation, even stripped of health and education jump, is five percent, which is high.
Assume that farm stimulus is meant to pull up food prices and core inflation anyways high.
Although, we have a 4.5 percent CPI for December 2019, there are upside risks to it, because of fiscal, especially if there is any supply shock.
In October, MPC said "calibrated tightening" stance means cuts are off the table.
ACTION RECOMMENDED
Given core inflation and fiscal stimulus, will expect a dovish pause.
Market will watch out for any indication on quantum of rate cuts in this cycle.
Space for rate cuts limited unless construct of the MPC changes.
Will watch if new governor brings a change in thought process.
Changes could come in the form of a thrust on real rates or how long a horizon of inflation the RBI is able to forecast, or any other new continuents in the MPC's thought process.
* NEUTRAL STANCE. NO CUT
---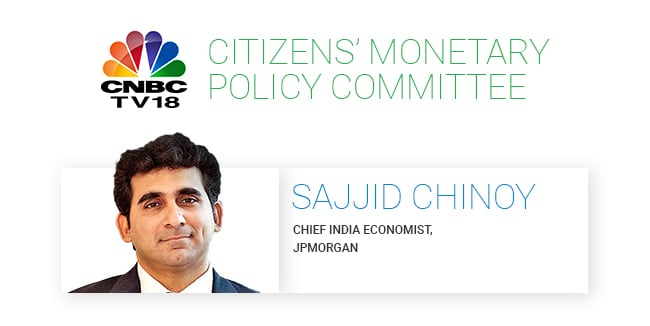 MPC's mandate is to go after the headline inflation.
Inflation is meaningfully below the MPC's mandate of four percent for next four quarters.
Argument of higher inflation 4-5 quarters down the line don't hold given the margin of error in these projections.
US Federal Reserve has given emerging markets' central banks a free pass.
MPC should stick to its framework and space does exist for modest easing.
Question is, year later will food inflation move towards core or other way round?
When Urjit Patel report was written, core used to move towards food. But now our analysis shows headline goes towards core.
ACTION RECOMMENDED
MPC can't be caught in semantics. Macroeconomic situation has meaningfully changed and inflation below what any one thought.
Space exists for shallow easing and just one cut.
There are fiscal risks, but have to see if this stimulus is deliverable.
Data is compelling, inflation is meaningfully low.
*NEUTRAL STANCE. CUT BY 25 BPS
---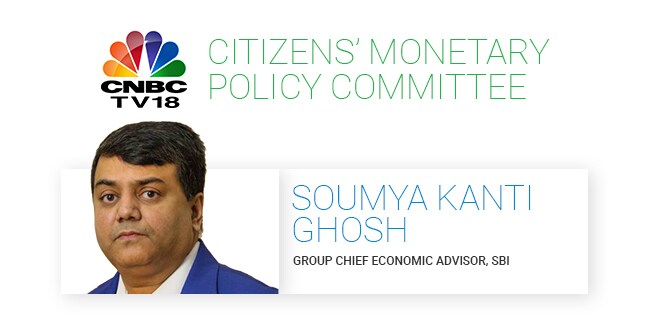 Global trends are confusing. Some believe slowdown already underway and some believe slowdown is later in the year.
Besides fiscal stimulus, fiscal numbers are ambitious.
Tax revenues budgeted to grow at 20 percent, while the decadal average is 14 percent. If there is even a 10 percent shortfall in tax collection, there are implications for deficit.
Government has announced extra borrowing of Rs 45,000 crore this year (including borrowing through dated securities and small savings).
Core inflation may be higher, because of methodology changes, in which case core inflation rise may persist.
Currently rural inflation still below two percent, to counting core.
Next year besides Rs 7.1 trillion of central government borrowing and Rs 5 trillion of state government, there is Rs 4 lakh crore of extra budgetary borrowing.
ACTION RECOMMENDED
Growth is meaningfully weak. Last two fortnightly data show credit growth has been negative this quarter. Only credit to SMEs has grown because of government package.
Fiscal stimulus not big enough to push up inflation.
There is space for some easing; immaterial whether the cut comes in April or June.
* NEUTRAL STANCE. NO CUT
---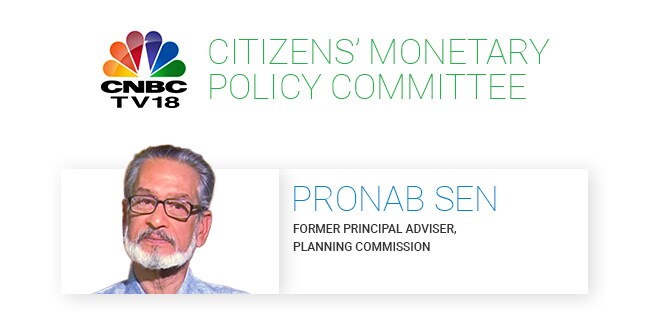 Fiscal stimulus not large enough to be worrying.
Fiscal stimulus is a much needed injection of cash into rural segment which is deeply hurt.
Monetary conditions have been tightening for rural sector since the past five years and this is the first sign of reversal.
The farm stimulus needs to be seen in this light.
Some cash injection into rural sector may bring some relief to the much stressed MSME sector as well.
Fiscal stimulus is not too much and not wrong. It will enable rural revival which we must support.
ACTION RECOMMENDED
If currency is moving out of banks, then liquidity is getting tight in the credit economy too.
There is a compelling case for a rate cut now.
Need to see if MPCs ego gets tied up by the fact that only in September they changed to calibrated tightening.
They have to change stance and to see if they change to neutral or accommodative.
* NEUTRAL STANCE. CUT OF 25 BPS