In fourth grade, Amy Chua was short, chubby and had a pretty strong Chinese accent, endowed by her ethnic Chinese parents who had migrated to the US from the Philippines. One day in school, she pronounced the word "restaurant" with the emphasis on the second syllable. "A boy named Jeremy hooted with laughter and went wild making fun of me," the bestselling author recalls. "He ran around the playground making slanty eyes, saying, 'resTAUrant, resTAUrant, haha!' I vowed at that moment to get rid of my Chinese accent. I also vowed to show everyone on that playground someday."
Amy did both.
The daughter of a college professor, Amy went on to graduate magna cum laude and Phi Beta Kappa from Harvard College. Three years later, she obtained her J.D. cum laude from Harvard Law School, where she was the first Asian American officer of the Harvard Law Review. After several years in law practice, she turned to academics, and has been a professor of law at Yale Law School since 2001.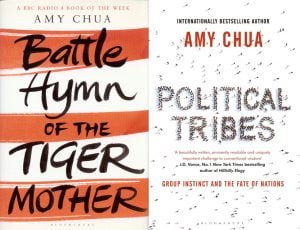 Amy Chua's most successful book till date is her memoir Battle Hymn of the Tiger Mother. Her fifth one Political Tribes has just released in India.
Along the way she wrote five books, all of which were profoundly successful, but none as much as Battle Hymn of the Tiger Mother (2011), a witty and provocative memoir of her parenting journey, which was translated into 30 languages. It shook up parents, academicians and social scientists worldwide with its radical ideas that having high expectations from one's kids was better than overprotecting them, and being strict – even dictatorial if required – was better than unstructured parenting.
"The ensuing firestorm definitely changed my life. I've actually loved being able to write on two tracks, one more personal and humorous, and the other more serious in my areas of academic expertise," Amy tells eShe. Her fifth book, Political Tribes (Bloomsbury, 2018), talks about how group loyalty often trumps ideology, and brings together Amy's foreign policy background with her interest in social, political, and cultural movements.
Looking back, however, Amy admits that she applied to law school only as a last resort, because she didn't want to study medicine or physics, which is what her parents wanted for her. "I wasn't a natural in law school, and I had many moments when I wondered if I had made the wrong decision, but in the end I got so lucky. Yale values interdisciplinary and unconventional approaches, and it's been a perfect fit for me," she says.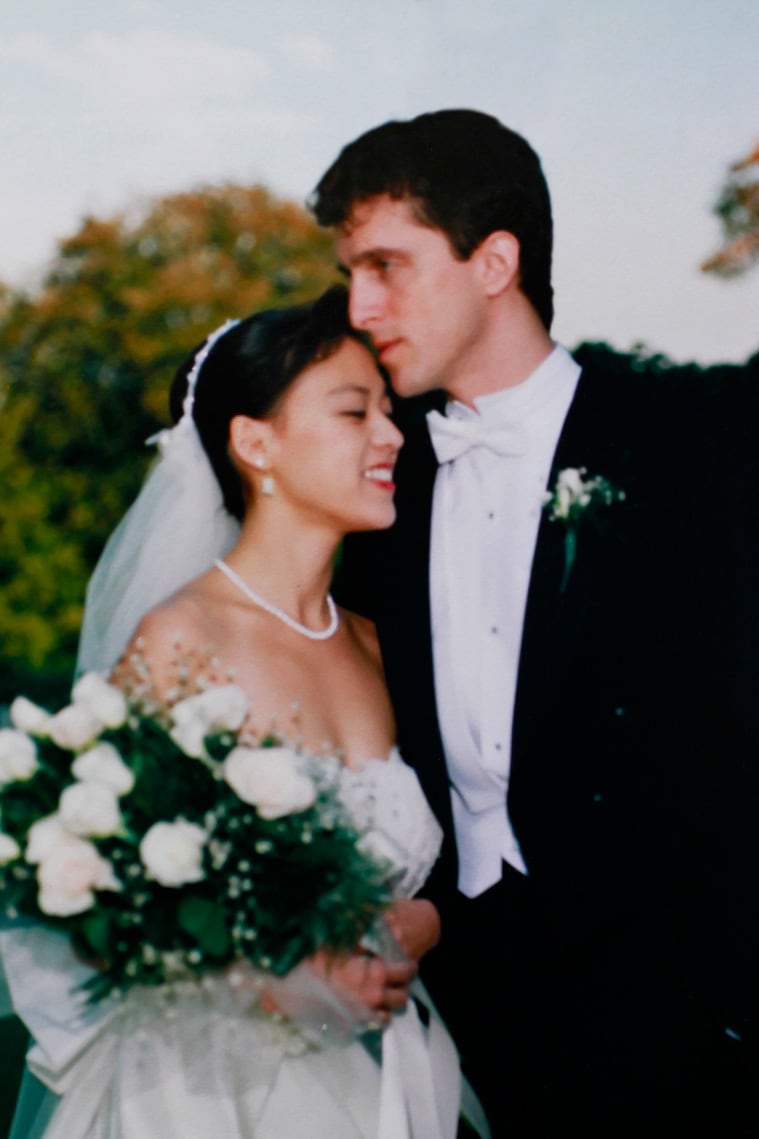 Amy Chua met Jed Rubenfeld in law school. They are both professors at Yale, and have authored a book together.
Amy met Jed Rubenfeld in law school, and they married a few years later. When her daughters Sophia and Lulu were born, she confesses she tended to do most of the "hardcore parenting", overseeing homework, music practice, driving them to class, enforcing rules and so on, "probably because I found myself more reliable and competent, and not afraid to have my girls mad at me! Besides, it always seemed like it would take longer to explain to my husband what to do than to just do it myself!" she jokes.
Amy Chua and Jed Rubenfeld when their daughters Sophia and Lulu were younger.
But then – like many working mothers around the world – she would often find herself exhausted since she had a full-time job, and would resent Jed for not doing more. "A great thing for our marriage was when I decided to actually help him help me," she shares, describing how she figured out stuff that he could do, often far more effectively than she could, freeing up more time for herself. As their daughters grew older, Jed would discuss Shakespeare or poetry with them, for example, or explain issues about the US Constitution. "Basically allowing and enabling him to be more of a real partner in parenting as opposed to be heroically doing everything myself was a great move," Amy avers.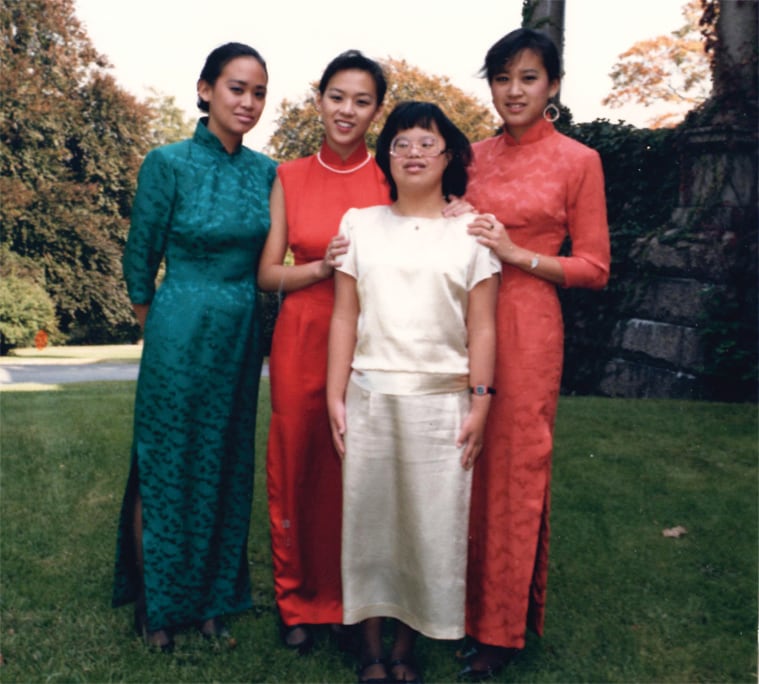 Amy Chua and her three sisters. Amy is the daughter of ethnic Chinese parents who migrated to the US from the Philippines
Battle Hymn… not only put Amy in the spotlight but also her entire family. Every academic move her daughters make is watched closely – especially by opponents of Amy's 'tiger parenting' style. ("I actually didn't intend for Battle Hymn… to be a parenting book. I had totally different hopes for the book," says Amy.) Yet, the public limelight has only brought them closer as a family. "Both my daughters have stunned me with how brave they are; they both happily do interviews and seem comfortable to be in the public eye. And they've been incredibly loyal to me. They've grown into strong, kind, funny young woman with huge personalities," shares Amy with all the unembarrassed openness of a super-proud mom.
A fan of classic literature and thoughtfully made movies such as the recent Oscar winner Three Billboards Outside Ebbing, Missouri, the 55-year-old's own work has dwelled on immigrant issues and the question of ethnic or tribal affiliation in a world of fluid boundaries. The Triple Package, a book she co-authored with her husband Jed, posits that there are ingrained cultural traits that explain the success of certain groups, such as the Indian and Chinese, in America. Considering conservative Indian parents are less likely to send their daughters for higher education to the West, we asked her how such cultural criteria or social limitations play out in terms of immigrant women's material success?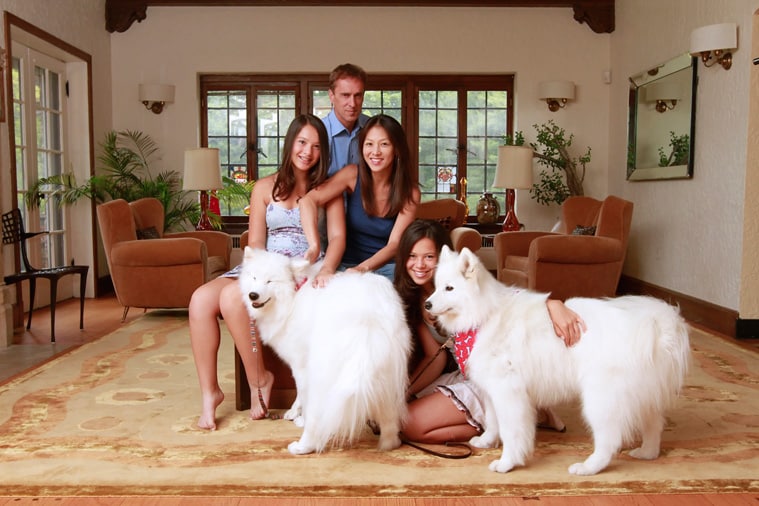 Amy Chua and Jed Rubenfeld with their daughters Sophia and Lulu, and their two Samoyed dogs, Coco and Pushkin.
"In my experience teaching at Yale Law School, many of my most original, vibrant, and successful students have been young women who are the daughters of Indian immigrants (the young men are great too, but still!)," Amy responds, adding, "The Chinese have this unfortunate bias too. I come from a family of four daughters and no sons, and all I can say is that I'm so happy that my parents made me feel that I could literally accomplish anything if I just aimed high, worked hard, and never gave up."
In her latest book Political Tribes, Amy admits that she has used income and wealth as a general parameter of success but has not accounted for happiness. We ask her what a more holistic definition of success would be, which would ensure a more equal, humane world for future generations? "Good morals. Self awareness and self-reflection. And, above all, generosity of spirit," she signs off.
THE TIGER MOM'S LAST WORD ON PARENTING
Seven years on, Amy Chua still stands by the beliefs she expressed in Battle Hymn of the Tiger Mother. Here's a gist:
It is best to assume strength rather than weakness in one's children.
True self-esteem and inner strength must be earned.
The most important thing a parent can do is to always convey unconditional love.
Also, keep in mind that children can be very clever and know exactly how to manipulate you! So just listen carefully and be willing to adjust, but also be willing to stand your ground. Once kids sense weakness, it's over.
Parenting is not a science; it's more of an art. Or maybe a circus.