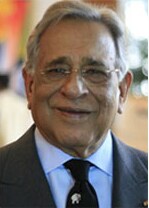 PRS Oberoi, Executive Chairman, EIH Ltd
PRS Oberoi, executive Chairman of EIH Ltd, the flagship company of The Oberoi Group, is one of the legendary hoteliers of India. Popularly known as 'Biki', Oberoi spent his entire childhood growing up in hotels that his father MS Oberoi acquired and managed.
Oberoi Junior has helped his father build from scratch the iconic Oberoi hotels in New Delhi and Mumbai. He also led the push to build super luxury hotels in Jaipur, Udaipur and Agra.
The Oberoi hotels are known for their striking architectural designs in luxury hospitality. Today the group also runs the five-star business hotel chain Trident and employs over 12,000 people.
PRS Oberoi has always maintained that he doesn't want his group of hotels to be the biggest, but he certainly wants it to be the best.
In 2013, when he was 84, he demitted the CEO's office to close aide SS Mukherjee. Now, Oberoi's son Vikram runs the group as CEO. But at 89, Oberoi is still very hands-on with building and expanding his hotels business.
Oberoi says there are three things that entrepreneurs must do to succeed.
One, see people who work with you as the biggest assets.
"You can build the best hotel in the world, but unless you have good people working in the hotel, you will not succeed," he told CNBC-Tv18 in an interview.
It is with this in mind that the group started the Oberoi Centre of Learning and Development.
Oberoi reiterated the importance of entrepreneurs to train their own people to succeed. Entrepreneurs must select their people carefully, train them properly and keep them motivated, according to him.
"When I am involved in planning all the new hotels that we are building and I find that the most exciting thing is sitting with the various consultants and telling them what to do if I see an error."
Two, don't think of cutting costs. Instead, try to cut waste, he said. He recounted an anecdote to drive home the point.
"I was in one of our hotels and I found towels were not absolutely white. So when I came back I asked the person concerned what was wrong. We use a light meter to see the whiteness of our towels and this hotel was not using the white meter. Our average wash for a towel is 125-130 washes after that we discard them."
Oberoi found that the laundry department in that hotel was not doing what it should have done.
"The devil is in the details," he insisted.
Third, business leaders must have a passion for what they do. "If you don't have passion, don't do it."
It is these crucial pieces of advice that he has given to his family and employees.
This interview was held in May 2015 as part of the India Business Icons Campaign to mark CNBC-TV18's 15th year of leadership in business news. The India Business Icons Campaign is an endeavour to form a distinct league of the most powerful business icons that people of the country think have had a monumental impact not only on their lives, but also on the Indian economy.