The power sector powered ahead this year, making plenty of headlines – albeit for both good and bad reasons. From 100 percent electrification that drove up demand and power rates to the various measures to alleviate stress in the sector, much has been achieved this year.
Here is a summary of the Positives
100 percent electrification
Demand uptick; Merchant price uptick
Fall in PLF arrested and power deficit zero
Various policy initiatives to resolve stress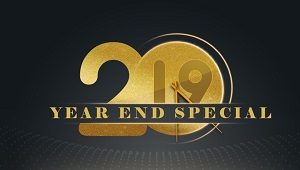 First; the government said it achieved 100 percent electrification, which meant all villages in the country now have access to power. Though some media reports have questioned this claim and access doesn't mean every villager is using electricity, it is safe to say every nook and corner of the country has been lit.
This 100 percent electrification drive not only led to increased spends on last mile connectivity but also drove up the demand for power. For the first time in half a decade, electricity demand scaled to double digits at 10 percent, - raising hopes that 2018-19 as a whole could see an uptick in demand at 7 percent. The surge was led by festive demand and increased consumption by the industrial sector, according to experts.
100 percent Electrification
28th April 2018 will be remembered as a historic day in the development journey of India. Yesterday, we fulfilled a commitment due to which the lives of several Indians will be transformed forever! I am delighted that every single village of India now has access to electricity.

— Narendra Modi (@narendramodi) April 29, 2018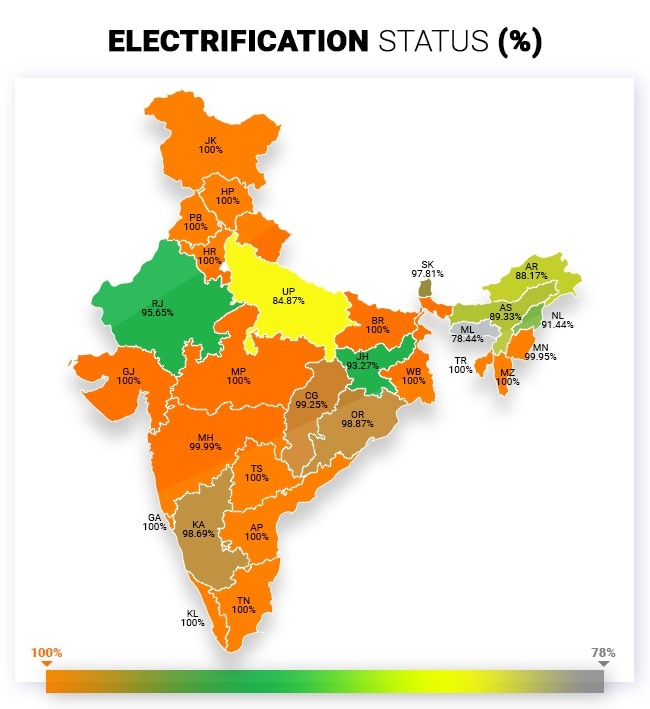 As a result, the fall in plant load factors (PLFs), a measure of a power facility's capacity, has been arrested. Even though the PLFs have not skyrocketed, at least the fall in PLFs has been arrested. It is actually expected to move higher in 2019.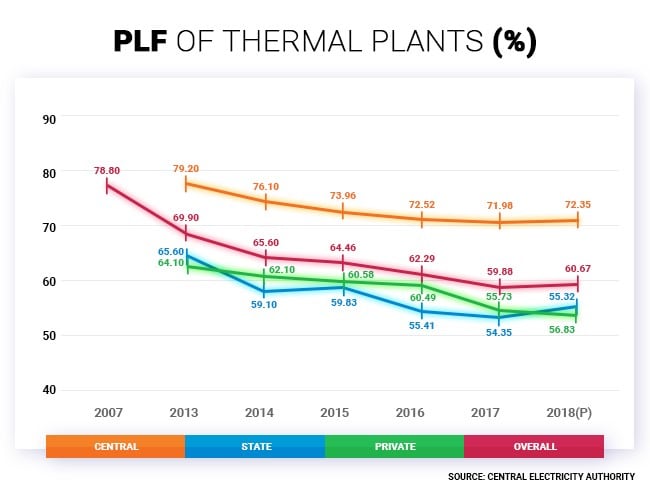 Moving to the supply side, the peak supply deficit has declined from over 8 percent in 2013 to near 0 in 2018, suggesting that at least some bottlenecks related to supply have also been removed.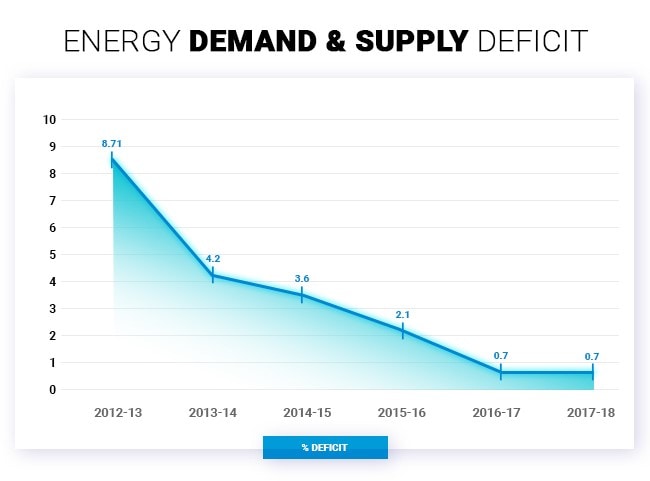 Remember, the sector has faced several issues from coal shortage to lack of power purchase agreements (PPAs). This led to a stress in 40 GW of capacity in the sector. Of the 40 GW, 21 GW is stressed due to lack of PPAs from the distribution companies, or discoms and 11 GW is stressed despite having the PPAs, with many plants not having adequate coal.
Through the year, several high-powered discussions took place and committees formed to solve this stress. Many policy initiatives like Samadhaan, IBC norms, Pariwartan, Shakti and Saubhagya have been taken.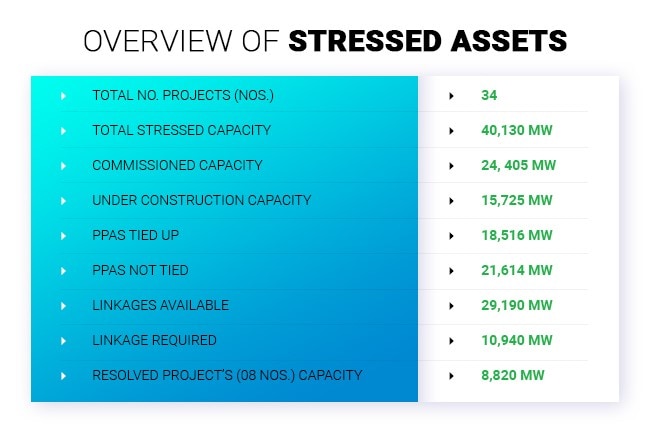 Even if the results have been slow — only 8 projects out of the 34 have been resolved — it's at least a start. That explains why the sector is looking at 2019 with a lot more hope and feasible resolution.
These instances capture the 2018 story in power. There has been definite progress this year, but the end to distress is not nigh. The sector is still stuck in a perpetual circle of lack of demand, shortage of coal, overdue payments and operational misses by discoms.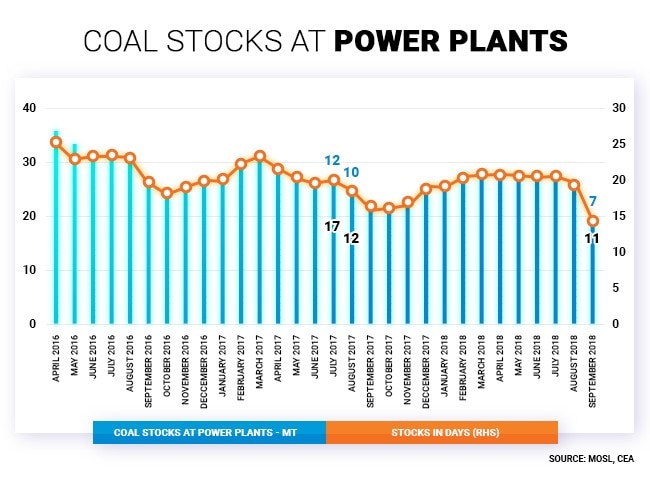 Even after an uptick in coal dispatches from government-run Coal India, several independent power producers, as well as public power plants, faced acute shortage of coal due to the rake unavailability and demand mismatch. For example, the coal inventory in India at an aggregate level dropped to as low as seven days and the inventory was at critical levels for numerous plants.
After many years, government-run NTPC and independent power producers were forced to resort to importing coal. In August 2018, coal imports jumped up 28 percent.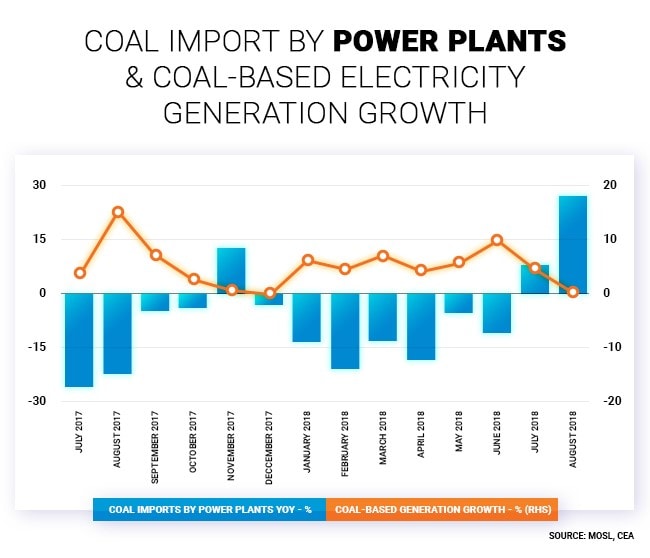 There's more. One of the weakest links for the sector is actually the power distribution companies. While the UDAY reform was brought in to reform discoms financially, it did not have the expected impact. All India AT&C (aggregate technical and commercial) losses in the first half of 2018-19 were at 22 percent compared with the target of 15-19 percent.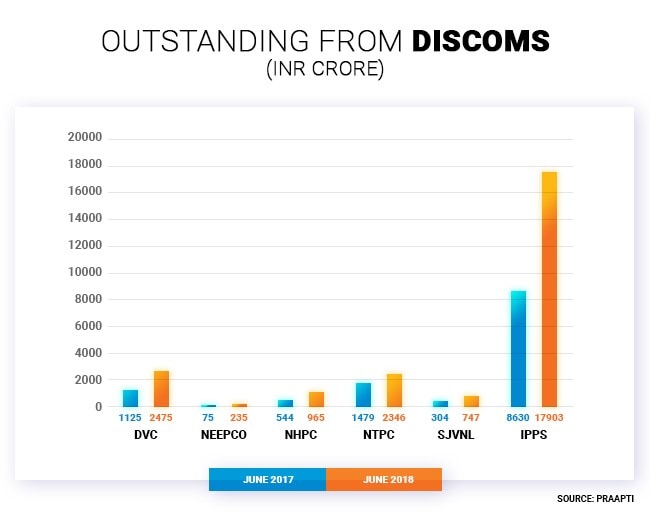 At the company level, the problem of overdue payments has not been dealt with. For almost all the companies, the outstanding dues have actually gone up on a year-on-year basis. The problem is starker for independent power producers compared with government-owned power companies.
The power sector has also been hobbled in the long term due to the lack of continuity in policy initiatives, according to experts. From a sudden push to renewable energy to abrupt changes in policies and tariffs, the sector faces plenty of uncertainty, creating tepid business confidence.
For example, the recent changes in wind power tariffs led to a disruption of the industry and the surrender of a few PPAs. This also led to an increased risk for lenders. Result: incremental lending to the sector declined.
Even the resolution process is in dire need of some tempo. Take for instance the applicability of RBI's February 12 circular to power companies, seeking to push more large loan defaulters toward bankruptcy courts, is still being contested in the supreme court.
The fortunes of the sector will now depend on two critical issues: One, the shortage of coal and high AT&C losses of discoms, which have caused stress in the sector. The stress in the system needs to be weeded out. Two, it is the discoms that have to channel their AT&C losses better. They will have to look at things at a granular level and manage their finances as well as operations better.