If you follow that circular large number of additional assets will go into the red.
The Reserve Bank's new rules on the resolution of NPLs (non performing loans) is finally getting the attention they deserve from the power ministry. The caustic opposition to it from power minister R K Singh was entirely on expected lines.
"RBI circular is not workable. If you follow that circular large number of additional assets will go into the red, they will also become sick. This is like somebody who has just started sneezing, you are driving him sick. This circular needs to be changed." Singh told CNBC TV18 last week.
He continued: "If somebody's asset goes into this resolution process then it is expected to be completed in 180 days, it is just impossible. A resolution process will take at least a year for it to be a real resolution process. So, that limit is also unworkable."
Now first up, someone needs to tell the minister that the RBI would have been delighted if it had to wait only one year for stressed loans to be resolved. The 50,000 megawatts of power assets that look very likely to be taken to the NCLT (the National company law tribunal ) have been stressed for at least three years!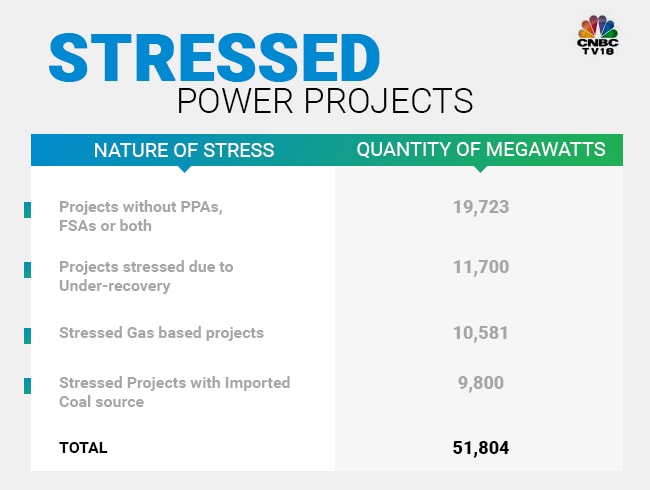 Source: Crisil, APPAI
The former power minister tried hard for three years to make the gas-based plants work. They didn't. Now the ministry itself has given up hope. Why should these projects not be taken to the NCLT. It's possible the banks will recover something from some stressed asset funds who are prepared to wait it out for say the Reliance –BG alliance to generate gas by 2020. Why should these zombie assets be sitting in the books of banks.
Even if these plants get into liquidation and the banks get only 10% of loan value, there will be some write back of provisions and some lightening of deadwood in their balance sheets.
Secondly, the 19,723 megawatts of thermal capacity languishing for want of PPAs won't get resolved till discoms sign power purchase agreements or coal India signs FSAs. But, discoms haven't been doing that for want of money.
From 2012-2017 ( the period that would have been the 12th five year plan), discoms signed power purchase agreements (PPAs) for only 7,168 megawatts, where as the private power companies added 53,664 megawatts of capacity.
In fact the RBI's rule that will require stressed companies to be taken to the NCLT, may actually be a great catalyst for the industry to reset its demand-supply imbalance. The clock for already stressed projects started ticking on March 1 and six months later, i.e on September 1, they will have to be taken to the NCLT.
Already power rates in the overnight market and in the short term(merchant) market have risen sharply ever since the weatherman announced an unusually hot summer. The day-ahead market on the IEX saw rates average between Rs 4 and Rs 5 in April 20% higher than the previous month, while merchant rates for 3- 6 months are even higher.
Recently Gujarat tied up about 2,000-mw supply during April-June at tariffs ranging from Rs 4.79 per unit to Rs 8 per unit. The average price discovered was over Rs 5.5 per unit. Punjab tied up short-term electricity supply during June-September at an average of Rs 4.5 per unit, while Haryana discovered tariff in the range of Rs 4.94 per unit to Rs 8 per unit.
The point is, even as the power companies come to the NCLT, power rates in India may become high enough for stressed asset funds and other deep pocketed investors to consider buying these companies. Banks may get at least 20% of their loans back. If banks don't find the offers attractive at all and a few plants go into liquidation, even that will be welcome, because as capacity exits, the demand-supply balance will shift in favour of demand and the remaining, less unviable plants may become viable and fetch better rates.
Short point, the RBI's circular must not be tweaked. It is not only good for banks, it is probably good even for the power sector as it may help the sector get healthier from a price perspective and from the point of view of weaker players giving way to stronger ones.
But perhaps the power minister is working to a different calendar – an election calendar. His refrain has been that not six months, but one year needs to be given to resolve stressed power companies.
As per his demand, the current NPA companies will be brought to the NCLT only in March 2019. By then the nation will be in election mode and the mess will eventually be his successor's, not his. Strangely all of Mr Singh's deadlines start only by March 2019. He had earlier announced that he would tweak the electricity act to penalise discoms for any disruption in electricity supplies post March 2019. Likewise discoms, he said won't be allowed to recoup more than 15% of their losses through any tariff increase post March 2019. Looks like he is drawing up more plans for the next government in New Delhi than for the current one.
The minister may be moved solely by election calendar, but the RBI should be concerned only about the health of the banks. It has waited long enough for these power companies to become viable. It needs to stand firm by its February circular. Incidentally, the government may also benefit. By the time the polls are fought, Indian banks may be much healthier than they are today thanks to the RBI circular. The NDA can justly claim the cleaning up of banks are one of their best successes. They need to back the RBI.
First Published: Apr 22, 2018 6:56 PM IST