Mini
Wipro is yet to dole out variable payouts for the April-June quarter to mid- and senior-level employees as margin pressure continues to hurt the tech firm, according to a report.
Wipro is yet to dole out variable payouts for the April-June quarter to mid- and senior-level employees as margin pressure continues to hurt the technology firm.
Those in Band C (mid-manager level) and above are not being given variable pay, while incentives of the sales staff have also been affected, sources have told Moneycontrol.
Following the reports, Wipro shares fell over 2 percent in early trade on Thursday. The stock was trading 1.35 percent lower at Rs 437.10 on BSE at 9:52 am.
Freshers and associates (Band A and B) at Wipro shall receive 70 percent of the target variable pay if they meet the billability threshold along with the salary for August, which will be rolled out at the end of the month, they added.
Following the report on Wednesday, Wipro told another business daily that there was no change to its earlier statement on salary increase.
"Hikes for our employees will be effective from September 1, 2022. We have also completed the first cycle of quarterly progressions effective July 1, 2022. We have no further comments on the quantum of variable pay," it told Mint.
The development comes days after top firms in the IT sector reported high attrition rates for the June 2022 quarter though
Wipro and Tech Mahindra
were among those that reported a marginal drop in the rate of people leaving software giants.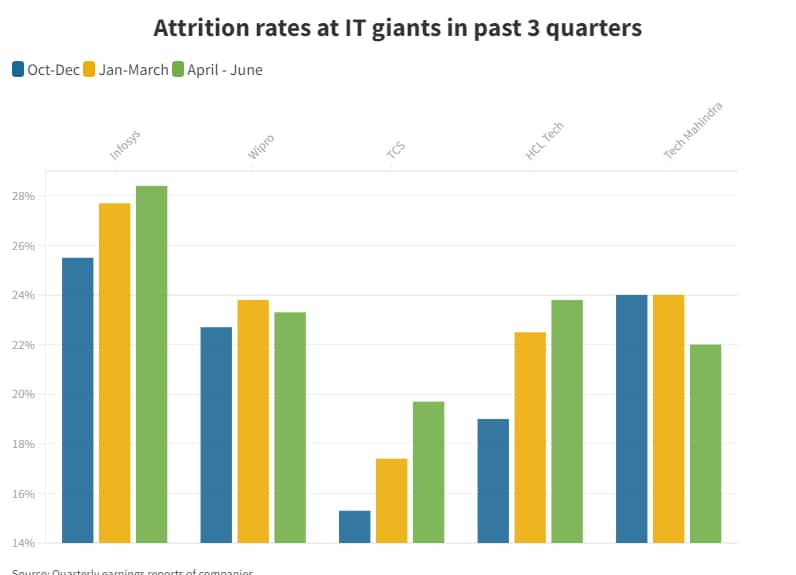 Wipro's move is at a time when tech companies are looking to defend margins amid rising employee costs while fears of a possible recession in the US loom.
While different companies have varying cycles, Wipro gives out variable pay every quarter. For employees in Bands A, B, and Rainbow (trainees), the company gives the variable pay based on the employee's billable days for the quarter. For Band C and above, variable pay is linked to the company's financial parameters.
According to the Moneycontrol report, variable pay ranges from 10-15 percent for junior level employees, it can be up to 20-30 percent of the compensation for mid- to senior-level employees.
Wipro communicated the changes to employees in an internal note, seen by Moneycontrol, sent a few days ago.
As per the email, staff has been informed about continued pressure on operating margins that has been attributed to "inefficiency in our talent supply chain, project margins, and our investments in talent, technology, and solutions during the quarter, which will continue as these are directed toward long-term value building."
On Wipro pausing variable payouts, Sandip Agarwal, Research Analyst-Institutional Equities at Edelweiss Securities, is of the view that are some company-specific issues, which should not be the only factor to consider as there are many others as well.
"We don't know the internals of it, why it has been done. But the sector demand perspective doesn't see any challenges. Wipro sometimes generally preempts things. In the past, we have seen their stock dividend for a short period of time, when COVID happened while no one else did that. So, Wipro generally takes proactive and very strong steps," he told CNBC-TV18 and ruled out reading too much into it.