According to LinkedIn Workforce Confidence Index, 74 percent of Indian workers are concerned about rising prices and inflation and only 43 percent feel that they are prepared for an economic downturn. From Gen Z, 66 percent are concerned about rising prices and inflation.
Rising inflation, fear of recession and job security amid layoffs are the trends that are making the Indian workforce cautious in 2023. According to LinkedIn Workforce Confidence Index, 74 percent of Indian workers are concerned about rising prices and inflation and only 43 percent of Indian workers feel that they are prepared for an economic downturn.
The research conducted by LinkedIn with 3,565 professionals in India from September 24, 2022, to December 30, 2022 points out that 78 percent of professionals are feeling a bit uneasy about their current job security.
"With the rising buzz about layoffs and cost-cutting, it's definitely a concern among professionals in India because one day you are working happily but you don't know if next day you might get news that your company is laying off people and you can be one of them," said Nidhi Sharma, a career counsellor and clinical psychologist in New-York.
What Gen Z wants
As per LinkedIn's data, 66 percent of Gen Z professionals from the age group of 18-25 are concerned about rising prices and inflation. Further, only 34 percent of Gen Z professionals feel that they are prepared for the economic downturn.
"I got my first job this year and when it comes to savings and being ready I don't have much of that, so yes the scenario out there with increasing layoffs, especially in tech does worry me because losing your first job would not look good," said Ayush Agarwal a software engineer currently working in a startup based out of Hyderabad.
These economic uncertainties are also the reason why more and more of Gen Z are aiming towards having a stable job. As per the LinkedIn data, 46 percent of Gen Z professionals are looking for more stable jobs in 2023.
The rate of hiring in India was 23 percent lower in December 2022 than it was in December 2021, according to LinkedIn's economic graph data.
Despite this, the stats from the professional networking site revealed that the Indian workforce is resilient in the face of economic uncertainty, with 4 in 5 (80 percent) professionals considering changing jobs in 2023. Gen Z professionals are mostly driving this sentiment, as 88 percent are considering a job switch in 2023.
"All in all, professionals in India, particularly Gen Z, are not content to sit on the sidelines and wait for opportunities to come their way. They are taking action and actively seeking new opportunities for growth and stability, to take control of their own futures," Nirajita Banerjee, Career Expert and Managing Editor (News and Communities) at LinkedIn India, told CNBC-TV18.com.
What are Indian professionals doing amidst the economic downturn?
Data from LinkedIn research suggests that Indian professionals are searching for new jobs, upskilling and making their job network stronger amidst the economic downturn. LinkedIn's recent consumer research reveals that more than half (54 percent) of professionals in India are growing their network by staying in touch with the right people and attending more business events.
They are also getting better aligned to business priorities with nearly half (47 percent) proactively asking for feedback from their peers and managers to do the work that their companies value most. Additionally, 44 percent are learning new in-demand and transferable skills today.
"Finding your passion, upskilling/reskilling yourself, updating your LinkedIn profile, growing/maintaining a strong network, and giving yourself some time to consider your next steps are all examples of career cushioning strategies," said Daya Prakash, founder of TalentOnLease.
Further, while it's not so prominent in India right now, professionals in the West are also engaging in
rage applying.
According to Anshuman Das, CEO and Co-founder, Careernet, professionals are switching jobs to avoid uncertainties amidst layoffs and companies are facing funding winter issues in the case of startups.
"The uncertainty that people feel about their current jobs is the primary factor that is driving professionals to move out of their organisations, regardless of the present economic status quo," said Das.
What can companies do to reduce employees' nervousness?
According to Banerjee, in order to attract and retain top talent, companies must make the right offering to attract and retain professionals. The present situation is an important opportunity for companies to show how invested they are in developing the right learning and growth plans for their employees.
As per the LinkedIn data, offering internal mobility. providing learning and development opportunities, and promoting better work-life balance are key reasons for employees to stay in their current roles and organisations.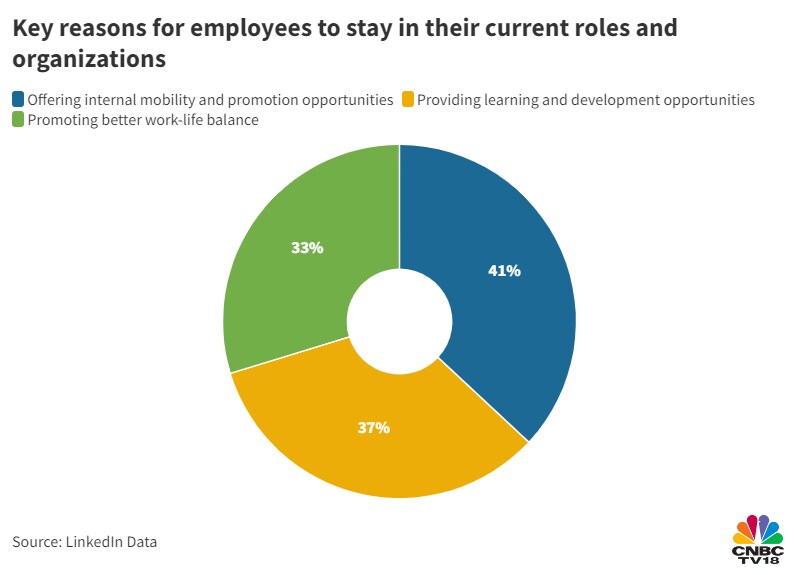 "Companies should try to identify the competencies and personal goals of employees at a deeper level and create a roadmap that combines company goals with personal objectives. When people see a future, their adoption of company values, practices, processes and systems is much higher. Give people roles that match their strengths and create an encouraging environment. Companies should identify talent and commit to retaining the identified talent for at least three years," Mayur Taday, Chief Business Officer, TeamLease Services told CNBC-TV18.com.
Further Sekhar Garisa, CEO Foundit mentioned that like the employees, companies also need to adopt unconventional ways to combat the sudden
quitting spree and retain talent.
"Apart from the right pay, they also need to promote transparency, inclusivity and ensure a better work culture. When employees feel that they are
an imperative part of the company's long term vision and mission, they tend to be more invested and stay on for longer," said Garisa.
(Edited by : Shoma Bhattacharjee)
First Published: Jan 27, 2023 7:28 PM IST