Employees in India are likely to get an average salary hike of 9.7 percent in 2019, higher than 9.5 percent last year on the back of improving economy, according to a new survey.
HR consultancy Aon Hewitt's annual Salary Increase Survey, that analysed data across more than 1,000 companies from more than 20 industries, said the average salary for India Inc stands at 9.7 percent this year.
The survey questioned 1,024 employers during the period of December 2018 and January 2019.
According to the survey, companies are optimistic about salary prospects due to a positive economic outlook, high domestic demand and low inflation.
"A decline in voluntary attrition and controlled incremental hiring continue to keep the sentiment mild," the 23rd edition of the annual salary increase survey said on Tuesday.
India continues to lead the Asia-Pacific region on the salary-hike metric. China is expected to dole out a salary rise of 6.5 percent, Philippines 5.9 percent, Japan 2.5 percent, Singapore 3.9 percent and Australia 3 percent.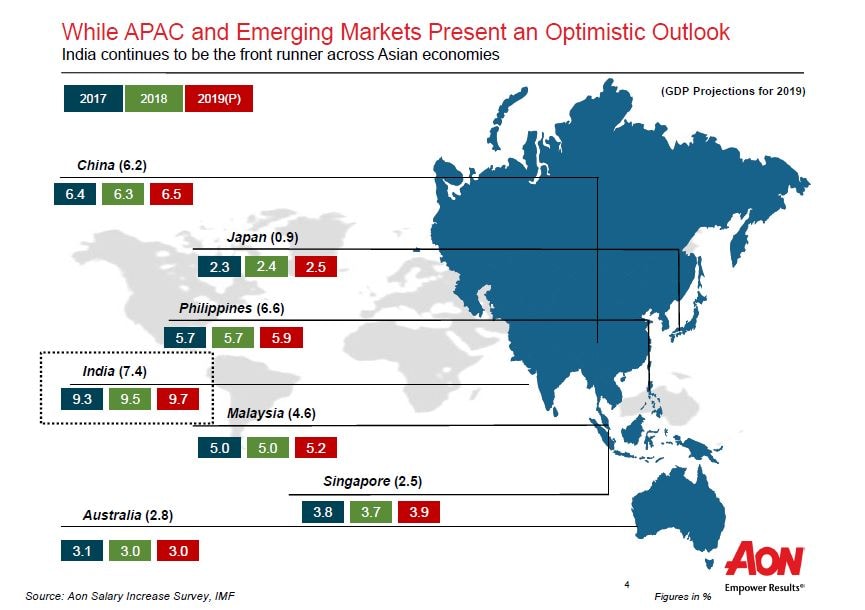 Sectors such as professional services, consumer internet companies, life sciences, automotive and consumer products continue to project a double-digit salary hike for 2019.
"Pay increases are marginally positive compared to earlier years – a big highlight is a reducing difference in pay increases across industries year on year," Anandorup Ghose, partner at Aon India Consulting, said in a report.
Meanwhile, the attrition rate in India is seeing a continuous downward trend as the overall attrition has come down to 15.8 percent in 2018 from 18.5 percent in 2013.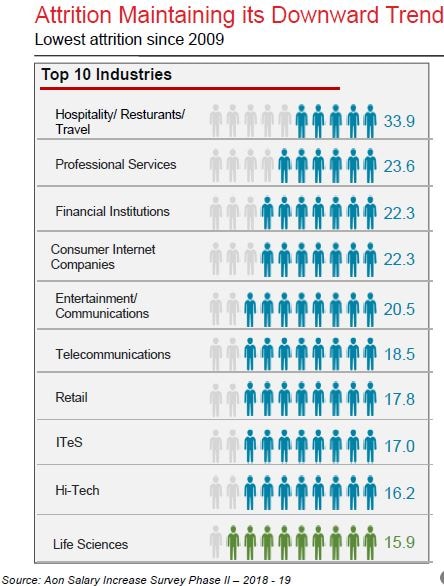 But for employees, who were expecting a double-digit pay increase this year, prospects look grim as India Inc is likely to shy away from doling out big hikes in an election year.
"Every election year presents a set of interesting dynamics in how companies plan and execute on budgets – we expect this year to be no different. But we are fairly confident that the double-digit pay increase days are well behind us as India Inc. shows maturity in managing economic and political cycles," added Ghose.