Mini
Prime Minister Narendra Modi inaugurated on Friday the 2019 edition of Vibrant Gujarat, the investment shindig he founded in 2003 as the state's chief minister.
Prime Minister
Narendra Modi inaugurated
on Friday the 2019 edition of Vibrant Gujarat, the investment shindig he founded in 2003 as the state's chief minister and which attracts statesmen and business tycoons from around the globe.
Now in its ninth edition, the event is a forum for delegates from across the world interested in investing in Gujarat to meet and explore opportunities. Mahatma Mandir Convention Centre, the venue of the event, was awfully crowded on Friday morning due to the PM's presence and a series of meetings lined up later in the day.
Security was high and chaos reigned. Both failed to dent the enthusiasm of the gathering.
Here are a few glimpses from Day One:
Helpful for Investors
Vibrant Gujarat has faced much criticism for its inability to translate the promises by governments and businesses made at the gathering into real investments. While that is true, several potential investors find the summit useful.
A delegation from Ghana, which is one of the partner countries at the summit, has come to meet potential clients under the aegis of Indian trade body Ficci (one of the delegates was inconsolable though because he was robbed of his laptop and iPad at the Mumbai airport).
Companies of Ghana believe their commodities such as cashew, cocoa and timber have huge demand in India. Guido Forstbach, divisional president of Elantas Beck India, a varnish and resin making company, Morten Dyrholm of Vestas Wind Systems both too heaped praise on the summit because it has made doing business in India easier.
Still Going Strong
Which explains why the event is still flourishing. In recent years, fresh faces and more countries have begun to take seats at the proverbial table. As Modi said in his inaugural speech, Vibrant Gujarat is now truly a global event. The 2019 edition has 15 partner countries, 11 partner organisations. Even eight Indian states in attendance, according to him.
NaMo Merchandise
A new, but hardly surprising addition to this year's summit — due to the approaching general elections — was a kiosk selling merchandise bearing NaMo, the popular moniker of the Prime Minister. Launched four months ago through Modi's official mobile app, the NaMo merchandise received plenty of attention.
Namo Meechandise kiosk
The kiosk was filled with NaMo masks and T-shirts that cost Rs 200, clocks priced at Rs 175, pens and keychains for Rs 20. One could buy three NaMo caps for Rs 290. Local BJP workers manned the kiosk, answering questions from potential customers about the prices. They were tight-lipped about who manufactured these items. The boxes containing the merchandise showed that they came from Delhi.
Crowds flock to the Namo Merchandise kiosk.
Modi Jackets And Kurtas
A little behind this kiosk is a stall erected by Jade Blue, the Ahmedabad-based retailer that sells 'Modi jackets' and 'Modi kurtas'. Crowds milled in and out of this stall as well, with a few customers buying the clothes despite the steep price.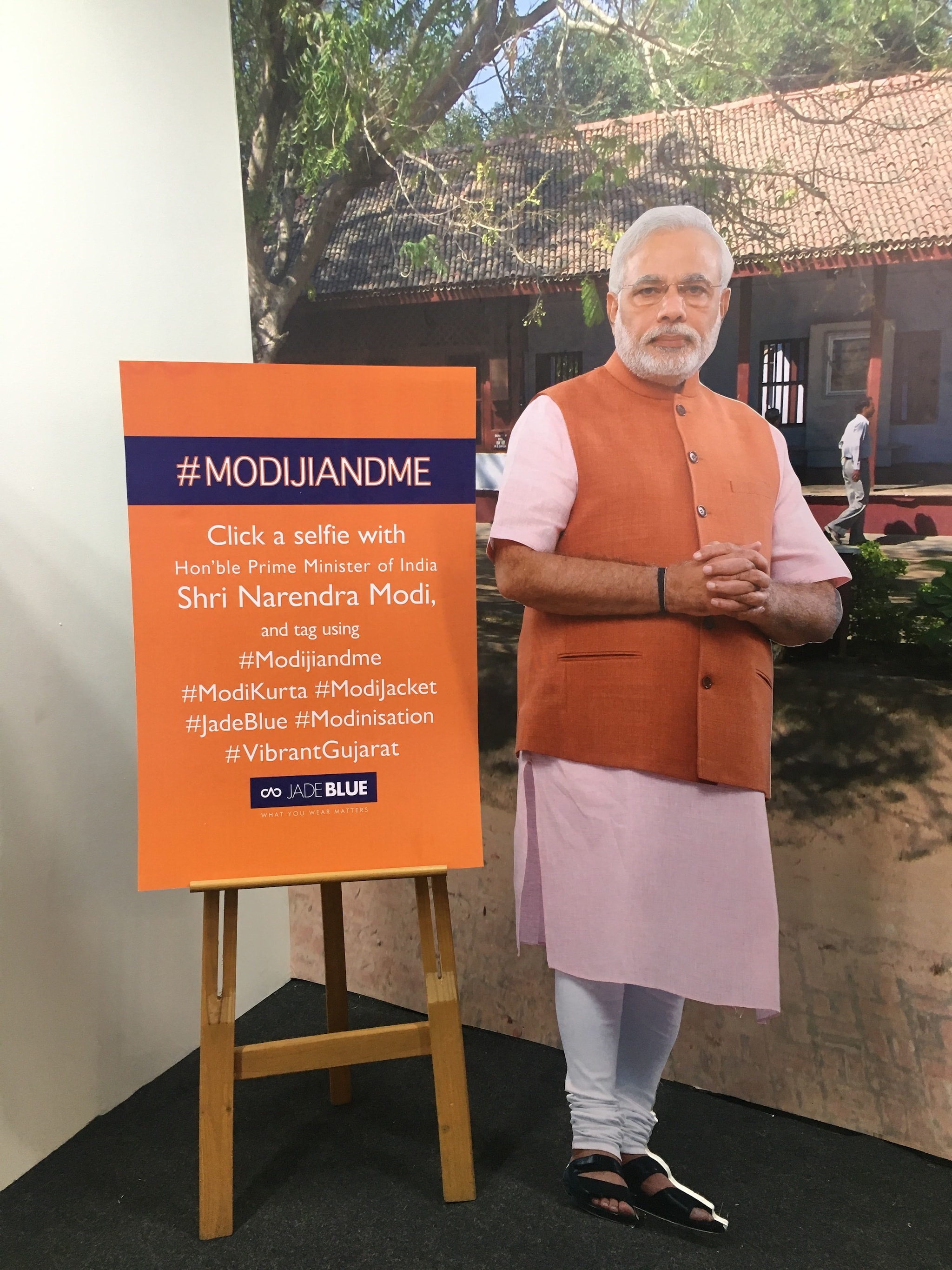 The Jade Blue kiosk offers customers a chance to take selfies with a Narendra Modi cutout.
A Modi jacket costs between Rs 4,000 and Rs 5,500 while a Modi kurta costs Rs 1,775. A salesman explained that the high prices was due to the "material and in-house stitching that the brand is renowned for" and had little to do with the Modi connection. Be that as it may, Jade Blue is thriving. It now has stores in 15 cities. Shops in Delhi and Mumbai are in the works.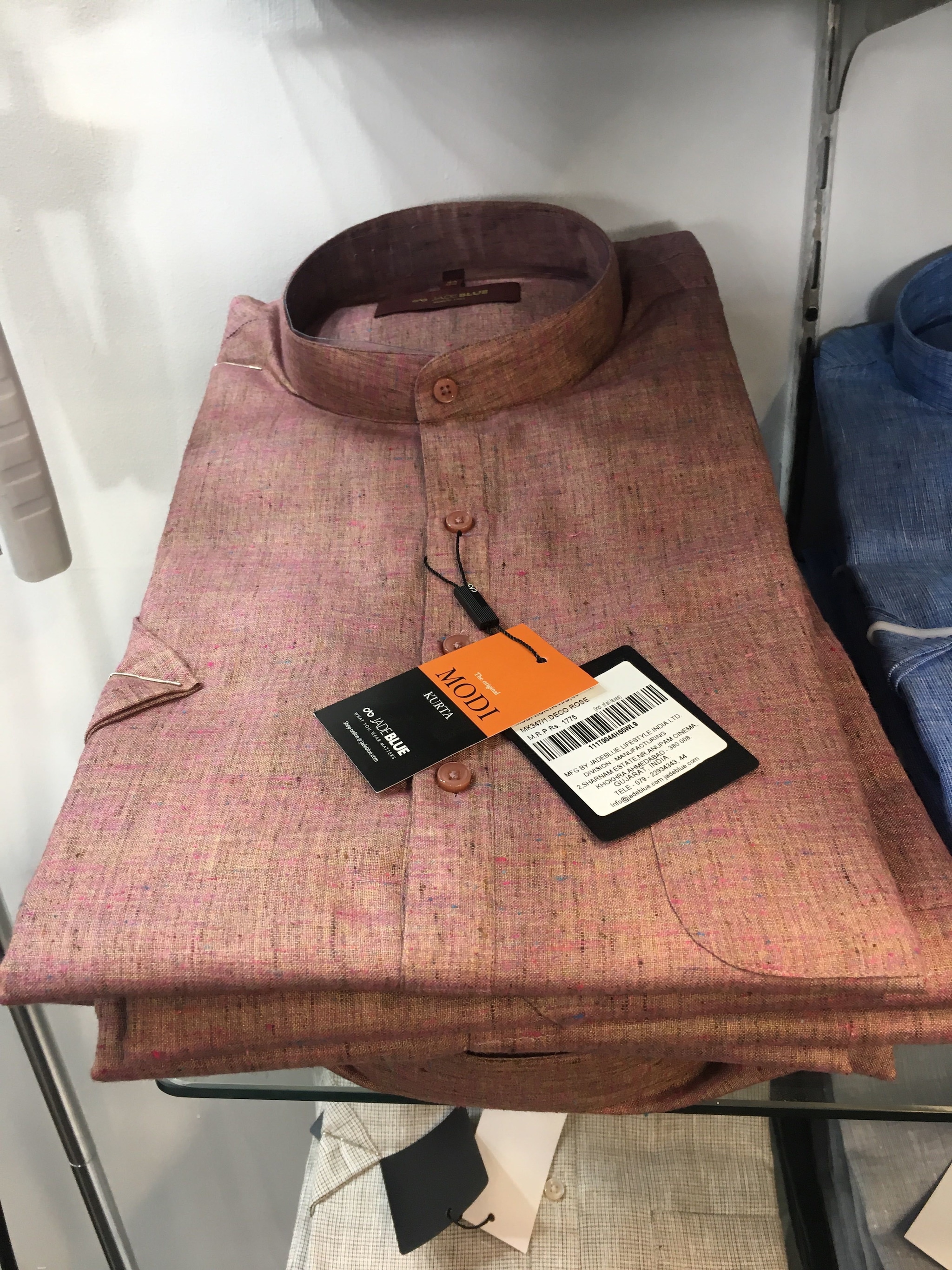 A Modi kurta at Jade Blue.
Selfie With Modi
A familiar feature of Vibrant Gujarat has been kiosks where people can take selfies with an image of Modi. This year, there was augmented reality (AR) installations at some of these kiosks. The queues were serpentine, with even foreign delegates joining their Indian counterparts, signalling that the PM remains popular. As a difficult election approaches, that should be good news for the ruling BJP.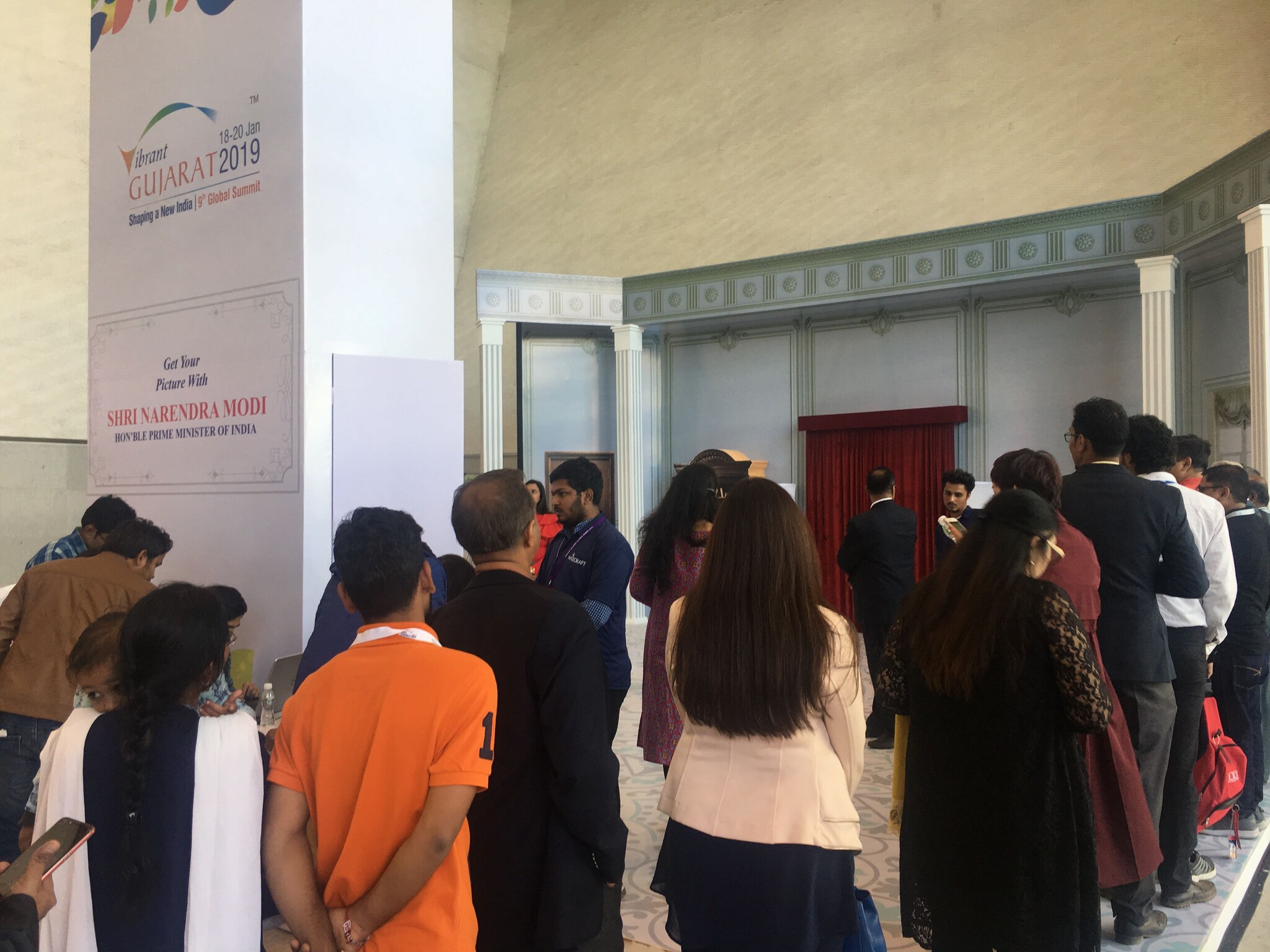 People queue up to take a 'selfie with Modi'.
John Chambers Turns Moderator
At a panel discussion on Make in India, Shereen Bhan, managing editor of CNBC-TV18, threw questions to the audience. Seeing the reluctance of the attendees to ask questions to the panellists, John Chambers, former chairman emeritus, Cisco, who was on the panel, hopped off the dais. He was soon mixing with the crowd, searching for a person who would ask a question.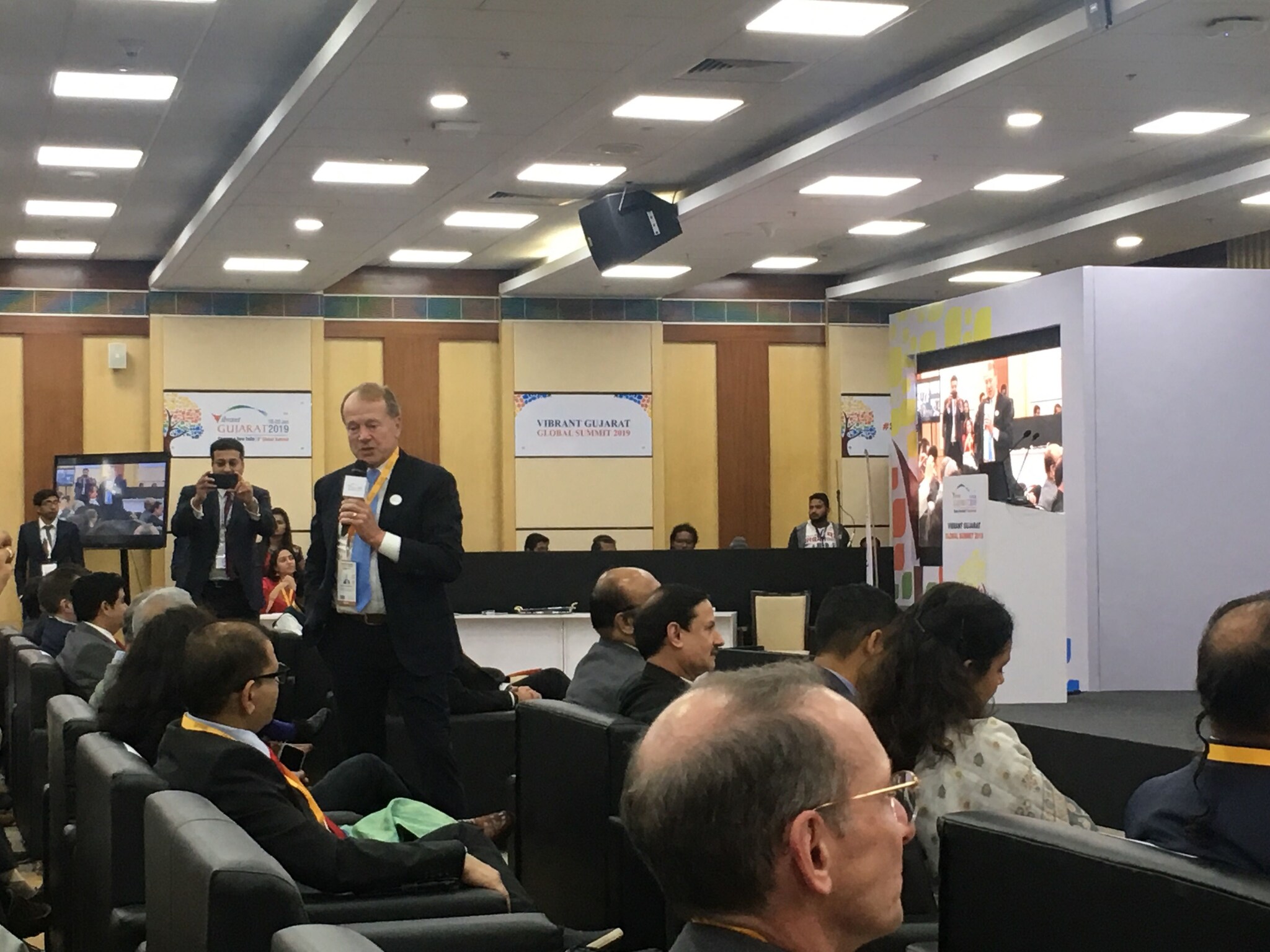 John Chambers turns moderator at a panel discussion on Made in India.
The person whom he picked had only question — how much would Cisco invest in Gujarat. Chambers replied that Cisco has begun investing in Indian startups. He also said Gujarat chief minister Vijay Rupani will do well in sales because he managed to get seven cheques earlier in the day from American companies.
Packed, Costlier Hotels
Vibrant Gujarat's growth has been lucrative for the hotels in Ahmedabad and Gandhinagar. The occupancy rates and prices at these hotels skyrocket at this time of the year. I managed to book a hotel with much difficultly, but found that the room is usually reserved for the handicapped. Two wheelchairs greeted me in the room that I am staying.
Mixed Preparations
Every nook and corner of Ahmedabad and Gandhinagar has been decked to welcome the delegates of Vibrant Gujarat. Large signages and flashy billboards cram both sides of the roads leading to Mahatma Mandir. But entering the venue became a nightmare for delegates who had arrived without badges.
Registrations were delayed as computer systems crashed in the morning for long intervals. Confusion reigned over the gates assigned to different types of delegates. Information was difficult to gather and there were no volunteers around to guide the delegates.