Mini
Unless the new government can reignite the entrepreneurial spirit by correcting the wrongs of the past and laying down a clear regulatory path for the future, private money is unlikely to start flowing into capacity expansion in any big way
The latest
Index of Industrial Production
(IIP) print of just 0.1 percent, a 20-month low, is telling in that it confirms a slowing of the economy, which
CNBC-TV18
has been pointing to for some time now, through several ground-level checks with dealers and industry players. What's more worrying, though, is that the average investment proposals are down about 18 percent compared to the fiscal year 2004-2009 period, according to data compiled by Centre for Monitoring Indian Economy (CMIE).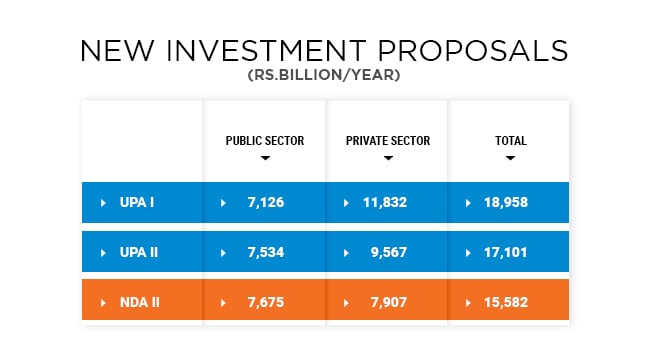 Manufacturing—a key driver of growth and a sector that represents the government's 'Make in India' ambition—hasn't fared better. In fact, the performance in the manufacturing sector has been far worse. The February IIP data actually indicates a 3 percent decline in manufacturing activity, while a longer tenure view reveals that investment proposals for manufacturing have more than halved to Rs 3.1 lakh crore in FY19 from Rs 6.5 lakh crore in FY09.
What is starker is the commentary from most corporates, which highlights their focus on putting the house in order, strengthening core businesses, exiting non-focus businesses, paring debt and improving cash flows. Capacity utilization in most sectors is also far from proving to be an impediment to growth at present. This is likely to keep a lid on expansion at least in the short-term.
In addition, there has been a general aversion of entrepreneurs to taking on risk in infrastructure and significantly regulated businesses, given the poor or negative return on investments in the past in sectors like power and telecom. Who would wish to invest money today in a business if there isn't a fair bit of certainty on the likely return on investment?
This risk aversion is also anecdotally evidenced in the thinning employment opportunities in the organized sector. Barring IT services and some new-age business, there is hardly any hiring happening across sectors.
So while you might have more Uber and OLA drivers and more delivery boys getting aligned to a Swiggy or Zomato, much of these opportunities would be concentrated in a few megapolises, and such hires won't move the needle on a national basis.
What's more. Many of these business models are still to demonstrate long-term sustainability, and a drying up of capital infusion could suddenly lead to big scale downs by many such players.
Another development that will inspire more productive and rational investments is the
Insolvency and Bankruptcy Code
, but this will also act as a deterrent against companies taking on much debt, thus checking against overleverage, but also constraining large scale expansions due to risk aversion.
Clearly, the elephant in the room is private sector confidence. Unless the new government, whichever combination comes to power, can reignite the entrepreneurial spirit by correcting the wrongs of the past and laying down a clear regulatory path for the future, private money is unlikely to start flowing into capacity expansion in any big way. And this could render the 'Make in India' programme nothing more than a slogan of intent.