Mini
This past week, the newly elected members of the House of Representatives were sworn in Washington DC – a historic event with the largest ever number of women in what had previously been a largely a male bastion.  The members were sworn in, on Bible, Quran and the Bhagwad Gita.
This past week, the newly elected members of the House of Representatives were sworn in Washington DC – a historic event with the largest ever number of women in what had previously been a largely a male bastion. The members were sworn in, on Bible, Quran and the Bhagwad Gita – including a spectrum of women across cultures and religions, including two Muslims and one Hindu, along with immigrants, people of color as well gender. There is great excitement in the US for the powerful American legislative body is starting to look a lot like America, and headed by the outspoken and articulate Rep. Nancy Pelosi (CA-12) as the Speaker of the House.
Pelosi as speaker will preside over the chamber for the next two years. "I'm particularly proud to be a woman Speaker of the House of this Congress," she said, noting that 2019 marks the 100th year of women having the right to vote. "We all have the ability and privilege to serve with over 100 women Members of Congress, the largest number in history."
The Indian-American contribution to that is Rep. Pramila Jayapal, the only Indian-American Congresswoman who was sworn in for a second term on the Bhagwad Gita, accompanied by her mother holding the holy book. Three other Indian-American representatives who serve in Congress are Ami Bera, Ro Khanna and Raja Krishnamoorti. The Congressional Progressive Caucus recently announced its newly-elected leadership with Reps. Pramila Jayapal and Ro Khanna named among the leaders, and with Jayapal selected as a co-chair for the caucus.
Rep. Pramila Jayapal with Speaker Nancy Pelosi.
Looking Back To The Beginning
This Indian-American story really began in November 1956 when Dalip Singh Saund became the first US Representative of not only Indian but Asian heritage in American history. His fascinating biography on the US House of Representatives site and based on his memoirs tells it all.
Born in 1899 in Chhajjalwaddi in Punjab in undivided India, he had planned to learn the fruit canning business in America for a few years. The writings of Abraham Lincoln impacted him and as he wrote, "Lincoln changed the entire course of my life." When he arrived at Ellis Island in New York in 1920, India was still a British colony. One of the immigration officers, he recalled, told him "You are now a free man in a free country." Saund studied agriculture and mathematics at the University of California and made a life on the west coast, acquiring MA and Ph.D. degrees in Mathematics in 1924. He also got married and raised a family.
In the 1940s, federal law prevented him and other Indians from becoming citizens, but he put all his efforts into this and eventually Congress passed a bill allowing Indian immigrants to pursue citizenship. In 1949 Saund became a citizen and the rest is history.
Saund was no stranger to discrimination. Earlier in his career he ran for a judgeship and got a lot of resistance. "Doc, tell us, if you're elected, will you furnish the turbans or will we have to buy them ourselves in order to come into your court?" someone later asked him in the middle of a restaurant. "My friend," Saund responded, "you know me as a tolerant man. I don't care what a man has on the top of his head. All I'm interested in is what he's got inside." He won the judgeship and later, the seat in Congress. As one district farmer told the culture magazine Coronet, "He grew cotton. He grew lettuce and beets. He's worked in hay and he's worked for wages. And he won't let any smart aleck lawyers trick him. That's why we sent him to Washington."
Saund was regarded as a national star and in his very first term was appointed to the Committee of Foreign Affairs, and remained on it for his entire career in the House: "Foreign Affairs was one of the most powerful committees in the House during the Cold War, making it a major coup for a novice lawmaker. In the 86th and 87th Congresses (1959–1963), Saund also served on the Committee on Interior and Insular Affairs.
"
Four Indian-Americans in Congress
Jump forward to the present and you have not one, but four Indian-Americans in Congress. Ami Bera is a physician who's been Representative for California's 7th congressional district since 2013, and was re-elected in 2014 and 2016. I had interviewed him in 2013 and asked him as to how he was perceived by voters.
"I think people see me as their neighbor. People are starved for authentic leadership, people are hungry for electing leaders who are going to put their interest first and work on their behalf. And that's what I've always done as a doctor."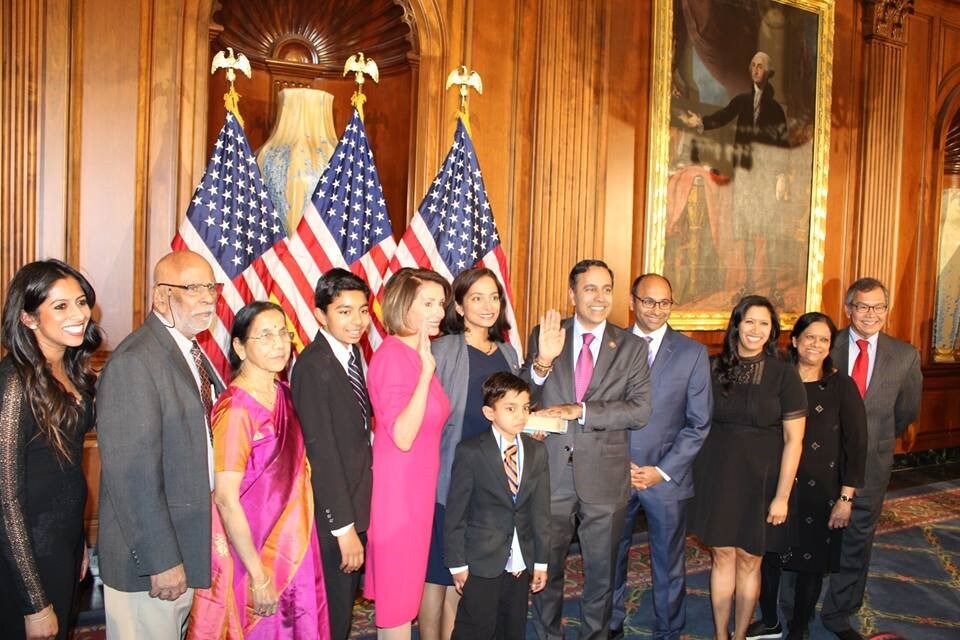 Rep. Raja Krishnamoorthi being sworn in.
For Bera, it is a special joy to work with the many young Indian-Americans and Asians who volunteer in his campaign. "It is exciting to see the look in their eyes and if I can inspire them to run for office, for Congress, maybe even for President – then I think one can't ask for any bigger legacy."
Congressman Ro Khanna represents California's 17th Congressional District, located in the heart of Silicon Valley. He sits on the House Budget and Armed Services committees and is a vice chair of the Congressional Progressive Caucus. Khanna, the son of immigrants, remembers his parents' stories about his grandfather who courted jail during Gandhiji's Independence movement.
He says, " In many ways my story—born in Philadelphia on the bicentennial year of America's founding in 1976 and growing up to represent Silicon Valley—is a testament to how open our nation still is to the dreams and aspirations of freedom-loving people who trace their lineage to every corner of the world."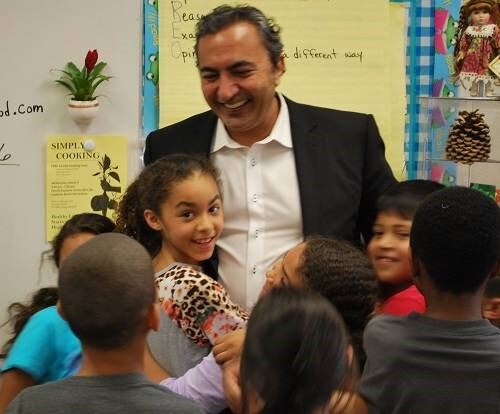 Rep. Ami Bera with school children.
Rep. Raja Krishnamoorthi who represents Illinois' 8th district serves on the Committee on Education and the Workforce, and also on the Committee on Oversight and Government Reform. Recently he requested that his salary from January 1st through the remainder of the shutdown be withheld, delaying his pay until the government reopens in solidarity with workers who aren't being paid and he is also donating his pay from the December portion of the shutdown to local charities.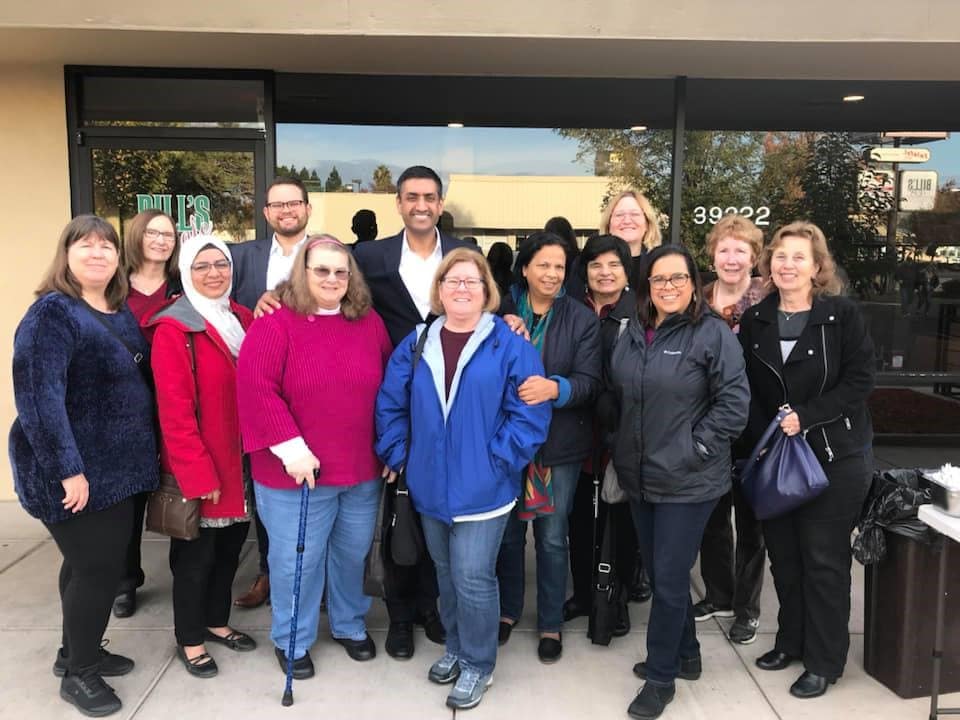 Rep. Ro Khanna with supporters.
For Rep. Pramila Jayapal, it is imperative that the younger generation gets involved with politics. As she says, "We don't get a more representative government unless we run one ourselves. We don't see a change in the way the government works and responds unless we make one. You can't truly change a system until you know it from the inside out."
Ask her the best way to get involved and she says, "Go out of your way to fund at the highest levels possible for you Indian-Americans who are running for office; run for office yourself if you really know you have something to offer and you can articulate a real vision; and finally, dive into the arguments for why government is necessary instead of repeating lines that I hear far too often from Indian-Americans that "we don't "do" politics." Everyone should "do" politics because politics is intertwined into every single freedom we enjoy!"
Dalip Singh Saund would surely have been pleased as the number of Indian-Americans entering the public sector escalates. When he passed away, Majority Leader Tip O'Neill of Massachusetts said, "To chronicle all his legislative achievements and personal successes during his lifetime could not begin to pay Dalip Saund the justice and honor he deserves. Those of us who knew and admired him in the House, remember him as a man of boundless energy, personal integrity, and strong convictions—consistently and tirelessly fighting for the right of 'life, liberty, and the pursuit of happiness' for all Americans."
It is exciting to see that Reps. Ami Bera, Ro Khanna, Raja Krishnamoorthi and Pramila Jayapal are there to pick up Saund's baton and keep running, providing inspiration to a whole new generation of young Indian-Americans.