At first glance, Vakrangee seems to have found its sweet spot in the running of 'kendras', or units. But look closely, the numbers baffle. Revenues grew 131 percent from a year ago. The distribution network expanded by 30 percent in a year.
As far as business metamorphosis goes, Vakrangee is Exhibit A. Founded in 1990 in Mumbai, the company started as a technology consultancy. It started making voter identity cards in 1993. A year later, it was listed. It then recast itself as a franchisee for making Aadhaar UID cards in 2010. Two years later, it pivoted to a new business model — a franchise network of 'kendras', or units.
These units perform a mix of tasks such as making voter ids, registration of Aadhaar, running of white label ATMs —the Reserve Bank of India issued a licence in 2014 as well as handling e-governance projects. It is also a logistics partner for Amazon India, the Indian unit of the ecommerce giant.
At first glance, Vakrangee seems to have found its sweet spot in the running of these units. Revenues from kendras rose to Rs 5,856 crore in FY2018 from Rs 2,527 crore the year before. It also opened 10,000 new kendras during the year to take the total tally at the end of the year to 45,000. (Vakrangee says there are two types of kendras — the 'Gold model' that allows more flexibility in operations and expansion of services and the 'Silver model' for less populated locations.)
That is growth on steroids. Revenues grew 131 percent from a year ago. The distribution network expanded by 30 percent in a year.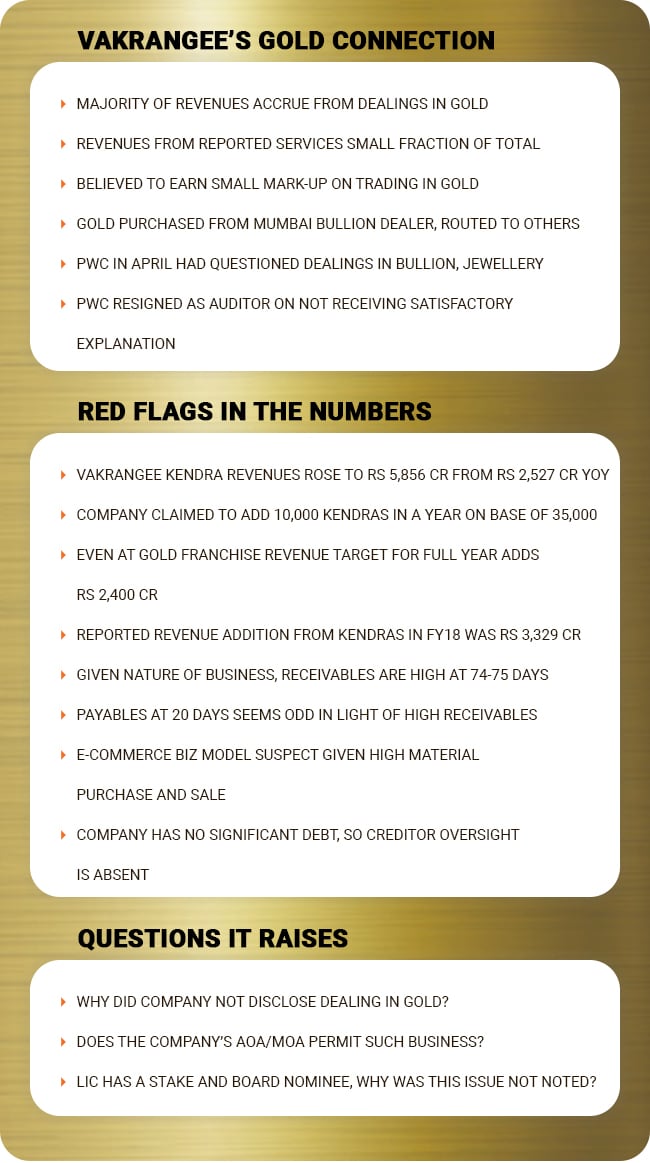 Mystery Numbers
But look closely, the numbers baffle.
If one were to assume that all the new 10,000 kendras operated for 365 days of the year and generated revenues of Rs 2 lakh each per month — the franchisee target revenues for Gold kendras from the first month itself — the net revenue addition would be just about Rs 2,400 crore. That would still be about Rs 1,000 crore short of the total revenue added. Note that the 35,000 kendras in FY2017 on an average generated revenues of just over Rs 60,000 a month.
By Vakrangee's own admission, many of its outlets are located in slums or rural areas. Revenue generation from these units would be modest and nowhere near the stratospheric levels that the company's books show.
Vakrangee did not respond to a detailed set of questions sent by CNBC-TV18.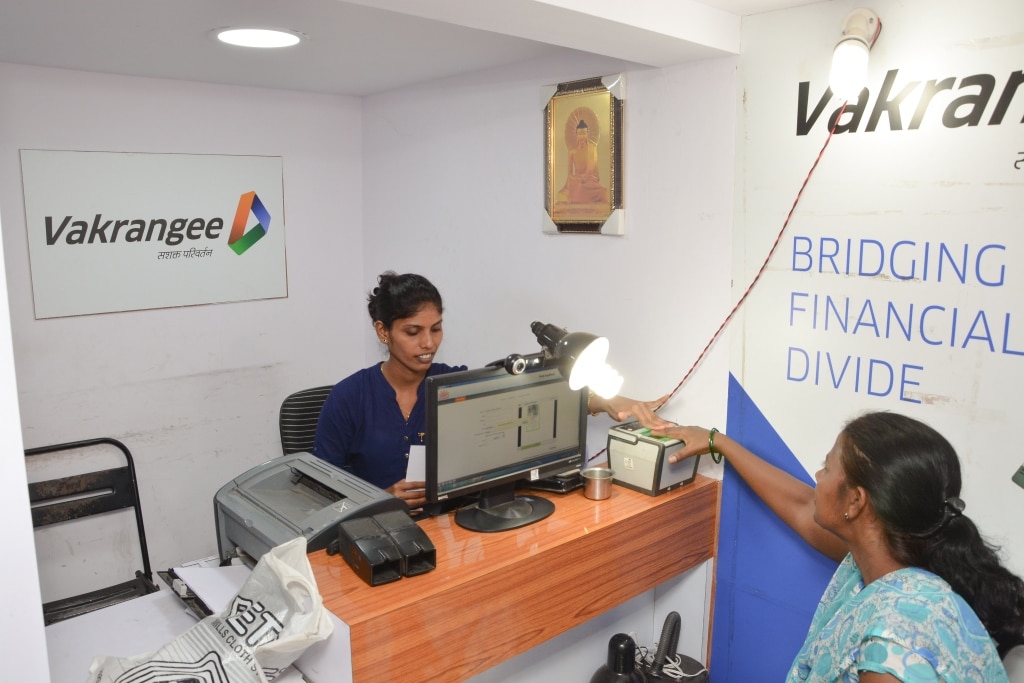 One of Vakrangee's kendras. Source: Vakrangee website.
So what's fueling this mysterious growth? Here is where things get curious.
Vakrangee, the last-mile retail network that it professes to be, has been generating most of its income through transactions in well, gold, said multiple people familiar with the matter. They spoke on the condition of anonymity.
The modus operandi is simple. Purchase gold from a large bullion trader and sell it to several smaller gold traders for a small mark-up. The company mentions this type of trading — it names an alliance with Augmont Enterprises, an online precious metals trading company — in its annual report for FY2017 and FY2018.
But it is unclear if the trading of gold is explicitly indicated as a nature of business the company can undertake in its memorandum of association.
Previous Auditor Highlighted The Discrepancy
Vakrangee's previous auditor, PricewaterhouseCoopers (PwC), highlighted this issue in its resignation letter dated April 27, 2018.
In its letter, PwC said: "We have asked for information on several matters pertaining to Election Books, Bullion and Jewellery businesses from the management ... we have received response ... which either do not answer some of the queries raised by us or is inadequate or contradicting earlier explanations and thus do not provide us with appropriate audit evidence required ... to carry out the statutory audit."
"The fundamental objective of an audit which is to obtain reasonable assurance about whether the financial statements as a whole are free from material misstatement, whether due to fraud or error, and to report on the financial statements, in our assessment, cannot be achieved,"
the letter added.
Despite these red flags, there was no action by the market regulator Securities and Exchange Board of India (Sebi), or by Life Insurance Corporation of India (LIC). The state-run insurer also has a nominee on the board of the company.
JN Gupta, former executive director, Sebi, said PwC raised the question about gold trading but it was too little too late because the trading income has to be separately disclosed compared to the normal business income. "If the trading income was disclosed separately then things could have come to the surface earlier."
Gupta, now managing director of Stakeholders Empowerment Services, a proxy advisory firm, pointed out other jarring inconsistencies in Vakrangee's books. "In 2013, we had pointed out that the promoters had pumped in around Rs 550 crore of money into the company. If you look at the two promoter companies pumping in money, they do not have resources and the total dividend in 10 years of its history until 2013 was only Rs 19 crore. So nobody knows from where these people get money but when you look at the balance sheets … when you see high sundry debtor, advances, loan and then you try to knit together a story, you find that probably all these funds are rotated to build equity."
Vakrangee's earnings for the quarter ended June shows AP Sanzgiri and Co as its auditor.
A potential reason why the company's activities perhaps escaped scrutiny could be because it has no significant debt on the books. Any lender would have done its due diligence before sanctioning a loan, and if there were any significant change in financials, it would have drawn attention.
One of the aspects that would have definitely caught a lender's eye would have been the high receivables of about 75 days, despite the reported business lines being mostly services with short realisation cycles. What's more, the payables at 20 days are also very low for a company that needs to wait 75 days to get its cash-most companies would look to align receivables and payables cycles to minimise working capital requirements.
Then there is also the matter of high material purchases and sales. Goods and services worth Rs 4,585 crore were purchased in FY2018, according to that year's annual report.
This is odd because the company claims to be doing large business with the likes of Amazon and one would expect an efficient model would be to just earn a share of the proceeds for facilitating transactions.
The current auditor AP Sanzgiri and Co, Sebi and LIC did not comment for this article.
First Published: Oct 19, 2018 11:53 AM IST