Before I share our experience of surviving the catastrophic flood for six consecutive days, let me explain why my wife and I took the critical decision to stay back in the building in ground zero and brave the floods for 48 hours.
First and foremost was the structural safety of our building. I had two reliable advisors on this from our residents, Jose, a civil engineer who retired after three decades of experience in the UAE constructing buildings much bigger than ours, and Surendran, a retired marine engineer who had the responsibility to steer big ships and crew to safety through storms.
Surendran has a special interest in pile foundation and used to visit the building during construction to check out the piling work and assured me the building can withstand severe floods and the structural safety won't be compromised even if the foundation stayed submerged for several days. Jose assured me in addition to the safety against floods through pile foundation the building had a natural advantage against even an earthquake during the floods as the pile foundation is through a thick layer of river sand, a measure of precaution they use in UAE lately. Sand bed will absorb any shift in earth between the piles during a quake. Only risk to the structural safety is a horizontal force from a cyclone or hurricane which Aluva doesn't need to worry but I ended up worrying about it during the crisis. Final reassurance on the structural safety was the fact the chairman of our builder is also a resident and he stayed back with his wife.
The second safety factor was our elevation, we had 10 floors and even if the water rises up to two floors or as high as the roof of Aluva Palace, we still had eight floors of safety. During the flood we only had residents from third floor upwards. Third there was enough water, food and cooking gas to survive 48 hours with our three daughters and my wife's parents, who are on a lower floor than us.
The final one was a medical emergency especially for my wife's mother who is recovering from a stroke but stable. A year after the stroke her parents felt it was safer to be close to us than living alone in Vienna, Austria where my wife lived till we got married. My wife assured me it is safer for her mother to be in the comfort of her own home with her special bed and being a doctor and practicing general practitioner she could attend and control most common medical emergencies for 48 hours. The risk of transporting her to a temporary location outweighed the benefits of staying back with the constraints for 48hrs. To be honest there was no real safer place to transport her, my family home is near another river already overflowing and wife's house is on the side of a hill and we were hearing fatal landslide stories from the hill sides across Kerala. In addition no roads were really safe from the flood.
The undaunted spirit of Kerala
On 16th morning we woke up to see water level one feet high in our front and backyard and still rising. I got a call from Mohanan, our security staff, saying there was a risk of water getting into the lobby and office room where a lot of documents and building drawings were kept. I rushed down and saw the water level had reached within an inch from our ground floor level. We moved everything from the office to the first floor including some heavy pumps we had removed from basement or rented to pump water out on the previous day.
Mohanan was supposed to return home and didn't carry enough medication for the day. My wife was able to give him alternate medication and food. The road in front of our building had five feet of water and more water was flowing from the river towards the residential area behind our property and the catastrophic effect of the flood was more evident there. Every independent house was flooded for at least 500 meters away from the river, and our neighbors were fleeing out of their houses with whatever they could grab in a bag or sack, children and elderly were pulled along to safety sitting inside large cooking vessels from the catering company near us.
Within an hour I saw our neighbors switching from the cooking vessels to colorful round inflatable boats to transport their family. I was surprised by the speed at disaster relief team was able to reach them and offer the boats. Later I learned those were not boats but the Indian jugaad brain working at its best. State electricity board was in the process of replacing overhead cable lines with underground ones in our area. First step is to lay the insulation casing like a hose pipe underground and then insert the cables through the casing using a machine. Days before the flood staff had left the six feet diameter and two feet thick hose reels next to the electric poles throughout our street. As the water level increased these hollow hose reels started floating, our neighbors grabbed them, placed ply boards on top and converted them to the most effective jugaad to transport their families to safety through the crisis and around 50 families took shelter in the parking lot and roof top of an apartment 100 meters from us on the road at a higher elevation.
Through this crisis what stood out in the evacuation efforts by the young men in our neighborhood was no one panicked and they were smiling while pulling their families to safety. This spirit among neighborhoods is what actually helped Kerala to move over a million people to flood relief camps within a couple of days.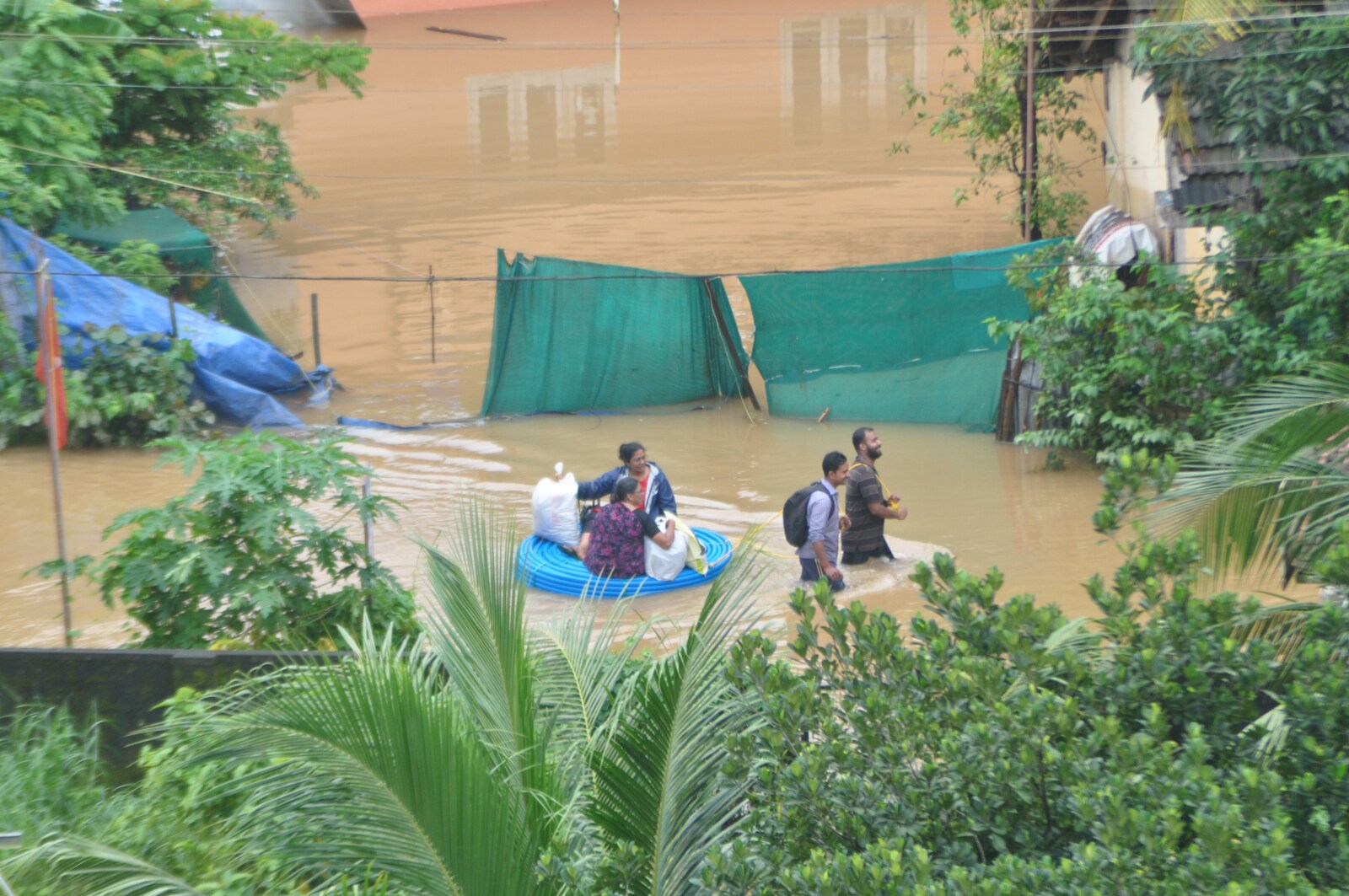 Family being rescued by road on a cable reel. (Photo credit: James Joseph)
Worst was far from overMeanwhile the water level kept on increasing and water started flowing through our lobby from the river through children's park area and we could see a turtle swimming through our lobby. My youngest daughter of ten wanted to go grab it and have it as her pet. When I shook my head in the negative she said "Dad, may be it is the same turtle we sent to the river when I was small, I still remember walking behind the turtle in our park, may be it wants to come back to us!" She was less than four years old when we rescued a pig nosed soft shell turtle from our well and released into the river. I had let the kids play with it sometime in the park before we all marched to river gave it a good send off. I asked her to look through window into the river and there were turtles all over water. A foot long one was swimming against the river current but was being swept away at a fast speed. One was sitting on the branch of the mango tree next to the river. By evening on 16th we saw the flow of water in our lobby reversing and was a big relief, even though it brought floating debris like sandals and buckets from the neighborhood through our lobby.
We thought the worst was over but after sometime we noticed the water level was still rising. I went up to the terrace to check what was going on. What I witnessed was a miniature version of the river changing its course like in the 14th century.
Somewhere upstream the river created another path into the land and the water found a way back into the river through the road next us and through the lobby but the current was mild compared to the one in the main river.
'The effective communication plan'
By 16th night we had already crossed the 48hrs I had prepared for that too two nights on candles. Since it was raining and cool inside we didn't really feel the pinch of lack of power, except for the refrigerator, which forced us to finish off whatever we had in the freezer first and we also distributed them with our staff. For greens we had plucked several green papaya from the backyard we could reach from our building on 15th.
I realized with water still rising it would take at least another 48 hours before the river take it all back and had to look at ways to extend my plan indefinite. Weakest link was our cell phones, though I had kept an old non smart phone charged as per the first alert I got from Kurian, it wouldn't take my resized sim card. I looked all over the house several times to locate our old fashioned land phone with cord which can work without power, after several hours of search I recalled I had taken it to my office to test connection over there and never brought it back. I had saved it only for such a situation, but after the flood I found out even the landline was out from 16th. I transferred emergency rescue numbers and the numbers of Kurian and Abhilash to the non-smart phone sim of my eldest daughter who is 17 and asked her to find out how to put our smart phones to maximum power save mode. Within minutes she came back to me and said "Dad, you can have up to four apps other than making phone calls and I need to turn off the rest".
My order of priority was SMS, WhatsApp to receive alerts even if I had to turn off the call for long hours, camera for emergency pictures to communicate via WhatsApp, and the toughest was to choose between email and Facebook. Email critical for my work and FB critical to stop incoming calls. I chose FB and took help of my two colleagues Priya and Akhil, both remote working from their home and were not affected by the flood, to take over office email and to transfer online orders to our partner's option from Bangalore. My daughter extended the battery life of my phone by ten times and I still had another power bank left.
The most effective communication plan I implemented to save my phone charge without turning it off, losing the option for emergency calls to reach us, was a single update every morning on FB and three WhatsAapp both our family groups and the owners group of our building with a message "All, we are safe with food and water, but no power and please don't call as we are on extreme power safe mode on our phones".
This had a cascade effect, friends and family members started reposting them daily on respective WhatsApp groups to keep everyone posted on our safety. Only social network I missed was my former colleagues from US and Europe who all knew I was in Kerala from my book, but were only on LinkedIn and my last post there saying we were safe failed to post due to connectivity issues. When I was about to run out of the second power bank I got a fully charged power bank from another resident who was not in the building but had one in her apartment.
'A flood of a lifetime'
On 16th night my wife woke me up to say there was a sound and she felt something was hitting our building. She had done this twice before to me, once in Kerala in 2000 days after our wedding and later in San Francisco, both were minor earthquakes. I rushed out to the balcony in the night and it was a sound from the river further downstream from us, like waves in the beach.
In the morning on 17th, I found the source of the sound and it was the high voltage electric line across the river! Water had reached as high as the electric line and was pulling it downstream, cable bounced water back like a sling shot causing a wave-like splash.
High voltage electric lines are usually maintained above the worst possible flood levels and the river already reached that level, I didn't need any other confirmation to accept we were in the middle of a flood of a lifetime of anyone alive in Kerala.
Battling the crisis
All seven families put together had enough essential dry food and cooking gas to cover us for a couple of weeks, but the next danger for me was running out of water. From then every morning Mohanan would go up and check water levels on both drinking and non-drinking water tanks.
We were safe on drinking water for a week and we even had an additional 25 litre cans for every house. But we would run out of non-drinking tap water. I cut off water to one bathroom in each apartment for three reasons, reduce potential loss through leaks from unoccupied apartments, create sense of scarcity among residents to conserve water and third to use it as reserve bathroom, in case of any blockage of drain in any other bathroom during the crisis. Informed everyone to use tap water as little as possible especially while flushing toilets, at home I had to use Dustin Hoffman's line from the movie Meet the Fokkers "if it's yellow let it mellow and if it's brown let it drown!" I then started looking at options to use rain water. We opened the lids of water tanks so rain water got into the tank. My daughters cleaned a big barrel we had on the terrace, we cut one of the drain pipes from the terrace above the tanks which was ten feet above the main terrace and collected water into the barrel so that we would have at least one barrel of water when we run out water. We eventually ran out of tap water on the 4th day afternoon but we still had one full tank of the same water but couldn't access, the fire water tank!
We connected the fire hose to the hydrant at respective floors which was long enough to reach one bathroom and taught everyone how to use it and fill buckets. This was a life saver and we never ran out of water till end. Our daughters are now well trained to operate the fire hydrant and will have an edge over others if they apply for a job as firewoman! As an engineer, I fell in love with the design of the flexible fire hose. It's a hose and a water storage device which can keep 3 buckets of water inside without leaking water from both ends. Even my youngest daughter can single-handedly fill three buckets of water without filling a single drop. The pressure required to open a collapsed hose is higher than the pressure of water to flow out from inside the hose when left flat.
Fear of cyclone and then the revival
Throughout 17th the water level stayed steady at a peak level of eight feet all around us. The palace was and most of Aluva town was under water, the Collector leading the disaster management team for the district and divers in orange suits had to move out of their base from the palace. On 17th, 18th and 19th I saw the power of Indian Air Force, Navy and Army conducting rescue and food delivery operations all around us. At some point we had simultaneous airlifting by helicopter from rooftops all around us and from an apartment across the river, 14 people were rescued in one sortie alone. We had rescue offers by air from navy and air force, by river from the now famous fishermen's team on boat and the Army arrived on 19th evening by road using the same hose reel used by citizens. By 19th, water level had gone back to 15th evening level looked like we could be out of the situation by Sunday 20th, but the gestures from Army sounded like it was a mandatory evacuation which made me nervous as one of the main reasons for weathering the flood was to minimise any potential injury to my wife's mother during transportation other than by an ambulance we normally use.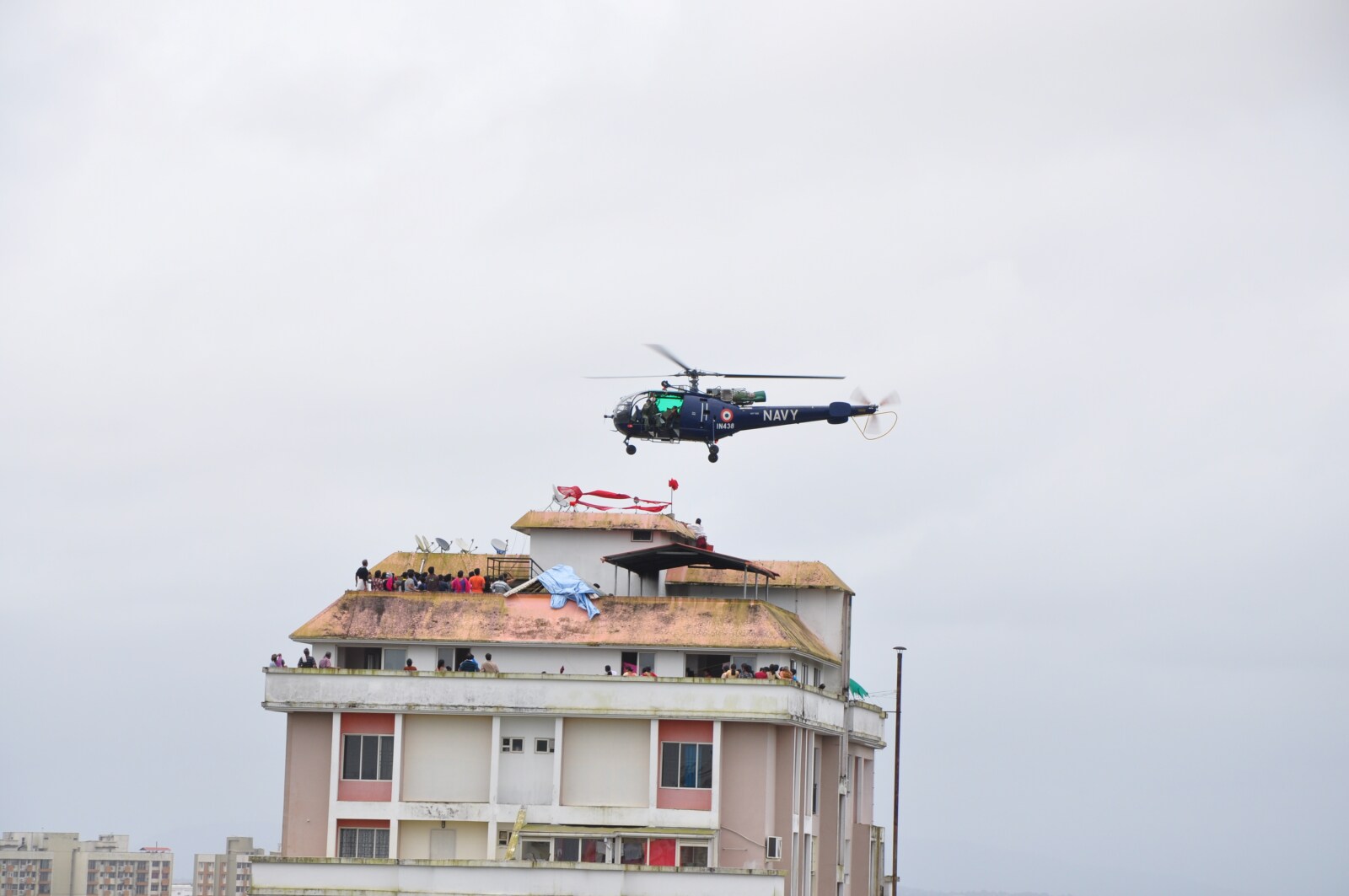 Navy Helicopter spotted red saree on top of a residential building and started communicating with the stranded people. (Photo credit: James Joseph)
I spoke to the army commander, who said everybody needed to come down with one bag and they would transport us on the hose reel to their boat and then to the highway where the state buses were on standby to take us to relief camps. Commander provided a new information a cyclone was forming in the east coast of India in the Bay of Bengal and the water level could rise further hence they are evacuating everyone from the area and they went to evacuate people from the adjacent building and asked us to be ready.
The word cyclone rang an alarm bell within me about the horizontal load to the building which could compromise the structural safety of the building I was counting.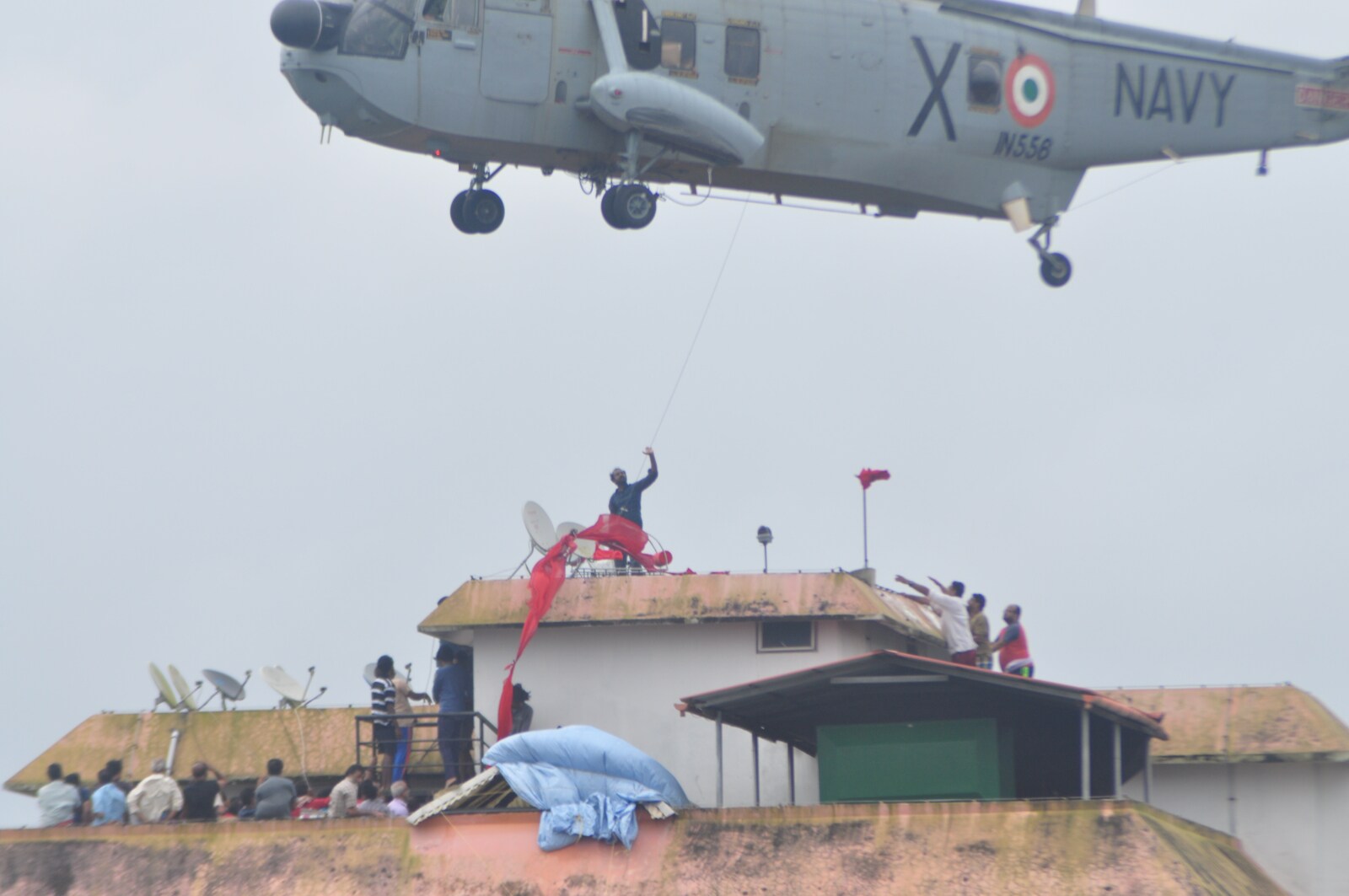 Navy helicopter returns with food for stranded people on top of a house. (Photo credit: James Joseph)
I immediately called Abhilash who said, " I am looking at the most reliable satellite image and forecast, the cyclone is not expected to hit Kerala, at the worst case water level could rise some more but not to the extent we saw on 17th."
When army commander returned I explained the condition of my mother in law and our ability withstand another week and if it was optional evacuation we would stay back and if mandatory we would go by the order. He said it was optional and we could stay back. Next day Abhilash called me to say even the rain alert stood withdrawn and the water level was expected to retreat further.
On the sixth day on 21st we got an ambulance and a taxi to transport everyone to my wife's house and I stayed back to focus on "Revival" from the most catastrophic event of a century the most densely populated state of India has experienced, impacting at least 10 percent of its population.
James Joseph is the founder of Jackfruit365.com and the author of God's Own Office.
This is the second of a three-part series of articles on the Kerala floods. Read the first part here and the third part here.