Russian President Vladimir Putin arrived in New Delhi on a two-day visit to hold the annual bilateral summit with Prime Minister Narendra Modi.
Putin, who is accompanied by a high-level delegation, was received by union external affairs minister Sushma Swaraj.
The focus during the visit will be on the S-400 Triumf air defence missile system agreement, with a top Kremlin aide saying Tuesday that Russian President Putin will oversee the signing of the $5 billion deal.
One can gauge the importance of the deal by the fact that the union defence minister Nirmala Sitharaman has cut short her foreign trip to be present during the signing ceremony.
With this deal, India would like to convey to Putin that India's growing proximity to the US will never be at the cost of its relationship with Russia.
"Signing the S400 deal is a testament of our commitment to Indo-Russia partnership. If there was any doubt about India's ties with Russia the S400 should clear it," said people familiar with the matter.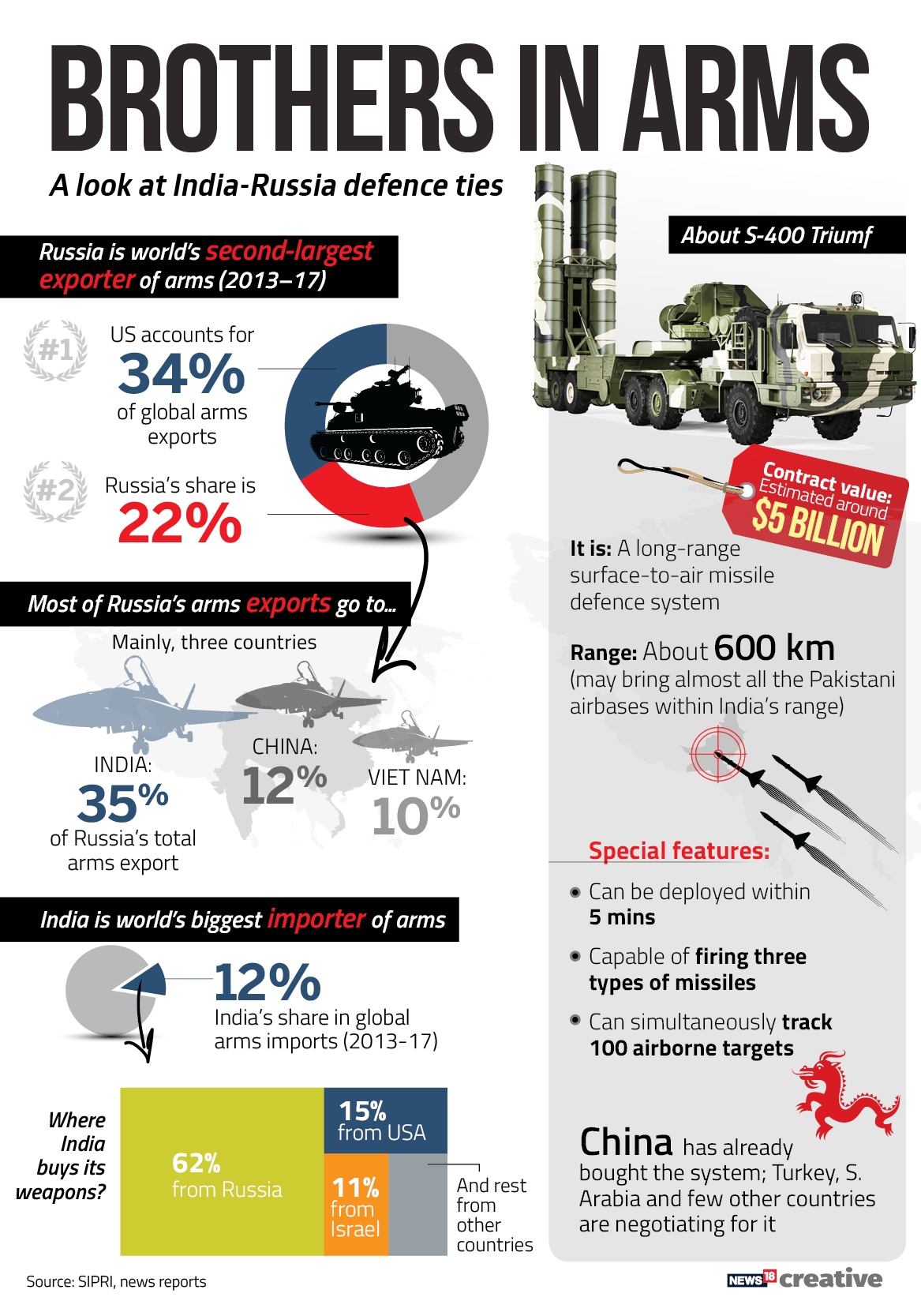 It's significant to mention that while India is hopeful of getting a waiver from US sanctions on Russia, there is no confirmation of an India specific waiver yet.
Sources privy to the developments told CNBC-TV18 that India is not going to be waiting for a waiver before signing the deal with Russia and India's decision will be an independent one.
Russian and Indian governments have confirmed that a payment mechanism has been worked out, sources said.
Air Chief Marshall BS Dhanoa too said that he doesn't see CAATSA (Countering America's Adversaries Through Sanctions Act) coming in the way of India signing the deal.
He said, "Both Rafale and S-400 deal is a booster deal for the Air Force. Acquisition of Rafale and S-400 would address our depleting squadron strength."
President Putin's India visit is taking place exactly a month after the historic 2+2 dialogue with the US, when India signed the communications compatibility agreement.
Prime Minister Narendra Modi would be emphasising on the special partnership with Russia and in a special gesture would gift two India made MIG-21 fighters to the President.
At least five agreements are likely to be signed during Putin's visit. Key agreements would be in the defense sector.
Apart from the S400, India and Russia could sign a contract for S400 air defense systems, Ka-226T multi role helicopters, frigates and assault rifles for the Indian army.
Modi and Putin will jointly address the Russia India Business Summit in New Delhi. At least 100 Russian businessman are likely to be present for this event.
India and Russia are likely to raise the two way investment target from $30 billion to $50 billion by 2025 according to Sputnik, a Russian news agency. The two leaders would look at ways to increase bilateral trade which currently stands at $10.17 billion.
Restricted talks between the two leaders would cover space, nuclear, regional issues and military to military cooperation. Delegation level talks would cover trade, economic cooperation, people to people contact and cultural co-operation.
India and Russia are likely to sign agreements on space cooperation including working on a manned mission, a joint satellite network and space exploration. There will be an agreement on promoting start-ups in the two countries as well, sources privy to the developments told CNBC-TV18.