Filmmaker Sanjay Leela Bhansali's favourite on-screen couple Ranveer Singh and Deepika Padukone tied the knot in Italy on Wednesday and the duo would have traveled about 16,000 km by the time their wedding preparations culminate later this month.
The couple has been travelling back and forth between Mumbai and Bangalore and made a pit stop in Italy to tie the knot.
On November 2, for the couple's Nandi Puja in Bengaluru, the couple covered 842 km travelling from Mumbai and went back to Mumbai on November 4 for the Haldi ceremony, covering nearly 1,684 km in two days.
After the haldi ceremony, the couple traveled to Lake Como, Italy for their wedding celebrations from Mumbai, covering 6,469 km. After the wedding, the couple is heading for their Bengaluru reception on November 21 from Italy, which is 7,302 km, totaling to 13,771 km. The cumulative total so far is 15,455 km.
And finally, after the reception in Deepika's hometown, the couple is heading to Mumbai on November 28 from Bengaluru, that's again 842 km.
In total, the couple along with their loved ones have traveled 16,297 km for their wedding celebrations.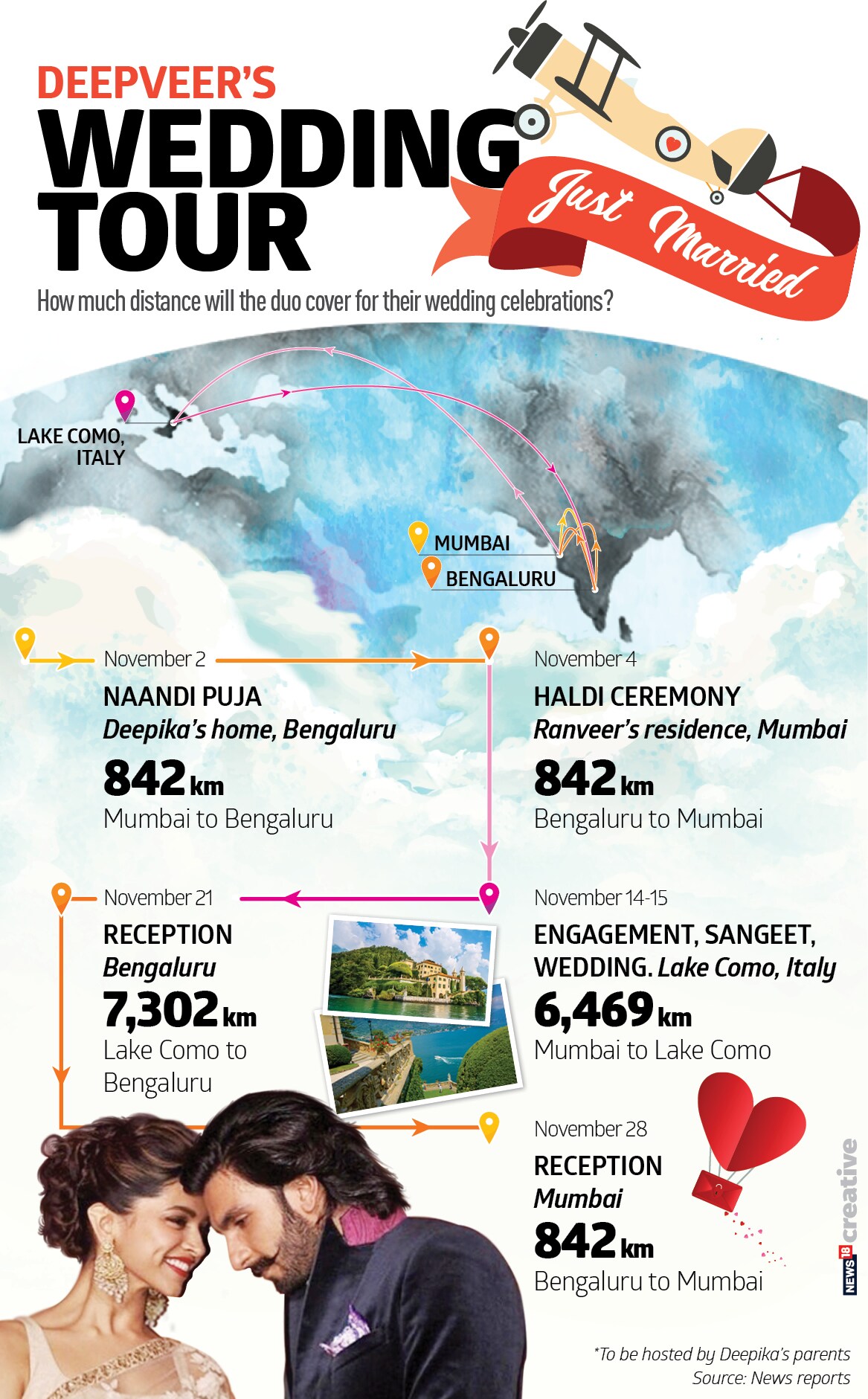 Wedding preparations
No pictures have been shared so far and according to reports, the couple hosted their mehendi and sangeet ceremony on Tuesday and there were performances by Harshdeep Kaur and Shubha Mudgal.
The couple got married in a traditional Konkani ceremony on Wednesday. The next day, the couple will tie the knot according to the Sindhi rituals.
There was strict security at the wedding premises and guest were not allowed to take pictures at the wedding.