Oil-to-telecom behemoth Reliance Industries Ltd (RIL) on Friday posted a 17% growth in consolidated net profit of Rs 9,435 crore year-on-year (YoY).
Its net profit of March, 2018 quarter was higher than Rs 8,046 crore posted in the same period a year ago.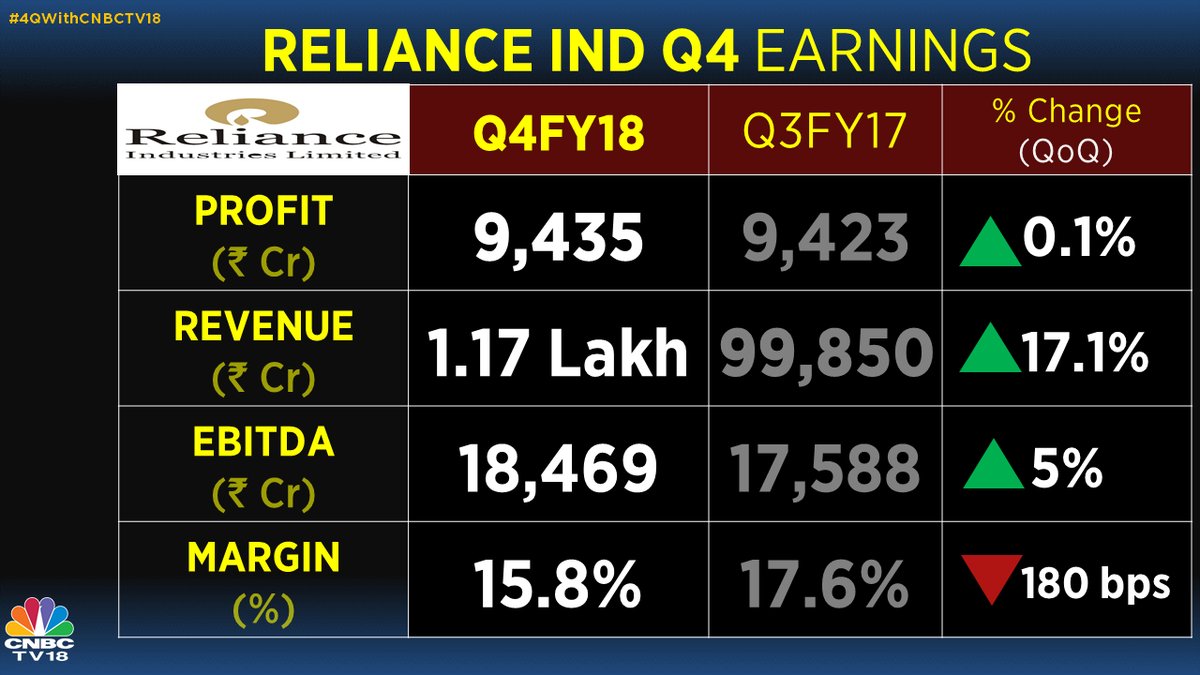 Revenue from operations during the quarter increased by 39.0% to Rs 129,120 crore compared to Rs 92,889 crore in the corresponding period of the previous year.
Exports (including deemed exports) from India were higher by 32.5% at Rs 51,295 crore as against Rs 38,718 crore in the corresponding period of the previous year due to higher volumes and product prices in refining and petrochemical business.
Operating profit before other income and depreciation increased by 51.0% to Rs 18,469 crore from Rs 12,233 crore in the corresponding period of the previous year.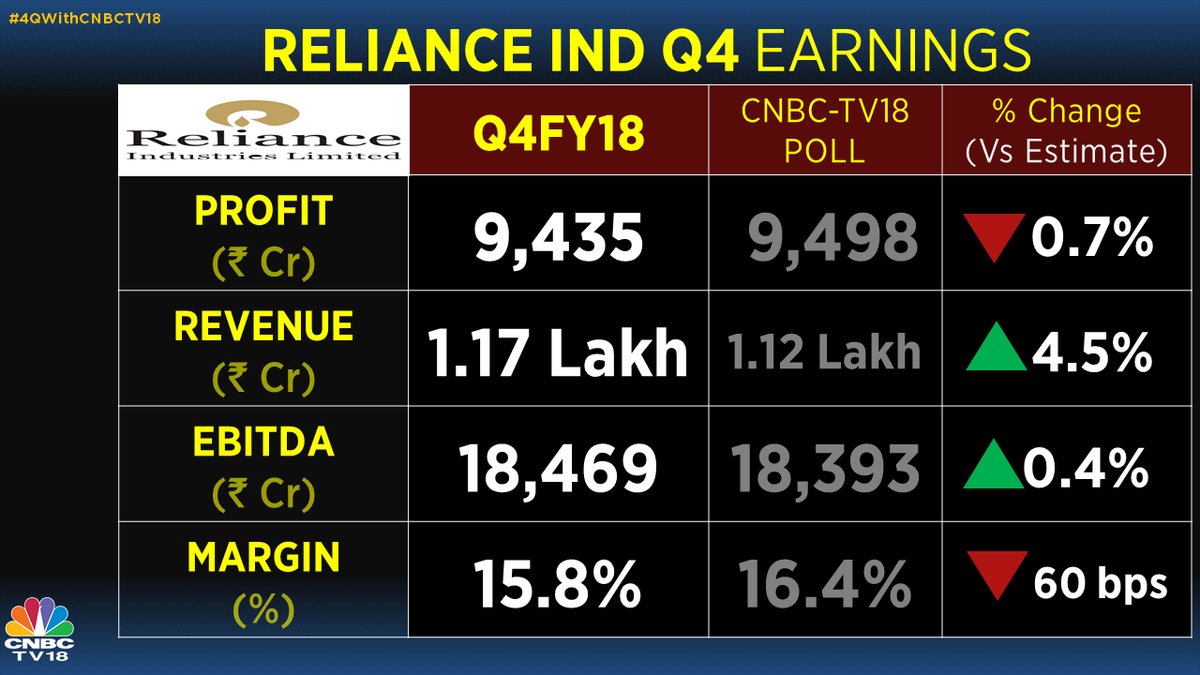 Basic earnings per share (EPS) for the quarter ended March 31, 2018 was Rs 15.9 as against Rs 13.6 in the corresponding period of the previous year.
Reliance board has recommended a dividend of Rs 6 per share.
Gross refining margin (GRM) for the quarter came off a bit at $11 per barrel from $11.6 in December quarter and $11.5 in March quarter last year.
FY18 revenue from the refining and marketing segment increased by 22.0% Y-o-Y to Rs 306,095 crore, primarily on account of higher crude prices during the year.
FY18 revenue from the petrochemicals segment increased by 35.5% Y-o-Y to Rs 125,299 crore, primarily due to higher volumes from new para xylene, ROGC and its downstream units (PE and MEG).
Petrochemicals segment EBIT increased sharply by 63.0% to its highest ever level of Rs 21,179 crore.
RIL announced strategic transaction with Saavn to form India's largest platform for music, media and artists through its digital music service, JioMusic.
The combined entity is valued at over $1 billion, with JioMusic's implied valuation at $670 million.
The company acquired 5% equity stake in NYSE-listed Eros International PLC at a price of $15 per share.
During the year, Reliance Brands acquired 46.6% stake in Genesis Luxury Fashion Pvt Ltd. Genesis Luxury is a leading player in the business of luxury apparel and accessories retailing for some of the leading international luxury brands like Armani, Canali, Michael Kors etc.
"FY18 was a landmark year for Reliance where we established several records on both operating and financial parameters. Reliance has become the first Indian company to record PBDIT of over $10 billion with each of our key businesses - refining, petrochemicals, retail and digital services achieving record earnings performance," said Chairman and Managing Director Mukesh Ambani.
Reliance Jio
Reliance Jio posted 1.2% growth in net profit at Rs 510 crore in the March quarter. The company reported a profit of Rs 504 crore in the third quarter. Standalone revenue from operations of Jio at Rs 7,128 crore and standalone EBITDA at Rs 2,694 crore.
The subscriber base of Jio as on March, 2018 stands at 186.6 million and ARPU during the quarter is 137.1/ subscriber per month. The total wireless data traffic during the quarter is 506 crore GB and total voice traffic during the quarter is 37,218 crore minutes.
Jio has continued its strong subscriber growth trend with net addition during the quarter of 26.5 million as against 21.5 million in the previous quarter.
The telco's Gross adds at 27.9 million and churn of only 1.4 million implying the lowest industry churn rate at 0.25% per month
Jio subscribers continue to demonstrate high activity level with average data consumption per user per month of 9.7 GB and average voice consumption of 716 minutes per user per month
Video consumption is at over 240 crore hours per month on the network.
Network18, the parent company of CNBCTV18.com, is controlled by Independent Media Trust, of which Reliance Industries is the sole beneficiary.