India's textiles sector has been unable to increase its share in global T&A exports due to structural disabilities majorly impeding its growth.
Over the years, global exports in Textiles & Apparels (T&A) have increased from around $768 billion in 2015 to around $818 billion in 2019. In 2019, China ranks highest as the world's top exporter of T&A with a share of around 32 percent in total world exports of T&A followed by Bangladesh (5.25 percent), Vietnam (4.82 percent), Germany (4.67 percent), Italy (4.4 percent) and India (4.34 percent), etc.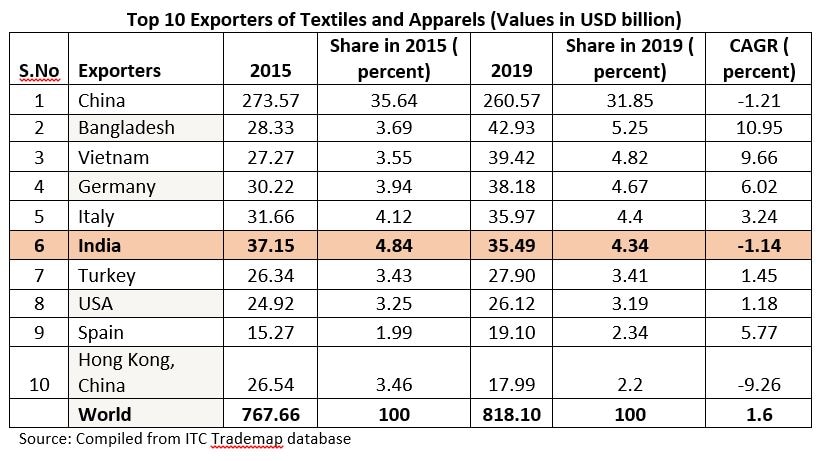 Globally, while China remains the most dominant player by a wide margin in both textiles and apparels, India has been beaten by both Vietnam and Bangladesh in recent years in apparel exports. It is interesting to note that economies such as Bangladesh and Vietnam have been able to increase their share in global T&A exports.
In the case of Bangladesh, the share in global exports of T&A has increased at a CAGR of 10.95 percent from 3.69 percent in 2015 to 5.25 percent in 2019. While for Vietnam, the share in global exports of T&A has increased at a CAGR of 9.66 percent from 3.55 percent to 4.82 percent during the same period.
On the other hand, India ranks 6th in the top 10 world exporters of T&A and has witnessed a decline in its share in global exports of T&A from 4.84 percent in 2015 to 4.34 percent in 2018 at a CAGR of (–) 1.14 percent (Trade Map, 2019). Also, the share of the textiles sector in India's overall merchandise exports has been sliding consistently in recent years, having dropped from as much as 13.7 percent in FY2016 to just 10.8 percent in FY2020.
Moreover, India's textiles sector has been unable to increase its share in global T&A exports due to structural disabilities majorly impeding its growth. The sector presently is plagued with a lack of scale in manufacturing, a low level of investments, slow/stagnant export growth, lack of focus on R&D, credit availability, market accessibility, inadequate infrastructure facilities, etc.
Furthermore, fibre orientation in India is skewed towards cotton while global sourcing is Man-Made Fibre (MMF) based. Therefore, while the world is moving towards MMF based apparels in overall exports (~50 percent), India's share of the same is very low around 20 percent. Currently, MMF dominates global textile fibre consumption with 72:28 ratio—MMF 72 percent and natural fibre 28 percent, whereas domestic fibre consumption ratio in India at present is 40:60 —MMF 40 percent and natural fibre 60 percent.
In a bid to boost local manufacturing and exports and shore up job creation, the Government has announced the Production Linked Incentive (PLI) Scheme for the sector with budgetary support of Rs 10,683 crores over a period of five years. The Focus Product Incentive Scheme (FPIS) under the ambit of the PLI Scheme is currently under process by the Government and would provide financial incentives to both greenfield and brownfield investments.
As per various reports, it is expected that the scheme may cover approximately the top 40 product categories under MMF and 10 in the technical textiles segment, where India's share in exports of such products is extremely low in the international market.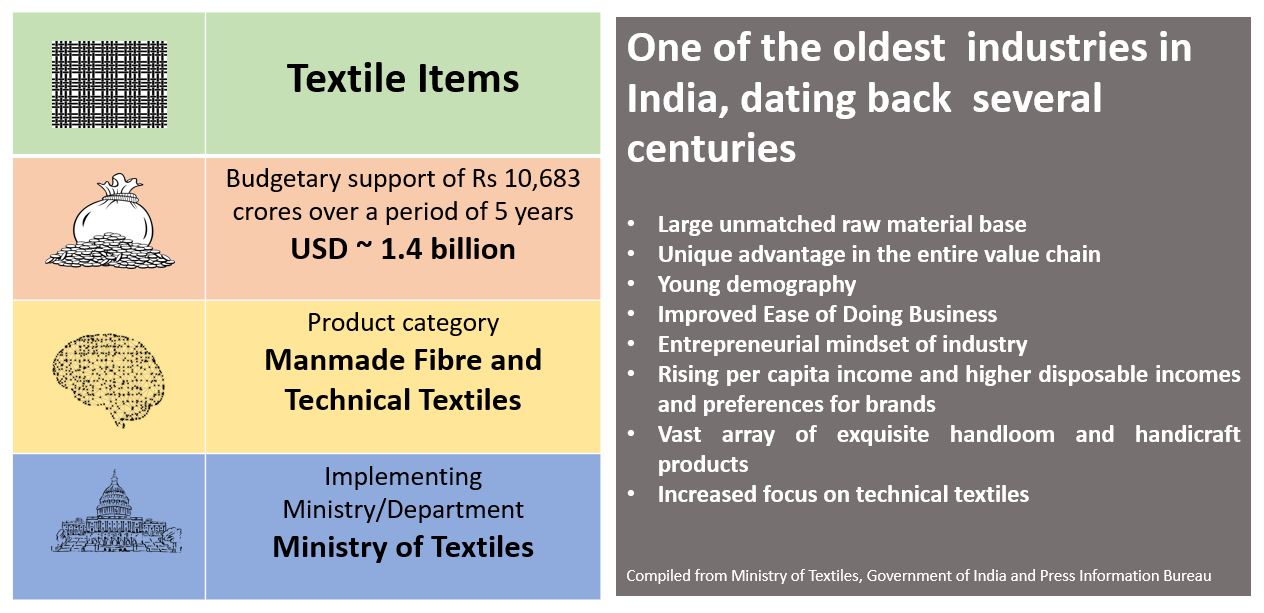 It has been observed that world exports in the top 40 traded MMF apparel lines (where India's share in global exports is less than 5 percent in each line) stand at $133.90 billion in 2019. India's total share in global export of these top 40 traded lines stands at less than 1 percent as compared to a significant share of 40 percent of China followed by Vietnam (10 percent), Bangladesh (6 percent) and Germany (5 percent).
Also, the global market for technical textiles is expected to grow from $176.83 billion in 2018 and reach $220.37 billion by 2022, growing at a CAGR of 5.89 percent. However, it has been estimated that the consumption of technical textiles in India is still only at 5-10 percent against 30-70 percent in some of the advanced economies.
In 2019, world exports in the top 10 traded technical textile lines stood at $81.39 billion wherein India's total share constituted a mere 0.85 percent as compared to a whopping high of 21 percent of China followed by Germany (9 percent), the USA (9 percent) and Japan (5 percent). Even for Vietnam, the share in global exports for the top 10 traded lines comes at around 2 percent. It remains to be seen which products along with the eligibility criteria would get notified in the final scheme by the Government to achieve substantial growth for the textiles sector.
At this juncture, the FPI scheme is expected to bring structural changes in the textiles sector which is still largely cotton driven by shifting gears towards MMF and technical textiles. The scheme would aid in taking forward the Aatma Nirbhar Bharat Mission and promote greater MMF based textile exports as the MMF garment industry in India is poised for fast growth in the coming times on the back of ease of doing business reforms and rising investor sentiment.
Also, since the conventional Indian textiles sector may have reached a level of saturation in terms of value-addition, innovation and overall development, the technical textiles segment offers a great opportunity for further upgrading the Indian textile sector and making it globally competitive. In a nutshell, this is a much-needed scheme for India's textiles and apparel export industry, which has lost out to its Asian peers over the past few years, to regain its position in global textiles trade in the coming times.
—The authors, Dr Shilpy Verma is PhD in Economics from the Centre for International Trade and Development, Jawaharlal Nehru University. Presently, she is working with the Ministry of Textiles, Government of India as a Young Professional; Bhawna Kakkar is a postgraduate in Economics. Presently, she is working as a Young Professional in the Ministry of Textiles, Government of India.
—Disclaimer: The opinions expressed in this publication are those of the authors. They do not purport to reflect the opinions or views of the organisation or its members.
(Edited by : Ajay Vaishnav)