The Reserve Bank of India (RBI) projects India's real GDP to grow at 9.5 percent in the financial year 2021-2022, lower than its earlier forecast of 10.5 percent growth during the year.
The RBI now estimates the real GDP growth of 18.5 percent in Q1FY22 as against 26.2 percent forecast earlier. Q2 GDP growth is seen at 7.9 percent versus 8.3 per cent earlier.
However, the RBI increased its growth forecast for Q3 and Q4. It now estimates
7.2 percent growth in Q3 as against 5.4 percent earlier and 6.6 percent in Q4 of FY 2021-22 as compared to 6.2
percent forecast earlier.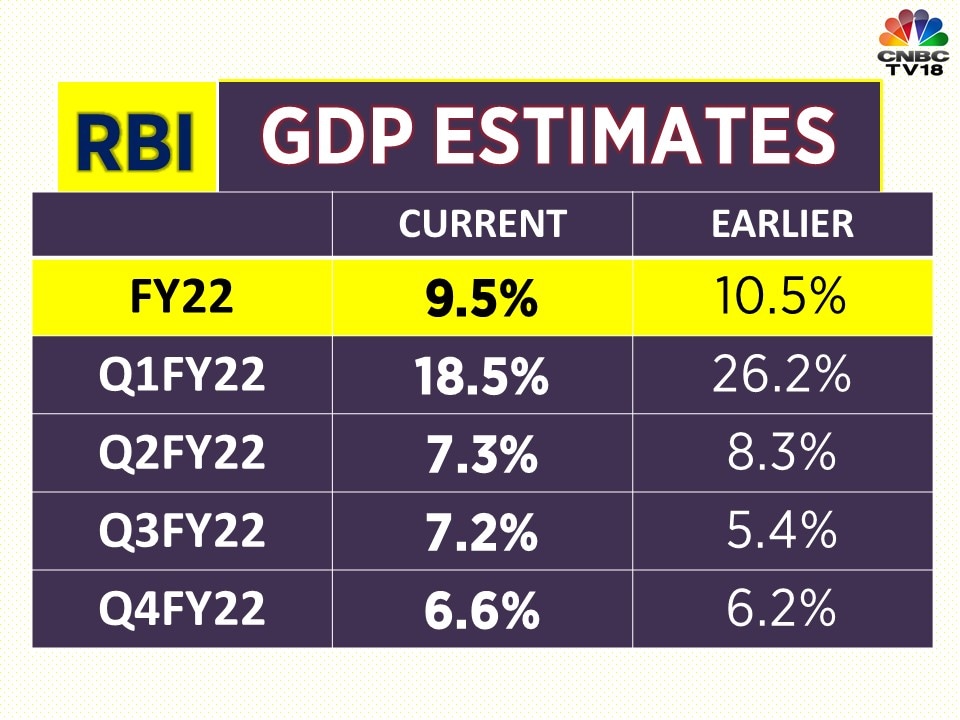 Announcing its monetary policy decision, the RBI Governor Shaktikanta Das said that the rural demand remains strong and the expected normal monsoon bodes well for sustaining its buoyancy, going forward.
The increased spread of COVID-19 infections in rural areas, however, poses downside risks, he added.
"Urban demand has been dented by the second wave, but adoption of new COVID-compatible occupational models by businesses for an appropriate working environment may cushion the hit to economic activity, especially in manufacturing and services sectors that are not contact intensive," Governor Das in his policy statement.
On the other hand, the strengthening global recovery should support the export sector. Domestic monetary and financial conditions remain highly accommodative and supportive of economic activity, he said.
Moreover, the vaccination process is expected to gather steam in the coming months and should help to normalise economic activity quickly.
The RBI's Monetary Policy Committee (MPC) decided to maintain the status quo on key policy rates. The MPC voted unanimously to leave the repo rate unchanged at 4 percent. T
he MSF rate and bank rates also remain unchanged at 4.25 percent.
It also continued with the accommodative stance until necessary to mitigate the impact of COVID-19 pandemic.