This is the RBI's first bi-monthly review since May 4, when Governor Shaktikanta Das announced the Monetary Policy Committee's decision to hike the key lending rate by 40 basis points. The June 8 policy statement comes at a time when central banks have lined up aggressive hikes in COVID-era interest rates to tackle decades-high inflation.
RBI Governor Shaktikanta Das on Wednesday announced the unanimous decision of the Monetary Policy Committee (MPC) to hike the repo rate — the key interest rate at which the central bank lends money to banks — by 50 basis points to 4.9 percent.
The RBI MPC also decided to remain focused on withdrawing its 'accommodative' stance to ensure inflation stays within target levels while supporting growth.
The latest RBI action comes at a time when central banks are faced with the Herculean task of taming inflation without slowing down economic growth. The announcements are in line with the expectations of economists and bankers. A majority of economists in a CNBC-TV18 poll had pegged the June 8 rate hike at 50-100 basis points.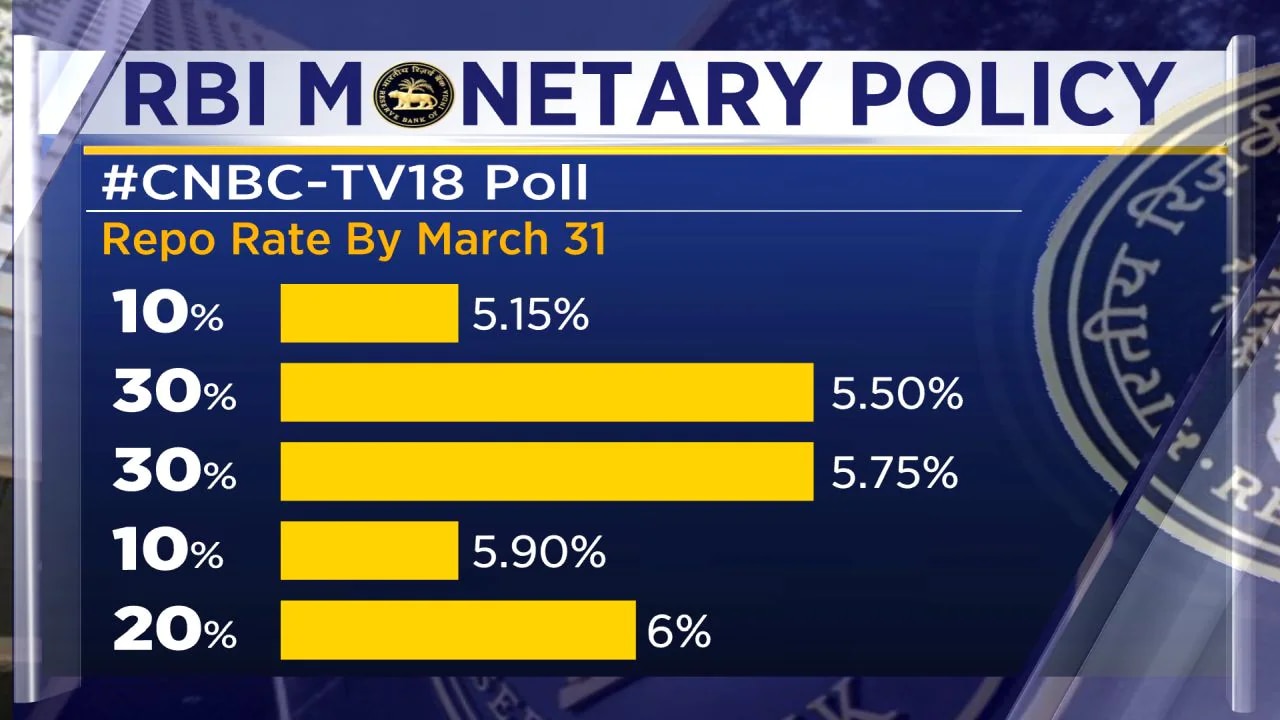 "The repo rate is still below pre-pandemic levels... The MPC noted that in such a challenging global environment, domestic economic activity is gaining traction... We will remain focused on bringing down inflation closer to target and focus on macroeconomic stability," Governor Shaktikanta Das said.
Also Read:
The monetary policy panel decided to
retain its real
GDP growth forecasts for the year ending March 2023.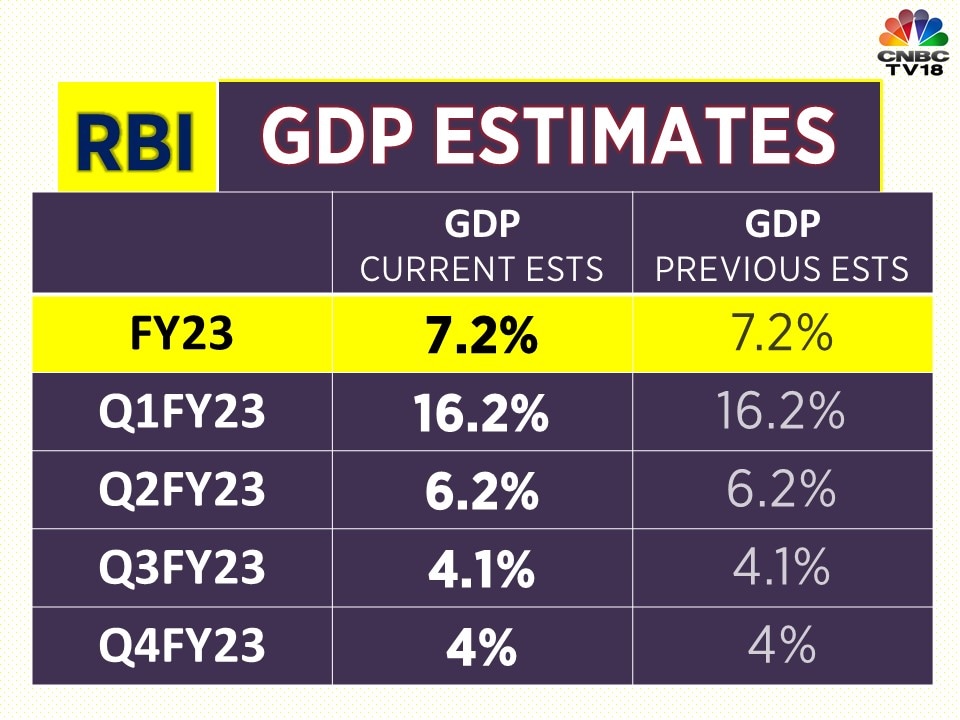 The MPC, however, raised its forecast for
retail inflation
— gauged by the Consumer Price Index — by 100 basis points to 6.7 percent. Das acknowledged that inflation has accelerated to a faster-than-estimated pace in April and May. It is expected to be higher than 6 percent by December 2022, mainly due to
elevated food prices
, he said.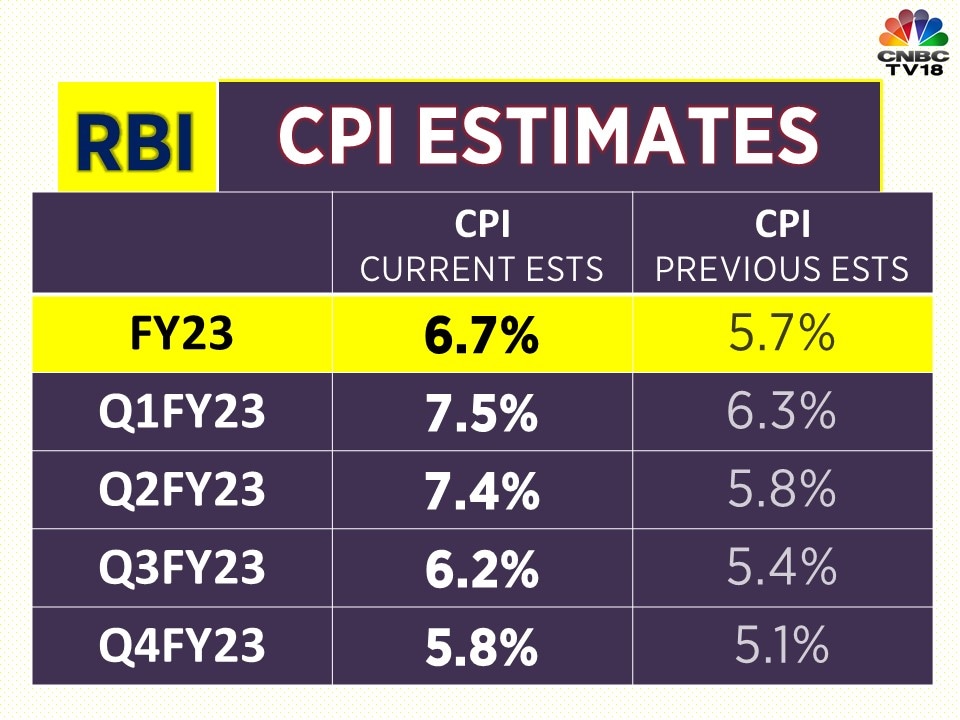 Economists welcomed the announcements and the central bank's take on policy stance.
"I am very happy that the RBI has removed the word 'accommodative'. I was actually looking for calibrated tightening, but maybe they will wait on till the repo rate reaches the pre-pandemic level," said Kaushik Das, Chief Economist at Deutsche Bank.
"This is almost equivalent to saying: 'We are more neutral than before.' That's one thing that I would take from the stance. And secondly, the action is clear that they will want to take away the pandemic-related accommodation that was there," said Indranil Pan, Chief Economist at Yes Bank.
S K Ghosh, Group Chief Economic Advisor to SBI, said, "MSP hike for the Kharif crops, there will be an upside pressure of 15 to 20 bps on inflation."
Indian equity benchmarks
saw wild swings in a session that began on a muted note, even as most of the rate-sensitive stocks moved higher. Losses in oil & gas and FMCG shares pulled both headline indices — the BSE Sensex and the NSE Nifty50 — lower though gains in metal and select financial names kept the downside in check.
Official data released last month showed India's official GDP growth reading hit a four-quarter low of 4.1 percent on a year-on-year basis in the January-March period. Economic growth for the full year ended March 2022 came in at 8.7 percent due to a low base of the previous year, though lower than the statistics office's estimate of 8.9 percent.
First Published: Jun 8, 2022 10:06 AM IST