The Reserve Bank of India (RBI) on Friday retained its growth forecast for the country's real gross domestic product (GDP) at 9.5 percent for the current financial year. The central bank, however, revised its projections for the July-September and October-December quarters upwards.
The RBI's Monetary Policy Committee maintained a status quo on key interest rates and retained its "accommodative" stance.
RBI Governor Shaktikanta Das said growth in Q2 is now seen at 7.9 percent, as against 7.3 percent earlier, and the projection for Q3 raised to 6.8 percent from 6.3 percent. The central bank, however, retained the projection for the quarter ending March 2022 at 6.1 percent.
ALSO READ
For the first quarter of the next financial year, which begins on April 1, 2022, the RBI retained the growth projection at 17.2 percent.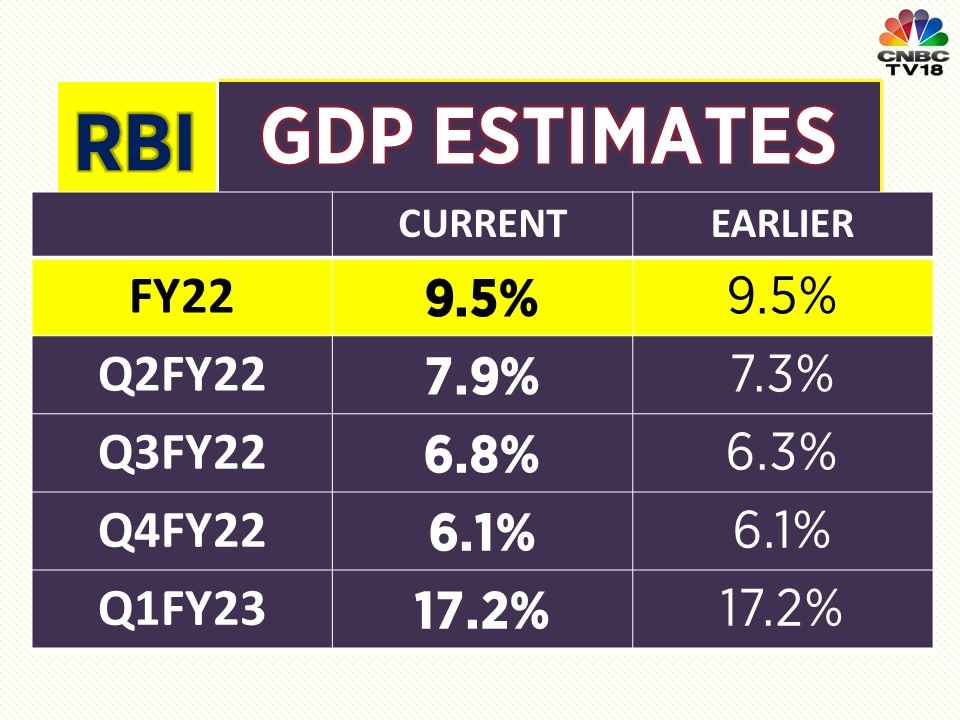 The RBI sees global chip shortages, elevated commodity rates and input costs, potential global market volatility and uncertainty around the COVID trajectory as key risks to growth prospects.
Governor Das said a recovery in aggregate demand gathered pace in August and September, as reflected in high-frequency indicators including railway freight traffic, port cargo, cement, electricity, E-way bills and GST collections.
Ebbing of COVID infections, easing of pandemic-related restrictions and a pickup in the pace of vaccinations facilitated the rebound, according to the RBI.
Festival boost eyed
"Pent-up demand and the festival season should give further fillip to urban demand in the second half of the financial year," Das said. The RBI expects rural demand to get impetus from continued resilience of the Agri sector and record Kharif output this financial year, he said in his address to the media.
Most economists said the RBI policy announcements were on expected lines.
"We do not see the RBI in a hurry to normalise liquidity conditions as well as the reverse repo rate in the near term. We continue to see February policy as the earliest period of review for the RBI to narrow the policy rate corridor by raising the reverse repo rate," said Suvodeep Rakshit, Senior Economist at Kotak Institutional Equities.