RBI Governor Shaktikanta Das-led Monetary Policy Committee (MPC) on Wednesday expectedly raised the benchmark repo rate — the rate at which RBI lends to banks — by 50 basis points to 4.90 percent citing ongoing inflation concerns and geopolitical crisis owing to the ongoing Russia-Ukraine war. The MPC also voted unanimously to change the stance to "withdrawal" from "accommodative".
The governor signed off his speech with a quote from Mahatma Gandhi: "If we want to overtake the storm which is about to burst upon us, we must take bolder risks and sail full steam ahead."
A majority of respondents to a CNBC-TV18 poll had already indicated RBI would raise the repo rate by half a percentage point in this Monetary Policy Committee (MPC) session.
Here are the top 10 key takeaways from RBI Governor Shaktikanta Das' speech today:
Repo rate hike: As expected and predicted by CNBC-TV18 poll, the RBI MPC hiked the repo rate by 50 basis points to 4.90 percent.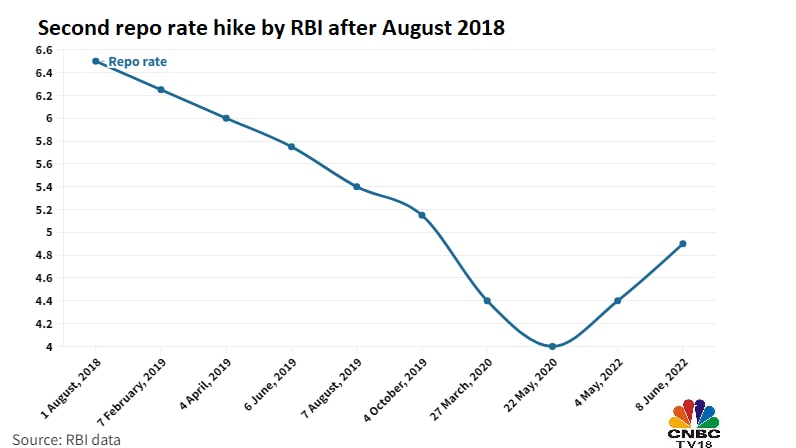 Unanimous policy stance: The MPC decided to remain focused on the withdrawal of accommodation to ensure that inflation remains within the target going forward while supporting growth.
Retains GDP forecast: RBI retained the FY23 gross domestic product growth forecast at 7.2 percent. In the fourth quarter of 2021-22, real GDP growth decelerated to 4.1 percent from 5.4 percent in the third, dragged down mainly by weakness in private consumption on the back of the Omicron wave, Das said.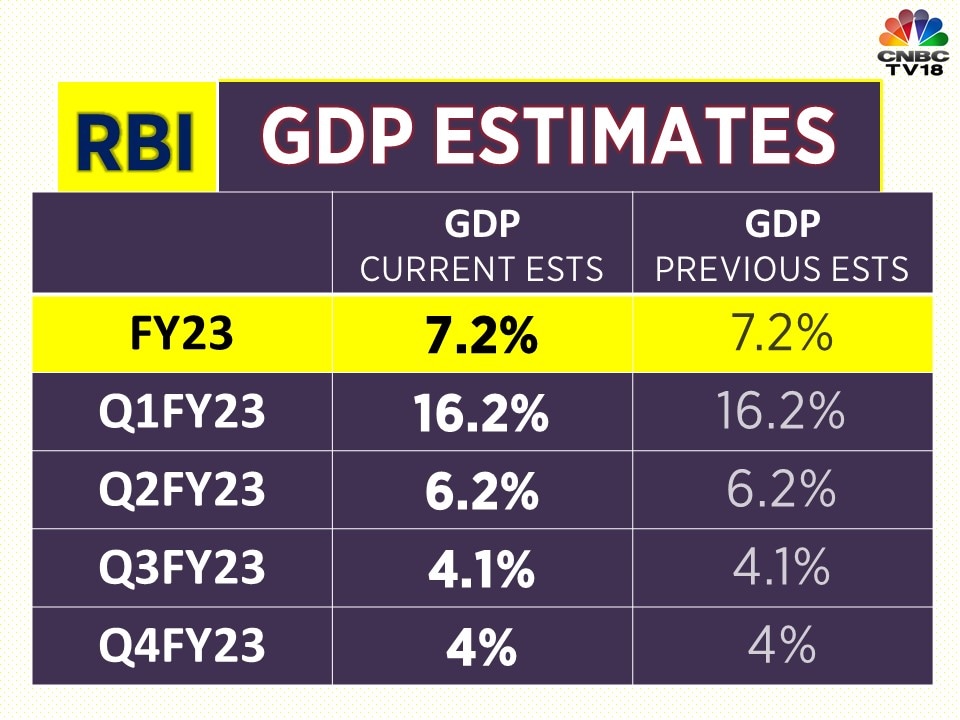 Inflation woes: Inflation has been bigger and risen faster than what RBI had estimated in April and May, admitted the RBI Governor. Persistent high inflation is the biggest worry for policymakers at the moment, and the MPC has the mandate to contain inflation within the 2-6 percent band. A breach for three consecutive quarters will require the panel to explain to Parliament why it failed to keep inflation within the band.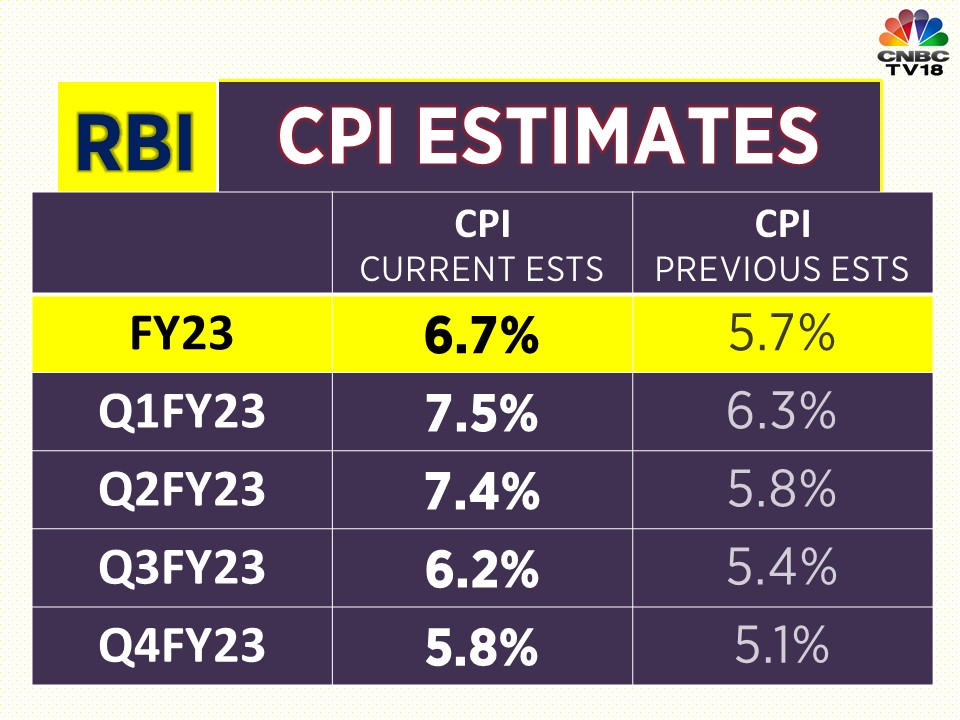 Linking of RuPay credit cards to UPI: The UPI is the most inclusive mode of payment in India, with over 26 crore unique users and 5 crore merchants on board, said the governor. Now, the RBI will now allow it to be linked with credit cards, starting with RuPay cards first and to be extended to other card networks such as Visa and Mastercard. Until now, only debit cards could be linked to the UPI.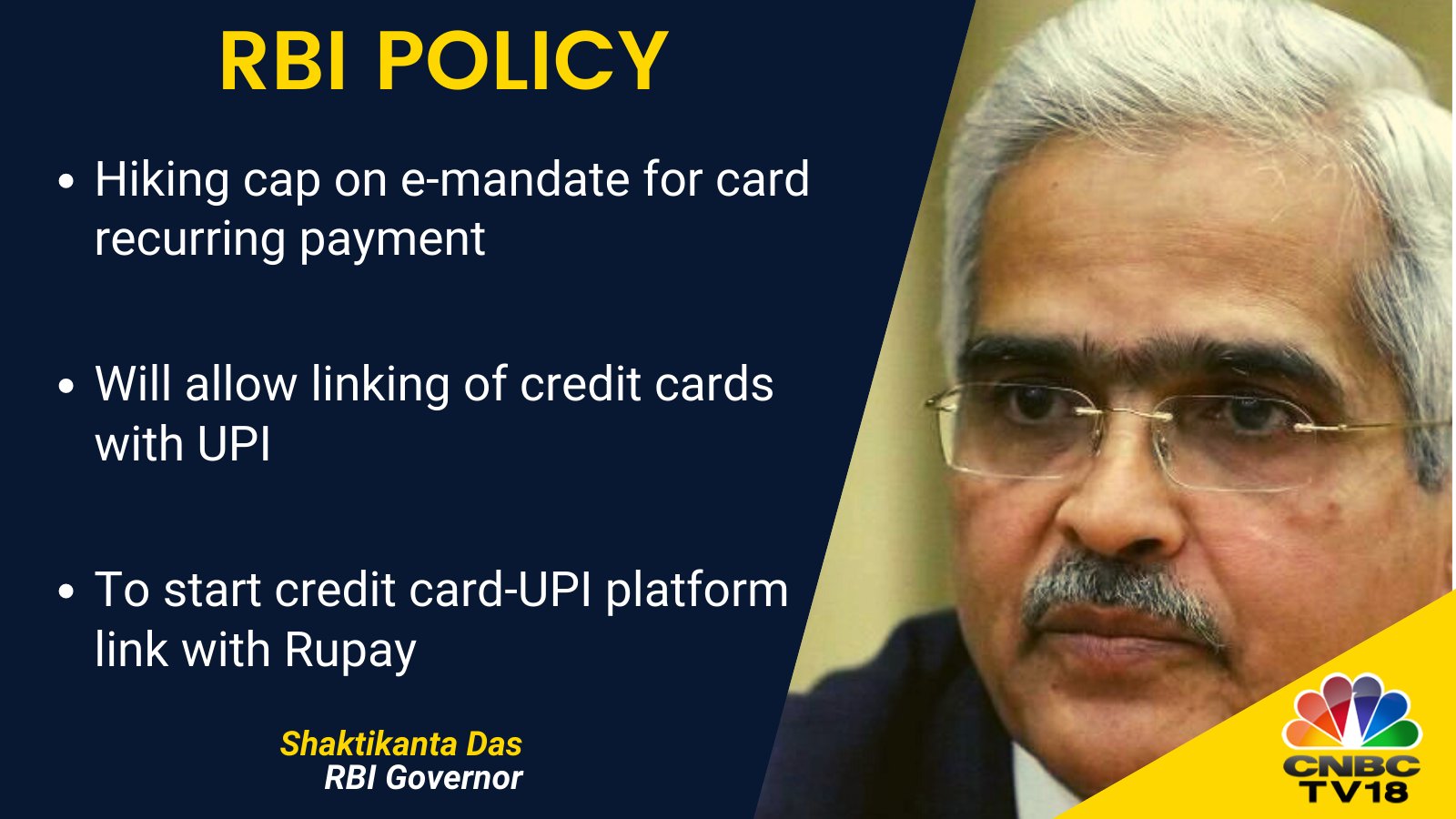 E-payments: The limit on recurring e-payments was raised to Rs 15,000 from Rs 5,000 to facilitate transactions such as subscriptions further.
Cash Reserve Ratio: The amount of money banks park in the standing deposit facility has fallen since May 4, the RBI governor said. This could be seen as a natural reduction in liquidity without the RBI having to force it through tougher measures like a hike in the CRR. An RBI requirement, CRR is the percentage of a bank's total deposits that it needs to maintain as liquid cash.
Bonanza for urban and rural cooperative banks: RBI doubled the limit for housing loans for urban cooperative banks to factor in the rise in realty prices. It also allowed rural cooperative banks to lend to the residential housing sector. Also, it approved urban cooperative banks to offer doorstep banking services to customers.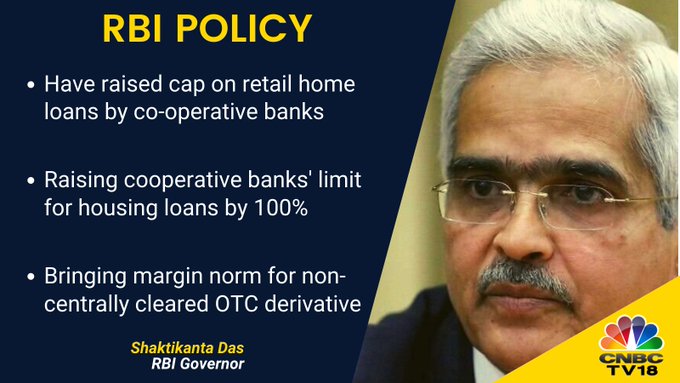 Marginal Standing Facility and Standing Deposit Facility: RBI increased the Marginal Standing Facility (MSF) rate to 5.15 percent from 4.65 percent. The MSF is a window for banks to borrow from RBI in an emergency when inter-bank liquidity dries up. The governor also said the standing deposit facility (SDF) rate stands adjusted to 4.65 percent. The SDF is a liquidity window through which the RBI gives banks an option to park excess liquidity with it.
Foreign exchange: India's foreign exchange reserves were placed at $601.4 billion as of May 27, 2022. The governor said India's exports had performed "exceptionally well despite weakening recovery across major trading partners".