If everyone disparages it, probably you are on to a good investment idea!
Masterclass with Super Investors is a curated compilation of in-depth interviews with some of India's most accomplished stock market investors. Ramesh Damani is a member of Bombay Stock Exchange (BSE) and is considered as one of the most successful investors in India. A proponent of the Warren Buffett style of value investing, Damani's views about equity is ardently followed.
The following excerpts feature an interview with Ramesh Damani:
In the 2008-09 period, we made two bets that are still working out.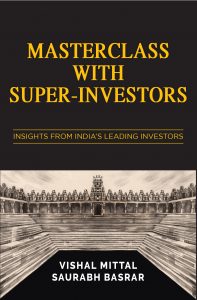 We got very bullish on media stocks as they were great franchises but were still available cheap. We bought companies like TV Today, Sun TV, and Zee Entertainment. TV Today was the leader in Hindi news for the past 15 out of 15 years in India. When I bought it, the market cap was around Rs.350 crore. It has gone up 8x in nine years since then – 25%+ compounder. India is majorly a Hindi speaking country. You knew that there will be upticks in the advertising spend and it was just so cheap. They had proved their leadership for the past 15 years. The good thing with India is that everything can get bigger with time. By comparison, the viewership of Fox News in America is small – just a few millions and yet their revenue is USD 2 billion, with a bottom line of USD 1.2 billion. That's the power of brand that Fox News has. Indian markets have not yet evolved as much. At that market cap, it just seemed like a no brainer kind of investment. We also bought stocks of other media companies, but our big investment was in TV Today. We knew the issues and triggers. Cable operators were not giving fair share of money. So with pay per channel, after digitization, they will get the money. Some triggers played out and some are yet to play out. Broadcasting is a great business – news happens every day in this country. They don't need much to cover the news – just camera and crew. Once it reaches scale, money starts flowing to the bottom-line. Plus it's not like content, which can slip away. People are addicted to some brand of news. Now the things have turned around – we bought the company for Rs.300 market cap and they are making profit of Rs.150 crore a year now.
So we bought it at such a cheap rate that even if they miss a quarter or
two, it does not matter. Today, the big question is whether there is an existential threat to these companies from social media, as people don't watch live programming now.
The business strength is not as much as it used to be in the 1990s. But I think they will figure out how to monetize social media, how to monetize news on the internet, because content is still driving this business.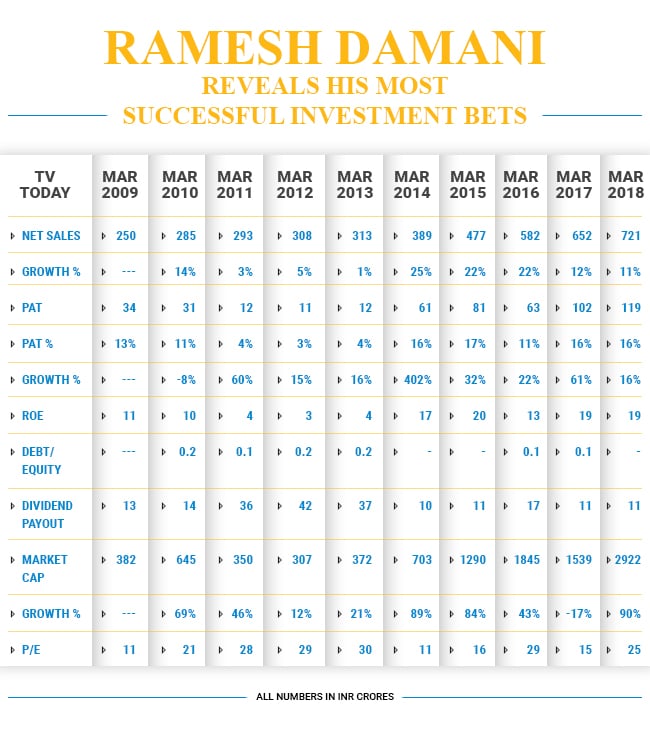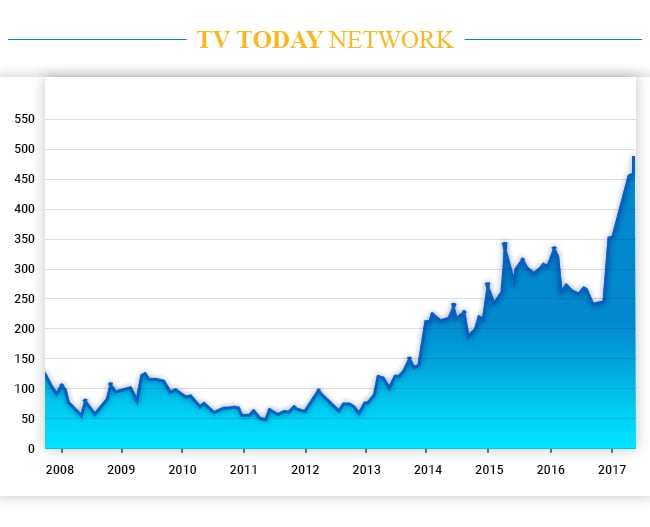 At the same time, we found opportunities in the logistics space. The first reason was the huge e-commerce boom that we saw coming, with smartphone penetration and better internet speed. The second reason was an uptick in the economic and infrastructure activities like the Delhi- Mumbai corridor, etc. So we bet on logistic stocks. Both these investments are still work in progress.
The purpose again is to illustrate that it's a bottom up process, but you think top down as well. I take the following approach. I start with the market cap or EV (Enterprise Value) of the company. Then I see, if as a businessman, I am willing to buy the whole business at that market cap or EV. If I can get TV Today at Rs 300 crore, will I buy? Yes, I will buy. Even if you wake me up at 2 a.m. in the morning, I will give you the same answer. Hindustan Unilever (HUL) is spending a few thousand crore on advertisements, while you were getting the entire news brand at a Rs.300 crore valuation. HUL could buy the leader in Hindi news out of their advertising budget and label it 'Hindustan Unilever AajTak' – it was that cheap. The same logic was for the logistics companies. They were so cheap. We felt that e-commerce will give them a one-time opportunity to boost their business. So in 2009-10, as the bear market was getting over, we bought these companies.
Then there are some companies that I have been able to hold over the years without selling or buying them because the business opportunity is too great. For example, Sundaram Finance. I must have bought this company in 2001 – from the proceeds of Infosys. We have held it for 16 years now – whether it's bear market or bull market. The opportunity in the financial space is so great, and here you have a business that is as good as gold. The brand name in the south is so strong. Even though the stock has fallen 50-60% from the top at times, I never have been tempted to sell it. I knew that it was just a market overreaction. During the 2008-09 financial crisis, the stock went from Rs.700 to Rs.250. Normally I tend to get out of stocks when the bull market is over. But there are some stocks like ITC, Sundaram Finance, which I have been able to hold.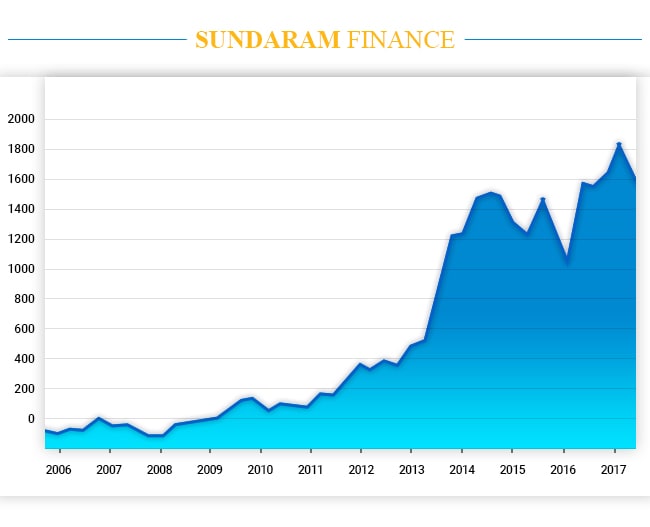 What were your key learnings from the big misses or losses?
A key learning is - as Benjamin Graham quoted Horace – 'Many shall be restored that now are fallen and many shall fall that now are in honour'. Temperament wise, the key learning has been of doing your own homework and having the integrity of independent thought. Those are the two things that I would emphasize. No one rings a bell when a great investment idea comes. In fact, if everyone disparages it, probably you are on to a good investment idea! If everyone applauds you for your pick – it's probably not a great idea. There has to be scepticism in what you are buying. Finding picks is a lonely road – that integrity of independent thought that you need is very lonely. When RK Damani was buying HDFC Bank, it was at 100 P/E. There were so many other good banks but he had the vision to see 10 years out into what the bank could be. The point is, to be great in the stock market – and you want to be 'great' - you need to find your own path. You can't piggyback on someone else's thoughts and conviction. Do I regret that I did not buy HDFC Bank? Yes, I do regret it but it was his pick. The point is, if I had my own independence of thought, my own integrity of opinion, and had done my own hard work, I could have found it. I found lots and lots of 100 baggers in my career – sounds really stupid to say it, but I have been blessed. So it's not that I lacked the opportunity - I had enough on my plate. If you get 8 hundred baggers in your life, you don't need more in your life. You are actually set in life with only two hundred baggers. The question is how much money you put in. That has been the lacuna in my career - not putting in large sums of money when I could have.
The way you do it is – you keep a circle of competence and do your homework, don't get complacent and lazy, which we tend to be after sometime. If you are generally a smart person, then there will be tons and tons of opportunity. Here is the thing that RK Damani told me. I used to ask him in the 1990s, after he had made tons of money and I hadn't. I said "you people are lucky that you bought Indian stocks in the 1980s. Aap logon ka paisa ban gaya. Mein abhi aaya hoon. Mera Nahi Banega" ("You people have made money. I have just come. I won't make money.") He said, "Ramesh, I am telling you this today. The opportunity in the next 20 years will be far greater than those in the past 20 years. Trust me on that." He has been proven absolutely correct. Recently, in December 2016, there was a conference in Kolkata. Someone asked him the same question and he answered the same – "The best time to invest in India is today. The opportunity of the last 30 years will be dwarfed by the opportunity of the next 30 years." I also truly believe that.
See, you have to have some set of belief constructs. He was bullish on India 20 years ago, he is bullish on India today, and he will be bullish on India 10 years from now. You can't be ambivalent and run at the first sign of trouble, like rats run from a sinking ship. You have to come up with a statement like 'I think that India will be among the top 5 nations in the world'. If you don't believe it will be India, but it's going to be Cambodia, then go to Cambodia. It is a matter of your own belief process. It took me years to get that into my head even though he had told me. Not till I had imbibed it could I act on it accordingly. But remember that there will be setbacks. I have always believed that to be a great investor, which is what we all try to do, you need independence of thought and a firm belief set. There is no point in regretting – there are so many stocks that I have missed. How can you be so stupid, I ask myself! Despite that, it doesn't matter if you can double your money every three years – then it's pretty cool.
The second thing is that the general public doesn't have that basic belief in equities. It's a very charmed circle that believes in equities. I know so many people who make Rs.5 crore in equities and then buy a house or jewellery to make it safe. If they don't believe that they can make Rs.50 crore from that Rs.5 crore, then how will they do it?
Master Class With Super-Investors contains interviews with Ramesh Damani, Raamdeo Aggarwal, Govind Parikh, Hiren Ved, Kenneth Andrade, Rajashekar Iyer, Anil Goel, Vijay Kedia, Shyam Sekhar, Bharat Patel and Chaitanya Dalmia. The excerpts have been carried with the permission of the authors.
First Published: Dec 14, 2018 1:34 PM IST