Masterclass with Super Investors is a curated compilation of in-depth interviews with some of India's most accomplished stock market investors. Rajashekar Iyer is the managing partner of Securities Investment Management Pvt Ltd (SiMPL), who has over 25 years of experience in the field of equity research, advisory & investment management. He is a qualified Chartered Accountant.
The following excerpts feature an interview with Iyer:
How do you generate investing ideas?
I used to look at lots of companies. The initial names are generated either from screens, by someone else telling us that a company is interesting, through news reports/ advertisement that triggers interest, and multiple other sources.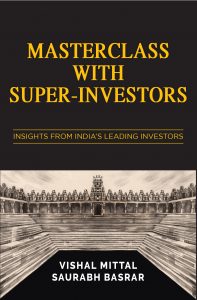 After quickly scanning relevant information like annual reports, management interviews, presentations etc; I would have a mental picture of the business and company, and decide whether it was worth spending more time on. Probably, the most important aspect in finding good ideas is to eliminate bad ideas fairly quickly. If you are able to look at 100 companies faster than others, you can find the two good companies which are really interesting. If you are slow in rejecting, you will only be able to look at 10 companies. It's like reading. If you read 20 books in a month, you may find two good books. If you just read two books in a month, you may find only two good books a year. It is similar in stocks. So if you tell me that you like a particular stock – how much time do I have to spend on the company before I can say it's not for me? If I can do that fairly fast, then I can look at more ideas in the time available.
That's the first most important thing – you should look at a lot of companies, and we are lucky in India that there are literally hundreds of stocks to choose from. That is not true for many other stock markets in the world.
One should have acceptance and rejection criteria for investing, but to start looking at a stock, you don't need hard and fast rules. For example, in 2002, someone asked me to look at Garware Polyester and tell him if it was interesting. When I looked at it, they were making EBITDA (earnings before interest, taxes, depreciation, and amortisation)of Rs 90 crore, and had a market capitalistion of Rs 200 crore. That looked interesting. But their borrowings and interest cost were really high, and while the polyester films business was doing well, there were other businesses in the company that were problematic. But the interesting thing was that the polyester film business was doing well. So I looked at the other companies making polyester film. Of the others, Polyplex Corporation was outstanding. Polyplex had started at a 1,500 tonne capacity, and went to 18,000 tonne capacity without diluting equity! That's a quick filter - companies which have grown well over a 10-year period without diluting equity and without getting seriously in debt are always interesting. With the tailwinds of a good polyester film market, the company and the stock did really well.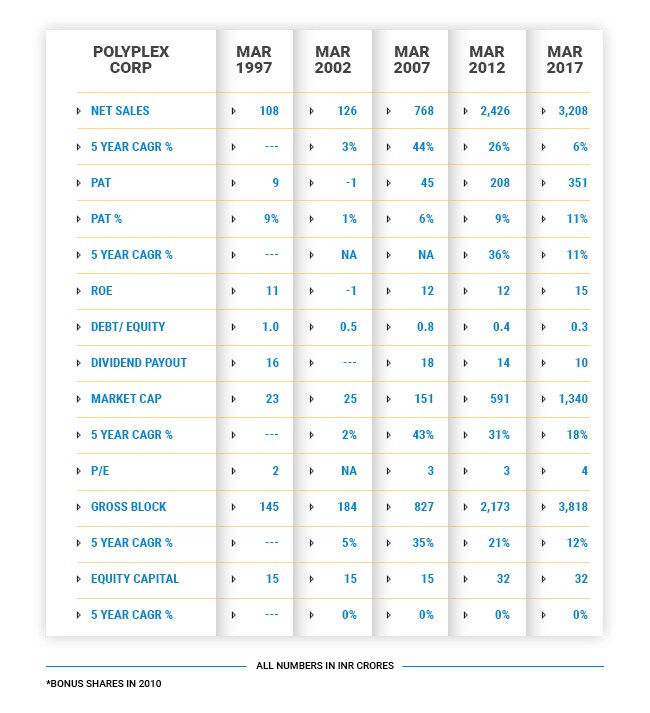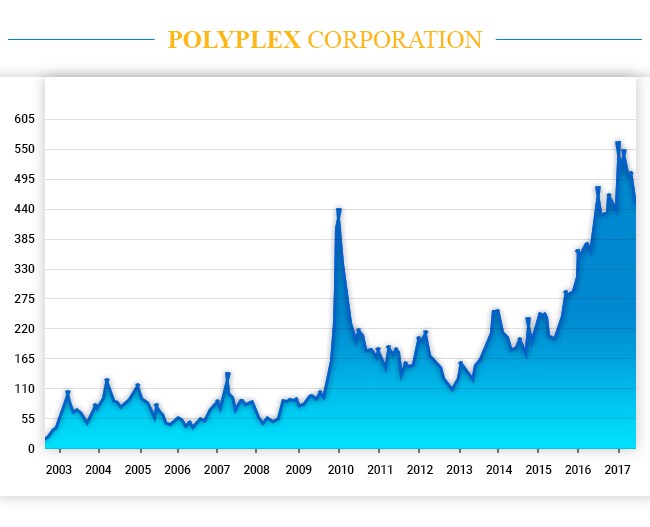 To find one good investment like that, there could be twenty other companies that you see and reject. There might even be some good companies that you end up rejecting, but it doesn't matter. The ones you find and invest in are what matters. How do you value a company? There are only three variables to determine the value of a business – how much they grow their sales, how much profits they can make, and what kind of capital they need to generate that sales. Of course, the additional variable is how they treat the minority shareholders. Let me take an example. Somebody recently asked me about Avenue Supermart (DMart). I said it was a valuation challenge. Amazon was a valuation challenge earlier, as it had strong growth but was not generating cash. But the difference with DMart is that it is generating cash. Last quarter, they had sales of Rs 4,000 crore, so let's say the annual sales are Rs 16,000 crore. Their net margins is about 6-7 percent, so they can make profit of Rs 1,000 crore. To generate Rs 16,000 crore of sales, they only require Rs 2,000 crore of capital. Let's assume that they can grow at 25 percent for the next 10 years and maintain these margins and capital turnover. So the sales will reach Rs 160,000 crore and they will generate Rs 10,000 crore cash in 10 years. They will also have some cash on the books, as they will not invest all the cash flows. A company like this, which generates Rs 10,000 crore of cash, can easily be valued at Rs 250,000, plus they will have cash. The current market is Rs 80,000 crore. So it can be 3-4x in 10 years – which is better than keeping money in the bank – but I think there could be better opportunities over time. But you have to keep thinking and valuing businesses. If you think 10 times, you will know what to do when opportunities come.
So if you break up the value of the business – the first is how much sustainable money they are making. Like DMart is making Rs 1000 crore profit now, and you think that is sustainable. Now if you put money in a bank today – you get 6 percent interest rate, so the value of that Rs 1,000 crore is at least 16x (~100/6 percent), so Rs 16,000 crore. The second is, what is the minimum growth that you can project over the next many years? I take that at a nominal GDP growth of 12-15 percent. That will give another Rs 15,000-20,000 crore of value. So you can attribute Rs 30,000-35,000 of value to these. Then there will be other opportunities that the company can exploit – that the market is valuing at Rs 45,000 crore today. The composition of these three changes over time. At some time, the first component accounts for 70 percent of the market capitalisation and the second component accounts for 35 percent of the market capitalistaion of the company. Which means the third component is negative 5 percent, which the market is not willing to value. In bear markets, the capitalistaion might even be lower than the first component of the value, and you find that the second component definitely has some value. So one can wait for situations where working backwards one has to make less assumptions on the second and third components. If one has to make detailed calculations to justify valuations, then it's probably not worth it.
I don't use DCF (discounted cash flow) directly, as it creates more problems than it solves. Professor Bruce Greenwald said it well in a speech, "DCF is putting actual data and projections together, which is like putting clean and dirty water together, you will only get dirty water as a result." So I try to value based more on clean data, and look for situations where I don't have to pay a lot for the projections. I am more comfortable when the first component is large and the rest are small components of the market cap.
When I missed Infosys in its early days, I did not think among these lines. It was already making money, and since it was already growing at 70 percent a year, the first and second bucket accounted for most of the value. Investing in it should not have been an issue. Even if the growth fell from 70 percent to 30 percent, it would not have been an issue at the initial level of valuations, as the first component accounted for 70 percent of the value. The balance 30 percent would have been at risk, which would have got covered in one year, at 30 percent growth also. But I did not have that clarity at that time.
Today, when I look at expensive stocks, I try to see how many years ahead I have to project to see sustainable minimum earnings. If I have to project beyond three years, then I am not comfortable investing in that stock. We all can do these back-of-the-envelope calculations to see that we don't go majorly wrong on a stock.
Master Class With Super-Investors contains interviews with Ramesh Damani, Raamdeo Aggarwal, Govind Parikh, Hiren Ved, Kenneth Andrade, Rajashekar Iyer, Anil Goel, Vijay Kedia, Shyam Sekhar, Bharat Patel and Chaitanya Dalmia. The excerpts have been carried with the permission of the authors.