Since her election, Indian-Americans have been excited by the potential of entering public life.
Pramila Jayapal's is a true immigrant story of an unknown brown woman who came to America as a 16-year-old student and rose to become a powerful Congresswoman, the very first Indian-American woman in the US House of Representatives in the history of America.
"And I certainly don't intend to be the last!" says Jayapal, 53. "Having strong, proud Indian-American politicians like my colleagues in the House of Representatives - Ro Khanna, Ami Bera, and Raja Krishnamoorthi and my sister in the Senate, Kamala Harris - means that, for once in their lives, Indian-American children can look to Congress and see people that look like them."
Jayapal's parents hail from Chennai. She was born there but grew up in Indonesia and has certainly increased the Indian-American footprint on the national stage, taking up the cudgels on behalf of immigrants, minorities and people of color. In the recent midterm elections, she handily re-won her seat. She, along with Rep. Mark Pocan (WI-02) is the Co-Chair of the Congressional Progressive Caucus.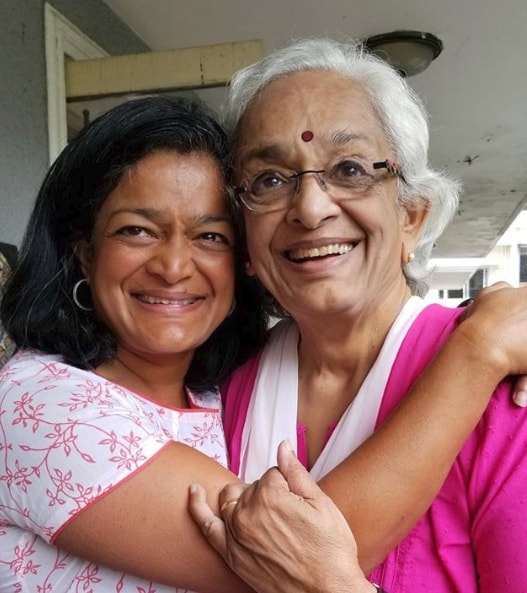 Rep. Pramila Jayapal with her mother.
She has really paid her dues, working for the last twenty years as a national advocate for income equality and the environment, and an activist for women's, immigrant, civil, and human rights before she was elected to represent Washington's 7th District, which includes Seattle and surrounding areas. Jayapal, who lives in Seattle with her husband Steve Williamson, is the mother of two sons, Janak and Michael.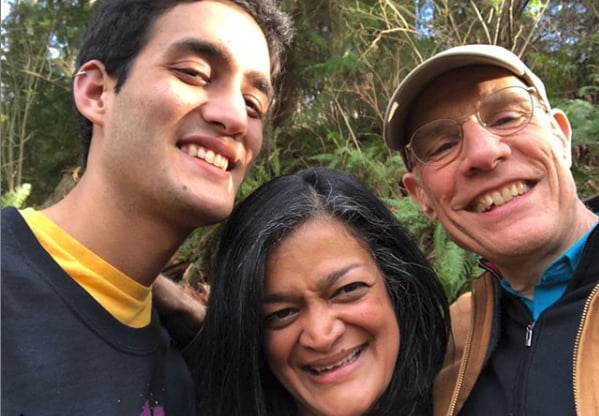 With her son Janak and husband Steve Williamson.
Jayapal, who received a BA from Georgetown, and an MBA from Northwestern University, has worked in varied private and public spheres from Wall Street analyst with PaineWebber to intern in a rural NGO in Thailand. She recalls, "While working as a sales rep for medical equipment, I used to go out on night rides with the paramedics. I wanted to see what was happening in our communities and I wanted my life to be about making a real difference. All of that led to a real determination to make vocation and avocation the same thing, and I left the private sector in 1991 and never looked back!"
She worked in international public health at Program for Appropriate Technology in Health (PATH) and became a Fellow of the Institute of World Affairs, living for two years in India, exploring development issues. She later compiled her experiences into essays for a book, 'Pilgrimage to India: A Woman Revisits Her Homeland'.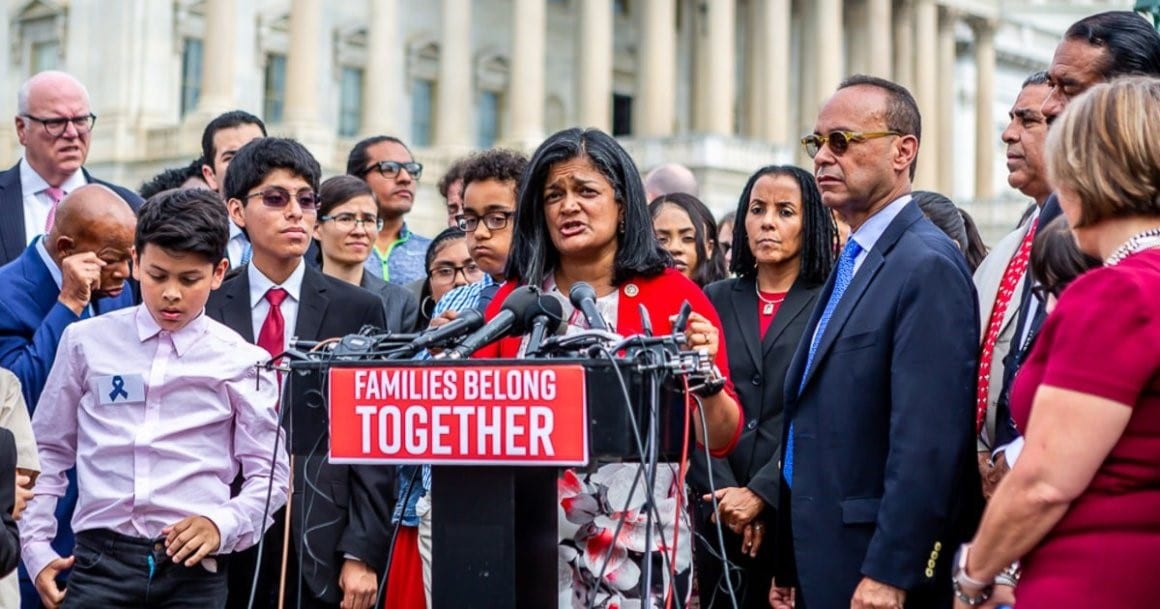 It was however, the trauma of 9/11 which really made her understand her place in America and speak up about discrimination and civil liberties and form the organization Hate Free Zone, later known as OneAmerica.
"One day we were American, and the next day, many of us had to prove if we were American enough," she says. "Many of us were told to go home, back to our own country—even though we called America our home, had planted roots, grown dreams, built families and communities. So, many of us chose to fight the U.S. government to not racially profile and to remind us that America is based on core ideas of rights and liberties and due process. I was one of them. Hate Free Zone, now OneAmerica was born right there at my kitchen table."
She recalls, "We hit the ground running, initially fighting against hate crimes involving our Arab, Muslim and Sikh communities. That eventually turned into fighting the US government against civil liberty abuses and discrimination, and then ultimately taking on a very broken immigration system—including pushing hard for comprehensive immigration reform, the Dream Act and many other issues that are front and center right now."
OneAmerica has registered over 23,000 new immigrant citizens to vote, and passed some of the earliest "Don't Ask" policies, now referred to as Sanctuary City policies and limited ICE enforcement. The organisation is today one of the largest immigrant-rights coalition in the country. Later she took a leading role in the national coalition We Belong Together which has impacted immigration reform. She was recognized as a Champion of Change by the White House in 2013.
As Congresswoman in the current political climate, what are her priorities in legislation?
"I came to Congress with a very simple proposition and belief: we're all better off when we're all better off," she says. "In the 116th Congress, we need to offer the American people a clear, bold and progressive vision to rally around." She believes there's a real need to transform healthcare and is leading to introduce a Medicare for All bill in the House. Another focus is ending corruption in Washington and she continues to refuse all corporate PAC contributions.
An immigrant herself who saw firsthand the opportunities America offered, she says, "Everyone knows now about my expertise on immigration, and my incessant efforts to prioritise a humane and comprehensive reform of our immigration system that brings undocumented immigrants out of the shadows, keeps our families together, and allows for immigrants to get the visas and pathways to citizenship that recognise the tremendous talents and contributions of immigrants to our economy."
Another hot-button issue that is important to her is the environment. She says, "I am convinced that climate change is one of the existential crises of our time, and I am continuing to champion an urgent approach to addressing climate change that centers poor communities and communities of color that have borne the biggest burden of the impacts of climate change, while at the same time, making sure we have a just transition for workers as we move to a fully renewable energy economy. I believe in being bold: if politics is the art of the possible, it's time we push the limits of what's seen as possible."
Since her election, Indian-Americans have been excited by the potential of entering public life. She says, "Indian American girls across this country can see that they too can take impossible journeys and succeed in becoming one of the only 11,000 people that have ever had the honor of serving in the US Congress in the history of this country."
For those wanting to enter public life, she offers, "Two words: Be engaged!" The line she hears most often from Indian-Americans is 'We don't "do" politics.' However, she says, "Everyone should "do" politics because politics is intertwined into every single freedom we enjoy! We don't get a more representative government unless we run one ourselves. We don't see a change in the way the government works and responds unless we make one. You can't truly change a system until you know it from the inside out."
Asked about a mantra for Indian-Americans wanting to impact public life in America, she says, "Don't be afraid to stand up for what is right, think collectively about all people instead of just about yourself or your immediate community, and don't hesitate to stick your neck out to protect the dignity of all people. You know that we can't fight for one of us without fighting for all of us."
First Published: Dec 21, 2018 10:06 AM IST