Seven-year-old Sonakshi's father leaves for work at 7am everyday and there's no one else to cook for her and her two younger siblings. They go to school on an empty stomach and rely on the government's mid-day meal scheme, now renamed PM POSHAN. At times, their teachers let them eat earlier than other students.
Sonakshi and her two siblings are among the 12 crore children in India covered under the PM POSHAN scheme. The scheme is touted to be one of the world's largest school meal programmes. The allocation, though, in this year's budget has fallen to Rs 11,600 crore rupees from FY23's revised estimates (RE) of Rs 12,800 crore.
As per experts, the bigger concern is that in real terms, when adjusted for inflation, there has been a sustained decline in this allocation over the past few years. "Nine years ago in 2014-15, the budget for mid-day meals was more than Rs 13,000 crore and today it's less than Rs 12,000 crore, in money terms. In real terms, if we take into account price increase, it's about 40 percent less today than 9 years ago," Jean Dreze, Economist, said. "And that is really the concern, that it is becoming more and more difficult for the schools to provide a nutritious meal because the budget is so small," he added.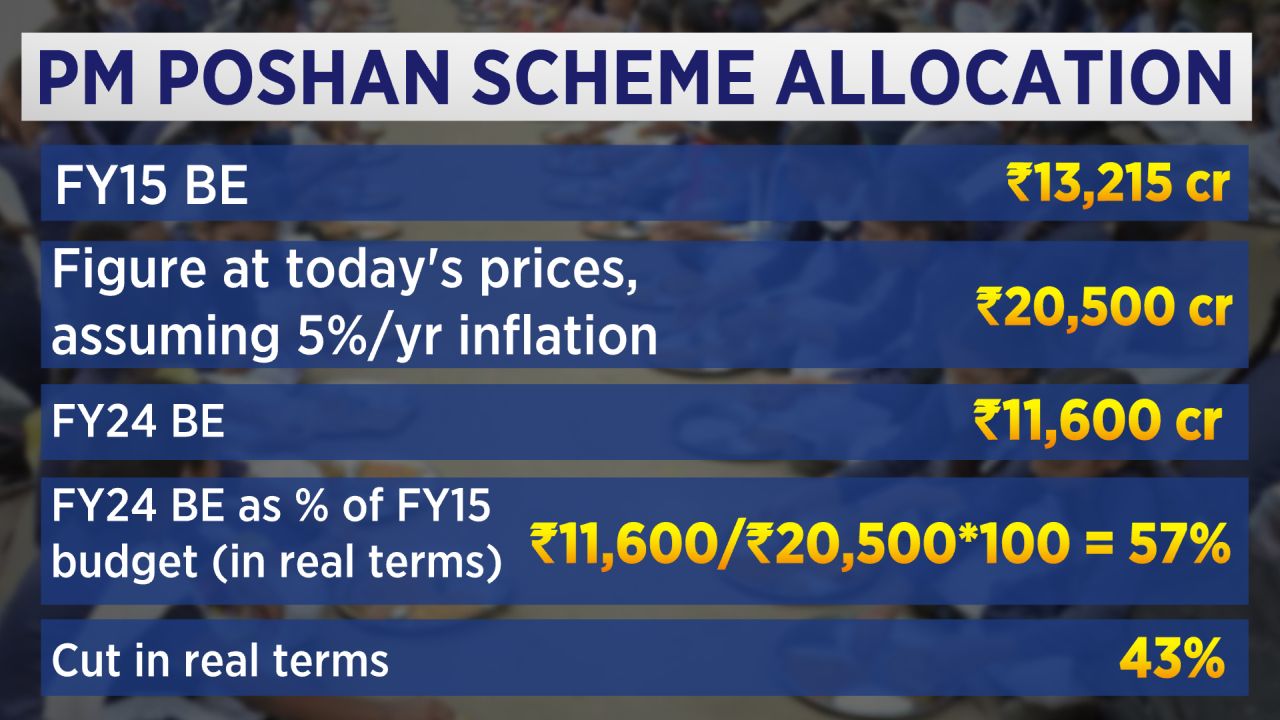 But the government pointed out that this year's budget allocation is 13 percent higher than the allocation in Budget 2022 (BE). The Ministry of Education also told the Parliament, "The allocation is likely to be sufficient for the implementation of the scheme with existing norms during 2023-2024."
In October last year, the government hiked the cost per mid-day meal per child to Rs 5.45 for primary classes, and to Rs 8.17 for upper primary classes. The 9.6 percent hike came after a two-year gap. According to the Centre For Policy Research, the hike did not account for a 24 percent rise in food inflation between April 2020 and October 2022. It also estimated that the meal cost per child should have been raised to over Rs 6 for primary classes and above Rs 9 for upper primary classes to account for inflation.
Organisations such as Akshaya Patra Foundation, which supply mid-day meals to government schools, receive grains from the Food Corporation of India and cash subsidies from the Centre and state governments. Their average meal cost per child is over Rs 12. So they rely on private donors to make up any shortfall.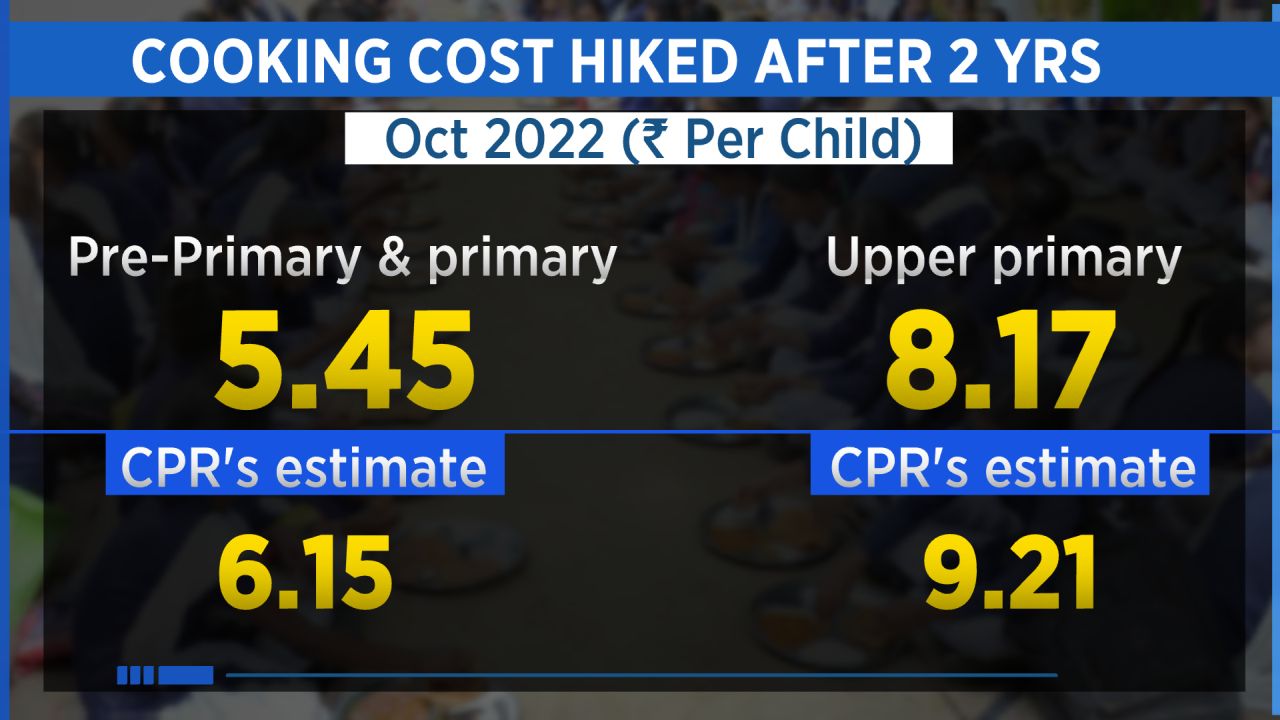 "We get Rs 6.65 from the government of India and the various state governments in the form of cash subsidy and grain subsidy, so this contributes to about 54 percent of our total running expenditure per meal," Shridhar Venkat, CEO, The Akshaya Patra Foundation, said. "Akshaya Patra raises the balance 46 percent Akshaya Patra raises from corporates, trusts, foundations and individuals," he added.
As per experts, the meal cost is not the only concern. The Centre and most states fund the scheme in a 60-40 ratio. The Centre releases the funds in two instalments, but this release has been slow. In FY22, only less than half of the approved budget for the scheme had been released till December. "This financial year too we've seen there was some technical difficulty and as a result, the ad hoc grant couldn't be released. So no funds were released under the scheme in the first quarter," Avani Kapur, Senior Fellow, Centre For Policy Research, said. "By December 2022, only 52 percent of the funds had been released under the scheme. Only 5 states have received 60 percent of their funds," she added.
Experts believe that unless the budget allocation for the PM POSHAN scheme is increased significantly, the quality of meals provided to children will suffer, especially in terms of nutrition.