With mounting debts and soaring inflation, Pakistan continues to pin its hope on the International Monetary Fund (IMF) for a bailout from its deep economic crisis. But the brewing political problem may come in the way of that. What lies ahead for the neighbouring country and how may this affect India? CNBC TV-18 explains.
Caught up in a vicious circle of debt, Pakistan has been spiralling deep into an economic crisis — reviving recent memories of Sri Lanka's financial-cum-political crisis. With the Pakistani rupee falling to a record low and fuel prices shooting up, Pakistan has been struggling to fulfill the basic demands of its citizens, reports claim. But why is Pakistan in such a critical position? What is it doing to climb out of the hole and should India be worried? CNBC TV-18 takes a deep dive into the neighbouring country's problems and the reverberations around them.
Pakistan's economy has been unstable for long. The difference today is that it is now on the brink of collapse. "Over the past two decades, Pakistan has achieved significant poverty reduction, but human development outcomes have lagged, while economic growth has remained volatile and slow," the World Bank said in its report released in October last year.
The country's economy has been pushed to a dangerous level due to numerous reasons. These include:
> Debt: According to the World Bank, Pakistan's total external debt stocks increased to $130.433 billion by end-2021 from $115.695 by end-2020. The country's external debt reached $126.9 billion in September 2022, CEIC data revealed.
Right now, Pakistan's debt-to-GDP ratio is in a danger zone of 70 percent, and 40-50 percent of government revenue is earmarked for interest payments this year, Reuters reported. Out of Pakistan's $27 billion in bilateral debt, around $23 billion is made up of Chinese loans, Mint reported.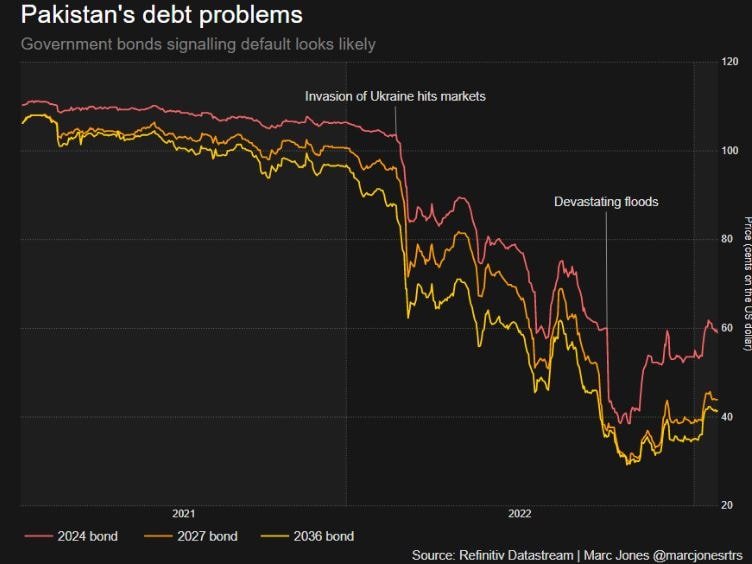 (Credit: Reuters)
> Pakistan inflation at 48-year high:
Inflation in the country was at a 48-year-high in January as thousands of containers of food items, raw materials and equipment are stuck in ports after the cash-strapped government curtailed imports, Bloomberg reported.
It worsened to 27.55 percent recently.
Higher inflation tends to have a depressing effect on the value of a country's currency. This is because increased inflation reduces the currency's buying power, which weakens it against other currencies. And that brings us to the concern, the Pakistani rupee.
> Pakistani rupee plummets: As per the country's central bank, the Pakistani rupee fell 9.6 percent against the dollar on January 26 — the biggest one-day drop in over two decades — in a slump that may persuade the International Monetary Fund to resume lending to the country. "This was the largest single-day fall in over two decades," analysts were quoted by Reuters as saying.
Last week, Pakistan removed an artificial cap on the rupee, resulting in it losing 14.73 percent in interbank trading during the last three trading sessions.
> Foreign exchange reserves at a new low: In January this year, Pakistan's foreign exchange reserves dropped to $4.3 billion, the lowest since 2014, the Aljazeera report said. It added that the State Bank of Pakistan (SBP) had announced this after paying off some of the country's external debt payments.
The SBP also revealed that commercial banks have $5.8 billion, totalling nearly $10.1 billion, the report said. Moreover, the total "liquid foreign reserves held by the country stood at $9.45 billion as of January 20, 2023," the SBP said in its report.
> Possible political crises:
It is believed that constant political chaos "may undermine a coherent and timely policy response." Notably, no Pakistani PM has completed a full five-year term in office. Maintaining the record, Shehbaz Sharif took over, ousting Imran Khan in 2022. Ever since, the latter has been fighting
tooth and nail to bring the Sharif government
down. Imran Khan, though no longer the PM, remains very popular, which had sparked speculations about the split in the Pakistan Army.
The political instability poses a challenge for the future as well. The current government's tenure will end in August, enabling a special caretaker government to take charge for up to 90 days in a bid to ensure free and fair elections. "However, the caretaker government is not empowered to sign an
IMF (International Monetary Fund) pact
, raising the question of whether the government and Opposition can cooperate on a joint pledge to push through any IMF demands in order to avert a default," Reuters reported.
> Significant shortage of power and energy: "Pakistan is highly import-dependent, particularly with regard to energy, which renders it acutely vulnerable to hikes in global oil and gas prices," said John Ciorciari, Professor and Associate Dean for Research and Policy Engagement at the University of Michigan.
The
recent massive outage has added to the woes
. Pakistan has enough installed power capacity, but it lacks the resources to run its oil-and-gas-powered plants that are heavily in debt and cannot afford to invest in infrastructure and power lines. According to an IANS report, the crisis forced the government to order shopping malls and markets to close by 8.30 pm for energy conservation purposes
The Business Standard reported that Pakistan's "economy is struggling for post-COVID-19 economic recovery, but it is increasingly finding it difficult due to power outages and costly power impinging on both domestic industrial output and competitiveness in the export markets."
Some of the power infrastructure was built as part of China Pakistan Economic Corridor (CPED), which is a framework of regional connectivity, Deccan Herald reported. This infrastructure has reportedly added to Pakistan's debts as the country cannot even operate thems.
> Devastating floods: The World Bank said, "In early FY23, Pakistan's economy was undergoing an overdue adjustment, as it recovered from the impacts of COVID-19."
However, the economic impacts of the recent flood might have delayed the "much-needed economic adjustment." The World Bank expects the growth in Pakistan's economy "to reach only around 2 percent in FY23."
> Pakistan's tense relations with India: Strained ties between Pakistan and India continue to deprive the former of a potentially transformative trading and investment partner. According to a Hindustan Times report, "The total bilateral trade between India and Pakistan was $329 million in 2020-2021. This has gone up to $514 million in 2021-2022, as per the Ministry of Commerce, with Indian exports outnumbering imports from Pakistan."
(Credit: OEC)
However, terrorism "emanating from territories under Pakistan's control remains a core concern in bilateral relations," the Ministry of Commerce said in 2020.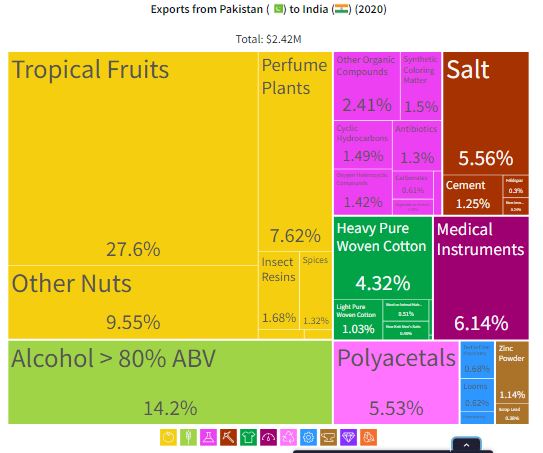 (Credit: OEC)
India-Pakistan bilateral trade (2013-2019)
| | | | | | | |
| --- | --- | --- | --- | --- | --- | --- |
| | 2013-14 | 2014-15 | 2015-16 | 2016-17 | 2017-18 | 2018-19 |
| Exports | $2.2bn | $1.85bn | $2.1bn | $1.83bn | $ 1.92bn | $ 2.06 bn |
| Imports | $0.426 bn | $0.497bn | $.441bn | $.456bn | $0.488bn | $ 0.495 bn |
| Trade Balance | $1.8bn | $1.3bn | $1.7bn | $1.3bn | $1.435 | $1.57 bn |
(Source for this table: Govt)
> Niggles, in a nutshell
There is weakening investor confidence in the country, Ciorciari said.
Food and fuel price hikes are causing real pain to ordinary citizens.
The central bank has raised interest rates sharply to address a weak currency
What Pakistan needs to do now
An IMF deal is what Pakistan needs. The sash-strapped country held its initial talks with
the IMF on January 31
in a bid to unlock stalled funds from a $7 billion bailout to ward off an economic meltdown. Sharif is optimistic that the IMF will resume disbursements.
However, domestic analysts believe the government will find matters tough, as the IMF is likely to demand significant belt-tightening that is bound to be unpopular, with voters already grappling with decades-high inflation and fewer job prospects.
Pakistan had secured a $6 billion IMF bailout in 2019, which was topped up with another $1 billion last year. This is the IMF's ninth review of its Extended Fund Facility, which is meant to help countries facing a balance-of-payment crisis. The talks, to continue through February 9, are meant to clear the IMF's 9th review of this Extended Fund Facility.
If the disbursements do not arrive by June, there could be a six-month gap before the new government takes office, during which Pakistan would be starved of funds, effectively pushing its population of 220 million to the brink, Reuters reported.
How much money does Pakistan require?
The country needs $20 billion over the next 12 months to make payments arising from debt obligations, the State Bank of Pakistan (SBP) was quoted by Moneycontrol as saying. Just $500 million of interest or 'coupon' payments are due on Pakistan's international bonds this year, but the chief of the central bank chief has said $3 billion is needed to meet overall external debt payments.
Most of Pakistan's bonds are still trading at less than half their face value. With just $8.6 billion worth of such bonds, compared to the $30 billion Pakistan owes to China, Pakistan's former finance minister Miftah Ismail said Islamabad might be better off "just going to those countries that we owe a lot, or to the institutions we owe a lot, and trying and get some more long-term loans."
Meanwhile, the international community, including countries like Saudi Arabia and China, have pledged $9 billion to help Pakistan for flood recovery. But Pakistan would be needing an infusion of more than $9 billion to climb out of the crisis — much should come from private sources.
"China will look to Pakistan for favourable development opportunities, such as the energy corridor running from the Arabian Sea to China's western provinces and the strategically vital port of Gwadar. China will also seek Pakistan's support on geopolitical issues ranging from the Taiwan Strait to Afghanistan and Ukraine," Ciorciari was quoted as saying.
For Saudi Arabia, he said Riyadh will expect Islamabad to support Saudi initiatives in the Persian Gulf and back the Saudi leadership in its role as guardian of the holy sites of Mecca and Medina.
IMF funds will help Pakistan avoid default on its international obligations, which could have seismic consequences for its economy and its people. Replenishing foreign reserves is crucial in this regard. Aid programmes will also help address the flood recovery, but this will be much more manageable if Pakistan's reserves rise to levels that instil confidence in its ability to pay its debts.
Meanwhile, a CNBC report quoted the former central bank governor of Pakistan as saying that global bodies like the IMF need to step up and improve the framework for sovereign debt financing so that emerging market economies, like Sri Lanka, can get out of their debt distress problems faster.
Should India worry?
Will there be an influx of refugees from Pakistan in India? An activist recently told
ANI
that residents of POK (Pakistan-Occupied-Kashmir) are ready to join India. He spoke about the price of wheat, flour and rise. "People are fed up, people are protesting in POK," he said in a
video
. The influx, if it happens, can be leading to law and order issues in India.
India's exports to Pakistan might also get affected due to the crisis.
Moreover, it is speculated that the deep economic crisis in Pakistan might increase Chinese influence in the country. This might directly or indirectly affect India, which has been at loggerheads with China at the Line of Actual Control (LAC) lately.
(With inputs from Reuters)
(Edited by : Shoma Bhattacharjee)
First Published: Feb 2, 2023 6:29 PM IST