Unmanned level crossings across the Indian Railways' vast network were seen as the biggest killers till some years back since they accounted for the maximum number of deaths as well as accidents each year.
But concerted efforts by the Indian Railways to convert these crossings into either manned level crossings or to build road over-bridges, have improved matters.
The tragic accident on Thursday morning in Kushinagar is the first on an unmanned level crossing this fiscal; in 2017-18 only 10 of the 73 total consequential accidents were reported at such unmanned level crossings.
This is a far cry from 50 accidents at such crossings in 2014-15 – roughly every third railway accident that year happened at an unmanned level crossing.
According to this agency report, thirteen children were killed and eight others injured when a train rammed into their school van at an unmanned railway crossing in Uttar Pradesh's Kushinagar area, around 50 km from Gorakhpur.
The children were killed on the spot when the Thawe-Kapatanganj passenger train crashed into the van at the unmanned crossing gate at Behpurva. The train was on way to Gorakhpur from Siwan. The accident allegedly happened due to gross negligence by the driver of the van, despite warnings by a 'rail mitr' about the arriving train.
Railway Board Chairman Ashwani Lohani said after the accident that tackling unmanned level crossings is one of the priorities with Indian Railways and all such crossings will be eliminated by March, 2020.
There are 3,479 such crossings now on the broad gauge network and annual targets for eliminating these are being met: 1565 such crossings were eliminated in FY18 while the target in the current fiscal is elimination of another 1,500 unmanned crossings. He said 1,395 road over-bridges and under-bridges were built to replace such crossings last fiscal and 1,600 more will be built this fiscal.
Safety Focus
The Railway Board, the premier decision making body of the railways, comprises a chairman and members for five different functions - traffic, traction, rolling stock, engineering and staff.
In the hierarchy of the Indian Railways, the Board is right after the union Railway Minister and his Ministers of State. Several critical railway functions are headed by members but there is no position for member (Safety).
The government has said in the past that neither is there such a post in the Railway Board nor is there a proposal to create such a post afresh.
In its replies to a parliamentary committee on safety and security in the Indian Railways, the union Railway Ministry had said some months back, "Safety is integral to the construction, certification, operation and maintenance of railway system."
Each member (of the board) is responsible for the respective part pertaining to the department viz.: infrastructure, rolling stock, signaling and operations. Overall co-ordination is done by nember (traffic), Railway Board. Hence, the question of a separate member for safety is not pertinent."
But the panel re-emphasised the need for member (safety), urging the Indian Railways to integrate of all aspects of railway safety under a single nodal department for quicker response time as well as avoiding bureaucratic friction.
Can member (traffic) not double up as the point person responsible for safety too? The panel said member (traffic) is fully engrossed with the running of trains through the Indian Railways' vast on daily basis.
Accident Data
The number of consequential train accidents (including accidents at unmanned level crossings) has decreased continuously for the last three years: from 135 in 2014-15 to 107 in 2015-16, 104 in 2016-17 and 73 in 2017-18.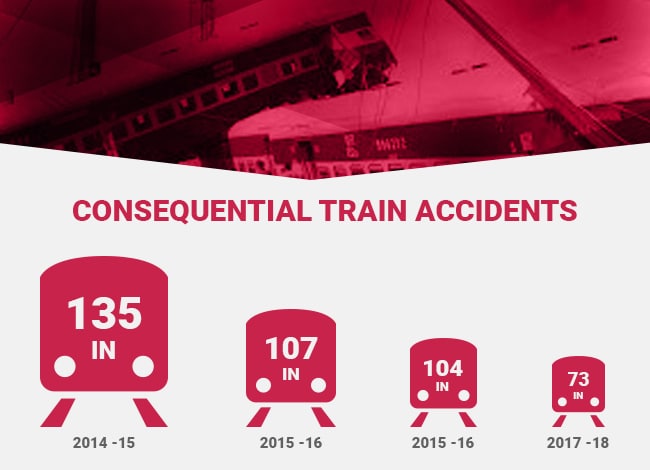 The number of casualties has also come down, barring one year, from 292 to 53 (for 2017-18, till December 2017).
In this reply in Lok Sabha, MoS Raliways, Rajen Gohain, provided data for train accidents since 2014-15, which showed that the maximum number of deaths in 2014-15 occurred due to unmanned level crossings at 130 or almost 45% of all deaths.
So unmanned crossings accounted for roughly every third accident on the Indian Railway network and 45% of all deaths that year. But in 2016-17, 40 of the 238 total deaths in Railway accidents happened on such crossings. This works out to 16%.
Safety Spend
A fund called 'Rashtriya Rail Sanraksha Kosh' (RRSK) was created last fiscal with a corpus of Rs one lakh crore over a period of five years for critical safety related works.
Rs 20,000 crore was allocated last fiscal and a similar amount has been earmarked for safety related activities this fiscal as well. This fund will be used to plug the gaps in the unmanned level crossings, besides other safety related works.
But as this reply by MoS Railways, Rajen Goahin, shows, each year since 2014-15 safety related allocations have not been fully utilised. And this one shows how there continues to be critical shortage of safety staff across zonal railways.
Last month, a parliamentary standing committee examining the demand for grants for the Indian Railways for 2018-19, had roundly criticised it for continuing to have a large number of vacancies in safety related jobs.
As April 1, 2017, as many as 128,942 positions out of 764, 882 sanctioned strength in the "safety and maintenance' category were lying vacant. So nearly every sixth safety related position was unmanned.
The panel had also noted that the Indian Railways was giving compensation to existing employees for working beyond normal duty hours instead of hiring required staff.
Finances
The Indian Railways has seen a surge in passenger numbers as well a record growth in freight last fiscal but may still end up with probably the worst operating ratio since 2001. Operating ratio measures how much the Indian Railways has to spend to earn each rupee.
This piece pegs the operating ratio for FY18 at 98.5%, which means the Indian Railways spent 98.5 paisa to earn each rupee last fiscal.