A study has revealed moderately cold temperatures (13.8 degree Celsius to roughly 30 degree Celsius) are responsible for a substantially greater number of deaths in comparison to extremely cold and hot temperatures in India, which struggles to shelter 1.8 million homeless people, amid temperature extremes.
Holding that much less attention has been given to health effects of cold temperature ranges, researchers estimated cause-specific deaths due to daily hot and cold temperatures in India using nationally representative mortality data spanning a 13-year period.
The authors told Mongabay-India that while intense heat had the highest risk of deaths, as the mercury dipped, mild cold contributed to the most deaths in India.
"Deaths attributable to moderately cold temperature were approximately 12 times greater than deaths from extremely cold temperature and 42 times greater than deaths due to an extremely hot temperature," said Sze Hang Fu of Centre for Global Health Research, Canada.
The Centre for Global Health Research (CGHR) is an independent, not-for-profit organisation co-sponsored by St. Michael's Hospital (Toronto) and the University of Toronto.
The study, which has implications for health infrastructures and housing services in India, linked mortality data from India's Million Death Study (nationally representative mortality data) conducted in 2001–2013 with daily temperature data for the 13-year period.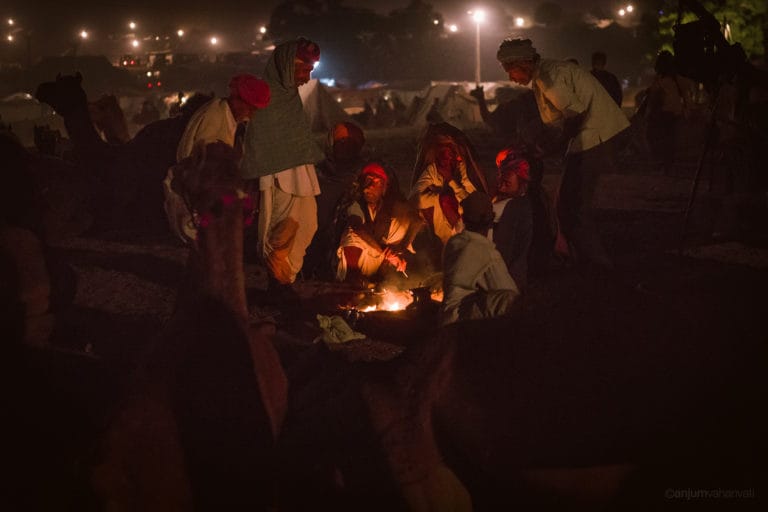 People warming themselves in front of a bonfire at Pushkar camel fair, Rajasthan. Photo by A. Vahanvati/Wikimedia Commons.
Temperatures were separated into extremely cold (0.4 degree Celsius to 13.8 degree Celsius), moderately cold (13.8 degree Celsius to roughly 30 degree Celsius), moderately hot (roughly 30 degree Celsius to 34.2 degree Celsius) and extremely hot ranges (34.2 degree Celsius to 39.7 degree Celsius).
"Overall, the elderly population had higher attributable risks from both hot and cold temperatures in our study," Hang Fu said.
While at present, public health interventions focus on the adverse health impact of extreme heat, the results led the researchers to suggest that public health sectors should re-evaluate their intervention efforts and consider expanding their focus to include moderately cold temperature.
For a clearer picture, the researchers zoomed in on the differences in the temperature–death associations of people afflicted with stroke, Ischaemic Heart Disease (IHD) and respiratory diseases.
"Our results also showed that moderately cold temperature was linked to the highest number of deaths from a stroke at ages 30-69 years and from respiratory diseases at ages 70 years and above," explained Hang Fu.
The significant cold effects on stroke, IHD and respiratory diseases could be explained by physiological pathways between cold temperature and these diseases, the authors said.
"Cardiovascular stress may be triggered by cold via changes in blood composition, which lead to increases in blood platelets, red cells and viscosity; these changes facilitate vasoconstriction and blood clotting. The respiratory system responds to cold by increasing bronchoconstriction, airway congestion, secretion and decreasing mucociliary clearance; these changes may play a role in the symptoms of respiratory diseases, including asthma and chronic obstructive pulmonary diseases," the study elaborated.
One of the key findings is that over the last three decades (1981 to 2010), the proportion of moderately hot and extremely hot days has increased, and the proportion of extremely cold and moderately cold days has decreased in India. But the total number of people exposed to moderately cold temperatures is the largest and has risen by about 270 million since 1981.
"This is because moderately cold temperatures cover a wide range of temperatures (13.8 degrees C to roughly 30 degrees C). Also, moderately cold temperatures had higher proportions of days compared to other temperature ranges, hence most commonly experienced by the Indian population," Hang Fu told Mongabay-India.
The absolute number of people exposed to extremely hot days had risen by about 10.2 million between 1981-2010, the study said.
Interventions For Temperatures
The observations spotlight the fact that public health authorities should especially consider the detrimental effects of moderately cold and extremely hot temperatures in their mitigation strategies.
Hang Fu expanded: "Health practitioners should be educated about the health effects of moderately cold temperatures. They should be alert about symptoms of cardiovascular and respiratory diseases and worsening of health for those with pre-existing conditions when the temperature drops to around 15 degree Celsius (where mortality risk is highest in the moderately cold temperature range)."
Public announcement of cold temperature effects, particularly targeting the vulnerable population, will also be beneficial, he said.
"Cold Weather Plan for England may be adapted to the Indian context. However, health infrastructures and housing services in India need to be significantly improved in order to adopt such intervention plans," pointed out Hang Fu.
England's Cold Weather Plan (CWP) aims to avoid the adverse health effects of cold weather by raising public awareness and triggering actions by those in contact with people who are most at risk. The Plan highlights cold and winter weather has direct and indirect effects on health.
"Direct effects include increased incidence of heart attack, stroke, respiratory disease, influenza, falls and injuries, hypothermia. Indirect effects include mental health effects from depression, reduced educational and employment attainment, and risk of carbon monoxide poisoning," the Plan said.
According to the IPCC's Fifth Assessment Report 2014, average annual temperatures could rise by more than two degree Celsius by the mid-21st century compared to the 20th century average in South Asia.
The study underscores that temperature rise would be expected to increase heat-related deaths and reduce cold-related deaths. Additionally, it brings out the nuance that non-climatic factors including socioeconomic status and health infrastructure can determine the ability of the population to adapt to climate change.
Recent climate emergencies in India included a heat wave in Orissa 2004, a cold wave in Uttaranchal and Uttar Pradesh 2004, a tsunami affecting Tamil Nadu, Andhra, Kerala, and the Andaman Nicobar Islands 2004, floods in Madhya Pradesh and Gujarat 2005, rains and floods in Maharashtra (2005), and a cyclone in Andhra Pradesh.
The National Disaster Management Authority, which launched a series of initiative in 2016 to tackle heatwave-associated deaths in 2018 said that the death toll from heatwaves had gone down significantly over the last three years.
The year 2018 for India was the sixth warmest year on record since nationwide records commenced in 1901, according to a top government official. A total of 1,428 people died due to extreme weather events in 2018, including heavy rains, flooding, dust storms, thunderstorms and lightning.
In January 2019, activists alleged that biting cold has claimed 103 (homeless) lives in New Delhi, the national capital with the issue taking a political colour as the Congress and the Bharatiya Janata Party (BJP) took potshots at the Aam Aadmi Party, the ruling party of the National Capital Territory of Delhi.
However, the Delhi Urban Shelter Improvement Board (DUSIB), which runs 248 night shelters with a capacity to accommodate 17,645 people, has refuted the allegations clarifying the deaths were not due to the drop in mercury.
In its latest report, the DUSIB informed that 17 of its rescue teams have shifted 15,042 homeless to the nearest night shelters between November 19, 2018 and February 9, 2019.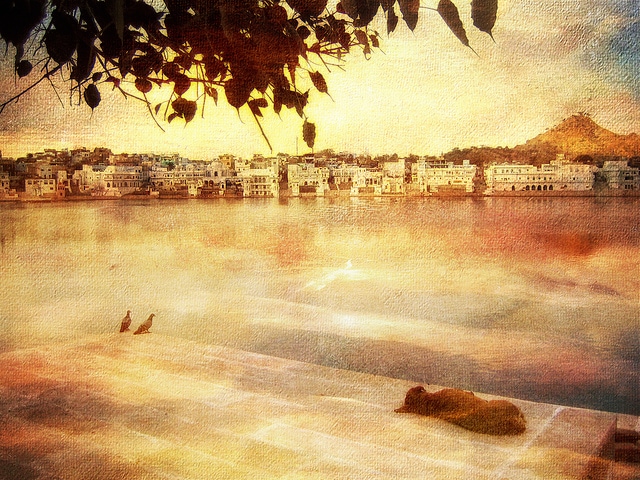 A dog cooling off in the heat. Photo by Nick Kenrick/Flickr.
Dileep Mavalankar, Director of the Indian Institute of Public Health, Gandhinagar, Gujarat, opined one needs to monitor and strengthen data gathering on mortality on a daily basis to correlate with environmental parameters.
"Not only mortality on a daily basis, but we also need data for mortalities linked to monsoons etc. For more refined estimates, we can look at daily hospital admissions. We need to publicise and collate data to understand how we can come up with strategies," Mavalankar told Mongabay-India.
As an example, he cited the Heat Action Plan for Ahmedabad, Gujarat. Mavalankar has been extensively working with the Ahmedabad Municipal Corporation and partners in implementing the plan.
The foundation of the plan is based on drawing up mortality thresholds that are in turn linked to data linking deaths and daily temperatures.
"We have correlated daily the average number of deaths over the last several years for the months of April, May and June with the temperature and arrived at mortality thresholds (43 degree Celsius and 45 degree Celsius). So we have a red alert after 45 degree Celsius and orange alert after 43 degree Celsius which is announced by the civic body. Then there are series of actions that follow based on alert," Mavalankar added.
The plan is evaluated after the summer season is over.
"The mortality has come down after the implementation of the plan even though it goes up during the heatwave but as not as much after the plan's introduction. So it seems to be saving lives," Mavalankar said.
Discussions are on for a cold action plan with the National Disaster Management Authority.
"The heat action plan had its inception in publicising the data on heat associated deaths. Unless we publicise the cold-related mortalities we will not know how many people have died. Flu and respiratory infections are also common during moderately cold weather," Mavalankar added.