Mini
The Moore's Last Sigh: America's blockbuster documentary maker calls out the despots.
"The confusion I'm feeling, ain't no tongue can tell," sings rapper K'naan as the end credits roll on Michael Moore's new documentary, Fahrenheit 11/9. It is the same Bob Dylan song that the American filmmaker had closed his 2004 movie, Fahrenheit 9/11, with. But this time, like a new singer, there is a new president. Instead of the then American president George W Bush and the Iraq war, the focus is on incumbent Donald Trump and the US elections. There is also a larger focus on democracy.
Fahrenheit 11/9, which premiered on the opening day of the Toronto film festival on September 6, analyses Trump's improbable victory and the changing American political landscape. Moore makes the Democratic Party responsible for alienating its own voters. In his familiar attack on the elite and the powerful, the filmmaker doesn't leave out former president Barack Obama either. He, however, sides with the students of America. Moore even came to the Toronto festival premiere with David Hogg, a survivor of the February Parkland school shooting in Florida. Both got a standing ovation from a capacity crowd at the Ryerson Theatre located on a university campus.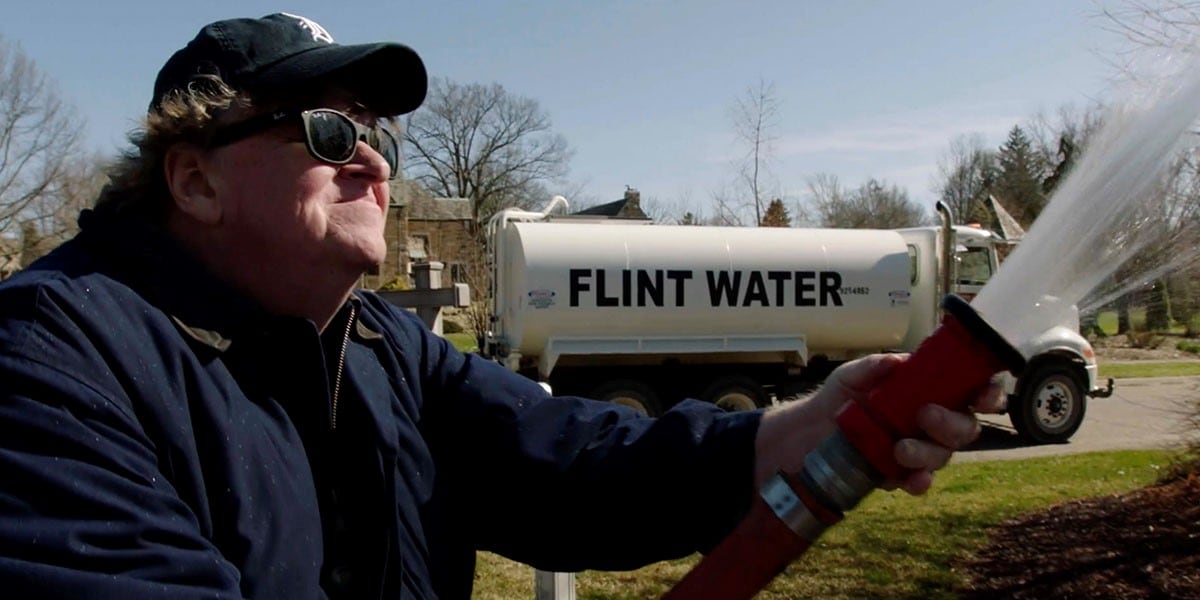 Michael Moore's new documentary, Fahrenheit 11/9, is about Donald Trump's election and American democracy
Mocking at Media
The film begins by mocking at the American media and the overconfident supporters of Democratic presidential candidate Hillary Clinton. "Everything seems to be going as planned," Moore narrates as he chooses to start the documentary on the election eve. "Experts had already called the election," he says, showing actor George Clooney asserting Trump is not going to be president. On election day on November 8, 2017, people wake up to a New York Times front page prediction saying Trump had a 15 per cent chance of winning. "Champagne corks were popping in Hillary's campaign," says Moore.
It is in strange contrast to the mood 17 blocks away in New York at a small venue where Trump was going to appear. "Things were looking bad for Trump supports and the crowd was glum," Moore says. Then something strange began to happen. Trump won Ohio and North Carolina. And suddenly red hats with Make America Great Again became more visible. Then appeared the President-elect, who had written no victory speech.
Moore says Trump's decision to run for President had a lot to do with the media. "Trump paid 50 dollars to cheerleaders to make a fake announcement for a presidential run because NBC was paying him less money for The Celebrity Apprentice (the NBC reality TV show he hosted)," he says. The plan apparently backfired because NBC fired Trump in 2015. But Trump had this epiphany. Maybe running for president wasn't a bad idea after all. Maybe it was a brilliant idea. "No one was happier than the media," says Moore. "Trump was to become a cash cow for the media." He calls Trump a "malignant narcissist" and argues the American President always played media and got away with it. After his 1989 film, Roger and Me, on General Motors CEO Roger Smith, Moore happened to meet Trump. "I hope he doesn't do one on me," Trump remarked during that meeting.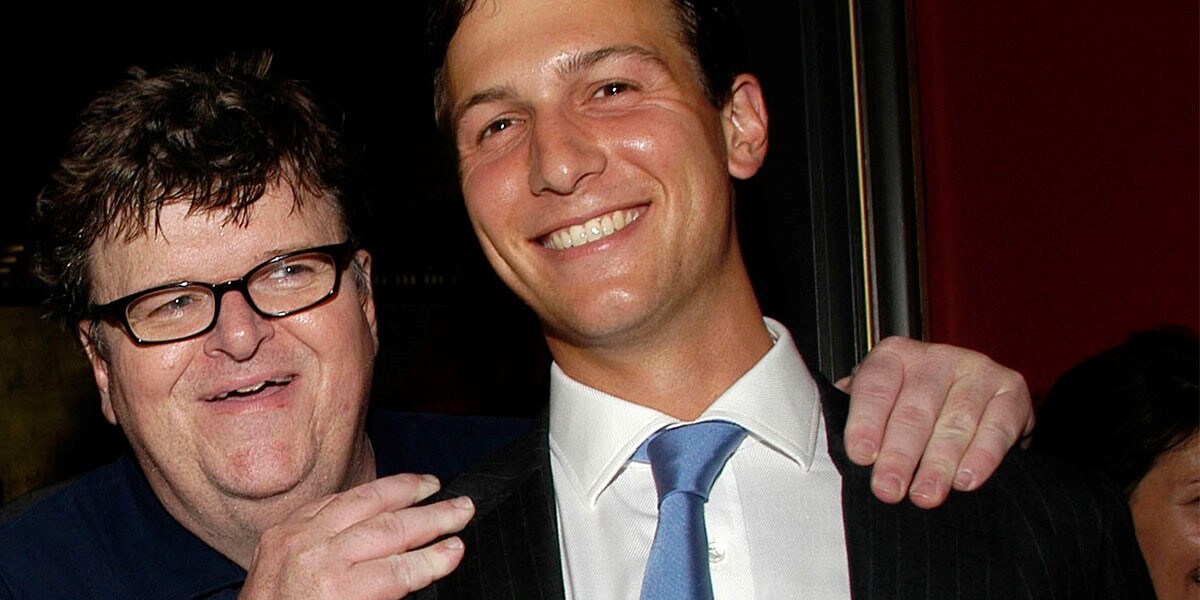 Michael Moore (left) with Donald Trump's son-in-law Jared Kushner
Siding with Students
The film dwelves on the "silencing" of Democratic presidential hopeful Bernie Sanders by a Hillary Clinton-backing party establishment. "People were disgusted and they left the Democratic Party," says Moore. It talks of a future generation of young Democrats bult in the Sanders mould like Alexandria Cortez, a rising star in American politics, and Rashida Tlaib, a Palestinian-American poised to become the first Muslim woman in US Congress. He calls them The Avengers.
Moore, whose 2002 film Bowling for Columbine on gun control won the Oscar for Best Documentary, marks a substantial space of the film to the young survivors of the Parkland shooting, featuring students like David Hogg, Emma Gonzalez and Cameron Kasky. "These fearless kids are on fire and the fire is spreading" he says, referring to the students' fight for change and a bonafide political movement. Moore gets invited by the Parkland students to their "secret headquarters" before their March for Our Lives rally for gun control early this year. "Social media raised us," says Gonzalez about their instant activism.
Using black and white images from a Germany under Hitler and his Nazi party, Fahrenheit 11/9 seeks similarities between Trump and the dictator. "Hitler was an outsider, an immigrant from Austria, who had no political experience," says Moore. "He talked about putting Germany first. And he knew how to use fake news." In some scenes, Hitler's voice merges into that of Trump. Never before has an American politician kept so many campaign promises, the film shows, alluding to Trump's tax cuts for the rich, removal of banking regulations and withdrawal from the Iran nuclear deal and relations with Cuba. "People don't care if he is lying. They believe in Trump," Moore adds.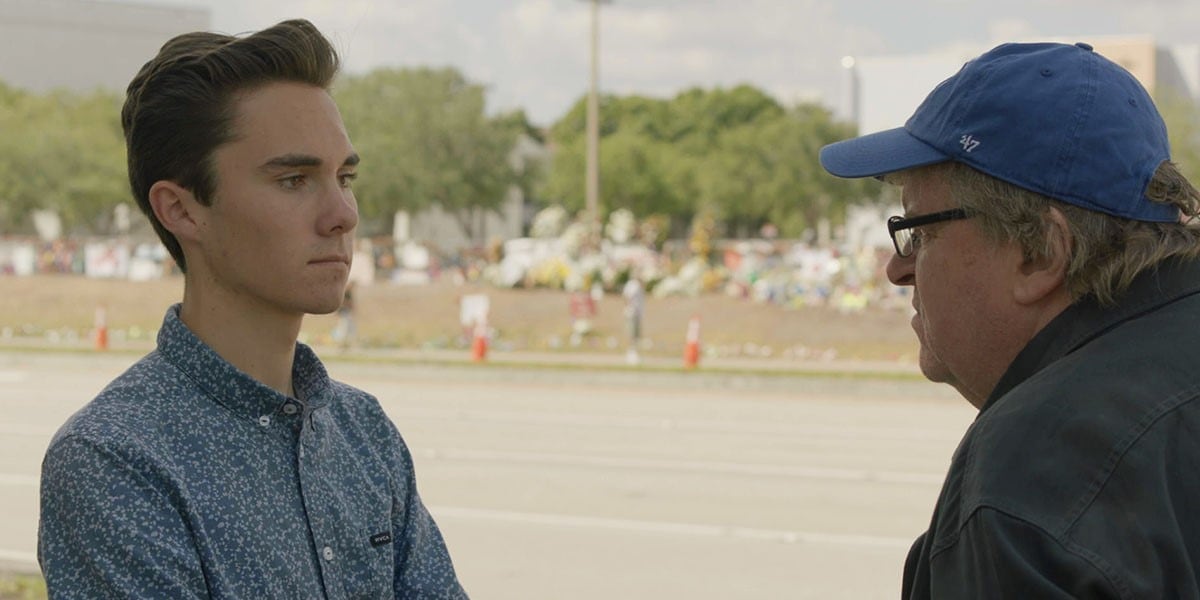 Michael Moore with Parkland school shooting survivor David Hogg
If anyone thought that Trump's election was a mistake, the filmmaker reminds his viewers of the false ballistic missile alert in Hawaii in January to prove his point that it is not. "Make no mistake, this is the world we live in," he says. "We have to get rid of the rotting system that gave us Trump." It has taken three years for Moore to return to what he does best. In his previous film, Where to Invade Next - premiered at Toronto festival in 2015 - Moore spoke of how the great nation of America could learn lessons on workers' welfare from smaller countries. This time, his incisive images talk about the road from democracy to despotism. He spares nobody in the process. Moore can show what no one can tell.
You can read our curtain-raiser on the 43rd Toronto International Film Festival here.
Faizal Khan curated India's first football films festival with artist Riyas Komu at the 2011 International Film Festival of India, Goa. He was curator of a football films programme in the Artists Cinema section of the second Kochi-Muziris Biennale in 2014.